Tattoos have been the trend for eons, making our bodies look appealing. From the simplest dots to complex designs, it can be a challenge to pick the right design with the right meaning. Humans have tattooed them on different parts of the body, and ribs are one popular area that can be easily flaunted at beaches, parties, and clubs, and can also be hidden easily. If you are planning to get a rib tattoo, we've put together chic tattoo designs for you that will also guide you through the process.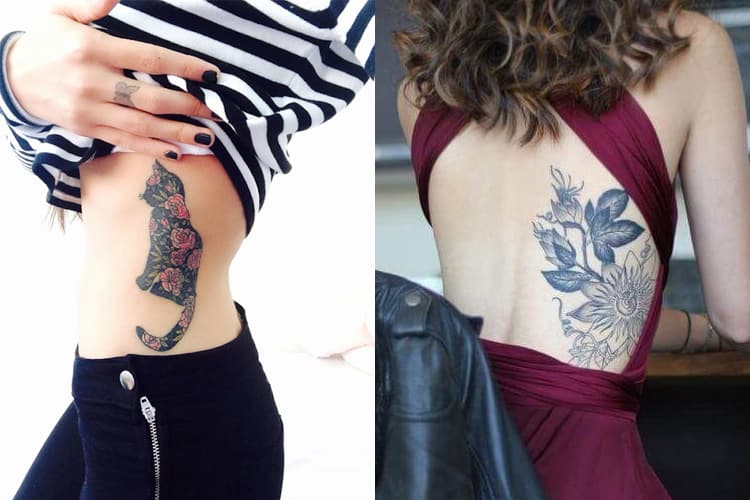 We don't want you to fall into the common design trap-so we curated some awesome rib tattoo design ideas that will help you spice things up. Keep the following ideas handy next time a trip to the tattoo parlor starts to feel a bit dull.
Precautions You Need To Take Before Getting A Rib Tattoo Inked:
Here are a few things you need to keep in mind if you are planning to get a tattoo inked on your ribs.
In case you are prone to allergies you can consult a doctor before getting a tattoo done.
Remember, the size and placement of your design may determine the experience you have under the needle. The ribs are considered one of the most painful areas to get tattooed. Those with a low pain tolerance should choose small tattoo designs.
A mild rash, pain, and fever are common side effects of getting inked. You can keep a soothing ointment and mild painkillers handy to decrease your discomfort.+
Always opt for a reputed and hygienic tattoo parlor if you want to get inked.
Rib Tattoos For Girls:
Rib tattoos are a feast for the eyes. The beautiful side designs come in striking colors and intricate artwork. You may also look out for big or small rib tattoo designs which may extend from shoulders to waist. Whatever tattoo design you choose to go for it should be in sync with your personality and pain tolerance level.
Top 37 Rib Tattoo Designs:
We have curated some sensational and sensuous rib tattoo designs for girls. Check out our list, and select a design that catches your fancy. We hope, that at least a few of these designs may serve you as an inspiration.
1. Quoted Tattoos
Express yourself a little more by getting a quote tattoo of your choice. A statement that inspires you, motivates you and reminds you to do better. You can also choose dialogues from your favorite comics or shows that make you smile. Make your quotes a little more exciting by writing them within shapes such as hearts, flowers, stars, a circle, etc. As tattoos are forever, get a tattoo that shows strength, life, and self-love.
Inspirational statements can motivate, inspire, and remind you to keep going. A quote or dialogue in the desired font can make the tattoo look aesthetic. You can try it in different styles, fonts, and colors.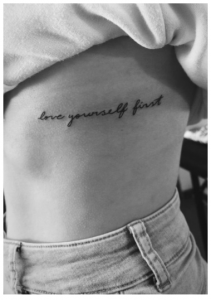 Pinterest: Celina
2. Quotes in Shapes Tattoo
If you want to make your quotes more captivating, you can write them within shapes such as hearts. The heart is one of the most popular tattoo choices. It can be in a simple or detailed design, and the color red celebrates friendship and love.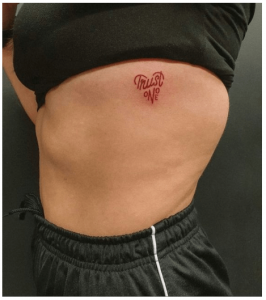 Pinterest: nms
3. Minimalistic Tattoos
Minimalist tattoos are small yet beautiful pieces of artwork when inked on the body. This category covers everything and anything that can be drawn most simply. Nature, Animals, Shapes, Food, Comics, etc are some of the options that you can check before finalizing one.
Get the minimalist plants tattooed on you to make a stylish statement. Trees and flowers make you feel closer to nature!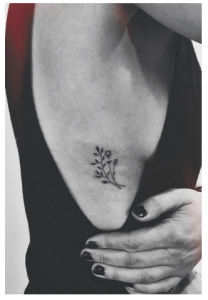 Pinterest: Fashion Magazine
4. Skeleton and Signs Tattoos
Want a minimalist tattoo with a bit of quirkiness? Tattoos like this will reveal your quirky personality. This design is also a good fit for foot tattoos.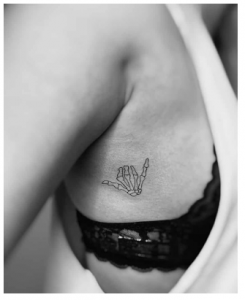 Instagram: collectivecovet
5. One Line Tattoos
Mountains, oceans, and air are some of the elements of nature that can be tattooed with not much detail.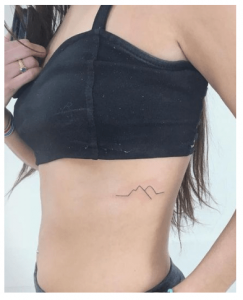 Pinterest: Deavita.fr
6. Nature Love
Getting a nature tattoo has inspiration involved when you look at the beauty around you. In between the forest and flowers, there's sun, moon, mountains, waterfalls, and beaches that you get tattooed to show your passion for nature.
Flowers never go out of the list. From beautiful daisies to wildflowers, there are thousands of flowers that you can get tattooed on. Get it with basic black ink or with colors for a pleasant display.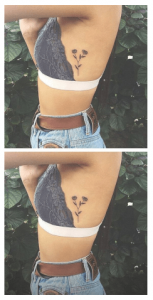 Pinterest: MyBodyArt
7. Flower and Face Tattoo
Combine flowers and artistic patterns to complete your tattoo. Just like the one above, you can merge flowers with designs as a face.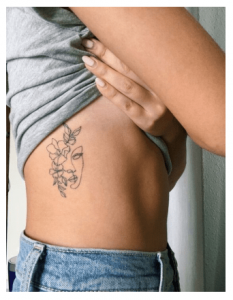 Pinterest: Lilith
8. Leaf/Branch Tattoo
Get a tattoo along your rib line to define the curves. A branch tattoo like this defines love for nature and its delicacy.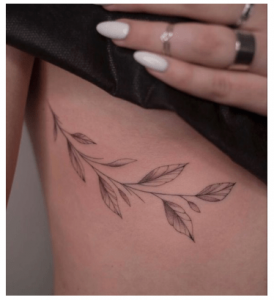 Pinterest: Tattoofilter
9. Abstract side Tattoos
Abstract side tattoos can represent a physical item, a person, or random lines that depict your emotions through shapes. These may seem a bit confusing to some, but for some, they may hold a special meaning. Just like an abstract painting, abstract tattoos too are the best way to represent your perspective on life.
There are no rules for an abstract tattoo. You can choose to get lines and curves, just like this on your rib cage if you believe it perfectly represents your emotions.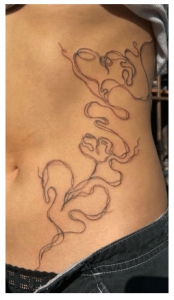 Pinterest: gleiciele
10. Artistic Tattoo
If you are fond of an artistic piece of work, then tattoos like this are a great fit for you. Explore your creativity and get a unique tattoo.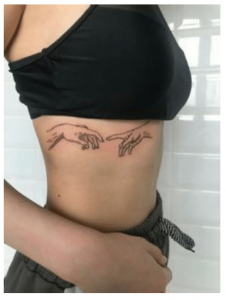 Pinterest: Alina Antoniuk
11. Fine line Tattoo
These fine line tattoos are of straight or curved lines with no gradations in color or shade. You can opt for black or multi-colored designs. Most tattoos, as such, are simple and elegant, which adds a feminine vibe to the whole look.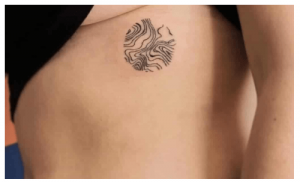 Pinterest: Instagram handpoke.gallery
12. Animal Tattoos
Animal tattoos are straightforward and carry some meaning or symbolism. A belief that people and animals are spiritually connected is one of the reasons why you should get them tattooed.
A cheetah tattoo could signify that you are a strong person. You can either get a large or small tattoo, depending on your choice.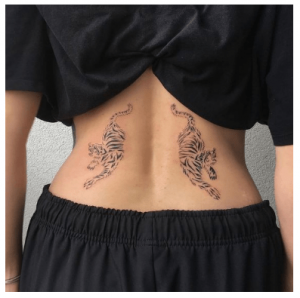 Pinterest: Dubuddha tattoo
13. Dragon Tattoo
Dragons are mythical creatures that resemble power and resilience. It's a popular tattoo choice that makes you look sleek, edgy, and adventurous. You can opt for a flying or sea serpent style that looks great on your ribs.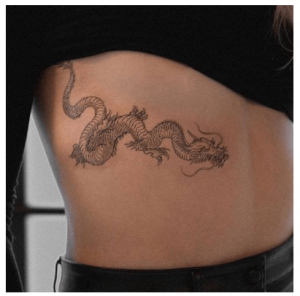 Pinterest: whitenn
14. Dangling Gem Tattoos
The sun represents strength, light, and life, whereas the crescent moon represents growth, fertility, and change. You can design your tattoo together with danglings to make it look dreamy.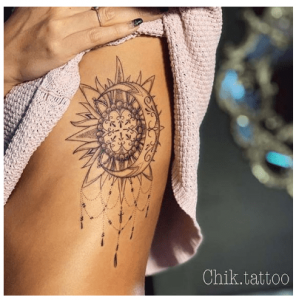 Pinterest: stay at home mum
15. Mandala Dangiling Tattoo
Add a unique mix of embellishments like mandalas and flowers to make it your personalized piece of art. You can get a large tattoo like the above one or a small tattoo around the curve. You can also add colors to make it look more stunning.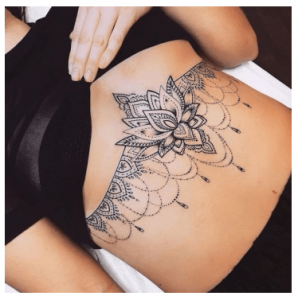 Pinterest: Tikli
16. Constellation Tattoo
These sun signs depend on the position of the sun at about 12 different constellations. This is a great choice for someone who wants a feminine tattoo inspired by their astrological sign.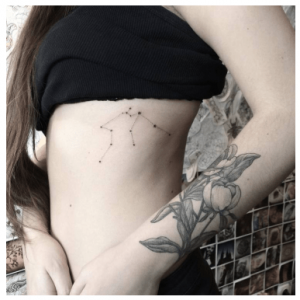 Twitter: @TattooTrending
17. Hibiscus pattern
Create beautiful floral designs with a vase for a unique feel. You can go for a similar tattoo that is designed horizontally along the ribcage.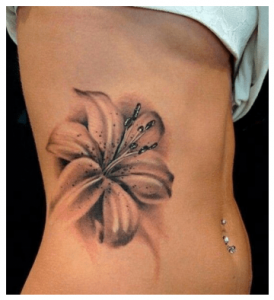 Pinterest: Cheryl Hostetler
18. Chinese Trees
Chinese trees symbolize longevity, steadfastness, and self-discipline. You may choose a design. to express Chinese culture with meaning.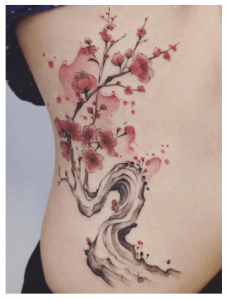 Pinterest: Ramon
19. Go Over The Moon
A tattoo on your ribs does not have to be massive. It can be in the form of a miniature moon, too. A moon symbolizes nature and the constant change of seasons. Make the moon creative and fun by adding designs.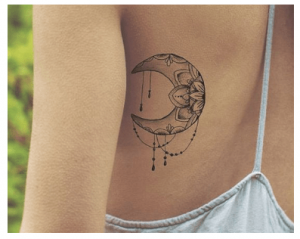 Pinterest: MyBodyArt
20. Moon Child (The Cycle)
A moon phase tattoo is a meaningful symbol tattoo that represents different things like growth, birth, death, and reincarnation.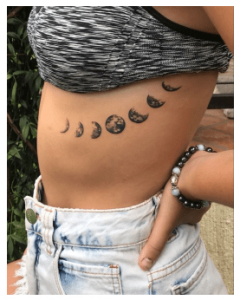 Pinterest: Wattpad
21. Be On Cloud Nine:
A cloud design such as this one is dreamy and romantic. Light clouds represent pleasant and cheerful times ahead, whereas stormy, dark ones suggest a looming, emotional difficulty in life.
A cloud also represents an epiphany or revelation. This interesting cloud design is sure to win you many compliments.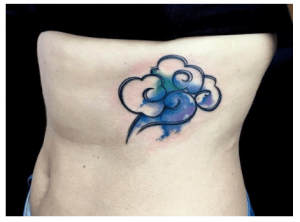 Pinterest: Luca Braidotti Tattoo Studio
22. Butterflies all the way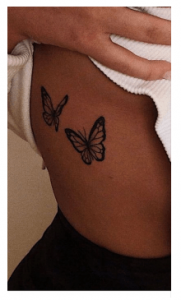 Pinterest: Wattpad
Butterflies represent young love, as they fly among flowers, signifying young people with their social lives. In Chinese culture, butterflies are emblematic of joy, grace, immorality, and summer.
23. Swoon Over Swans
Swans are delicate birds found in ponds that symbolize grace, elegance, kindness, harmony, good luck, and wisdom.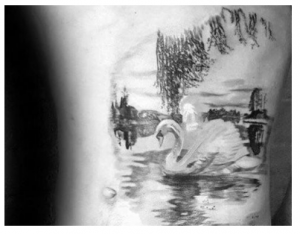 Pinterest: nextluxury
24. Matching Tattoos (Swans)
Swans represent artistry and beauty. You can further add your creativity with things like flowers encircling the swans for a distinctive look. In literature and myth, a swan symbolizes light and transformation. Getting a tattoo of a swan can represent your transformation as a human.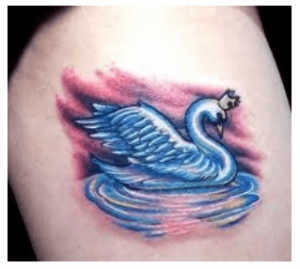 Pinterest: HubPages
25. Adventure Tattoo
A minimalist beach tattoo represents a no-frills approach to life. This scenic tattoo can also be a gentle reminder of your past adventures.
A stunning tattoo like this one may be a fun way to etch the memories of a holiday forever. It can symbolize constancy, permanence, and motionlessness, and at its peak, it signifies absolute consciousness.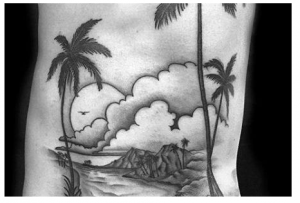 Pinterest: Next Luxury
26. Mountains Tattoo
As mountains symbolize consistency and permanence, you can get a tattoo like this to represent your inner emotions. A simple yet beautiful tattoo like this one is a perfect design for neck tattoos.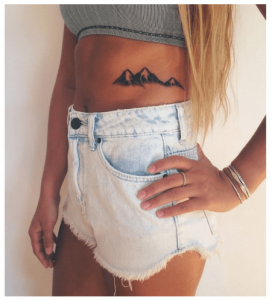 Pinterest: Jacqueline Hickam
27. Galaxy Tattoos
Galaxy tattoos are popular because of their dreamy appeal. You may opt for a simple or complex tattoo design for your ribcage. These tattoos represent admiration and commitment and getting a tattoo like this one can indicate your love for the universe or a person. Allow the designs to represent a galaxy by blending the right colors.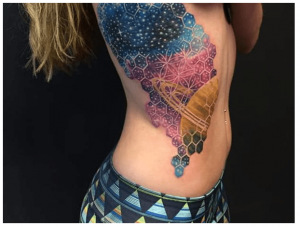 Pinterest: trendy-tattoos
Just like galaxies themselves, galaxy tattoos signify mystery. One can get this tattoo to express how its complex nature inspires them.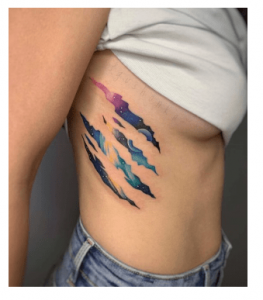 Pinterest: Tattoo Spirit
28. Experiment With Exotic Phrases
Getting phrases tattooed that are inspiring, uplifting, and encouraging not just gives a message but also sets it apart from other ordinary tattoo designs.
Some people choose a line from their favorite book or movie. Others choose words said by their loved ones. An exotic phrase can go a long way to upping your glam appeal.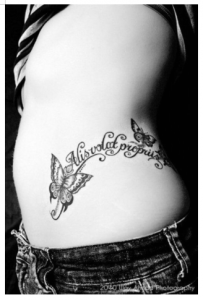 Pinterest: Kjerste Yothers
Phrases require a lot of thought and can not be decided quickly, so get a quote that means something to you. The best part of getting a quote is that you can extend it at any time and add designs to it.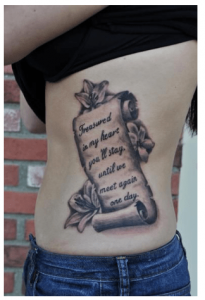 Pinterest: Cali Honsberger
29. Bloom Like A Lotus
The flower in Hindu belief represents rising above temptation and becoming a better person. It also represents beauty, purity, and spiritual awakening. It looks beautiful in both black and in different colors.
Create a flower design on your ribcage. Such tattoos look gorgeous from all angles. If you are an ardent lover of floral motifs, then this attractive tattoo design is right for you!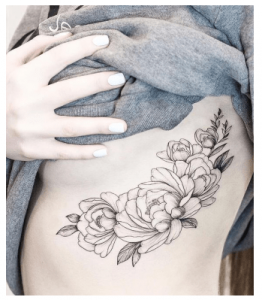 Pinterest: KOT Tattoo Studio
A flower tattoo can represent faith and belief and your desire for a peaceful existence.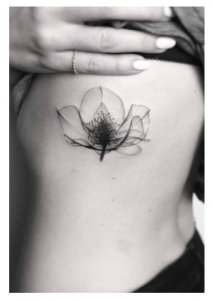 Pinterest: mybodyart
30. Roses In A Trendy Way
The red rose in the ribcage tattoo design shown below is gorgeous and represents love won or lost. If you love elegant yet stunning designs, then you should go for this.
A rose replicates the beauty and historical significance. Getting a traditional red rose symbolizes your love and passion for life. You may opt for a small or large rose according to your preference.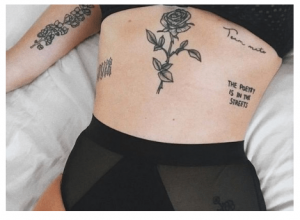 Pinterest: Wattpad
As intense as the previous one or as simple as this one, this tattoo can represent your everlasting love, pleasure, and pain. These beautiful rose designs are great for getting arm tattoos.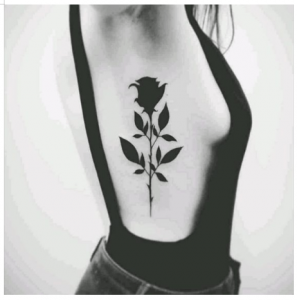 Pinterest: Tattoo- Spirit
31. Dreamcatcher Design
There is something about a dreamcatcher that everyone adores. It represents freedom, strength, wisdom, and power. These are believed to help induce good dreams and thoughts. You can also find this popular design in the collection of spine tattoos.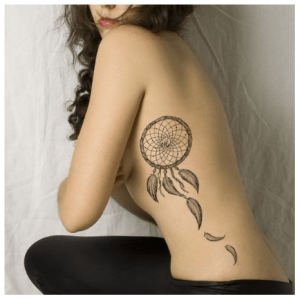 Pinterest: ideastand
The colorful feathers as shown below makes this design eye-catching. If you are looking for a ribcage tattoo design inspiration, then you're surely going to love this one.
Add some feathers and colors to it to make it more beautiful. Some people choose this design to shield themselves from bad and negative influences.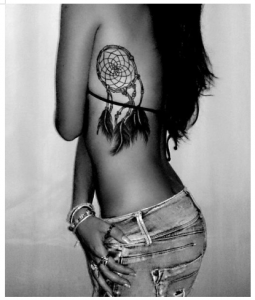 Pinterest: We Heart It
32. Bring Alive Your Fantasy
If you are a fan of magical stories like Alice in Wonderland, then you're going to fall in love with this amazing tattoo design. You can revisit your childhood by recreating your favorite characters or scenes in the form of a cute tattoo design.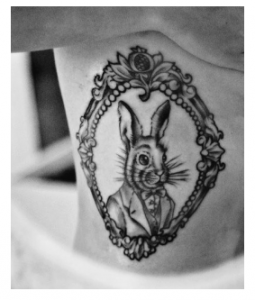 Pinterest: Ignacia Burgos Cartasegna
People choose Alice in Wonderland tattoos to symbolize her adventures that are fun and unimaginable.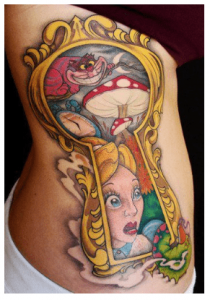 Pinterest: We Heart It
33. Paint A Pious Picture
You may opt for biblical designs like a cross or a rose while getting inked. Furthermore, you can get your favorite verse inked from the Bible or any other religious book.
Or, you may get scripture verses that you find very empowering inked on your body.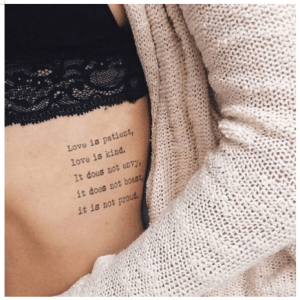 Pinterest: Taylor Jordan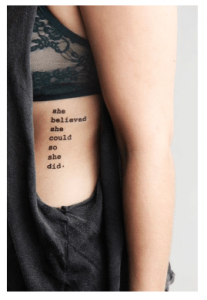 Pinterest: TrendSurvivor
34. Arrive With Alphabets
One or more alphabets may be significant to you. It may be the first letter of your name, your partner's name, your parent's name, or even your pet's name. These minimalist alphabet tattoos are also some of the best finger tattoos.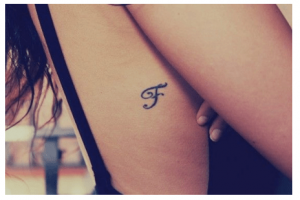 Pinterest: wanifiza
35. Alphabet with designs
Whatever the letter may stand for, it's a great idea for rib tattoos. There are several ways to incorporate the design and choose whatever size and font you want the tattoo to be in.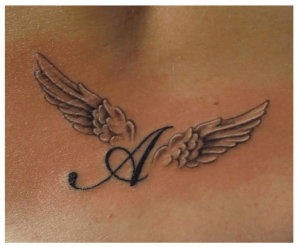 askideas.com
36. Get Innovative With Origami
Take inspiration from Origami, the Japanese art of folding paper while getting a rib tattoo inked. Origami is a symbol of peace, prosperity, and protection that represents your calm nature.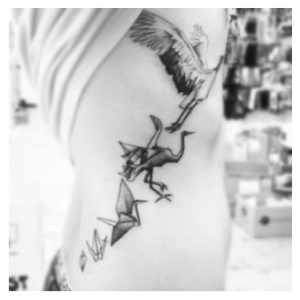 Pinterest: Cucullatus
The unique origami design will surely make heads turn your way. Make it look colorful by adding colors.
37. Origami Tattoos
One is definitely not enough when it comes to tattoos, so slay with more origami tattoos with a pop of color.
Source: sanamauricie.com
Tips For Tattoo Aftercare:
On the first night, the skin will be easily irritated and you may experience a burning sensation. The tattoo artist may apply a thin layer of coverage which you should remove after 24 hours.
Wear loose-fitting clothes for the first few weeks after getting a ribcage tattoo.
The new ink may feel itchy on your skin, but avoid scratching the area. You can apply a mild lotion to help reduce the itching.
Sleeping on your side may cause your new rib tattoos to stick to the sheets and pull the ink off. To prevent this, apply a body lotion before bedtime.
Seek immediate medical attention if you suspect you are suffering from a severe allergy or unbearable pain after getting inked.
Now you know all about the hottest ribcage tattoo designs that are ruling the popularity charts. What are you waiting for? Go ahead and get inked today! And check out unique tattoo designs if you are looking for Tattoos on the wrist, spine, or fingers.
Don't forget to tell us your favorite rib tattoo design from the above list. Also, share your recommendations with other fashion enthusiasts here. We would love to hear from you!