Have you ever visited a beauty parlor and did trials with your hair? If you do so, then I hope that you might have enjoyed a lot with diverse haircuts. Most of the working women prefer to have short hair with a format hairstyle so that they can work in a comfortable manner in their workplace.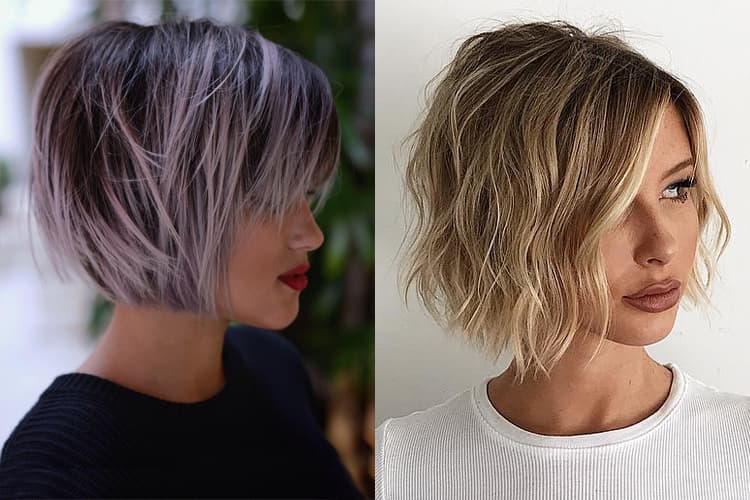 We often find hair in two formats, and one is fine hair, and the other one is thin hair. If you have fine hair and you are facing adversity in building your hairstyle, then I hope today's article will help you. In today's article, we are going to know about the best short hairstyles for women with which they can look stunning.
Before going to start, let us have a look at the fine hair.
What Is Fine Hair?
It is a type of hair in which you can find the width of each particular strand is fine. You can find whether your hair is fine or not with the help of the strand test. If you take your single hair in between your fingers and don't feel anything, then it resembles that you have fine hair which gets greasy and loose in a quick manner.
If you maintain fine hair, then you are advised to be cautious with the usage of hair products such as shampoos, oils, and many more. You have to make sure that hazardous chemicals which exist in hair products should not ruin you're fine hair.
Most of the women aspire to create multiple hairstyles and be unique. We are providing a few best short hairstyles through which you can cast fine hair and do wonders.
1.Chic Ash-Blue And Green Toned Gray Short Haircuts For Fine Hair:
This hairstyle is being used mostly at the '50s and has eliminated the boundary between fashion and naturally graying hair. You can also opt for several ranges of new color ideas to increase the graying color and brighten your hair. The most impressive part of this hairstyle is the fab horizontal texture, under the apex which gives a spectacular view to your fine hair.
2. Textured Bob With Bangs:
If you are the one with fine hair, then I hope that this hairstyle adds extra beauty to your hair. This hairstyle adds bangs and layers, which makes your fringe look thicker. The wispy layers boost up the volume, especially around the face.
3. To Convert The Lovely Long Hair To Short Hair Cuts:
At present, it is hard to find a woman with long hair. Most of us prefer to cut long hair an go with the short one so that we can get an attractive look to our faces. This hairstyle will enrich the features far more than the long and straight hair.
The back part of the hair will be layered to get a cute, pretty arrangement around the skull and fluffed-up volume. The front side of the face provides a charming section of hair to skim the eyes and frame the face in a feminine way. You can also push the hair behind your ear with the help of fingers for the casual look.
[sc:mediad]
4. Edge Easy-Care Eton Crop In Silvery Mode:
The most important feature of this hairstyle is that most of the students who belong to the U.K. school opted this hairstyle for an attractive look. The back part will be hummed out, and are separated in the form of layers, which incorporates light and dark shadings.
This balance and light touches of purple tones help the fine hair to look thicker. Short side-points connect the upper and lower part of the face, and you can also alter your hair the way you desire with this hairstyle.
5. Big Kinky Curls:
If you are the one with curly hair, then I hope that you might have struggled a lot to opt for the suitable hairstyle through which you can look attractive and stylish. This hairstyle is suitable mostly for the women who possess curly hair which draws care to your jawline and cheekbones.
You can get this look by using velcro rollers overnight. There are the few best hairstyles through which you can shape your hair via these methods and be the next model. I hope that the article was helpful.
6. Oat-Blonde And Lavender Tones On High-Quiff Short Hair:
This is the young and the most trending hairstyle chosen by most of the women for an attractive look. The colors included in this hairstyle are light beige blonde with lavender-pink toner, which is applied in between the quiff and the textured nape. The overall structure of this hairstyle will be soft and easy to develop according to the models.
7. Exotic Wavy Texture And Coral-Red Balayage:
Do you want to go to the party and have fun with your friends? If you do so, then I hope that this hairstyle will be perfect for you. The hair has short, buzzed side-points and the hair will be cropped into long sections. You can go with spikes and tapered tips to turn the fine hair in the form of waves.
8. Neutral Beige-Blonde With Buzzed Back And Sides:
This hairstyle provides a natural shade within a few minutes and keeps you cool, especially in the summer season. This style converts mousey-broken/dark-blonde hair into a fashionable, chic look. The cut is edgy, the back part and the sides will be buzzed out.
9. Curly Ended Lob:
This hairstyle is very cute, and the best part is that it does not require much effort and time to go with this. You can opt for this hairstyle is you wish to turn your curls in the form of waves and the most attractive part of this hairstyle is that you can build this without any difficulty.
10. Pointed Pixie:
This hairstyle won't be suitable for the women who have wide cheeks, or harsh jawline. The layers and bangs are cut with pointed, and flicked-out ends.