Many women with short hair complain that they can't style their hair in multiple ways. Well, this may come to you as a shocker, but you can style your short hair in several playful manners. So here we are presenting you with a bunch of short hairstyles for women that will make you look elegant and chic at the same time.
16 Best Short Hairstyles for Women
We often just think of getting short hair but never make a move as we need more motivation. So here's your sign to go for short hair and rock the short hair look you always wanted to.
1. Textured Bob With Bangs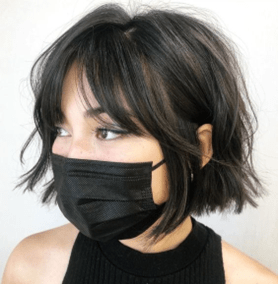 Source – Pinterest(Hair Adviser)
This hairstyle is for women who have thin hair and are struggling to get a volume. Well, here's your solution ladies. Go with a textured bob with curtain bangs and you are done. This particular hairstyle consists of layers through which the hair looks voluminous. Also, you can easily hide your receding hairline. After all, not having thick hair should not stop you from pulling off this gorgeous hairstyle with bangs.
2. Side Swept Pixie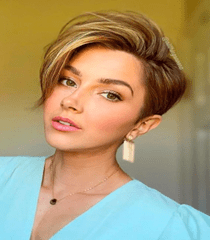 Source – Pinterest(Glaminati)
Side Swept Pixie is one of the statement-making hairstyles you can ever opt for. They give out a sophistication that no hairstyle can ever offer. Moreover, you are free to have this hairstyle without considering your face shape and hair type.
3. Pushed-Back Bob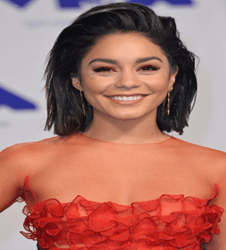 Source – Pinterest(Haircut Inspiration)
Pushed-Back Bob is another hairstyle for fine hair that anyone can pull off. Who says women with round faces can't rock short hair? The above picture is the perfect representation and pushed-back hair looks classy and gives a subtle hint of the party look.
4. Lavender Tones With Pixie Haircut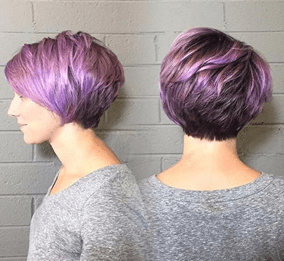 Source – Pinterest(The Right Hairstyles)
Pixie Haircuts were once considered edgy. But now things have changed. Women have started seeing pixie haircuts for more polished looks. Moreover, if you have thin hair, you should definitely try a pixie haircut because it will add volume.
5. Long Pixie With Undercut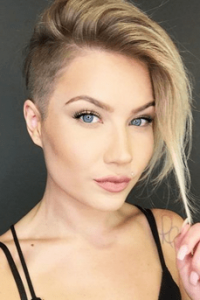 Source – Pinterest(Love Hairstyles)
This hairstyle is for all fashion-savvy women who love experimenting with their hair. The combination of pixie and undercut is altogether a deadly combination. It gives you the right edginess and versatility to the overall look. It is one of the sporty hairstyles as well if you want to have a sporty look.
6. Blunt Cut Short Hair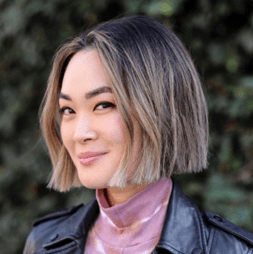 Source – Pinterest(Hair Advisor)
Blunt cut gives you all the luscious hair you always dreamed of. The shorter the hair, the more volume it gives. So if you are someone with fine hair, you should definitely think of getting a blunt cut. As you can see in the above picture, the little waves at the front are also accentuating the cut, so even with blunt hair, you can either go for full straight hair or can give a little wave to make it even more appealing.
7. Blunt Bangs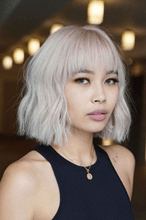 Source – Pinterest(Latest Hairstyles)
Blunt bangs is another cute hairstyle that will convince you to chop your hair. Bangs are either way in trend but with the blunt cut, they elevate the hairstyle even more. If you are someone who has thick and straight hair, then do consider blunt bangs because they will definitely give you a makeover.
8. Short Hair With Undercut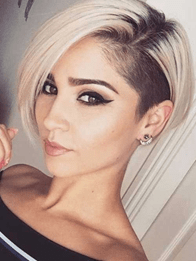 Source – Pinterest(Love Hairstyles)
If you are looking to get a sharper and brighter look, short hair with an undercut is the one. The undercut gives you an edge while short hair makes it look more polished. The above picture showcases the perfect balance, it is not over the top but also not soft.
9. Inverted Layered Bob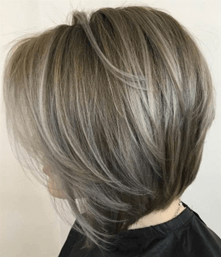 Source – Pinterest(Hairstylecamp)
To add an edge to your look but in a subtle way, an inverted layered bob is the one for you. The layers add volume to your hair, giving it a rich look. Moreover, if you have a round face, this hairstyle will not make it obvious.
10. Short Shag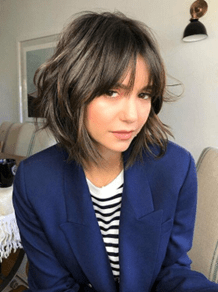 Source – Pinterest(Southern Living)
Shaggy hairstyles are back in the limelight for all the good reasons. They are visually effortless, appealing, manageable, and give out a mushy look altogether. If you are a fan of the effortless look, just for this hairstyle. Also, the shaggy hairstyle can be layered to short hair lengths.
11. Kinky Curls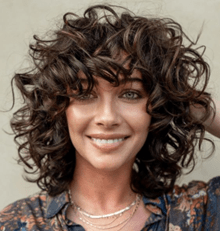 Source – Pinterest(The right hairstyles)
If you are the one with curly hair, then I hope that you might have struggled a lot to opt for a suitable hairstyle through which you can look attractive and stylish. This hairstyle is suitable mostly for women who possess curly hair which draws care to your jawline and cheekbones.
You can get this look by using velcro rollers overnight.
12. High Quiff Short Hairstyle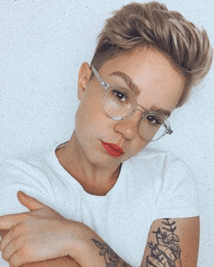 Pinterest(Femmie)
This is the most trending hairstyle preferred by most women for an attractive look. A highly elevated top makes the overall look more appealing and attractive together. Moreover, you can do this hairstyle easily by applying some hair products and you are good to go.
13. Wavy Texture And Coral-Red Balayage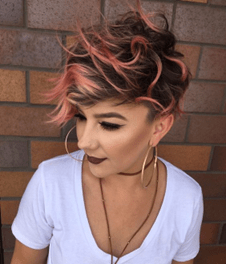 Source – Instagram(katierosehair)
Do you want to go to the party and have fun with your friends? If you do so, then I hope that this hairstyle will be perfect for you. The hair has short, buzzed side points and the hair will be cropped into long sections. You can go with spikes and tapered tips to turn the fine hair into the form of waves.
14. Blonde With Buzzed Back And Sides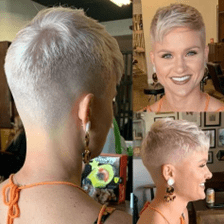 Source – Pinterest(coolshorthairstyles)
This hairstyle keeps you cool, especially in the summer season. This style converts mousey-broken/dark-blonde hair into a fashionable, chic look. The cut is edgy, and the back part and the sides will be buzzed out.
15. Curly Ended Lob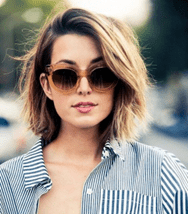 Source – Pinterest(Girls Meet Stripes)
This hairstyle is very cute, and the best part is that it does not require much effort and time to go with this. You can opt for this hairstyle if you wish to turn your curls into the form of waves and the most attractive part of this hairstyle is that you can style it without any difficulty.
16. Pointed Pixie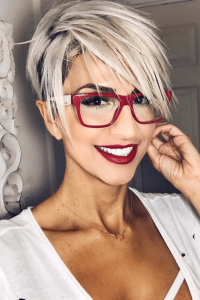 Source – Pinterest(Love Hairstyles)
This hairstyle won't be suitable for the women who have wide cheeks, or harsh jawline. The layers and bangs are cut with pointed, and flicked-out ends.
Hence this was the compilation of 16 trendy, short hairstyles for women that you will fall in love with instantly. Whether you are looking for simple and stylish hairstyles or edgy ones, this list has it all. I hope this article makes it easy for you to choose the hairstyle you deserve.
How to identify your hair type?
If you are having difficulty identifying your type of hair, here's a thing you need to know.
If your hair is smooth and silky, but it also lays flat, then you have fine hair.
Thin hair is kinda similar to fine hair but it has a lot to do with the density of the hair rather than the actual diameter of the strand.
Moreover, the best way to identify your hair type is to take a handful of hair in your fist. Now looking at your mirror, look for your roots, if your scalp is visible, then you have thin hair, if it's not, then you have medium or thick hair.
FAQS
Does short hair make you look younger?
Yes. Short hair does make you look younger. Moreover, specific hairstyles work like a charm. Often adding color can elevate its overall appeal.
Is short hair good for fine thin hair?
Yes. Short hair adds volume and fullness to your thin hair while long hair makes it look worse.