Are you invited to a traditional Bengali wedding ceremony? No matter the wedding ceremony that you are invited to. There is a Bengali saree for each ceremony. Choose one of these spectacular sarees and ace the wedding party with all flare. Sporting a typical Bengali saree is not hard as long as you know how to accessorize it well in regards to the event you are going. These looks are also a plus for a bride to be. As long as you can ace the drape, get lovely hair and makeup look and win through the color combos. In this article, there are some inspiring and stunning Bengali sarees that you can wear to various different Indian wedding ceremonies.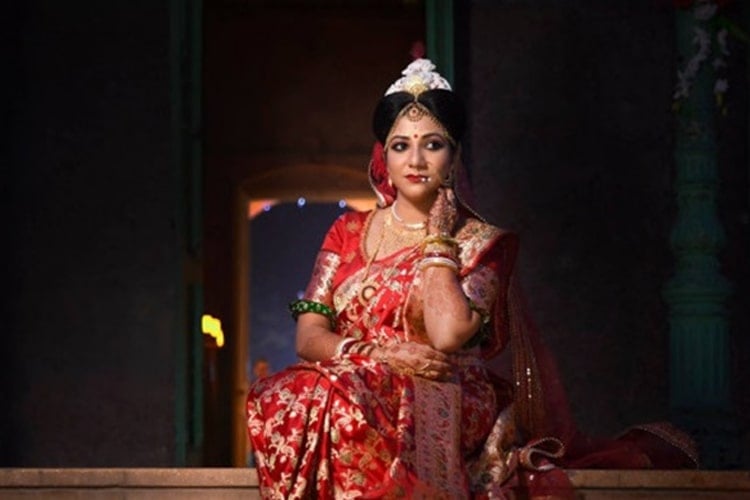 The Classic Yellow Tant Saree:
This type of Bengali saree is perfect for the Haldi ceremony. The tant Bengali saree is the most sought after among the other types available. Especially due to its fabric and comfort levels. Therefore, one in a classic Haldi yellow color is an awesome piece that will give you a stunning appearance. The color is fun and the fabric is light giving a happy vibe that is important during the Haldi celebrations. A bride to be can buy a designer Bengali sarees online of this color for her Haldi ceremony. Also she can add a red border for a bright contrast to this saree and hold her hair in a fine twisted bun plus aMaang tikka to accessorize.Finally, a red lip to bring out that bright smile.
The Lime-Green Silk Bengali Saree:
Now that the yellow tant cotton saree was a win for the Haldi party. Choose a beautiful silk lime green saree to wear to a Sangeet party. Although the Sangeet is more of showing off your dance moves. Your sartorial choices are as important and this stunning lime-green silk saree will not disappoint. A mustard blouse to pair this lime-green saree with golden thread work will enhance your panache. Plus, it is a perfect outfit to slay a Sangeet night. Ensure the blouse has a beautiful deep neck design and a messy bun with hanging curls for the hairdo. Smokey eyes and wine lips are perfect for this saree look.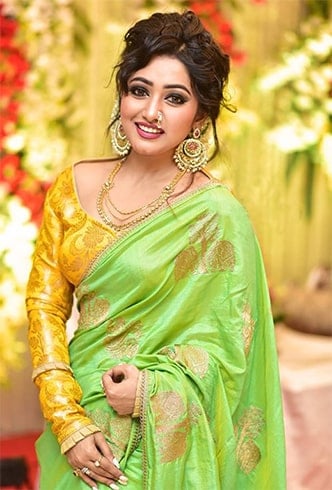 The Pretty Pink Bengali Saree :
Do you already know how to drape a Bengali saree? If yes, then choose a pretty pink one that you can wear to a Mehendi night party. This is a must-have saree in any girl's wardrobes. Not only for attending weddings but also to attend cocktail parties. Flaunt a pink chiffon Bengali saree with an outstanding pallu and body that has a heavy embroidery of silver or bronze. Optionally, you can choose one that you think matches the pink saree perfectly. If you are fully covered at the torso area, choose some gorgeous back blouse patterns to give the ensemble some upgrade. Wear your beautiful jhumkas and a pink clutch with a braided bun to complete the look. This saree look is also ideal for a pre-wedding shoot for a Bengali bride. Where she can go all out with a nude pink lip and pink blush for a pink photoshoot theme.
The Khadi Silk Bengali Saree:
To get an authentic Bengali saree look. Try the khadi silk saree in cream and pink colors. It is a popular choice among most Bengali women and you can wear this to a friend's wedding ceremony. The cream and pink combinations are a vibrant blend to the already elegant fabric. It is an excellent look for a friend's engagement party. Since the fabric is an already natural cream khadi silk. Opt to contrast that with a bright pink look and a blouse with long sleeves to highlight the blend. As a bride get first-hand inspiration and try this look for your engagement party. Adorn to a single broad Kada with large jhumka earrings as they are perfect accessories for this look.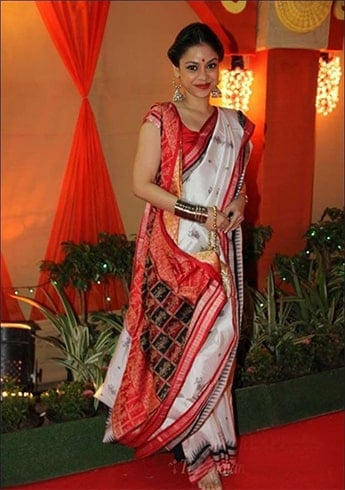 Korial-Garad Saree With A Twist:
If you are attending a Bengali wedding for a friend of yours and you have never tried one of their elegant sarees. It is time to try this red and white piece to surprise her with this Bengali look. Add a twist to it with the red border having floral embroidery that matches the blouse that you choose. Optionally you can choose one in a different floral print to give the whole ensemble a glammed up look. Part your hair in the middle and hold it in a neat bun and you can add a Gajra to style the hair. Complete the look with a red clutch and beautiful chaandbalis.
Hot Pink Georgette Saree :
To stand out in this saree ensure the blouse color you choose is a contrasting color. When mixed with indigo or a brown sleeveless blouse it might seem a little bizarre but after you finish accessorizing the look. This Bengali saree stands out of how elegant the contrasts look good together. As for the make-up look ensure that it blends well with the saree. Different hues of pink can sync well with this saree with an open curly hairstyle. Get inspired to try this look to a wedding reception party and you can add a traditional Bengali necklace to flow with the sleeveless blouse.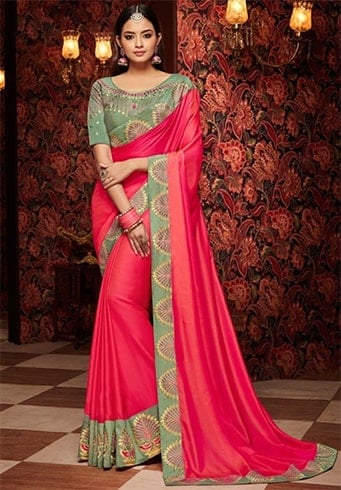 To sum up, the above fashion tips are essential if you are new to Bengali sarees and you have to attend a Bengali wedding. They will help you know where to wear what type of Bengali sarees. Plus, different ways to style your Bengali saree. The hair and makeup tips help you know how to perfect the final look. Therefore, experiment with the above fashion tips to ace the Bengali wedding event you are attending. Either as a bride or a friend's wedding, the styles, colors, blends, and saree fabrics will not disappoint for every occasion has its own fit. Also, you can try various Bengali draping styles and wear to what fits your fashion style. Own one or two pieces of these Bengali sarees and adorn them to other special events like festivals.