Indian culture has gone through a lot of changes since civilization and modernization. Indian fashion has not been let out as western culture continues to influence the fashion industry worldwide. However, the Indian saree still remains the most loved and worn attire in India. The Bengali sarees have a rich look with a unique way of draping it which makes them the most sought-after drapes in the fashion market.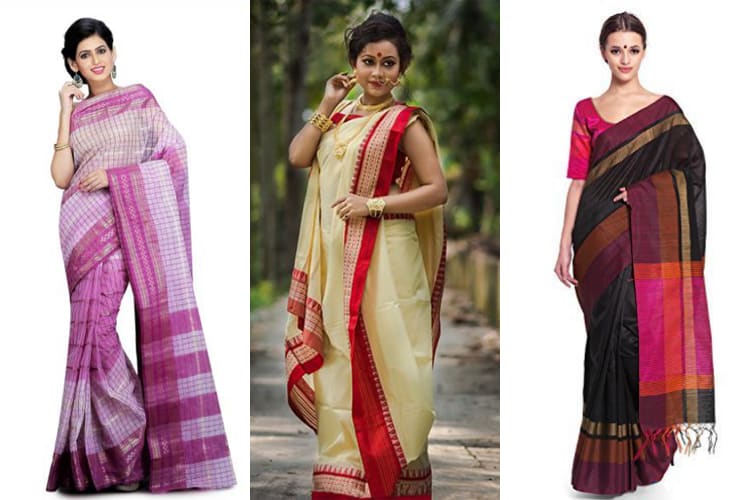 The Tant and Jamdani are two of the most popular varieties of the Bengali sarees. These two varieties were popularized in the 18th C. and have features of the Mughal art. Bengal is known for its rich cultural literature and art that is reflected on the authentic values in the people's lifestyle and the unique art of draping the Bengali saree.
In the olden days, the traditional Bengali sarees design didn't include a blouse since the women spent most of their time inside the houses. Later, things changed and the women had to venture outside and socialize which lead to the first change in the Bengali saree design. A blouse similar to the Parsi style blouse was combined with the traditional saree which then became a popular style of wearing the Bengali saree.
West Bengal has a hot and humid climate thus the sarees are made of fabric that is comfortable in this weather. Bengali sarees are very colorful and vibrant with an elegant look that you can find at stylecaret online stores. Bengali cotton sarees have intricate thread work and Indian mythology scenes woven into the sarees using the loom to produce elegant cotton sarees that are lightweight and semi-transparent.
Here are some of the popular Bengali sarees you can choose from.
Dhakai Jamdani Sarees:
This saree is originally from Bangladesh where it derived its name from the Bangladesh capital Dhaka. Jamdani sarees are one of the exquisite sarees made with cotton that is woven with zari, floral or figure designs, and the most famous mango motif (kolkaa). This saree has a lightweight texture that provides breathability to your skin perfect for the humid seasons. You can accessorize this saree with a heart-shaped necklace and drop earrings and a folded clutch to give you that vintage look.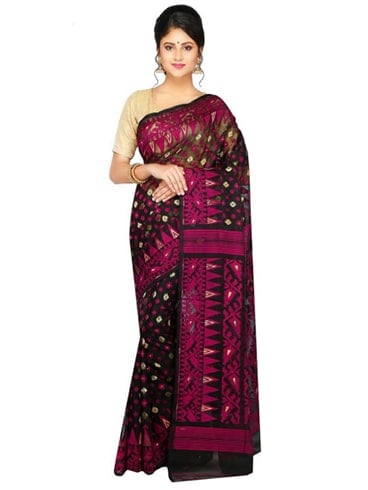 Taant Sarees:
Traditional Taant or tant sarees are hand woven lightweight sarees that come with subtle motifs all over the body and ornate designs on the pallu and the border. They mainly feature a broad red anchal and a milky white hue bodice. These sarees are produced in Murshidabad, Hoogly, Nadia, and Dhaka, also Tangail in Bangladesh. Taant sarees are mostly worn during Durga Puja festivals. You can pair this saree with a puff-sleeved pure golden or red hue blouse for that stunning look.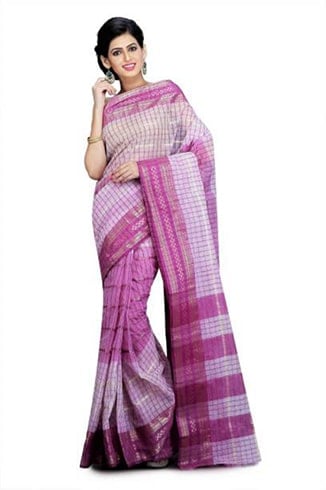 Baluchari Saree:
Baluchari sarees are from Baluchari in Murshidabad. These sarees are one of the most prestigious traditional Bengalisarees made from Tussar or pure silk. These sarees are famous all over India for their fiber quality, beautiful prints, and all-over floral patterns. Baluchari sarees are unique because the pallu is weaved with Indian mythological scenes. You can pair this saree with a real pearl necklace set and rustic golden embellished footwear to give you that super stylish look at weddings or grand events.
Korial Sarees:
Korial sarees are the most famous Bengal sarees that are usually crisp white with a red border. These simple and timeless sarees are mostly worn by married women during the Durga Puja festivals. Bengali's believe this saree to be a representation of the reincarnation of women power inside the women or Maa Durga which brings pureness, wisdom, and power to the spirit of the woman. If you want a stunning look, this saree would be the best choice. Pair it with a red blouse, chic necklace, stud red and gold jewels, heavy mid bun, and flat footwear. You can add a karma band to give your attire a graceful look.
[sc:mediad]
Tussar Sarees:
Tussar sarees are produced in several places in India but on a large scale in Kokatal or West Bengal. These sarees are made using the patta and butis style that most Bengali women love. The kantha stitch work can also be seen on Tussar sarees. To spruce up this saree, pair it with a half or quarter sleeved blouse, chandelier earrings or jhumkas, traditional ring, a beautiful necklace, and flat footwear.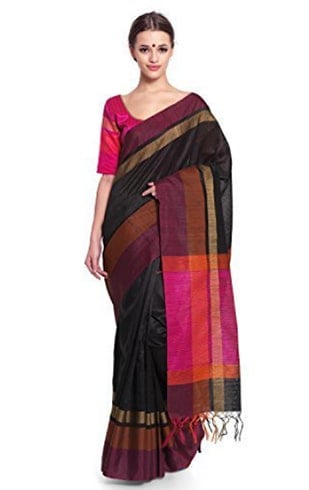 Garad Sarees:
Garad sarees are quite similar to the Korial sarees the only difference is the Garad sarees are white with a lighter red border with scattered flower-shaped symbols and motifs that give it an appealing and feminine look. You can adorn this saree to traditional occasions to draw people's attention by pairing it with a red bindi, traditional rings and chandeliers, bishop or puff sleeved blouse, and red drawing on your feet and palms.
Murshidabad Silk Sarees:
Murshidabad is a small district in West Bengal that produces light and airy sarees that are made with colourful and beautiful designs using the batik print style. Complement the stunning handworks and vehement pattern on this sarees with antique accessories and terracotta jewellery. This saree will go well when paired with a single hue blouse to highlight the saree's beautiful colour and matching flat footwear or Kohlapuris.
Kantha Stitch Sarees:
Kantha stitch is a traditional style of embroidery practiced in Bolpur- Santiniketan regions of West Bengal. It's a kind of running stitch that is manually done to make different patterns. It was initially practiced on small clothes by stitching together parts of the sarees and dhotis and camouflaging them with kantha embroidery. Kantha embroidered silk and cotton sarees have a unique combination of the traditional and contemporary appeal. Don a small bindi, terracotta jewellery, and sleek bangles to glam up this stunning saree.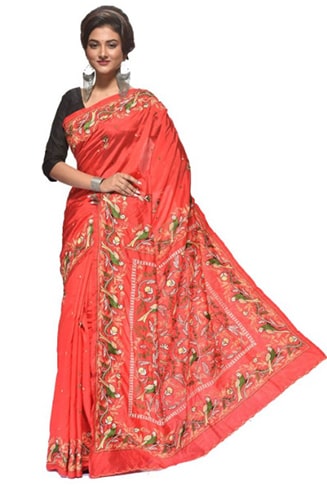 Batik Print Sarees:
Batik sarees are very popular Bengali sarees that are made using the old art of printing on fabric. The cotton silk material is hand printed using wax-resistant dyes. The prints can be personalized or customized according to the customer's request. Complete your look with tribal jewellery and a side sling bag.
The Bengali style of dressing is full of bold patterns, bright colours, and lots of accessories to accentuate the women's bold features.