As you are well aware the internet's craze with workout bottoms, especially pairs you can get on giant e-comm. retailer Flipkart and Amazon. And we explored a little deeper to discover what's in store. Turns out, they offered an enormous collection of jeggings in every style, color, and price point. To filter down the best selections from the ordinary lot, we combed through the top brands and highly-reviewed pairs.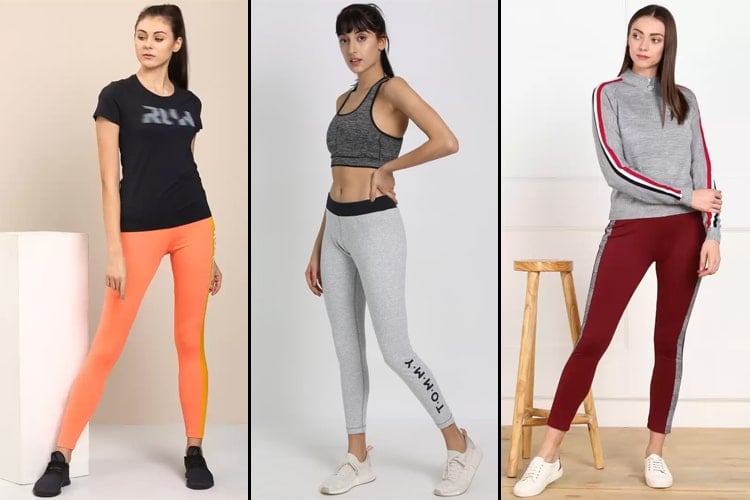 Trust Us- Buy these 15 Workout Jeggings:
Below, the 15 best pairs to shop on Flipkart and Amazon. Scoop them here.
1. Marks & Spencer Blue Jeggings:
The soft blue of these jeggings itself is a steal. But more than that, these pairs are super flex and flattering. Reviewers have collectively agreed on the comfortable waistline and the ankle-length fit. Also, the quality of these jeggings excels the cost. All in all, they are well-worth the price you pay for.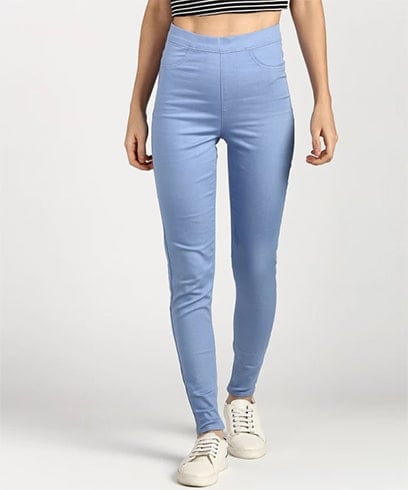 2. U.S. Polo Assn. Black Jeggings:
These regular jeggins are designed from a thick fabric to hide visible undergarment lines and also to keep you snug throughout the cold season. The quality of these black jeggings is much loved and this is probably one of the best find on our list as well.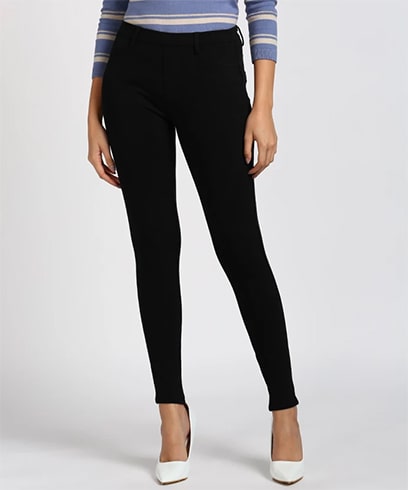 3. Vero Moda Slim Women's Jeggings:
If you want a pair that doesn't graze till the ankles, then consider these jeggings from Vero Moda. We share sentiments of its top reviews for super soft fabric and comfortable fit. All in all, this is a great choice that you wouldn't mind sweating out in.

4. Tommy Hilfiger Solid Grey Jeggings:
These jeggings by Tommy Hilfiger are opaque, smooth, and stretchy, so in short-awesome. Consider us believers when reviewers deemed the spotlight on this atheleisure bottoms aren't dimming soon. While the forward design with the offbeat grey shade isn't shy either. Mix it up with your favorite trainers for maximum impact.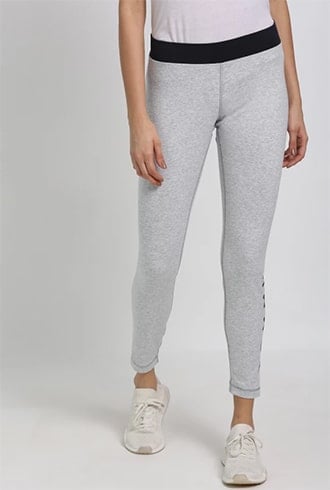 5. United Colors of Benetton Solid Red Jeggings:
For jeggings, you wish to wear for Pilates, try on these red pairs from United Colors of Benetton. The material flexes and gives shape to your body. The waistline is a regular fit, so it won't constrict you. You may find yourself living in these bottoms for days when you aren't working out all the way. They are that comfortable.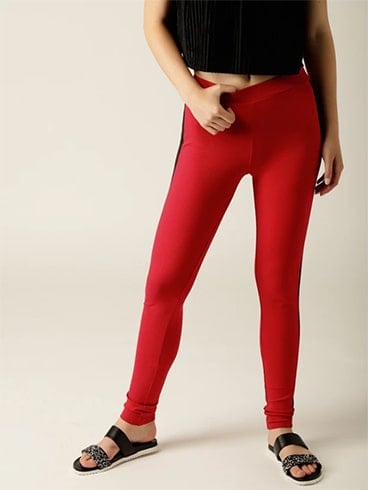 6. Provogue Maroon Tights:
This is a consistent pair of tights that has been popular over this giant online site. Their great features are its ability to hide tummy bloat without causing discomfort. They also look great on curvy women who seek a thicker fabric with breathability. In addition, these tights hold up several washes.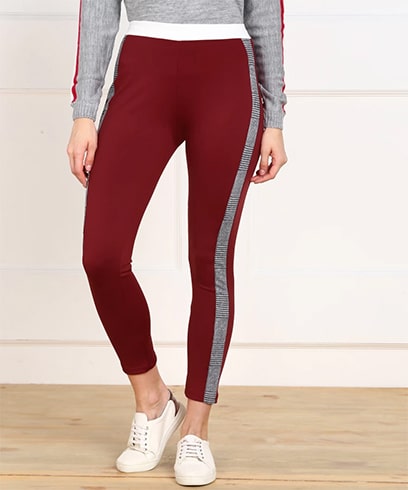 7. Reebok Classic Flex Pink Leggings:
These Reebok Classic tights come in a sweet shade of pink and have been hauled as one of the best. Sure, the hue accents bring a feminine edge, but the overall flex shape of these leggings also feel quite practical for working out.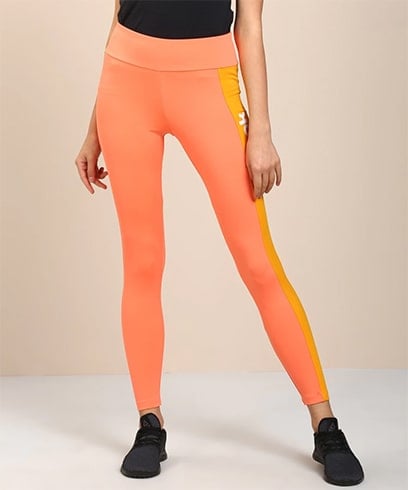 8. Adidas High Waist Maroon Tights:
The pros of these tights are they're stretchy, comfy, and affordable. Fitness enthusiast will love these pants as they are pretty easy to work out in. Plus, the cool aesthetics is an add-on to an otherwise simple line-up of leggings.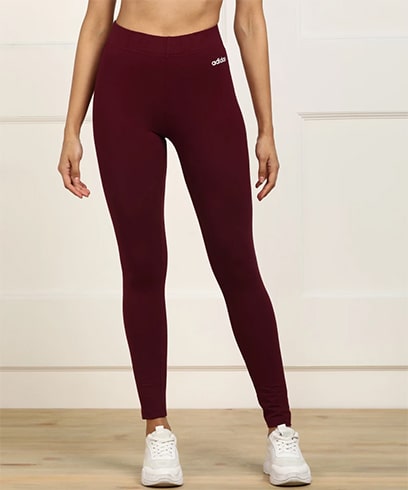 9. SATVA Women's Purple Tights:
This pair of purple tights might replace your favorite denims. They are highly hauled for their thin material and comfortable fit. This pair doesn't bind or constrict your waistline. You can easily take these tights everywhere with ease.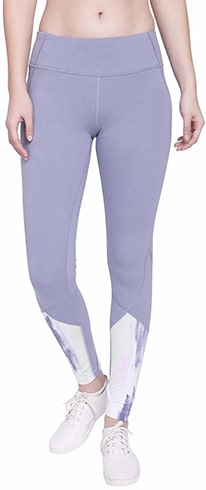 10. Zelocity by Zivame Pink Flex Leggings:
Those on the curvier side will want these flex tights. This pair passes the flexibility test and is not see-through. They are comfortable to wear enough for all seasons. So don't be hesitant about pushing your comfort buttons- these pink leggings will take your workout session to a new dimension.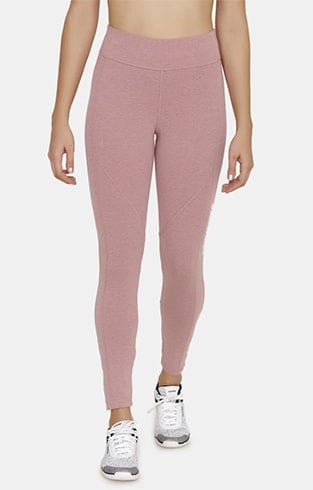 11. People's Jegging Jeans:
If see-through tights are not your cup of tea, go for these thick jegging jeans from People. They're stretchy, smooth, and opaque. This pair also features moisture-wicking capacity which you can allow you to smoothly sail through your intensive workout sessions.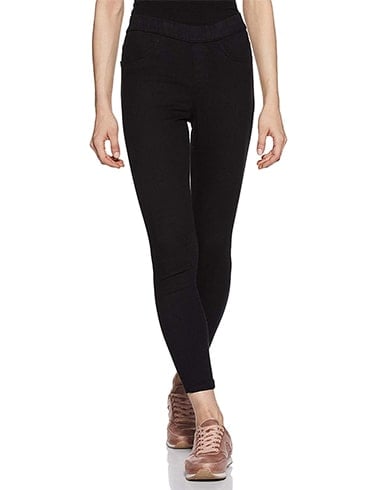 12. Fila Regular Fit Leggings:
Get ready to be complimented for these amazing pair of leggings while hitting the gym. Yes, you can call them your miracle workout bottoms.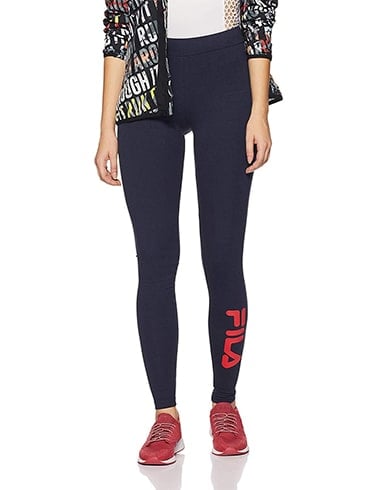 13. PUMA Stretch Jersey Workout Pants:
Try on these silky soft pairs for an instant lift to your training outfit wear. They can also be great for days when you wish to go for comfort. Its breathable fabric will make you want to work out in and sleep on it at the same time.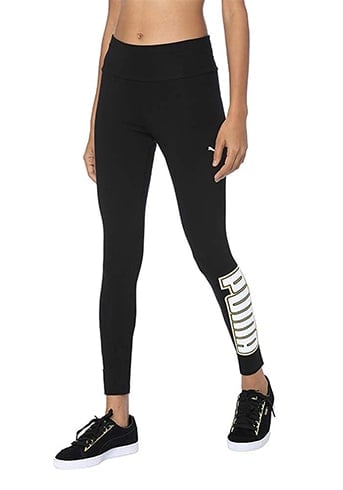 14. Nike Flex Tights:
These classic tights by Nike are well-received because of its buttery soft feel, great price, and comfort. They easily fit all sized frames and are a great find. We are sold.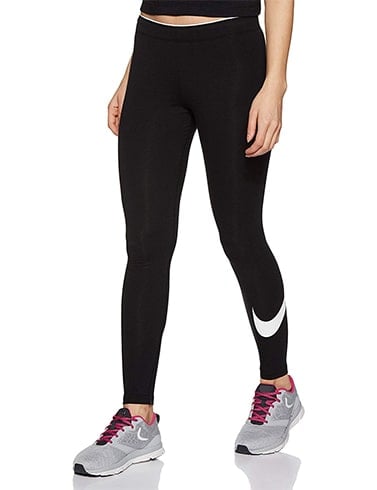 15. Marks & Spencer Pink Jeggings:
You may not need these thick jeggings by Marks & Spencer at the moment, but come the cold season your legs will thank you. Great to pair with anything, the bottoms are warm but at the same time not bulky. If you can't decide between all these pairs, just buy them.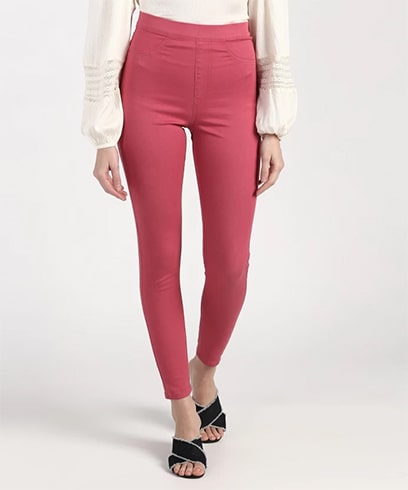 So with this, we conclude our visual inspiration for workout jeggings. We hope you loved our finds above. The big question of course is-are you intrigued enough to test them out? Well our comment section below is open for all, if you wish to share your feedback, that is.