Everyone knows a proverb "Meet by clothes, see off by mind". When entering a college, both girls and boys want to make an impression on their peers. It isn't a secret that it's much easier to make friends if you look stylish and fashionable.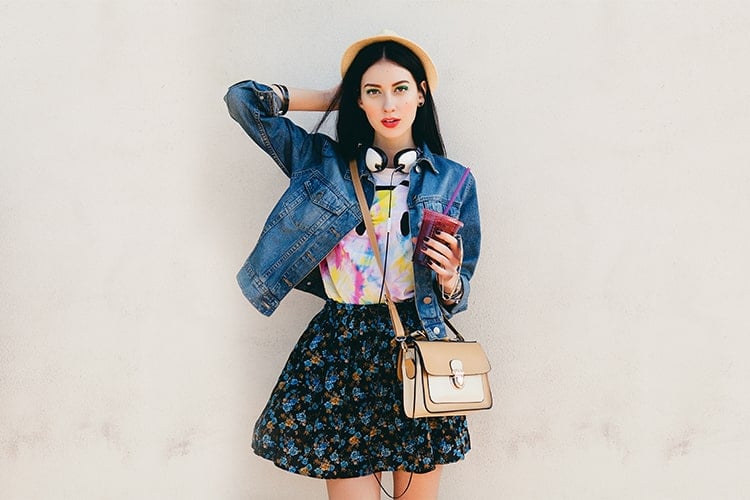 Want to know what college fashion trends are popular in 2020? Professional team of writers from ProHighGrades want you to remember that you need to emphasize your sense of style wearing clothes that will look appropriate in the educational establishment. It isn't necessary to wear short skirts and open blouses to attract everyone's attention. Wear such pieces of clothes when going to the party. Don't waste time asking Google what to wear today. Here are college student fashion trends wearing which you'll look really stylish.
Shirts and Blouses:
White and black shirts and blouses are the most important attribute of the basic wardrobe of any person associated with business and study activities. In the search for relevant and stylish options, you should pay attention to things, styles, and details.
In 2021, stylish shirts and blouses are free cut, semi-fitted, and slightly fitted. Shirts and blouses in oversize style will emphasize your personal style this year. Models of shirts are similar to those men wear. An important and fashionable detail in shirts and blouses, relevant this season, is the design of cuffs and sleeves. Interesting and unusual sleeves can add certain charm and grace to your image. Pay attention to reserved shirts with elongated, widely tucked or narrow cuffs, with ties or buttons (2-4 buttons are the best option).
Stylish tip: the most mundane look of a shirt or trousers can be successfully changed with a simple trick – use twists. They're of different widths, – just find your optimal length.
Jeans and Trousers:
Current models of trousers – shortened with an open ankle, culottes, with an arrow adjusted or stitched in front. If it gets colder and wants to hide the ankles, we recommend paying attention to woolen trousers, as well as wide styles of pants. The most relevant and suitable for this category of the wardrobe are a cage and a strip.
Wide denim jeans and trousers (along the entire length) look very stylish. Flared pants suit very thin and tall fashion girls because they will give their figure a very interesting silhouette. The most fashionable pair of jeans and trousers have a high waist.
Jackets, Cardigans, Blazers:
Today, this part of the modern wardrobe is one of the most fashionable in the arsenal of every fashion girl. Any stylish girl should have a stylish and practical jacket or cardigan. There are a lot of current models in this category – oversized jackets, men's style jackets, classic tailoring blazers, elongated jackets. Too short blazers and jackets on a single button are not relevant now.
For university students, elongated blazers that resemble a shortened coat are suitable. This option is quite appropriate and in some cases can really replace outer clothing if it has a high percentage of wool in the fabric.
Today's interesting options are blazers with cut sleeves along the inner seam (looks great if products are made of soft materials). It is important here not to cross the line of what is permitted – a similar model of a blazer should be appropriate in the business environment and emphasize your personality. Wide shouldered models are also in fashion.
Stylish tip: the most fashionable outfit using a blazer or jacket in your image – a combination with belts. Belts can be thin, wide, with minimalistic, or voluminous yarns. You should use belts of the most simple designs, slightly in the men's style, without elaborate and massive buckles, or more openwork options in the style of Western.
Knitwear:
Knitted turtlenecks are relevant, they're either oversized or slightly fitted styles. When it's cool outside, it is perfect to choose a top from warm fabrics – soft and pleasant to the body mohair and dense knitwear.
Oversize coarse-knit sweaters, ribbed super-knit sweaters, sweaters with unusual sleeves are also in fashion. Students, as well as teachers, should pay attention to ribbed sets – sweater + skirt. Braiding is also relevant, but in spring and autumn, knitting and print in the form of rhombuses are the most popular.
Footwear:
The most optimal shoes are loafers, brogues, ballet flats with an elongated toe and a strap at the back, low-heeled shoes, mules. Oxfords, which were popular not so long ago, are not relevant now. Create a fashionable image with the highlighted sock (in color, other material, for example, metal).
Chelsea boots continue to be relevant – the most practical option you are free to wear every day. They are on a flat stroke, and on the heel. Cossack boots are another shoe trend of 2021. In early fall/spring, choose ankle boots and pipe boots with a wide shin and a low stable heel.
Bags & Backpacks:
If you are a college student, then you should forget about round bags, which became a real hit last year. After all, such a bag is completely not practical for educational supplies – books and notebooks. Here, you should give preference to a classic rectangular bag or model, slightly going into a trapezoidal shape. The backpacks are very fashionable this season. Choose classic leather models that are roomy and comfortable.
Most educational establishments provide students with rights to choose what to wear. So, use your chance to follow fashion and impress everyone on the campus by creating a cute image.