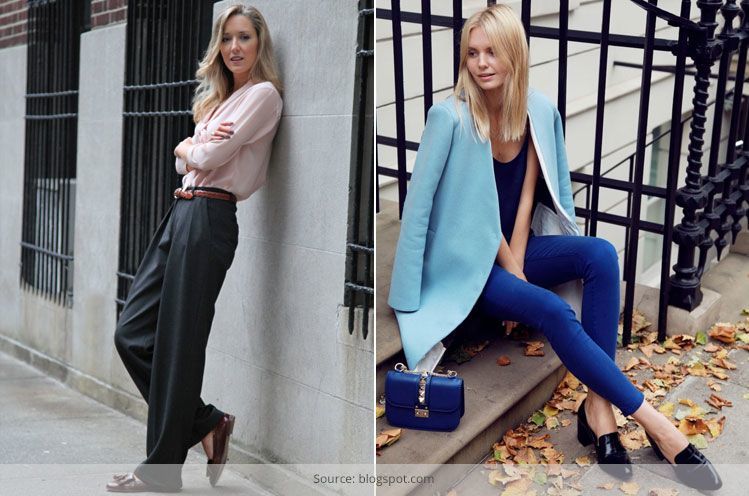 Loafers are often not given as much credit as they ought to be given. While we are busy fawning over high heels and boots, we seem to have forgotten that there's one other type of footwear that makes a fashion statement while still being super comfortable. Yes, we are talking about a pair of loafers. You can make your loafers work with anything from shorts to dresses to pants. But here, we are going to discuss on different ways to style loafers with trousers look.
Wear Loafers with 'Man Pants'
This is a super cool look that is just the thing for you if you like to experiment and push the boundaries of fashion and style. Here's how to get the look: wear loose 'man pants' with your loafers. Roll up your pants to bare your ankles and put on a pair of loafers for an über cool look that is so very different.
Show Off Your Ankles
One thing to keep in mind when going for the loafers-with-trousers look is to show off your ankles. This seemingly small move can make a world of difference, taking your look from drab to fab. It is imperative that you show off your ankles when wearing loafers. This means you could either roll up your trousers in order to do that, or you could wear trousers that end well above your ankle, thereby allowing you to bare your ankles.
Wear Loafers with Checked Trousers
You cannot go wrong when you pair your loafers with a pair of checked trousers. This is a tried and tested combination that works every single time. All you need to worry about is whether the trousers fit you well and if the colour of the loafers and trousers go well together. So if you are a novice and haven't worn loafers and are not sure how to go about this, this pairing is the way to go for you.
[sc:mediad]
Wear Loafers sans Socks
This is a very important point to keep in mind on wearing trousers to wear with loafers. Never wear your loafers with socks! That's just not a look you want to be caught sporting. Socks plus loafers equals a very unfashionable, nerdy look. So always skip socks and if you feel you need some kind of layer between you and your shoes, you can always opt for one of those skin-coloured shoe liners that are discreet and won't look obvious.
Play With Colours
The best part about wearing loafers is that you can really experiment with colours. There is not pressure to match your shoes with your clothes or vice versa. So do take your time and try out different colours to come up with a truly unique and fun combination.
Go Monochrome
If colours are not your thing or if you're scared to experiment with colours for fear that you'll end up with an OTT look that is not very flattering, then go the opposite way. Opt for a monochromatic look; make your ensemble fully black or grey or brown. You can't really go wrong with that and what's more, you'll end up looking super chic while at it.
While heels may help you achieve a very bold and sexy look, loafers can help you nail the subtly-sexy and super chic look. Anybody can wear heels and trousers and look good in them, but it takes a fashionable diva to nail the trousers with loafers look. Are you up for the challenge after reading this post on how to wear trousers with loafers?