New and frenzy brow art trends continue to bewilder us. If fishtail eyebrows and halo brows were not enough to amuse you, the queer brow trend may have caught your attention. However, the latest phenomenon in brow art was started by British makeup artist, Bea Sweet, who introduced dipped eyebrows, which will blow you away.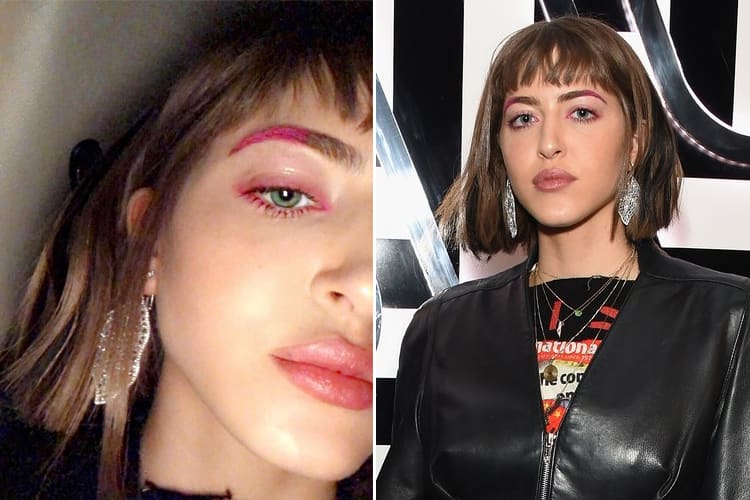 You may not exactly try out this trend tonight itself, but you can always feel free to experiment the dipped brows. While there are other brow trends that look unconventional and are garnering dislikes along the way, Bea Sweet's dip brow eyebrows are quite the low-key version of arch upgrade. Her version is more wearable and normal-looking; something we've been waiting for a long-long time.
Sweet made the debut of subtle shading technique during a London Fashion Week Event for twin sisters, DJ duo Simi and Haze Khadra, when she wanted to add a beauty element that has never been tried before.
For the look, she painted their brow tails hot pink and black, leaving the start of their arch with their natural eyebrow shade. Simi ended up with a hot pink shade, while Haze got a darker black shade. Both the looks were a fun way to add color to their face.
Sweet associated the colors with what the twins were wearing that night and their overall vibe. But the entire look of dipped brows is up for the taking.
In an interview Sweet stated, "The reason why dipped eyebrows work is because everything else is kept minimal. Skin is even and matte, we haven't over-contoured, there aren't false eyelashes, and there aren't any distractions happening on the face." However, for a bold look, you can match your lips to your brow color.
Here is everything there is know about dipped brows you're definitely going to try:
How to Sculpt Dipped Brows:
Achieving the dipped brows is simpler in comparison to other brow trends out there.
All you need to do is sculpt and fill your brows as normal. Brush them up and over.
Then decide which colorful element, you'd like to add to your brow tails.
After that, make use of pencil eyeliner, liquid eyeliner, eyeshadow, or a combination of all three.
Add a bright color or subtle shade that complements your brows from the outside and gradually fade the color as you move towards the center of the brow.
This is a fun method to use color on a feature other than lids, cheeks, or lips.
Step-By-Step Tutorial On How To Get The Look:
Remember that your dipped brows can be as modest or bold as you'd like it to be:
[sc:mediad]
Step 1:
Start by filling in your brows. This can easily allow you to master dipped brows. Begin by combing your arches into place. Then, fill in the inner halves using your go-to-brow grooming product. Sweet loves using Anastasia Beverly Hills Dipbrow Pomade. You can also create a similar look using the fluid line brow gel crème by M.A.C dip brow.
Step 2:
For the second step, draw a colored gel liner like Marc Jacobs Beauty High liner Gel Eye Crayon Eyeliner onto the outer brow halves. Then coat a disposable spoolie brush using the M.A.C Chromaline before brushing through the brows. Sweet advises to be brave with the Chromaline when you comb it into your eyebrows.
"The more product on the brush, the better, and treat it in the same way you'd apply a normal mascara to get full coverage." Once you're finished, set everything using a clear brow gel. In Sweet's words, consider yourself 'dipped.' The look is simple.
Step 3:
Take it easy with the eyeshadow color. Whichever color you select, be sure to keep it simple as the rest of your makeup. You do not want your eyeshadow to be competing with your dipped brows! The minimal look is the best for this trend. Finish the look with a matching lipstick or line your eyelids with a matching shade, and you're set.
The Final Look:
For the finished look, keep the rest of your makeup low-key and monochromatic. The reason why dipped eyebrow is relevant is because of its minimal result. At the end, skin is matte and smooth without needing major contouring. You need not use false eyelashes. There are no other distractions on your face and all the focus remains on the dipped brows-which is pretty awesome! So for this look, embrace your new eyebrow dip to take center-stage.
Products To Try For Dipped Brows:
Below we are going to introduce you to some of the most favored products to perfect the dreamy dipped eyebrow trend:
1. Anastasia Beverly Hills Dipbrow Pomade, $18:
Best used for sculpting your brows.
2. Benefit Goof Proof Eyebrow Pencil, $24:
Best used for sculpting your eyebrows.
3. Dior Diorshow Brow Styler, $29:
Best used for sculpting your eyebrows.
4. Too Faced Glitter Pop Eyeliner, $20:
Best used for glitter dipped brows.
5. Urban Decay Razor Sharp Water Resistant Longer Liquid Eyeliner, $22:
Best used for creating metallic dipped brows.
6. Marc Jacobs Beauty Highliner Gel Eye Crayon, $25
Best used for creating old dipped brows.
Bottom-line:
Basically, the dipped brow trend is one of the easily-wearable looks of all brow trends. You can step out in this one without getting weird glances from people. In addition, it is fun, playful, and colorful, making it perfect for special occasions.
And the best part above it all? You can wash the color right off, which makes the removal process pretty simple. You need not spend precious time bleaching your brows and using semi-permanent dyes trying to knock it off.
Will you be trying these new stylish brows? Let us know your thoughts in the comments below.