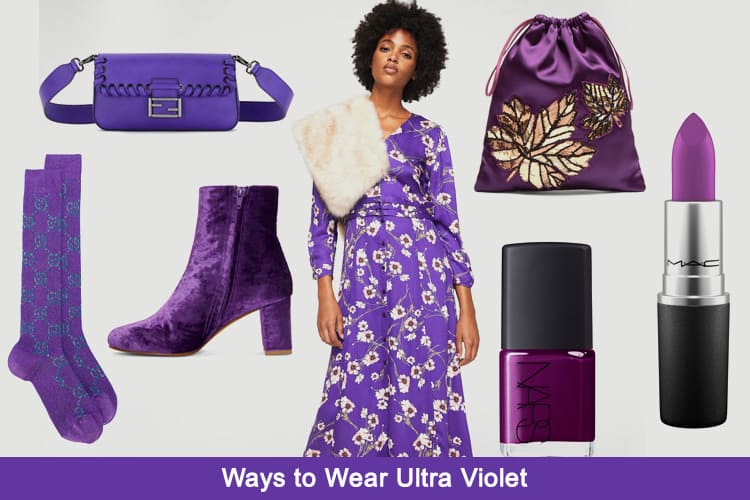 Ever since its launch, it's been the rave all over. And we thought why much not we introduce you to all this magnificence. So for you beautiful people out there, we've got the best picks for the 2018 Colour of the Year, and it's everything that comes to your mind when you hear the word, "gorgeous". Now you will have to get your imagination in place, mix the melancholy of Purple Rain with the marvel of the mystical cosmos and add to that the beloved eggplant emoji you so often use.
Ultra Violet is Pantone's 2018 Colour of the Year, and to give you an idea of it we'd say it's basically a blue-based purple which appears to suggest that the year ahead of us is going to be one of great discoveries and enlightenment. And given the how disappointing 2017 was, with its accompanying colour green of the year, which can safely be called the worst shade of green ever, this purple works fine for this year.
Pantone describes its new color as, "a dramatically provocative and thoughtful purple shade, Ultra Violet communicates originality, ingenuity, and visionary thinking that points us toward the future." Can we get a hell yes?! Pantone continues, saying the colour recalls "influential icons such as Prince, David Bowie, and Jimi Hendrix, who brought shades of UltraViolet to the forefront of western pop culture as personal expressions of individuality." Now that's one star-studded description we can surely get behind.
Though the holidays are over, we've circled our most favored purple-hued finds. We have candles that took inspiration from the galaxies afar, to flirty skirts and pretty sexy lipsticks. Here are 15 ways you can wear Pantone's color of the year for 2018 and look as posh as it gets.
Sweater
The color is a little loud – we get it, and if you are not the one to sport just a vivid color on yourself, or if your existing wardrobe is a little toned down, we'd say take tiny little steps. How about getting a sweater first? Take a little stroll throwing this sweater around, now this color might take a little getting used to and a sweater, as a piece of wardrobe affords you all the time you need. In case it starts getting a little uncomfortable, take if off – but we are quite sure you would start loving the trend.
Denim
Now that we have given you the ice-breaker, it's time to try something brave. And by brave, we mean this purple denim number. What? You aren't ready to trade that trusted pair of denim for velvet yet? Common now! These straight-cut trousers literally have your name written all over them. Team them up with some stunning ruffles and generous sparkles to get that show-stopping party look. We promise you will have everyone's heads turned.
Paper Bag Trousers
Get your hands on these super trendy paper bag trousers in this chick shade of purple. Perfect for you if you have grown bored of wearing the same cigarette trousers to work every single day. These purple paper-bag pants are just as suitable for the office.
Grafitti Tees
But if you are too adamant about the good ole blue denim, be it. Get yourself some casual lose-fit Tees. Tremaine Emory and DJ Acyde have conceived Art Dad over one of their late-night conversations about everyone's favorite singer Kanye West's Madison Square Garden show and how soon after, Virgil Abloh of Off-White had texted them proposing a collaboration. This '70s-inspired 'Cigars and Tequila' Tee is a perfect piece for just another casual Friday. Team it up with your worn out denim and a pair of comfy sneakers.
Summer Dress
Summers are just round the corner and tell me if you haven't started your summer shopping already. I know many who have already wrapped up but those who are still at it – don't forget the quintessential floral dress we all slip in during those sunny humid days. And for this year we say, get yourself one of the adorable Pantone color dresses, A light flowy number with floral patterns all over, just that this year, instead of white, pink, yellow, it's gonna be this very 'in' shade. The unique color is going to be an instant mood enhancer and will have multiple uses. Because of the color, you may also wear it when winters roll in – just by pairing it with a pair of high-boots and a muffler.
Boots
When they say boots, we say velvet boots, that's exactly how we roll. These smooth velvet boots could be matched with a gazillion outfits choices. You may slip into them for a super serious business meeting, and the as the night sweeps in, slide into your evening number. Don't change the shoes – they work just fine, day and night.
Sandals
It's too warm for boots? Try these uber sexy heels instead. They would be the focus point of any party or club you wear them to. This adorably ruffled pair here is designed by our favorite brand Zara. Out these on with your thick tights under your favorite dress or ultra-short skirts.
Socks
If we are talking foot, why should the socks be ignored? This is another way of flaunting the purple. Add that much needed dash of glitter dust and your feet are party ready.
Pouch
Sport an intricately embellished pouch shimmering in metallic shades of gold, silver or bronze, with purple as the base color. These sequins creating a leaf motif on this satin pouch is an accessory you have boastfully carry to any occasion that demands you to turn up looking all ethereal and Indian. With enough space for your beauty essentials and phone, this one would go fine with your traditional garb. In fact, the motif on this one is so contemporary that you can match it up with your evening gowns also.
Sling Bags
While we are on the topic of bags, let's not forget this cool way of wearing a dash of color. You can take this sling to a date, shopping, party with the girls or wherever your feet take you. Way to add that Pantone ultra violet to your look, without actually "wearing" it.
Knit Sweatshirt
These extra baggy long-sleeved numbers are a staple for every wardrobe. You may think it is too early to shop for the winters and but, mark our words, this color is going to be in vogue even in the coming winters. You may pair it with skirts, denim, trousers – what have you.
Glitter all way
Now that we have talked enough about sporting the Ultra purple in a minimalist way, let's change gears and give a chance to the maximalists. Yep.. you bold ladies who are totally on your marks to ret out this hue, pick this all shimmer maxi dress to own the next party you step into. Though the Lurex Velvet High Neck Midi Dress here is a 4040 USD pick from Prada, the online shopping sites are flooded with similar yet pocket friendly options.
Did you think that all the 15 ways you can wear Pantone's colour of the year for 2018 are in outfits and accessories. Now are we forgetting something really essential here? Yes, we are. We are forgetting the make-up and cosmetics that form such a vital portion of our look and wardrobe. Don't restrict yourself from trying these neon babies from glowing on your body.
[sc:mediad]
Nail Polish
Nars, keeping up with the latest fashion, has this perfect nail paint that suits every skin tone on planet earth. A must have for every vanity, try this manicure this weekend itself.
Eye Shadow
Got a party this weekend? Wanna glow in the dark of that night club? We have two choices for you have would have everyone's head turned towards you. Try on a sparkling violet eyeshadow as we have here.
Matte Lipsticks
Not for you? Well, then get this gorgeous matte lipstick in the shade and get all those handsome men buying you a drink.
These were the super cool 15 ways you can wear Pantone's colour of the year for 2018. In case you have spent hours Wondering how to wear Pantone's 2018 fashion color… thank us later for making your life easier. For now, pick your pick, ladies.