Are you a copycat? Welcome to the copy gang. Because this copying is of a different nature – lovable and cute. And what is this? Mother and daughter matching dresses are the latest fashion trend. Isn't this yippee? It's got to be.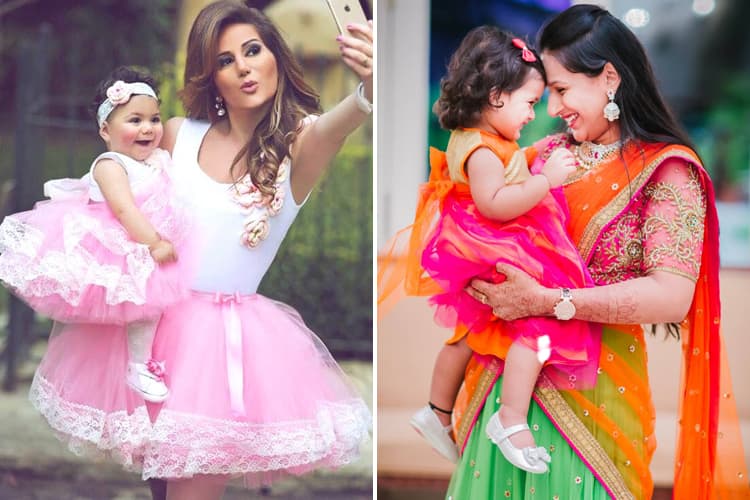 One can understand sibling love but the similarity in mother-daughter dresses explains the new generation style which is filling the divide and age difference between mom and daughter.
This article will hopefully bridge the gap between mom and daughter and make them more aware of the concept of mother and daughter same dress.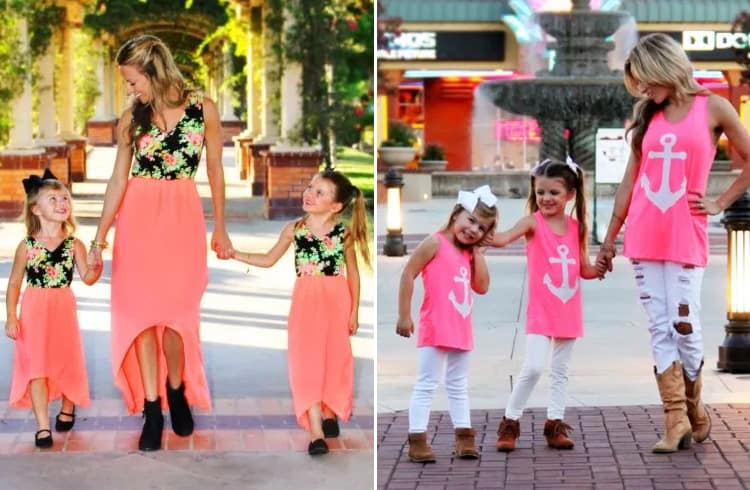 Top 12 Chic Options For Matching Mother And Daughter Dresses:
Have fun in choosing mommy and me clothing:
1. Stripe Fever:
Show off your stripes and the new style punk starting from the shirtdress to edgy accessories like Kate Moss and Lila. The black moto jacket and Converses in this mother-daughter matching clothes combo helps channel out a chic vibe, the rocker way.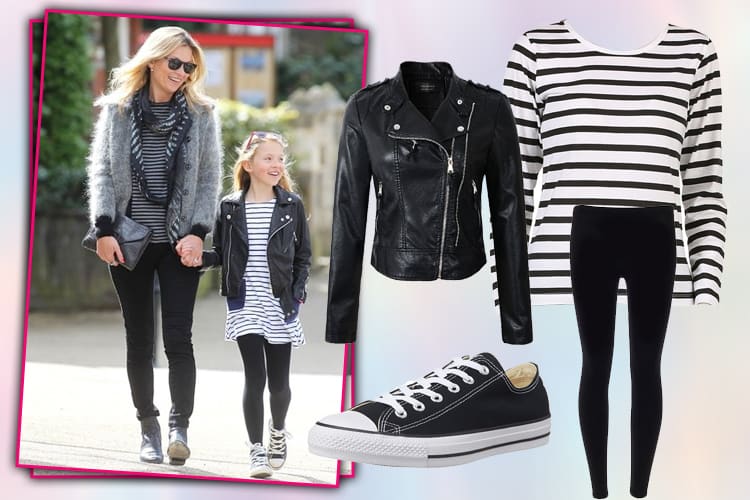 2. Print And Skirt Combo:
Seems like colors are a strict no-no for both Katie Holmes and daughter Suri. That is why both of them went ahead and paired their black-and-white printed top with a white skirt. Instead of going for high-heel booties which is also a trend, the mother-daughter topped off their look with silver ballet flats.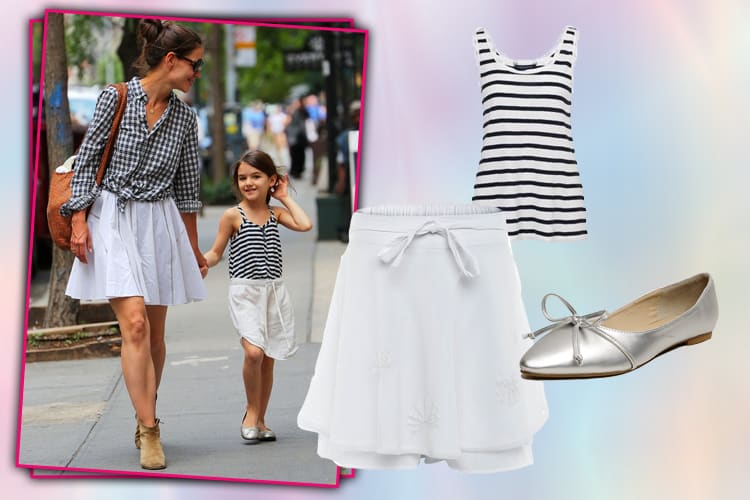 3. Frock Style:
Celeb Alessandra Ambrosio and daughter Anja took a break from their flirty neutral-toned frocks by going in for a pretty looking ballerina dress and completing their look wearing a tulle skirt with floral accents, and gold Mary Jane flats.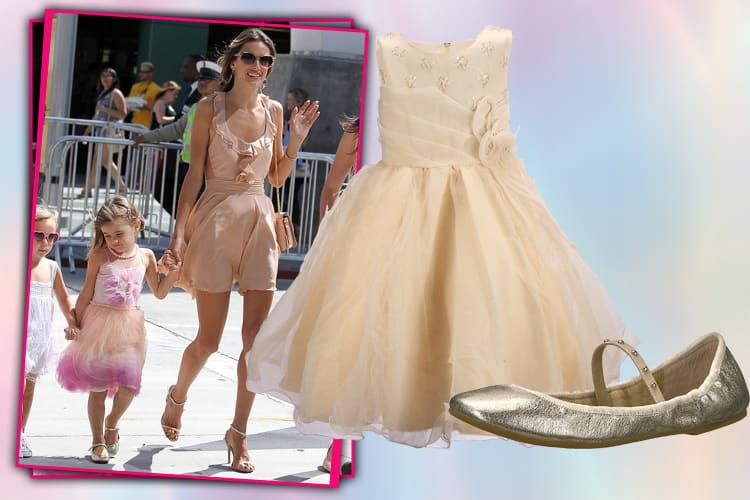 4. Floral Is Fun:
Look how summer-friendly mom Sarah Jessica Parker and twins Tabitha and Marion appear in this floral print dress. The lemon-hued dress dotted with flowers will earn you a bonus point when you match the color of the ballet flats with the petals.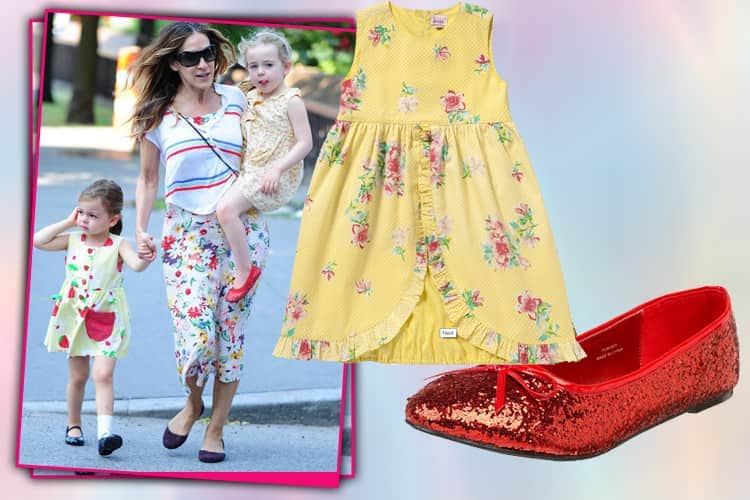 5. Hot-As-White Tops:
Mom Gwyneth Paltrow and daughter Apple know one thing for sure – that a white top is very much an essential wardrobe piece. For your small girl, pick a button-down with necktie detailing. As far as you are concerned, dress up your white tee with some gold jewelry, cuffed trousers, and black booties.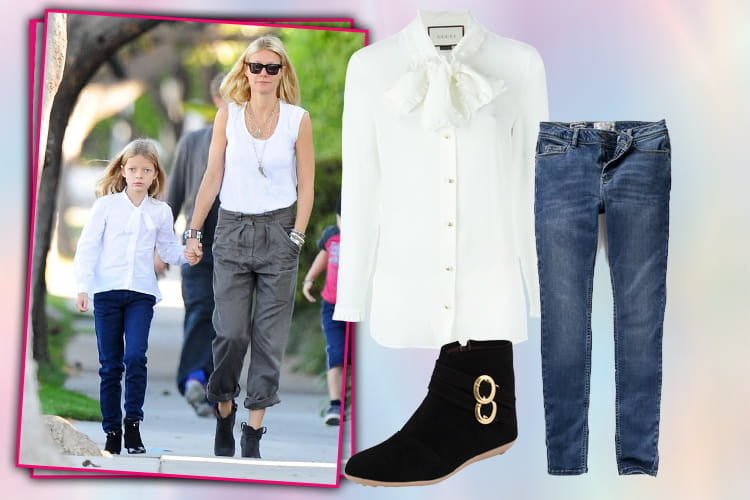 6. Chic Blue Outfits:
Jessica Alba and Honor stuck to the color coordinate in blue and white. And that is so cool. With the daughter dressed in a blue floral top with a white cardigan and the mom in a sharp blazer, this mommy and me clothing looks so chilled out.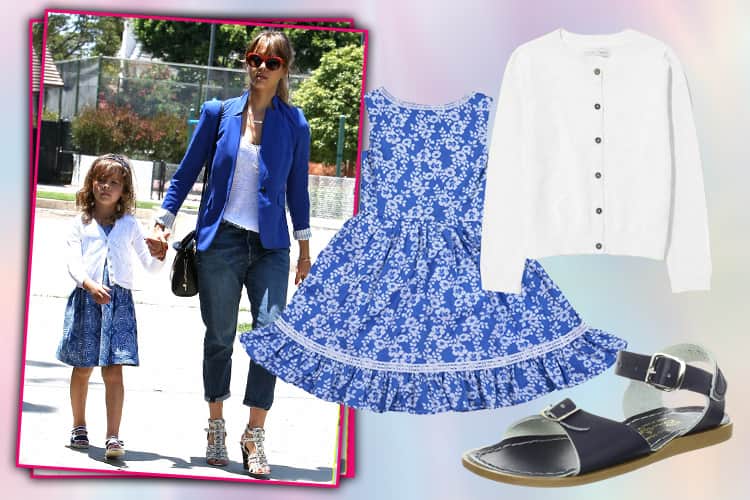 7. Daxin Mother and Daughter Stripe-Stitched Casual Maxi Dresses:
Long boho maxi dresses are perfect for both mommy and daughter. This is one of the most popular mommy and me dresses as it flatters all types of body shapes and is great to be worn for special events such as family gatherings, even to church and for holidays. Saucy indeed for girls' night out. One more thing – this dress comes in a wide range of colors – soft pinks, light blues, and gentle whites which is why this maxi dress has a stunning elegance appeal. And then it offers great comfort and plenty of charm.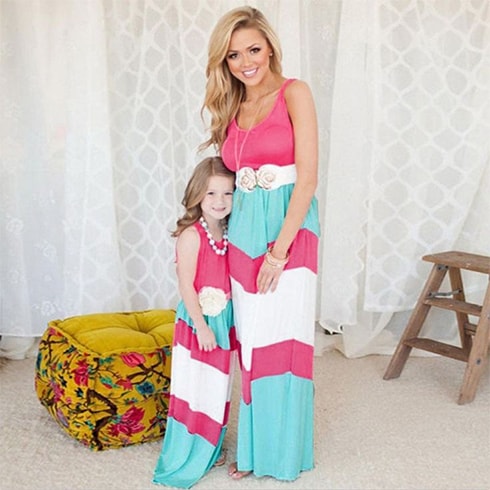 8. Ellie's Best Mother and Daughter Matching Bow Hair Tie Head Wraps:
For moms and daughters who are keen to have something fashionably fun, these matching bow hair tie headwraps are just ideal. They are stretchy, comfortable and fit perfectly. Available in four classic colors with quaint patterns, these headwraps make your special moments even more special. Wear it for mother and daughter photo-shoots and more. They can also be re-purposed to work as bun ties, hair scarves, and bandanas. Creativity rules, remember.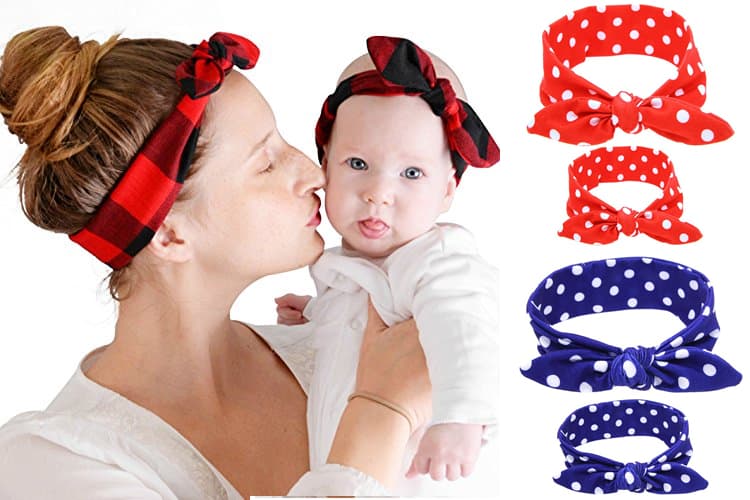 9. Anboo Mommy and Daughter Matching Striped-Stretch Dress:
In calm shades of red and black, this is one of the most stylish matching mother-daughter dresses that you can wear for dinner parties as much as for the church, wedding, photo-op, family outings or casual outfits.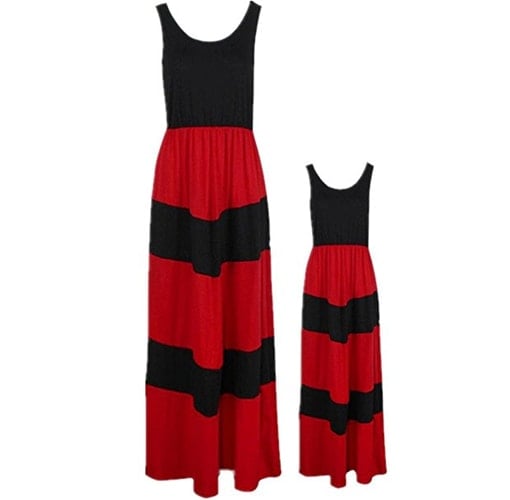 10. Hawaii Hangover Matching Hawaiian Luau Butterfly Dress:
Missing Hawaii? This beautiful and beach-friendly hibiscus blue with cute floral patterns mother and daughter same dress will transport you immediately to the Hawaiian locales. Is soft to the touch and gentle on the skin. There is an elastic panel on the back offering enough elasticity for the blue floral dresses to fit perfectly. That is why, they come up to be ideal Hawaiian party attires (not evening party, silly) and for holiday cruises.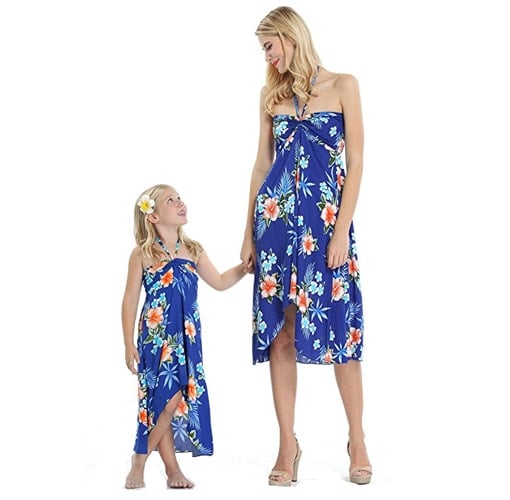 11. YOYORULE Striped Mother and Daughter Casual Dresses:
On sunny days, want to go in for long walks in the park? Yay! This fashionable pair of matching mother-daughter dresses in cute black and white stripes is a wonderful blend of casual and fashionable. It is a chic loose-fitting dress in cotton which does not look excessively baggy and unattractive. And then there are cute pockets on the sides and a three-quarter sleeve design which is smart looking.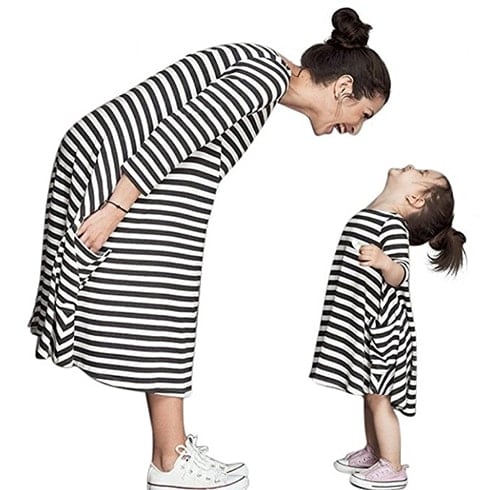 12. Wennikids Mommy and Me Chevron Maxi Dresses:
Elegant and attractive, the Wennikids chevron dress pair is the new style mother-daughter matching clothes. Eye-catching fashion and an absolute top pick it is. It has two different sections separated by a beige belt. The stripes and the solid red color combo make it an attractive attire for both casual and formal occasions.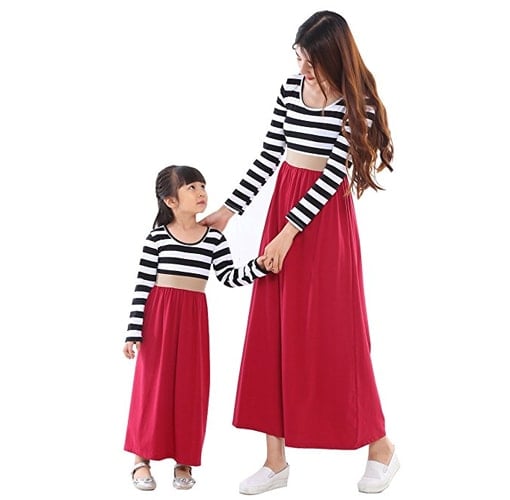 Wearing mother-daughter matching dresses is one trend even our Indian celebs are loving! Bollywood beauty Aishwarya Rai was seen sporting a Cinderella-like outfit like daughter dearest Aaradhya on the latter's birthday.
South actress Manchu Lakshmi loves to often match her outfit with that of her daughter.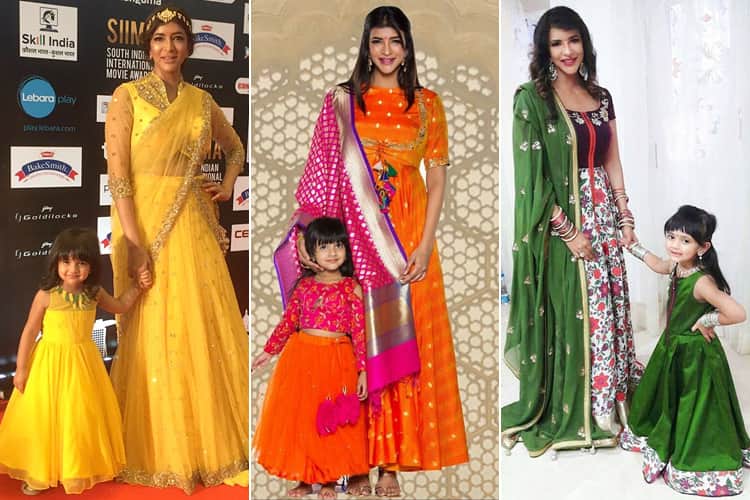 Actress and Politician Roja and her daughter Anshu in Bhargavi Kunam design
Here are some traditional options in mother-daughter matching dresses.
Buying Guide For Mother And Daughter Matching Outfits:
You are picking outfits for two different people here. Yay or Nay? Some considerations need to be made while buying mother-daughter matching clothes in India and otherwise so as to get the right pair of matching outfits:
[sc:mediad]
Fit: Since two different people are involved here (look at the age gap), make sure the fit is perfect for both mom and daughter.
Fabric: The matching outfit should be in a fabric which both mom and daughter feel comfortable wearing. Cotton is a universally comfortable fabric and may be a great option to go for.
Style: Simplicity is the thumb rule. There is no point making the child look overdressed when it is not her age to look so. At the same time, she can be made stylish, elegant and OOH-LA-LA!
Match: Lastly but more importantly, mother and daughter outfits should match. The child outfit should look to be a replica of the mom's outfit. This feeling of stunning likeness needs to be created.
I hope all you moms and daughters out there reading this post like the idea of mother and daughter matching dresses as the latest fashion trend. It is another way of showing how much you love your little girl.
So go get rocking in the mom-daughter matching dresses and tell the world about the bonding you share.
Images Source: amazon.in, amazon.com