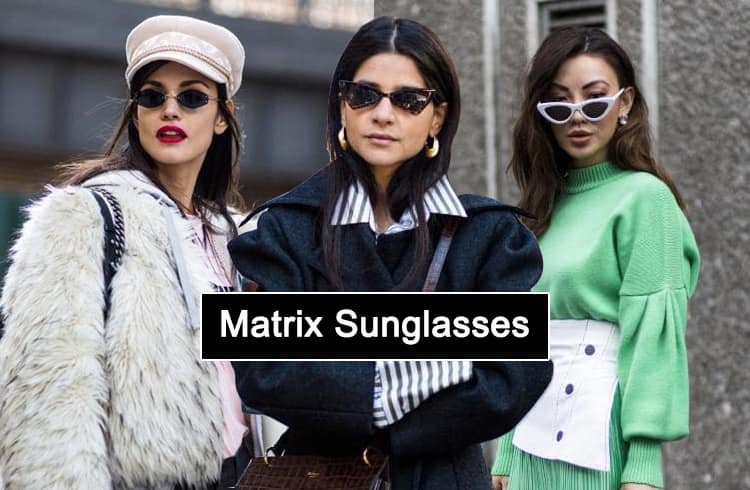 Fashion can be turned iconic and narrow. That's one step ahead than stylish. Like for instance, the near iconic 'micro half-moon' sunglasses worn by Kendall Jenner, Rihanna, the Kardashian and Bella Hadid which everybody from stylecasters, models, influencers and the A-listers are swooning over. I suppose it is Kendall Jenner Paris fashion week which set the mood for this gen-new eyewear.
All in all, the matrix sunglasses trend is back. It was first stamped with Demna Gvasalia's approval during the start of 2017. The first-time appearance of matrix sunglasses at Balenciaga's Fall 2017 show – you can say Balenciaga sunglasses led to the next thing. Perched on the face of Kendall Jenner, it got the 'It' code.
Whether you are into sci-fi or not, the barely-there sunglasses nestled on the nose tips of models was visible. Such is the intrigue value that they might remind you of Keanu Reeves-starring blockbuster from the '90s.
Why not admit that predominant eyewear trend of 2017 matrix sunglasses is celebrity-approved?
The matrix sunglasses trend is back is easy to pull off if you sport the right attitude. Of course, the face of your shape has to be kept in mind.
So whether you have an oval, square, heart or round face, here are the Matrix-inspired sunglasses rounded up for you.
1. Round-shaped Face
Girls with round face have a similar width and height as far as face dimensions go. To set a "likable" contrast to their face shape, they should stick to clean lines. Of the sunglasses Trends, Matrix-style glasses look great on round faces, thanks to the angles against the softness of a round face. They should carry you through season to season.
2. Square-shaped Face
It is safe to bracket a square face as beautiful. The right pair of sunglasses can always get you the right kind of attention. Get out of the strictly geometric tiny glasses. Instead, try out smaller oval styles or thin cat-eyes. The curvy frame will then soften your jawline and maintain an impressive balance.
3. Oval-shaped Face
Go wild as an oval face can pull off almost every type of sunglass style. It's a trend you are guaranteed to pull off smooth. Whether it is rounded to cat eye and rectangular, oval faced girls can have fun with styles depending on their mood.
4. Heart-shaped Face
This type of face stands out for their narrow chin and broad brows. That is why they always direct the attention towards the bottom of the face. Go in for rectangular, sharp-lined designs so that the roundness in your cheeks gets balanced. Also, lighter frame colours draw the eye in the best direction.
Now you know how to brave the sun, one minuscule frame at a time, it is time to love and appreciate what? The fact that matrix sunglasses trend is back. Keep your sunny side up and watch yourself go places.