This summer, you've got some pretty beauty trends coming up. Remember the contouring, sculpting, and layering with foundation trend? Well, that is finally a closed chapter. You can now get set to welcome the watercolor makeup trend, which is officially a thing!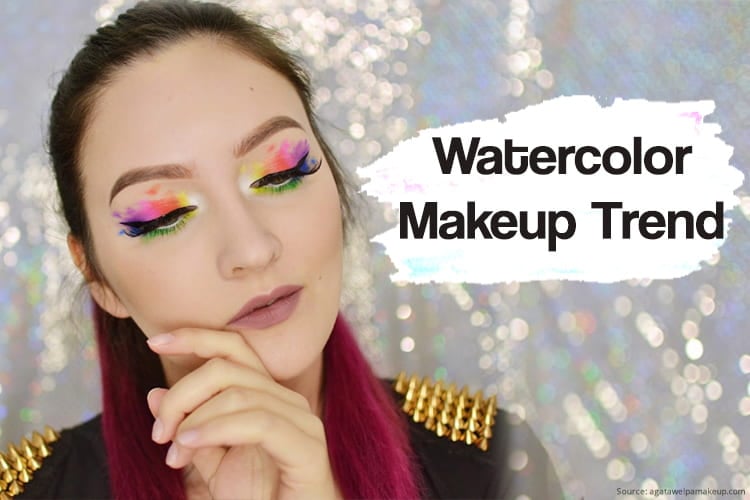 But what is the watercolor makeup trend? Here is the answer.
What Is Watercolor Makeup?
According to celebrity makeup artist Spencer Barnes, this is a makeup look inspired by the light, feathery feel of watercolor paintings. While the makeup look does call for a rainbow range of eyeshadow colors, the style retains a sheer finish. All in all, it allows you to play with colors and explore your creativity.
Barnes states-"It's a very early, but beautiful trend. The watercolor makeup look is all about sheer tints of color with a painterly quality, where the makeup is layered and watery, to create sheer transparent colors."
We are completely into the watercolor trend, as it is fun and playful. You can apply it at daytime, nightclub, or brunch. The watercolor look exudes femininity and sensuousness. So it works for several occasions altogether.
Step-By-Step Tutorial Of Watercolor Makeup:
So are you ready to try your hand at watercolor makeup technique? Here is all you need to do:
Step 1
Start with a fresh face. The watercolor makeup finish is all about achieving a light feel. So start with a clean face if you can. This is an important step for the makeup to work its full magic. And select a sheer foundation.
Step 2
Once you have applied your foundation, start with your lids. To give your lips a painted feel, add a touch of color to them with glossy lip stain or gloss. Barnes suggests the watercolor makeup palette like E.L.F. Aqua Beauty Radiant Gel Lip Stain in Dewberry.
Then use your fingers to dab color to the cheeks, using a cream blush. You can also make use of a creamy blush in the center of the lips to create a natural pouty effect.
Step 3
Next, highlight the key features of the face. Apply highlighter on the nose bridge, the Cupid's brow, and the inner corners of the eyes.
One golden tip is to use a rose gold eye shadow to get the best effect of this look.
Barnes states, watercolor makeup is all about creating the mood. So, the aim is to create a theatrical finish to the cheeks.
In order to add the dimensional feel of the cheekbone structure, apply the blush a little higher to the cheekbones across the hairline and stroke a little bit of bronzer across the cheeks, jaw-line, and hairline.
Step 4
When it comes to eye makeup, you can get creative as you'd like. And it doesn't mean limiting with colors. You can sweep a pink or violent blush across your lids as a base, across the lid, and eye crease while making sure to blend your crease in and out.
The vibrant pigment of the blush can have a sheer finish due to the lack of neutral eyeshadow base. Then, try a lighter shade of blush and apply it to the crease. Blend up and out.
Step 5
The cool thing about watercolor makeup is you needn't stay in line. You can apply the lighter blush somewhat above the brows. And blend out the harsh lines.
There are no rules with watercolor makeup. When you are trying something this unique, you should allow people to see that you are comfortable with the trend and doing it on purpose.
Step 6
This step is all about blending some serious hues. Begin with adding a coral-orange blush to the top and bottom of outer eye corners. And make sure to use the blush with a light and airy application.
To highlight the colorful shadow, use your fingers to lightly dab on some shimmery liquid eyeshadow in rose gold hue. This can create a natural highlight around the eyes, and give out a fresh effect.
After that, mix a small amount of setting spray using a blue eye shadow, so it is a little watery. Then, use an angled precision brush; paint the blue shadow in a straight line through the eye crease to follow the natural arch.
Then use the green shadow and paint the outer two-thirds of the bottom lash line. Then blend it and spread it across the eye length. You should have zero harsh lines to finish.
Step 7
To clean up, dab concealer underneath eyes. Be sure to blend out. Then, apply a line of liquid liner to the upper outer corner of your eyes. Sweep on blue and purple mascara for extra fun. And there you have it- watercolor eye makeup!
Different Looks Of Watercolor Face Makeup:
Listed below are our favorite watercolor face makeup looks that are perfect for summer season:
1. Holographic Gloss
The look combines two of our favorite trends including watercolor eyes and glossy lids. The wet finish on the holographic purple and blue hues looks great when paired with bare blush and soft lips.
[sc:mediad]
2. Sunset Eyes
The look combines warm tones of yellow, orange, and pink. The style is perfectly suited for the festive season.
3. Metallic Eyes
The metallic watercolor eye is a perfect option for a night out clubbing, dinner, or hitting the bar with your BFFs. The look is sultry and bold. To get the look, start by applying a deep plum shade in the crease. Then add a darker eggplant into the outer corners, and then pat a shimmery emerald onto the lids.
4. Peachy Eyes
Double a bold brow with peachy eyeshadow over the crease, inner corners, and lower lashes line. Then follow up with a dark tone to contour. Keep your lips bare for a fresh twist on the trend.
5. Mermaid-inspired
Watercolor makeup is about combining colors and applying painterly strokes. Copy this mermaid inspired look by channeling splotches of cool blues mashed with sunny orange tones.
It's time you get creative with your eye makeup! Now that the weather is getting warmer, this watercolor eye trend is perfect. No matter what color you select, you'll always end up with an artistry finish. If you loved this watercolor makeup trend as much as we did, then shoot us a comment below.