Eyebrow pencils are a must-have in every makeup collection. With just a few whips, a good brow pencil can transform the most uneven brows into perfectly defined arches. All the more, these pencils are less messy and easier to use. They are perfect for anyone looking to transform their brow game. Here, our 10 favorite products.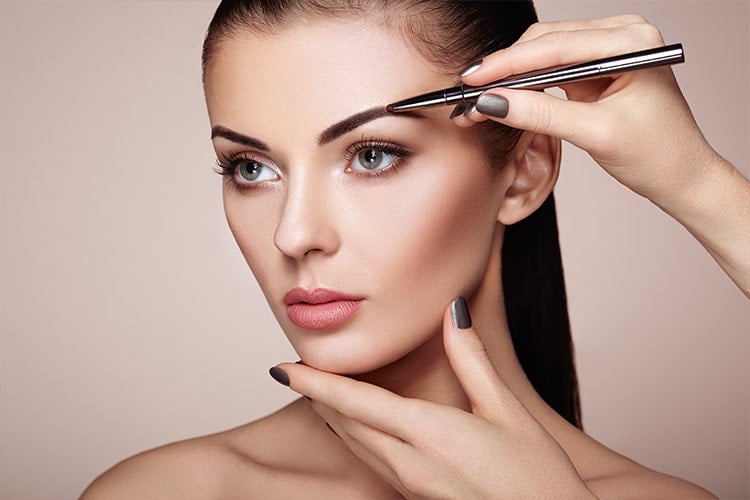 List of Top 10 Eyebrow Pencils In India for 2021
Go for one of these budge-proof and natural-finish pencils below.
1. NYX Professional, Makeup Micro Brow Pencil
This drugstore micro brow pencil features a long-lasting formula and pointed tip that are just as great for faking brows. They are clearly not your average brow pencil and are a true threat.


2. Benefit Cosmetics, Brow Contour Pro 4-In-1 Defining & Highlighting Pencil
The only brow pencil you'll need is this click-in-pen that features four shades. Make use of the two darker pencils to add shape and to fill in the brows. While use the lighter shades to clean and highlight the ends.


3. Maybelline New York, Brow Ultra Slim Defining Eyebrow Pencil
No matter how dark or sparse your brow spectrum is, there's a shade for you in this Maybelline New York, Ultra Slim Defining Eyebrow Pencil option. This includes deep brown, medium brown, soft brown, and black-brown. The skinny eyebrow pencil features a 1.5 mm tip, allowing to draw in tiny uneven spaces and naturally creating fuller brows. The other end features a spoolie to blend and set the brows in place.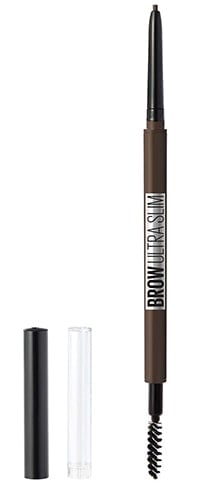 4. Revlon Brow Fantasy Pencil & Gel
The bold fantasy pencil and gel brow pencil by Revlon doesn't cost much. This excellent find works well as its hi-brand peers. For use, draw out using the pencil on one side for colouring and shaping brows. After that, use the tinted gel to set the look. The duo sets and grooms the brows all day long from cinch to perfect.


5. L'Oreal Paris, Brow Stylist Definer
This precise brow stylist definer from L'Oreal Paris really is fun. Use the tip to fill in empty spots for a natural finish. Then use the other end which is the spoolie to blend and comb the brows to shape. The brow pencil can beautifully arch your brows, while the blond hue gives a complete seamless finish.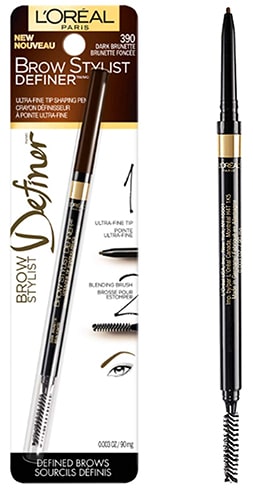 6. Etude House, Drawing Eyebrow
You can make use of various products to fill in brows, but few offer true precision of a pencil. This one can swiftly shape, fill, and shape brows. Whether you are looking for a natural or an eye-catching finish, this retractable tool can make it happen.


7. Faces Canada Ultime Pro Matte Eye Pencil
It's the super-fine tip of this eye pencil that makes it a must-have for every makeup artist. When drawn in or lightly stroked, this pencil replicates the looks of actual eye brows. Oh, it is matte (as indicated) which is always a bonus.


8. Colorbar Stunning Brow Pencil
This brow pencil comes with a pointed tip to give you a sharp, well-highlighted edge. It can also give out a rounded finish to the most precise use. After finishing, this product does not flake off even after long, sweaty hours of commute or wear.


9. Lakme Absolute Precision Eye Artist Eyebrow Pencil
This impressive eyebrow tool glides on smoothly and locks hair in place. Seriously, you can have your arches ready in two minutes. And did I mention the pencil is also transfer proof to keep your brows intact all day long?


10. L.A Girl Shady Slim Brow Pencil
This sleek-shaped tip of this brow pencil allows shading and precise drawing. It also has a unique spoolie which makes this tool stand out. Overall the product focuses on blending, which can allow customizing your brow shape simpler.


These eyebrow pencils products mentioned above are worth splurging on. You may choose any one of these smooth, foolproof tools.
And do leave us your feedback in the comment section below.