Who wouldn't want to be like Madonna Sebestian? We all know that she is awesome. The actress has been part of several hit movies, with a melodious singing voice, and is a smart TV host.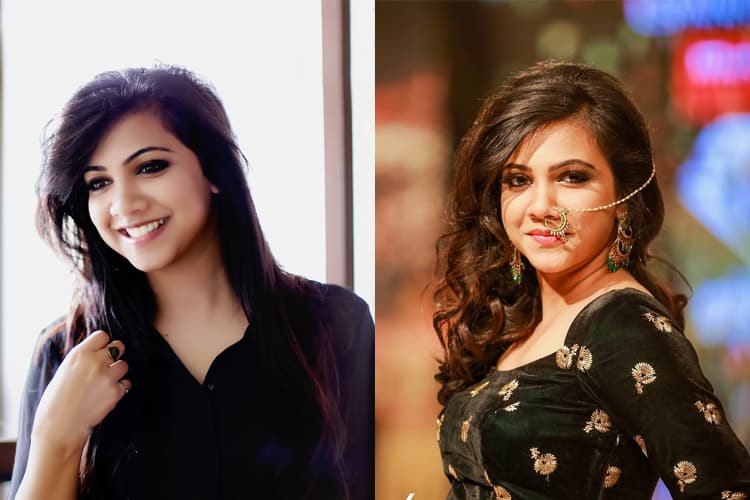 Adding to that, Madonna is one of those celebs whose fashion profile fits their personality: fun and full of beans. She does not believe in over-styling and apparently Madonna has a BIG final nod to what's been put on her.
To open off, let's with the personal details of the actress' in terms of her likes, dislikes, hobbies, age, body stats, family, and lots more. Read and enjoy.
About Madonna Sebastian:
Madonna Sebastian was born to parents Babycd Devasia and Shyla Babycd at Kannur, India. Later, she was raised at Kolenchery. Her claim to fame was the Malayalam musical show, Music Mojo which bought her immense recognition. Director Alphonse Putharen took notice of her at a show for Surya TV and called for auditioning for the movie Prenam. The rest is history as they say.
Personal Life:
Now let's take a look into Madonna Sebastian personal details, and know more about her passion, weight, age, in detail. Scroll down and enjoy!
Madonna Sebastian Biography:
Madonna Sebastian Biography:
Madonna Sebastian Age And Date Of Birth
[celebrity_age_calc data="1982-05-19″] 19th May, 1982
Place Of Birth
Kerala, India
Zodiac Sign
Taurus
Nationality
Indian
Religion
Christian
Occupation
Actress, Singer, TV Anchor
Madonna Sebastian Height
163 cm
Madonna Sebastian Weight
56 kg
Shoe Size
8 (US)
Dress Size
4 (US)
Eye Color
Black
Hair Color
Black
Family Status:
Father
Babycd Devasia
Mother
Shyla Babycd
Siblings
Michelle Sebastian (Elder Sister)
Favorite Things and Hobbies
Color
Purple, Brown, Red
Food
South Indian Food
Place
Paris and New York
Actor
Leonardo di Caprio
Actress
Madhuri Dixit
Film
50 First Dates
TV Show
Friends
Professional Career:
Debut: Premam, Malayalam movie, 2015
Net worth: NA
Remuneration: NA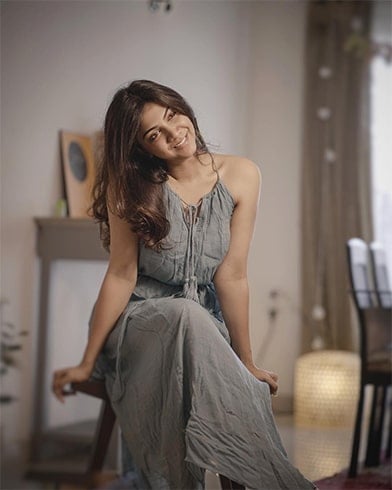 Education:
Madonna did her schooling from St.Peter's Senior Secondary School, Kadayiruppu. Later, the actress got a B.com degree from Christ College, Bangalore.
She has also been trained in Western and Karnatic music.
Occupation:
Madonna Sebastian is a well-known Indian Film Actress and singer who have done work for Tamil and Malayalam movies. She made her debut with the Malayalam movie, Premam in 2015. Later in 2016, she did Kadanthu Pogum and King Liar.
Her other works like the Malayalam musical program, Music Mojo was also a hit with the audience.
Titles:
Here is a breakdown of her titles and recognitions:
| Film & Year | Role | Notes |
| --- | --- | --- |
| Premam ( Malayalam) -2012 | Celine George | Nominated, SIIMA Awards for Best Female Debut – Malayalam |
| Kadhalum Kadandhu Pogum (Tamil) – 2016 | Yazhini Bakthirajan | Vikatan Awards – Best Debut Heroine |
| King Liar (Malayalam) – 2016 | Anjali | |
| Premam ( Malayalam) -2016 | Sindhu | |
| Kavan (Tamil) – 2016 | Malar | |
| Pa Paandi (Tamil) -2017 | Young Poonthendral | |
| Junga (Tamil) – 2018 | Thoppuli | |
| Iblis (Malayalam) -2018 | Fida | |
| Kotigobba 3 (Kannada) – 2018 | Sankata Sunanda | Filming |
| Kombu Vatcha Singamda (Tamil) – 2018 | | |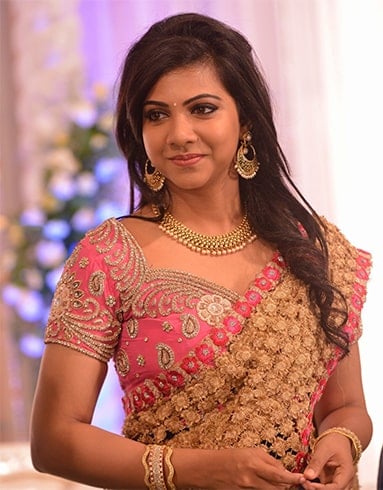 Fashion Profile:
The multi-talented actress always gets it right. Even when she made her first red carpet debut, she topped the ranks of red carpet appearances, and rarely puts a wrong foot forward. Check out how her fashion profile has changed over the years:
1. Madonna's style mojo has definitely made a comeback-with a little help from Maria. Tiya.Maria at a reception. Her embroidered dupatta and earrings came to the rescue in the styling department. We roundly applaud this look!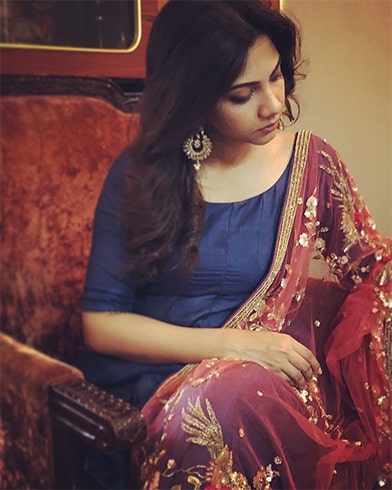 2. Another day, another photo shoot. Madonna's canary yellow and heavy prints totally work. Even though it's a tricky style to pull off! But the fun and sunny look that Madonna went on to wear for this particular L'Amore shoot is one of our favorite looks on her. Fresh and beautiful-totally working on the Vikatan Awards recipient!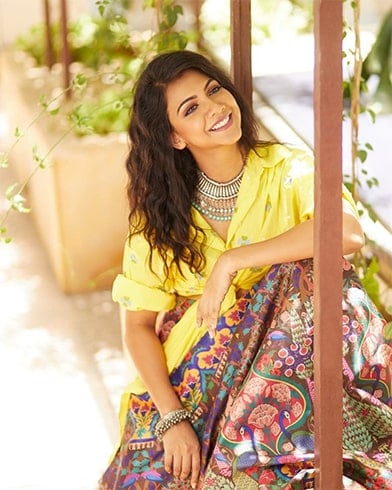 3. Embracing the bohemian look at the Viva L'Amore photo shoot! Breaking away from the safety of glam looks? We're sure impressed.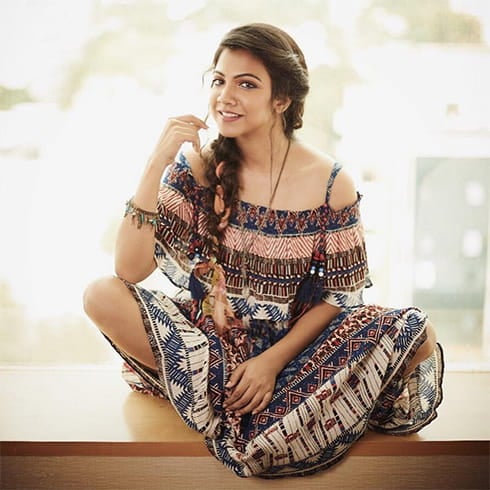 4. Proving why she is the actress to watch out for in the Film world at the photo shoot. Madonna was polished to perfection in the blush ensemble by Maria.Tiya.Maria.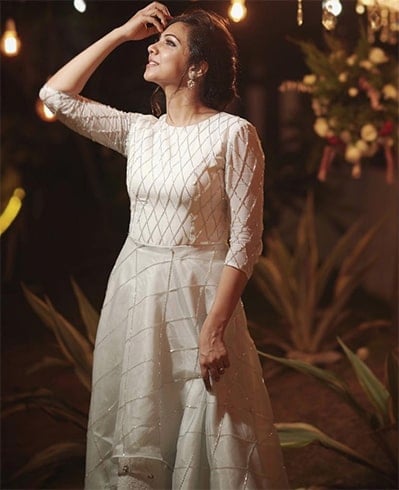 5. We are thrilled to notice that, somewhere along the line, Madonna has earning her fashion tag especially after she appeared at the Ritz Magazine cover earlier this year in this chic, flowy maxi skirt and body-hugging blouse.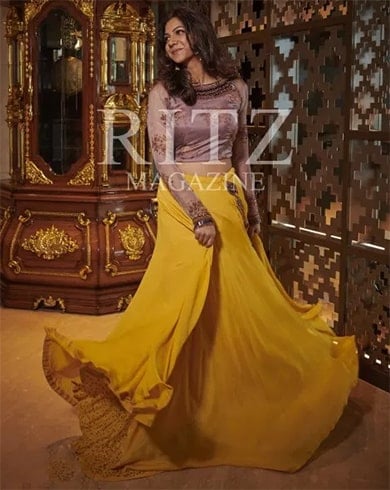 6. Come the Griha Lakshmi magazine shoot, our girl looked clearly confident. Her infectious smile has all eyes on her. The embellished pink glittered dress is a real traffic stopper!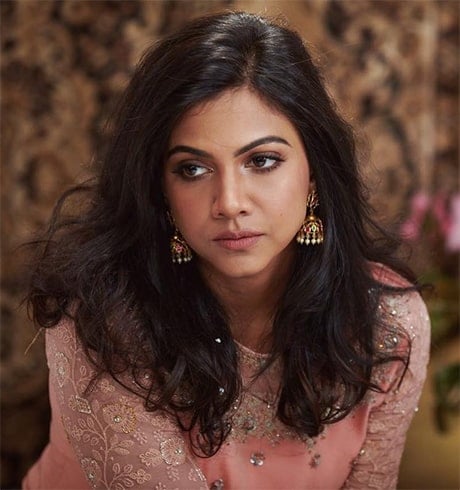 Beauty:
The King Liar actress beauty regimen focuses on skin care. While there may be other pricier brands on her list, Madonna loves some drugstore buys. Scroll through to read about Madonna Sebastian Makeup Tips and the products that she can't live without:
Up until recently, Madonna has been an oil-free moisturizer and that is pretty much it. She also uses a night cream to keep her face clear.
She does weekly oil treatments for her hair and sometimes rubs it on her skin for a dewy, soft skin.
She loves the winged eyeliner look as it looks good and is simple to execute, too. Other times, she leaves it to her artist to create the results.
Interestingly the actress doesn't enjoy going to salons much. Instead, she prefers making out time at home to do beauty treatments.
Believes in the mantra of keeping a happy mind to reflect on her skin.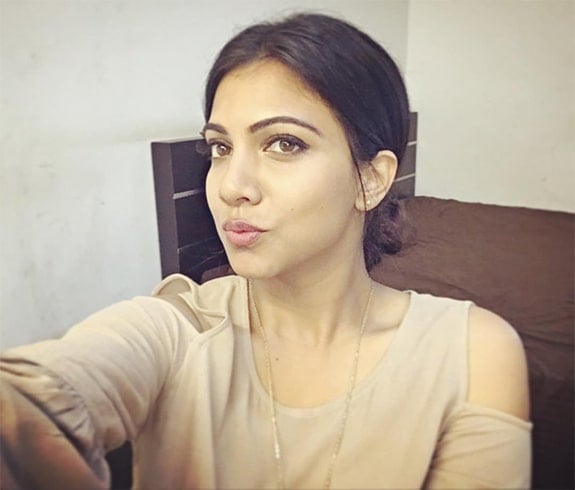 Fitness:
The actress shares that she works out daily for one hour at least or let herself off the hook completely. But she hardly does prioritize on her workout routines. Here is more on Madonna Sebastian Fitness Secrets.
Exercise Routine:
Though Madonna Sebastian's workout choice is vigorous walking, she also attributes a fusion of yoga, dance, and stretching. When she isn't shooting, she loves trying the swimming activity. The actress shared that she either
Diet Plan:
We can't help but get one step closer to share the Madonna Sebastian Diet Plan. While taking the same diet as she may not benefit all, but at least it'll give you a reason to do something this weekend. Lately, the actress has been trying to eat healthy. She takes out time to work out and include more veggies. For the sake of maintaining her singing voice, Madonna limits her dairy intake.
[sc:mediad]
Despite trying to include more veggies, Madonna is all about treating herself. She often takes to social media for treating herself.
The actress diet is totally achievable since it's not a diet, per se. It more about balance- the right kind of exercise, a few veggies, and delectable desserts are all it takes to follow Madonna's footsteps.
Brand Endorsements: NA
Achievements:
From an early age, Madonna has a strong inclination towards music. She is a trained Western and Carnatic music. With her fine singing performance for Kappa TV, Music Mojo and several Malayalam singers and directors, the actress has achieved so much under her belt.
In 2015, Madonna sang the song, Raavukalil from the movie, You Too Brutus alongside Roby Abraham. She also paired a band with Roby named Everafter.
In 2016, the band released its debut music video, Veruthe.
Madonna has also sung the jingle for the radio station, Hit 96.7 by Deepak Dev in Dubai.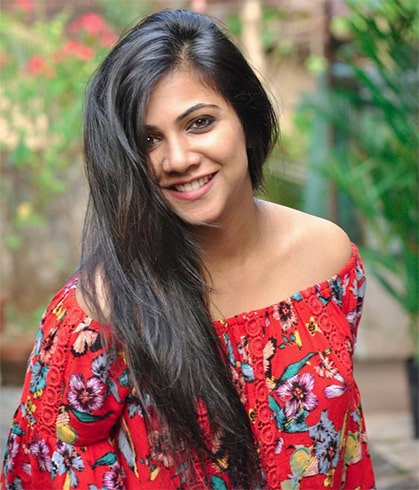 Social Official Profiles:
You can find the links of Madonna Sebastian Social Profiles below:
These are the fashion looks of Madonna Sebastian. She isn't known to step out her wrong foot forward. Do you agree or disagree? Tell us in the comment section below.
Images Source: Official instagram profiles of the celebs/designers mentioned with in the article.