Manushi Chhillar made India proud when she became the Miss World in 2017 after a long hiatus of 17 years. It was a momentous accomplishment for the aspiring medical doctor as she outclassed contestants from different countries during the pageant, held in Sanya, China. In the course of the one year as Miss. World, Manushi globe trotted almost all countries to fulfill her title duties.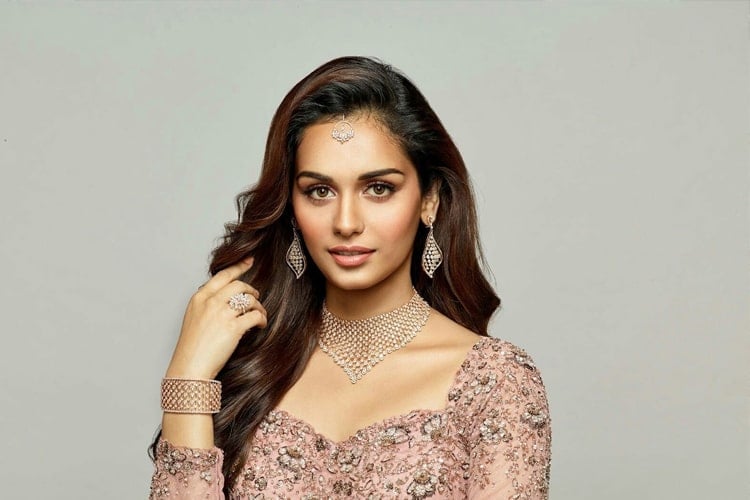 While she takes time off from her official work, Chhillar steps out in impeccable style. We chose to feature her inspiring fashion profile as it's the talking point of many women out there.
About Manushi Chhillar:
Manushi Chillar is the daughter of Dr. Mitra Basu Chhillar and Dr. Neelam Chhillar from Rohtak, Haryana. Her father is a scientist at Defence Research and Development Organisation (DRDO) and her mother was an Associate Professor and Departmental Head of Neurochemistry at the Institute of Human Behavior and Allied Sciences.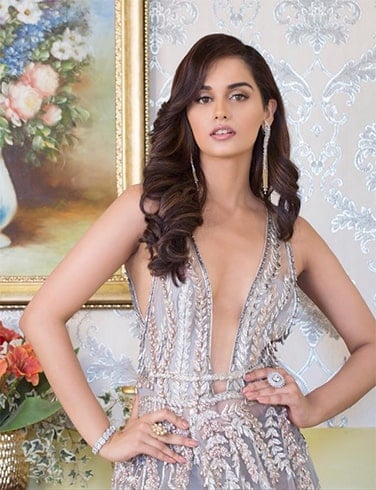 Personal Details:
Now let's take a look into Manushi Chhillar's personal details, and know more about her passion, weight, age, in detail. Scroll down and enjoy!
Manushi Chhillar Biography:
Manushi Chhillar Age And Date Of Birth
[celebrity_age_calc data="1997-05-14″] 14th May 1997
Place Of Birth
Rohtak, Haryana, India
Zodiac Sign
Taurus
Nationality
Indian
Religion
Hinduism
Marital Status
Single/ Unmarried
Education
Pursuing MBBS
Occupation
Model, Medical Student, Beauty Pageant Titleholder
Manushi Chhillar Height
173 cm, 1.73 m, 5.8 inch
Manushi Chhillar Weight
55 kg, 121 lbs
Shoe Size
7 (US)
Dress Size
4 (US)
Eye Color
Brown
Hair Color
Brown
Family Status:
Father
Dr. Mitra Basu Chhillar (Scientist at DRDO)
Mother
Dr. Neelam Chhillar (Associate Professor and Department Head of Neurochemistry at the Institute of Human Behaviour and Allied Sciences)
Siblings
Dewangana Chhillar (Sister),
Dalmitra Chhillar (Brother)
Spouse
NA
Favorite Things and Hobbies
Color
Details Not Known
Food
Details Not Known
Place
Details Not Known
Actor
Aamir Khan, Ranveer Singh, Leonardo DiCaprio, and Hugh Jackman
Actress
Priyanka Chopra
Film
Dangal
Sport
Paragliding, Bungee Jumping, Snorkeling, And Scuba Diving
Brand
Details Not Known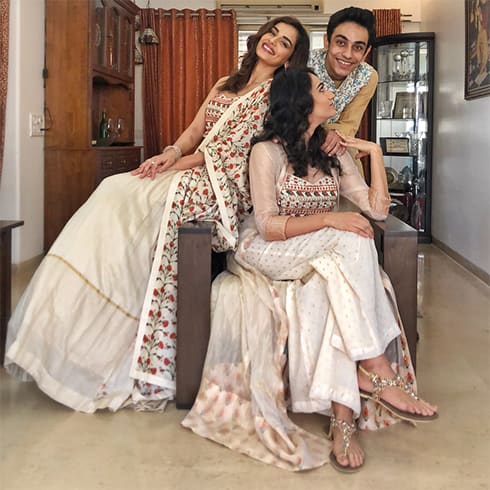 Professional Career:
Debut: Femina Miss India, 2017
Career Achievements: Miss India World (2017), Miss World (2017)
Remuneration: NA
Net worth: $150,000
Education:
Manushi Chhillar started school from St. Thomas School, New Delhi and topped in English, Class 12. Her first attempt at the All India Pre Medical Test was successful after which she pursued MBBS Degree from Bhagat Phool Singh Medical College from Sonipat.
The beauty queen is also well-trained in Kuchipudi under dancers Raja and Radha Reddy and Kaushalya Reddy. She also attended the National School of Drama.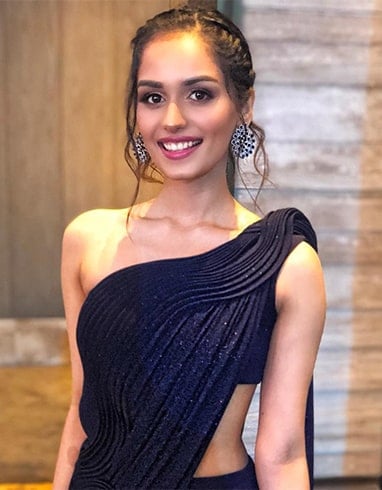 Occupation:
We all know Manushi Chhillar as Miss World 2017. Her philanthropic works after she was crowned Miss. India and Miss. World pageant respectively was commendable. The beauty with a purpose project on menstrual hygiene was well-received.
In addition, Chhillar was also declared the Times Most Desirable Woman of India, 2017 and also featured in a TV commercial for Club Factory.
Titles:
Here is a list of Manushi Chhillar's titles and awards:
Femina Miss Haryana, 2017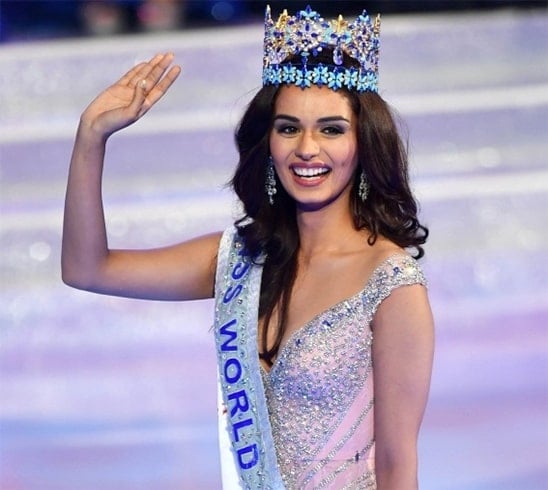 Fashion Profile:
With her charming looks, Indian beauty Manush Chhillar has taken the world by storm especially with her fashion sense, whilst appearing for major events and glossy magazines. We love her as she has this girl-next-door vibe and is also insanely gorgeous. She has a fantastic combination of wit, beauty, along with a killer sense of dressing.
Scroll down to see all her beautiful images till date:
1. Manushi Chhillar wore an exquisite Sonaakshi Raaj red gown at the 63rd Jio Filmfare Awards with a scarlet train. She paired her ensemble with silver heels, Jimmy Choo purse, Swarovski earring set by Curio Cottage.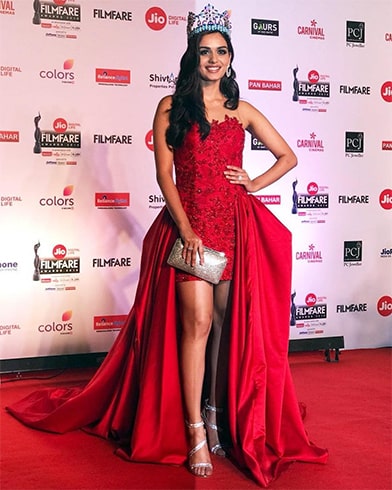 2. Manushi chose this beautiful Michael Cinto gown at her last walk at Miss India 2018. She paired the gown with rose palate makeup and side swept curls.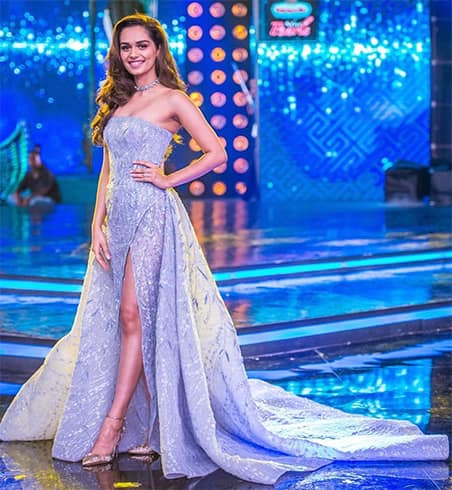 3. We absolutely love the midnight blue couture gown by Maria Ruth Fernandes off-shoulder gown with tassels.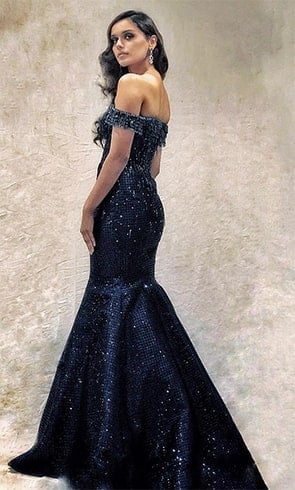 4. The actress is picture-perfect in the chartreuse gown featuring off-shoulder Italian brocade detailing.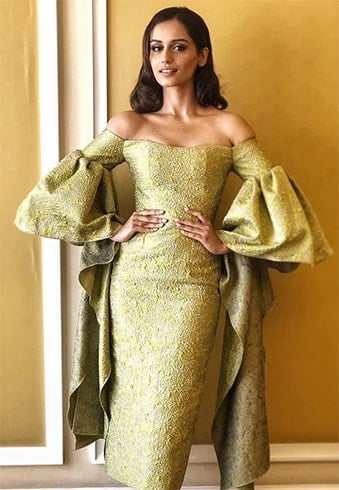 5. Manushi is wearing a wine Sunaina Khera dress featuring a keyhole detailing. She completed the look with wine lips and neat ponytail.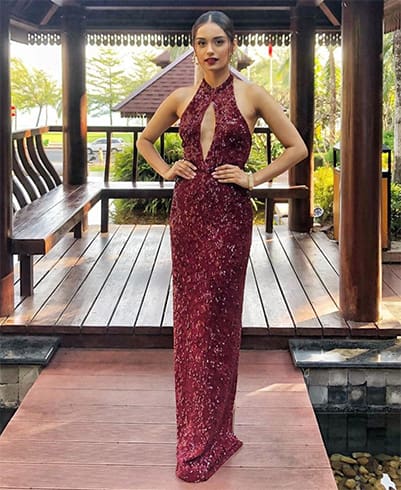 6. The beauty queen is seen in a Falguni Shane Peacock backless gown features shimmer and motifs.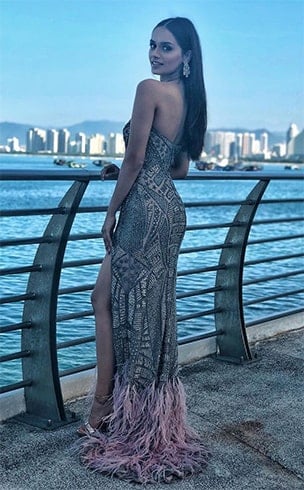 7. The Zara Umrigar dress featuring thigh-high slit and fringe detailing looks absolutely stunning on her.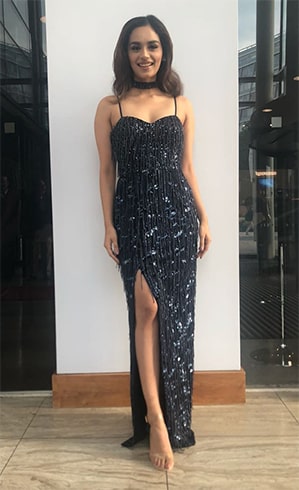 8. Manushi scored big at the style department with her all-black look. This was during her attendance at the Vogue Beauty Awards, 2018.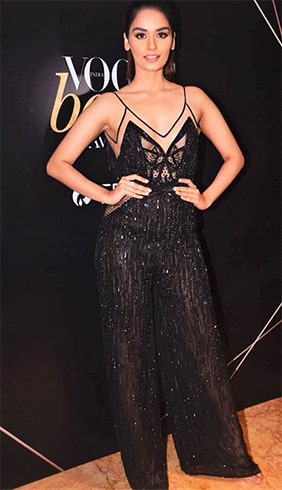 9. For her final walk as Miss World, Manushi chose to wear a classy black lehenga ensemble by Sabyasachi. She finished the look with subtle hint of makeup, sleek hairdo, and jewellery.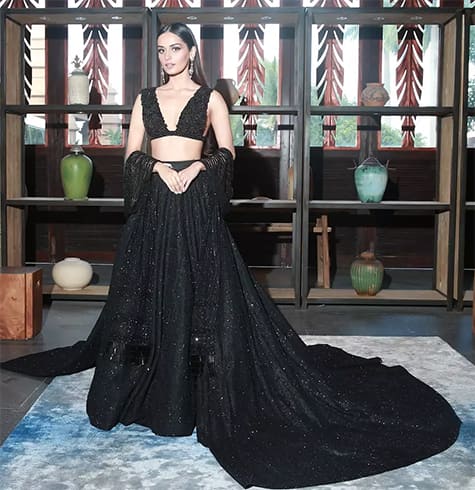 Beauty:
Do you know Manushi Chhillar appreciates the no-makeup-look as her go-to-beauty look? To know more Manushi Chhillar Makeup Tips, read below:
Cleanse her face daily and removes makeup before bedtime.
Daily regimen is to wash, tone, and moisturize skin.
Fitness:
After her big win at the Miss India pageant, Manushi trained thrice a week to maintain her figure. Other Manushi Chhillar Fitness Secrets are running, yoga, and squats. Below she shares few secrets on how she is preparing for the pageant:
Exercise Routine:
She never skips breakfast and enjoys a nutritious complete meal daily.
Take small meals throughout the day. This makes her avoid the temptation to reach out unnecessary snack items.
Avoids refined sugar.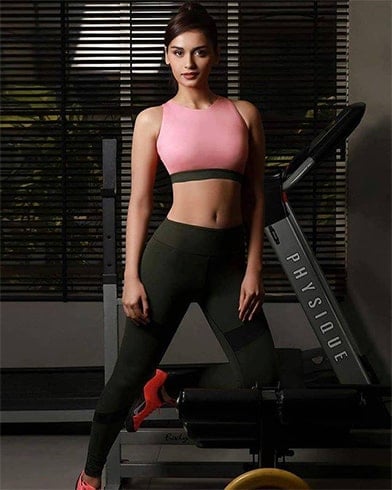 Diet Plan:
Manushi Chhillar takes a high protein diet under the guidance of Nmami Agarwal, the celebrity nutritionist. Her diet plan is healthy and wholesome. Here is a breakdown of Manushi Chhillar Diet Plan:
Early morning- Two glasses of warm water with or without lemon juice.
Breakfast- Cereal with fresh fruits and yogurt.
Lunch- a bowl of rice, one or two chapattis, salad, veggie dish, and raita.
Evening- Fruit smoothie with carrot sticks and cucumber.
Dinner- Chicken or grilled fish with tofu salad, quinoa pulao, and soup.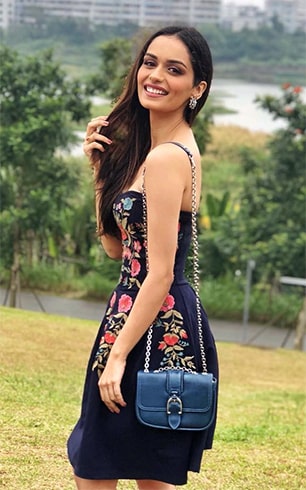 Brand Endorsements:
Here are the brands that Manushi has endorsed so far:
Malabar Gold and Diamonds
Achievements:
| Year | Association | Category | Result |
| --- | --- | --- | --- |
| 2017 | CNN-IBN Indian of the Year Awards | Special Achievement Award | Won |
| 2017 | Six Sigma Healthcare Leadership Summit | Proud-maker of India | Won |
| 2018 | South Asian Women Empowerment Gala | Women Empowerment Award | Won |
| 2018 | Honoured by the Parliament of Brazil | Humanitarian Works | – |
| 2018 | Femina Miss India 2018 | Special Achievement | Won |
| 2018 | Times Now Most Desirable Woman | India Times | Won |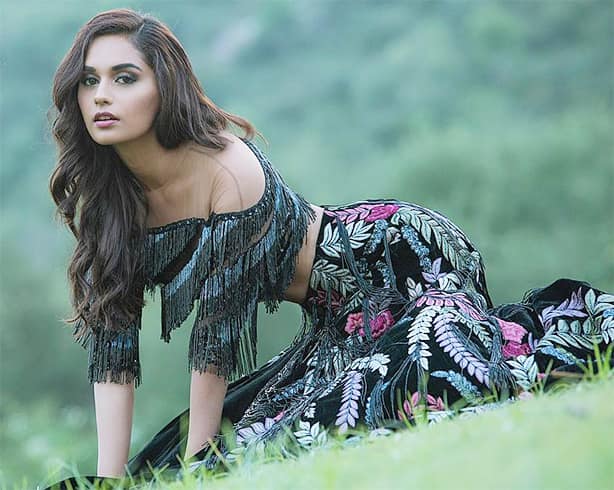 Social Official Profiles:
Here is a glimpse of Manushi Chhillar Social Profiles:
We have covered everything on Manushi Chhillar. Hope you enjoyed going through her fashion profile. Leave us a feedback in the comment section below.
December 29th, 2017
Author: Lima Aier
---
World 2017, Manushi Chhillar's Journey To The Crown – Thanks For Bringing It Home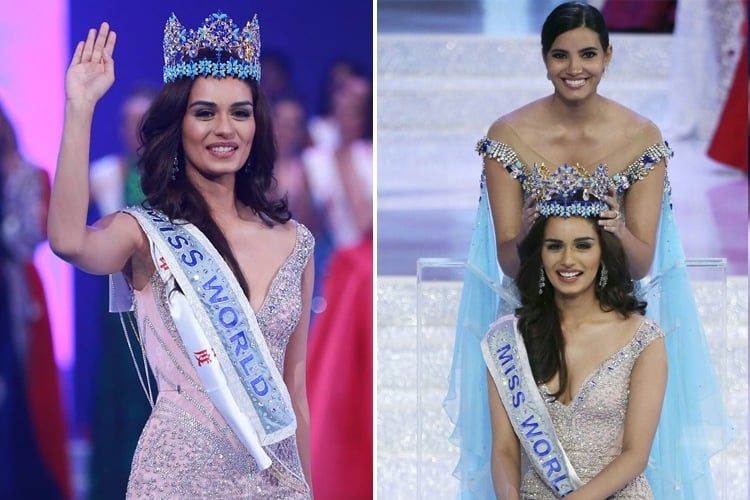 For the 6th time and after a long wait of 17 years, India gets its claim to the prestigious title of Miss World again. Way back in 2000 when Priyanka was crowned Miss World, a toddler of 3, Manushi must have fathomed the significance of this title, but on 18 November 2017, she is next to Pee Cee to wear the crown as an Indian. A medical student from Haryana, Manushi Chhillar was crowned Miss India at the Yash Raj Studios on Sunday 25 June 2017, and Miss World on 18 November 2017.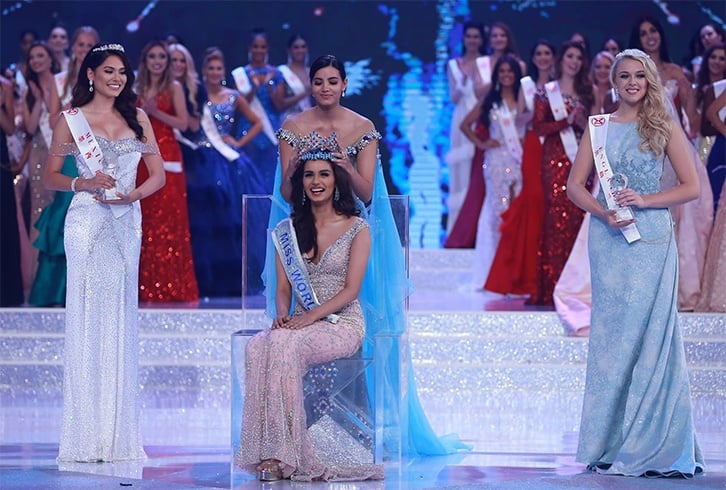 We will take you through Manushi Chhillar's journey to Beijing, but before that, it's important to homage to all the Indian Beauties who have brought the crown home.
| Year | National/Preliminary Title | Winner |
| --- | --- | --- |
| 1966 | Eve's Weekly Miss India | Reita Faria |
| 1994 | Femina Miss India World | Aishwarya Rai |
| 1997 | Femina Miss India World | Diana Hayden |
| 1999 | Femina Miss India World | Yukta Mookhey |
| 2000 | Femina Miss India World | Priyanka Chopra |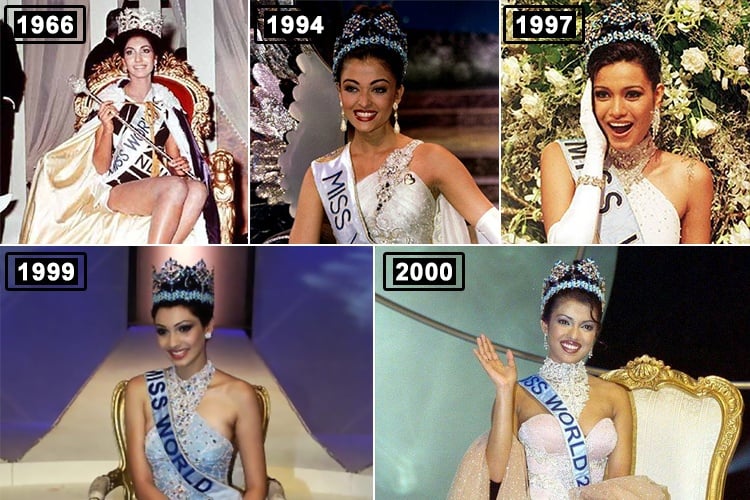 Coming back to Manushi, here is how her journey to the crown began about a year ago. Prancing like a child with a bouquet of balloons in her hand, a regular contestant at the Miss India pageant. Her train of victory started with her winning the title of Campus Princess 2017.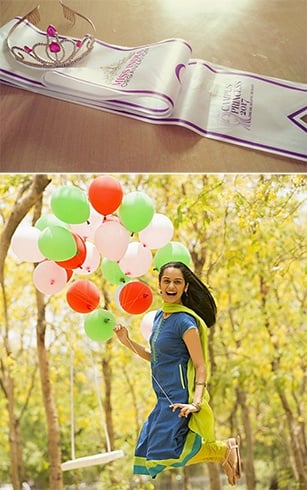 Competing against talented representatives from 29 states, she won the Miss India Title by going through and making the cut at various levels of shortlisting. Here are a few clips from the insides of the Miss India Pageant.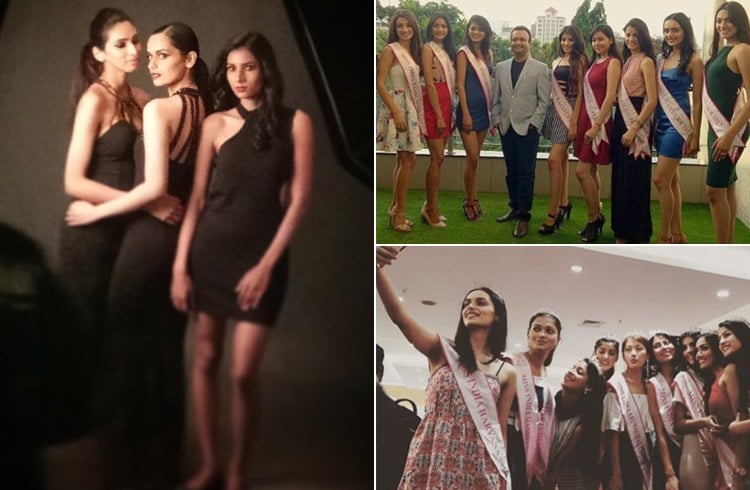 We get to know from her Instagram profile that she is a fitness freak – but of course, and she spends enough time at the gym as much as she invests in yoga and meditation. Now you know how hard one needs to work to get a body that fit.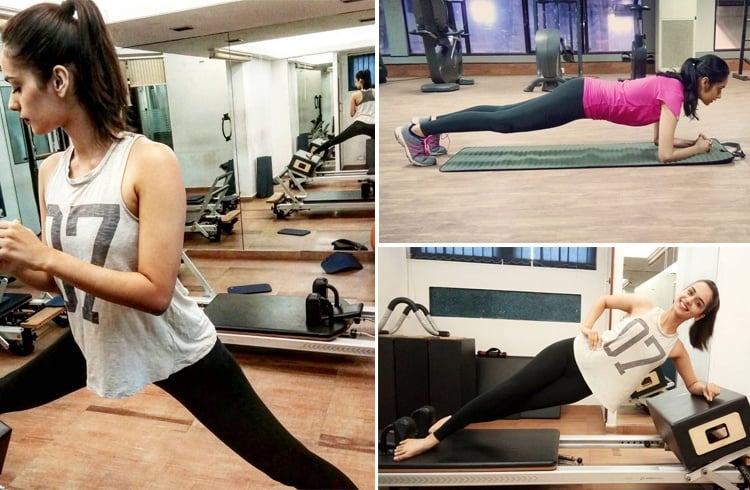 On being crowned Miss India, Manushi penned a heartfelt letter to the former Miss India who passed on her crown to the 20-year-old. The letter reads, "Dearest @priyadarshini.96 ❤
It is a matter of great pride and honour to be the successor of someone as humble, graceful, beautiful and compassionate as you! Every time I got to interact with you, made me admire you even more. You are amazing, an inspiration and I will do my best to keep the crown as high as you took it!" Priyadashini's successor, we can say, has certainly kept her promise and taken the crown to greater heights. Here are a few clicks from her Miss India Crowing as she graces a silver throne and bonds with the fellow winner and runner-ups, and reaching out to fans.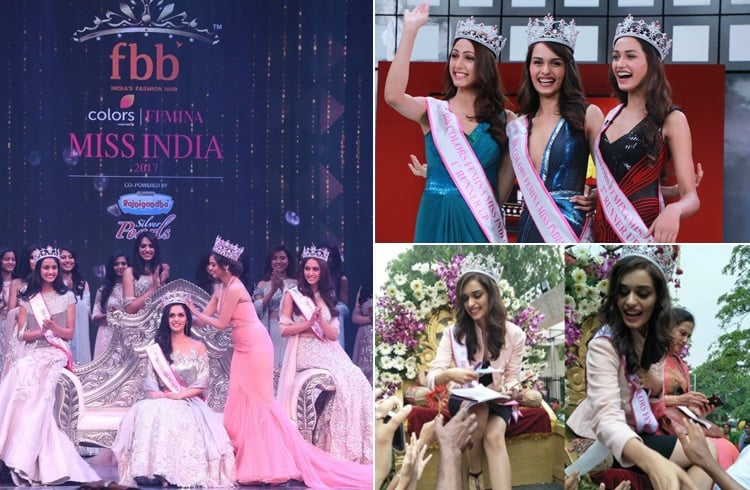 [sc:mediad]
With the crown came in many new responsibilities and endorsement deals. Be it beauty products or jewelry, brands cannot get enough of the model.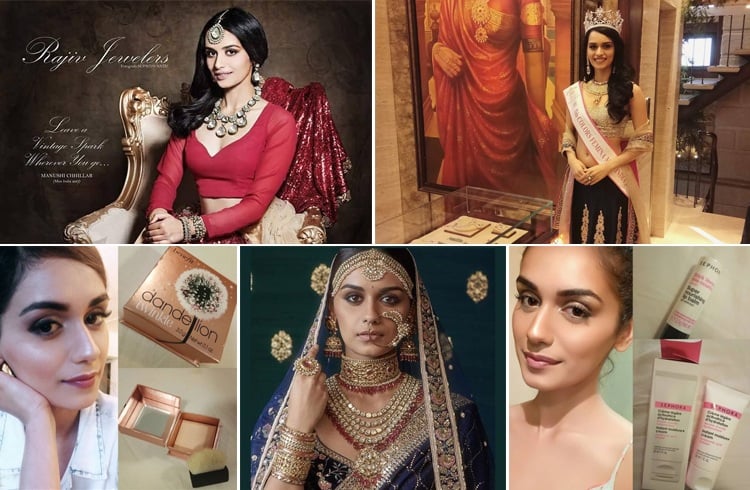 She stepped into the Miss World venue with a big bang and was confident that no one could defeat her. There were over 130 women from all around the globe competing for the title, but Manushi seems to be at ease with everyone. She was making friends and relishing the experience. It was indeed a once-in-a-lifetime experience so why waste it in frugal enmity. With her sweet nature, it wasn't too hard for the jovial Miss World to make friends abroad.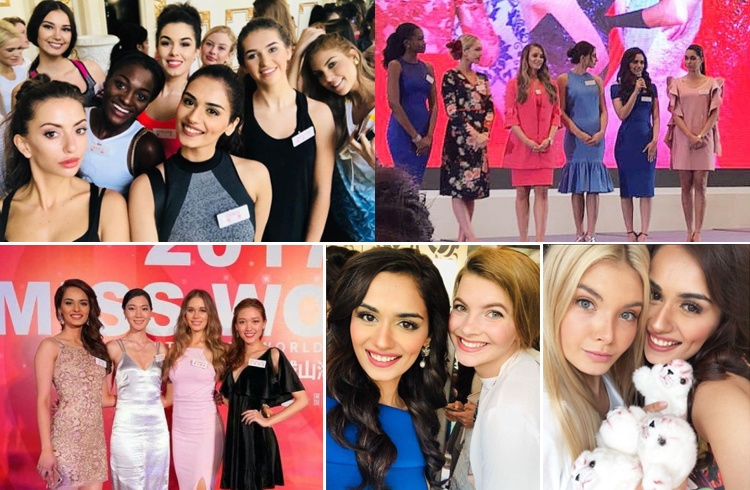 Manushi is also a gifted dancer and grace comes naturally to her. Here is she inspiring other representatives to try a little bit of classical dance and the enamored participants give Bharatnatyam a shot.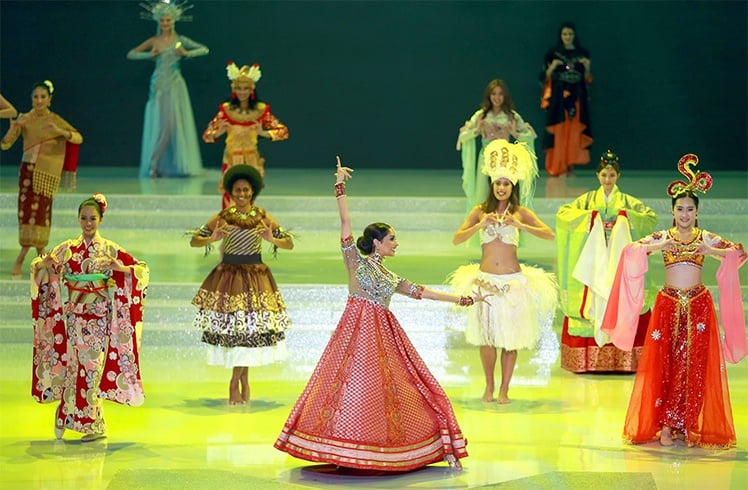 Miss World pageants have always been a vibrant assimilation of various cultures. It's amusing to see how graceful and melodious are these young ladies who have come together and brought the flavorful ethos of their land. Here are they performing on the world stage.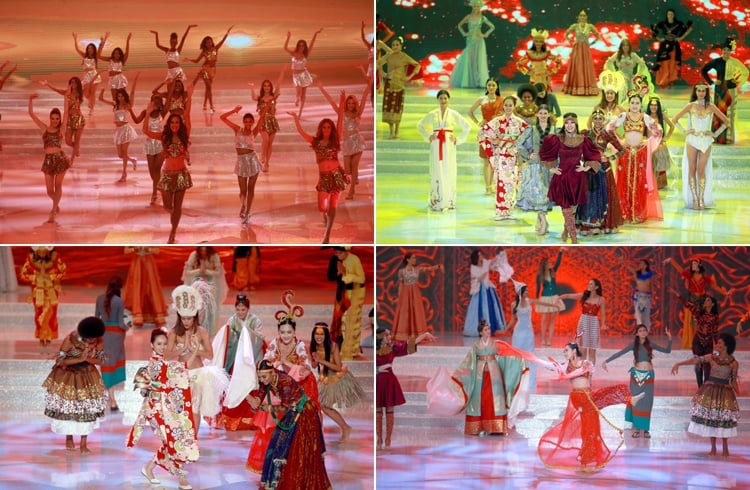 Fashion and fitness being two of the major components of the beauty contest but a couple of years ago it was decided that the organization is not going to be bothered about which participant has a bottom two sizes bigger than the next. They would only look for beauty with a purpose. Miss World 2014, Rolene Strauss, was the last Miss World to wear a bikini. This year the models, however, treaded the stage looking amazing in matching shiny separates.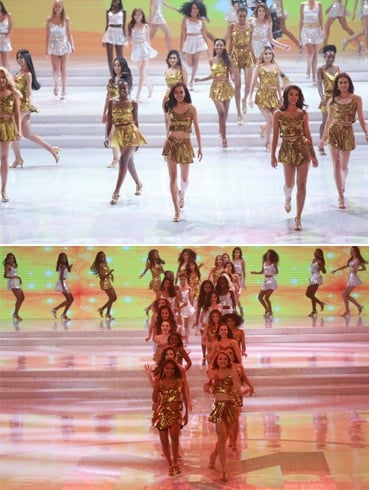 What the audience awaits through the evening is to see their favorite contestants in their special evening gowns. And these gowns had our jaws on the floor.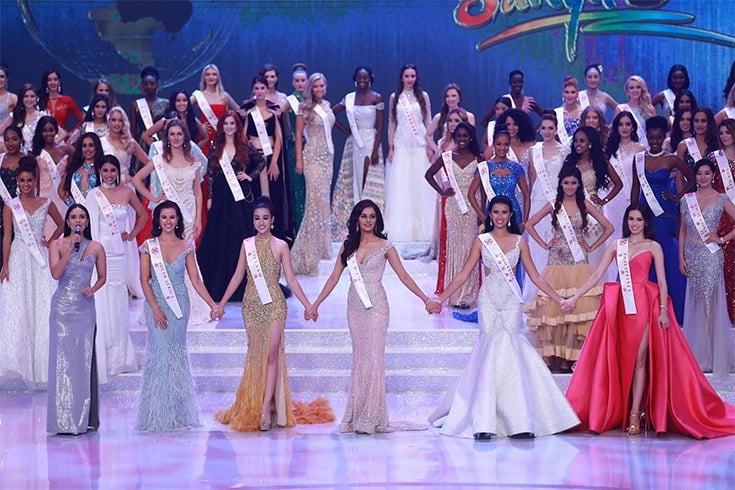 We are all aware that the final decision is always made by judging the mind and heart of these beauties, it's a contest and only the most beautiful woman with the sharpest mind and purest heart wins. The question posed to our representative to the global platform was, "Which profession deserves the highest salary and why?", to which Miss India replied, '"A mother deserves the highest respect. It's just not about cash but also the love and respect that you give to someone. My mother has been a huge inspiration. It is the mother's job that deserves the biggest salary."Now can any answer other answer win the crown?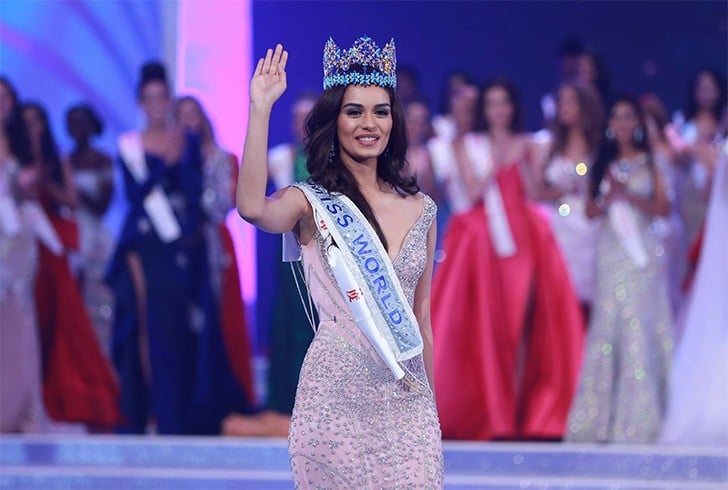 You go Miss India, I mean, Miss World. Congratulations, and thank you for making us proud once again.
November 20th, 2017
Author: A.Debnath
Images Source: facebook.com/MissWorld, instagram.com/manushi_chhillar