Ever since Emma Watson earned fame playing Hermoine Granger in the Harry Potter movies, she has become quite the muse of the fashion world. The British actress and activist's fashion profile has been admired for her chic, off-duty style and flawless red carpet appearances. Her impeccable stand-out ensembles from top designers have become her signature style.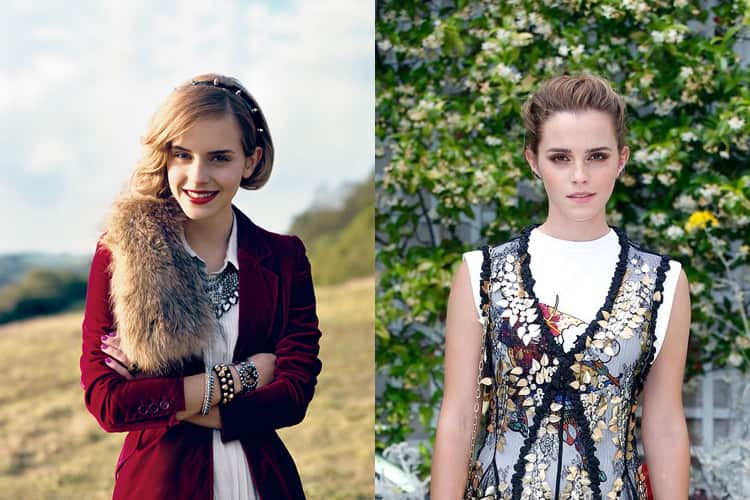 Also, the actress constantly advocates about using sustainable fashion in an effort to make smarter choices.
About Emma Watson:
Born in Paris, France Emma Watson is the proud daughter of Luesby and Chris Watson. Both her parents were lawyers. Until the age of five, Emma lived in Maisons-Laffitte, near Paris. When she was still at a young age, her parents separated. Then the actor moved to England for staying with her mother in Oxfordshire and spent the weekends in London with her father.
From the age of six, she was keen on becoming an actress and took training from Stagecoach Theater Arts, Oxford Branch, which is a part-time theater school.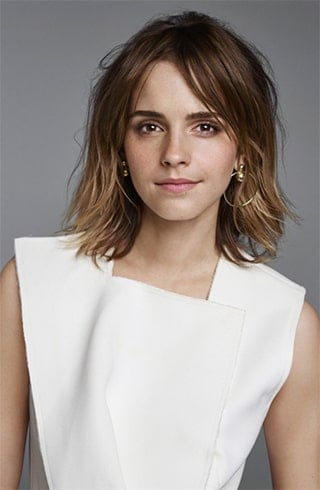 Personal Life:
Now let's take a look into Emma Watson personal details, and know more about her passion, weight, age, in detail. Scroll down and enjoy!
Emma Watson Biography:
Full Name
Emma Charlotte Duerre Watson
Emma Watson Age and Date of Birth
[celebrity_age_calc data="1990-05-15″] 15th April 1990
Place Of Birth
Paris, France
Sun Sign
Aries
Nationality
British
Religion
She mentioned on BBC that she is a Christian, but she doesn't follow the religion too avidly.
Occupation
Actress, Model, Activist
Education
University graduate from Brown University, Providence, Rhode Island, 2012
Marital Status
Single
Emma Watson Height
5 ft 5 inches (1.65 m)
Emma Watson Weight
53 Kgs
Eye Color
Light Brown
Hair Color
Brown
Shoe Size
7 US
Dress Size
4 US
Family Status:
Father
Chris Watson
Mother
Jacqueline Luesby
Siblings
Alex Watson (Brother),
Lucy Watson (Step Sister),
Toby Watson (Step Brother),
Nina Watson (Step Sister)
Spouse
NA
Favorite Things and Hobbies
Color
Light blue
Food
Mexican
Beauty Product
Chanel Face Moisturizer
Place
Tahiti
Sport
Hockey, Tennis, and Rounders
Brand
Tommy Hilfiger
Singer
Taylor Swift
Actor
Johnie Depp
Actress
Julia Roberts
Film
Pride & Prejudice, Giants, Notting Hill, Giants
Pop Artist
Justin Timberlake, Lady Gaga
Book
"The Little Prince" by Antoine de Saint-Exupéry, (Apart from Harry Potter)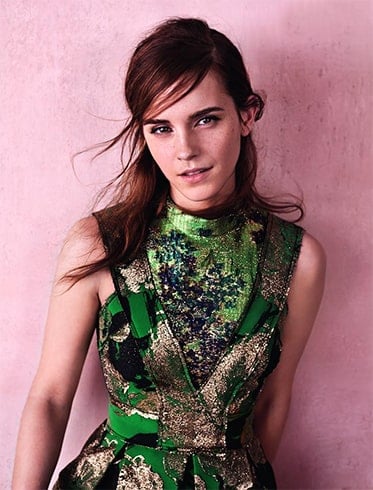 Education:
After school, Emma took a year gap to shoot for Harry Potter and the Deathly Hallows starting February, 2009. Later, she continued studies at Brown University, Rhode Island. After 18 months of studying at the University, she decided to defer her course for one semester. Then she went to Worcester College, Oxford, in 2011-12 as a visiting student. It took Emma all of five years to graduate with a Bachelor's English degree from Brown University.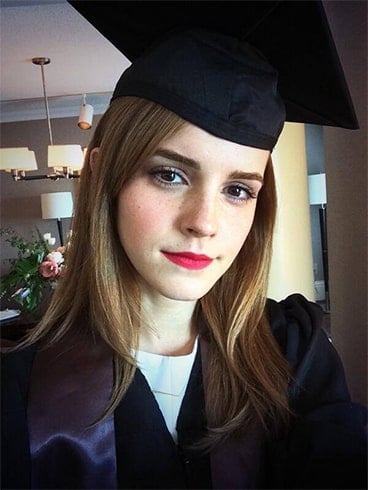 In 2013, Emma also took a certificate course in meditation and yoga. She also attended the Stagecoach Theater at the branch of Oxford to train as an actress.
Occupation:
Emma Watson is best remembered as Hermoine Granger in Harry Potter. She appeared in all the eight Harry Potter movies (2001-2011) with earnings grossing around $60 million. Emma Watson Net worth is in millions and she has earned every bit of it with immense hardwork. The English actress is also an activist and has often spoken at public forums.
Titles:
Here are the list of titles and awards that Emma Watson has won so far:
Year
Organization
Award
Work
2002
Young Artist Awards
Best Performance in a Feature Film- Leading Young Actress
Harry Potter and the Philosopher's Stone
2007
National Movie Awards
Best Performance by a Female
Harry Potter and the Order of the Phoenix
2011
Capri Art Female Festival Awards
Best Ensemble Cast Award
My Week with Marilyn
2011
Teen Choice Awards
Choice Movie: Actress Sci-fi/Fantasy
Choice Movie: Liplock
Choice Summer Movie: Female
Harry Potter and the Deathly Hollows- Part 1
2012
People's Choice Awards
Favorite Ensemble Movie Cast
Harry Potter and the Deathly Hollows- Part 2
2012
MTV Movie Awards
Best Cast
The Perks of being a Wallflower
2012
San Diego Film Critics Society Awards
Best Supporting Actress
The Perks of being a Wallflower
2013
MTV Movie Awards
MTV Trailblazer Award
The Perks of being a Wallflower
2013
Teen Choice Awards
Choice Movie Actress: Drama
The Perks of being a Wallflower
2014
Britannia Awards
v
NA
2014
British Fashion Awards
Best British Style
NA
2017
Teen Choice Awards
Choice Fantasy Movie Actress
Beauty and the Beast
2017
Teen Choice Awards
Choice Movie Ship
Beauty and the Beast
2017
Teen Choice Awards
Choice Liplock
Beauty and the Beast
2017
Teen Choice Awards
Choice Drama Movie Actress
Beauty and the Beast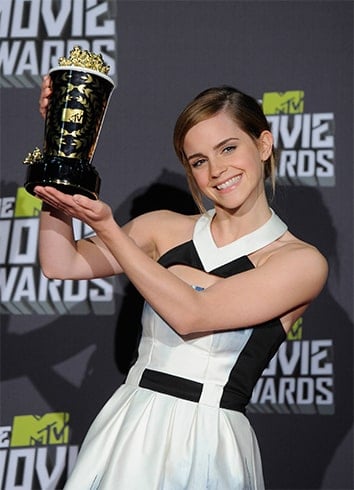 Fashion Profile:
Emma Watson mostly posts about her OOTD posts on Instagram and tags the designers she is wearing. Did you know, while endorsing Beauty and the Beast, the actress has also made a separate Instagram account for sharing fashion credits about every single ensemble she wears.
1. All-white Suit:
When: July, 2018
Where: Wimbledon Tennis Championship
Wearing: Ralph Lauren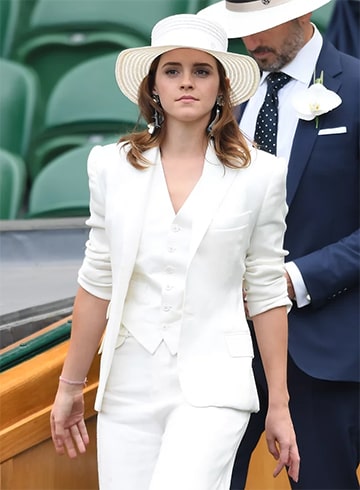 2. Embracing The Star-studded Ensemble:
When: March, 2018
Where: Vanity Fair Oscar Party
Wearing: Ralph Lauren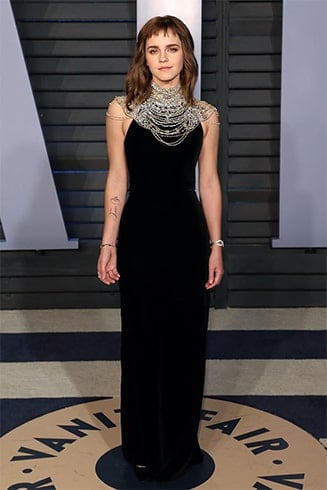 3. In A Hand Embroidered Gown:
When: June 22, 2017
Where: Paris, The Circle, Photo call
Wearing: Louis Vuitton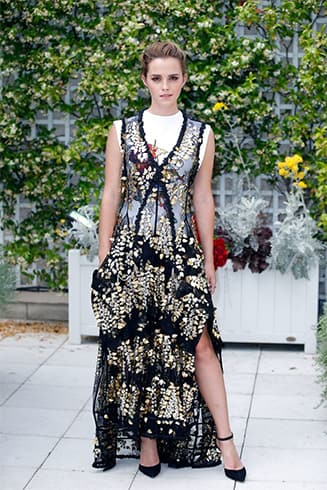 4. Wearing Customized Jumpsuit:
When: March 2, 2017
Where: Beauty and the Beast Press Tour
Wearing: Oscar De La Renta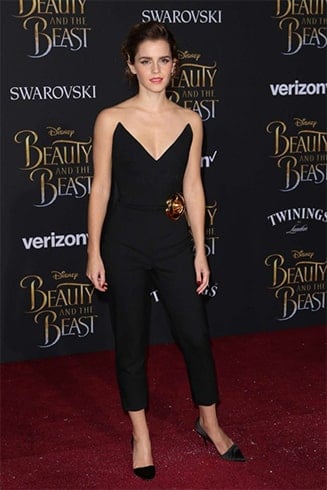 5. Wearing A Vintage Tuxedo:
When: 26 June, 2017
Where: Jimmy Kimmel Live, Los Angeles
Wearing: Yves Saint Laurent

6. Wearing A Nude Embellished Gown:
When: February, 2017
Where: Shanghai Premier of Beauty and the Beast
Wearing: Elie Saab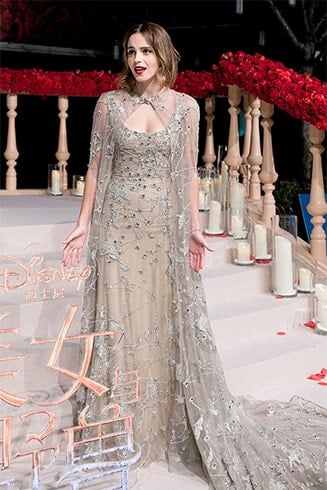 7. Wearing A White Gown:
When: February 13, 2017
Where: Elle Style Awards, London, 2017
Wearing: Dior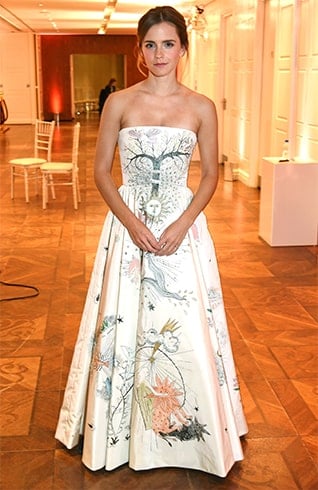 8. Sustainable Ensemble Made From Plastic Bottles:
When: February 20, 2017
Where: Paris, France, Beauty and the Beast Press Conference
Wearing: Louis Vuitton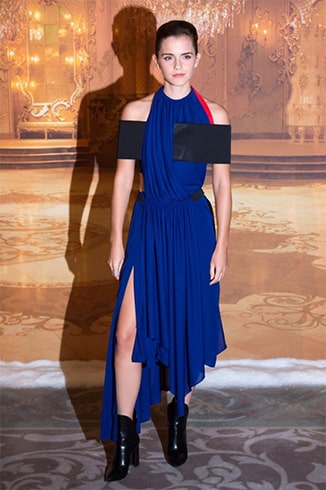 Beauty:
Activist and actor, Emma highly supports sustainable brands and transparency. And she is particular about what she puts on her face and body. Here we share Emma Watson makeup tips:
1. Skin Care:
Emma makes it a point to cleanse her face every night. Even after she returns from late night shooting, she cleanses, tones, and moisturizes before bedtime. Her favorite products are Évolué Gentle Cleanser and Firming Toner, MV Organics Rose Plus Booster, Rose Soothing and Protective Moisturizer, 9 Oil Cleansing Tonic, Évolué Resurfacing Grains.
2. Hair Care:
She is a natural red head. To avoid her hair from getting brassy she uses vegan brand Maria Nila Sheer Silver Shampoo and Conditioner. Emma also uses the brand's Masque on her hair and leaves it on for 20 minutes. For styling, she also loves John Master Organics Hairspray, Alchemy Grapefruit Hair Remedy, or Acure Argan Oil or simply coconut oil.
3. Makeup:
She works on maintaining a natural look on a daily basis. Her favorite products to use are Red Pomegranate-Cheek and Lip Stain from The Body Shop, RMS UN Cover-up Concealer and Powder, red lipstick from Lily Lolo and Inika, Jane Iredale liquid eyeliner and clear brow gel, Tata Harper, Bronzing Cheek Tint, and mascara from DHC.
4. Body:
Emma takes a bath daily, sometimes even thrice a day. She uses Epsom salts and oil once in a while. However, her favorite is C.O Bigelow Apothecary Cold and Flu Soak. Another brand that she loves is Lola's Apothecary milk bath with rose petals. Other brands that she uses are French Girl Org Polish, Agent Nateur No.3, Weleda Sage Deodorant, and Soapwalla's Deodorant Cream.
5. Nails:
Emma loves fun nail colors. There are several nail brands that she loves including Kure Bazaar and Floss Gloss. She particularly loves the El Capitan shade from Floss Gloss.
6. Fragrance:
Emma recalls the first time her dad bought a perfume when she was 11 from a perfume making factory from France.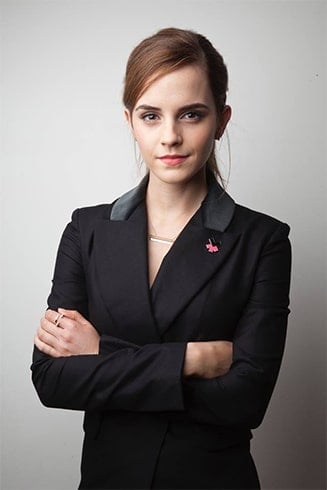 Fitness:
The key to Emma Watson fitness secrets are an intense 30 minute workout focusing on strength training, stretching, and yoga. She also practices stability ball exercise for toning her obliques, mixed with cardio, ab exercises, and walking.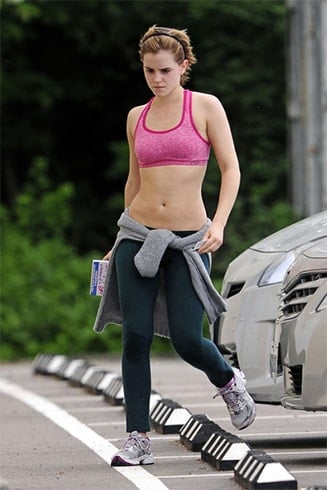 Emma Watson Diet Plan:
Emma Watson does not believe in diet but rather advocates healthy living. She also avoids junk food, saturated fats, and salt. Her diet comprises of veggies, salad, lean meat, and fruits. She balances it off with proteins, fiber, carbohydrates, and Omega-3 supplements.
On cheat days, she allows herself to have pasta, chocolates, and bagels. Here is a breakdown of what Emma Watson loves to eat in a day:
1. Avoid Processed Foods:
Emma Watson does not limit herself from eating what she wants. Rather she tries to maintain a diet rich with nutrients like unsaturated fats, whole grains, and lean proteins.
2. Loves Cooking:
Although she does not follow recipes, Emma still loves cooking.
3. Emma's Favorite Cuisine:
Her favorite food choice is Mexican and she can't stop obsessing over it. For breakfast, she treats herself to salsa, scrambled eggs, and guacamole. After that, she also cooks tortilla.
4. On Cheat Days:
Emma treats herself to cheat days while indulging in pasta and pizza.
5. Emma's Favorite Drink:
Her favorite drink is gin and tonic. Could be more British, right?
6. Loves Nutella:
Emma loves Nutella. On her birthday, she treated herself with a breakfast of strawberries and Nutella.
7. Her Hangover Cure
When Watson takes a few too many drinks, then she has a quick fix to it. She makes an English breakfast of baked beans and sausages as her hangover cure.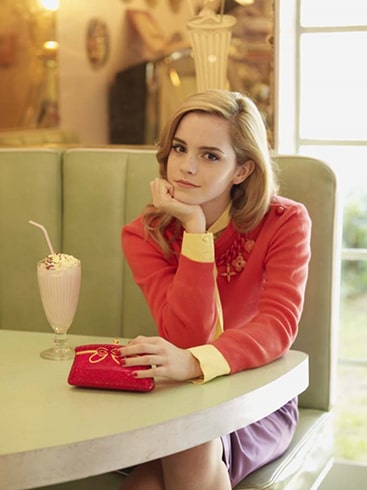 Brand Endorsements:
Previously, Emma had endorsed beauty brand, Lancôme. But she is now turning down all beauty campaigns or brands which do not celebrate all women.
Achievements:
Emma Watson has widely spoken for women's right and child education. Marking herself as a true feminist, the actress has stood for what is correct. The achievements made by her till date is commendable. Here is a breakdown of her work:
The actress has worked for girl's education during her visits to Bangladesh and Zambia.
In 2014, Watson was appointed as the UN Women Goodwill Ambassador. The same year she famously delivered a speech at the UN Headquarters, New York City to address Women Campaign HeForShe, advocating against gender equality in the UN.
In September 2014, Emma also made her first visit to Uruguay as UN Women Goodwill Ambassador where she gave a speech for highlighting women's political participation.
In December 2014, Watson was also named as the Feminist Celebrity of 2014 by an annual poll at the Ms. Foundation for Women.
In January 2015, the actress also gave a gender equality speech at the World Economic Forum Annual Winter Meeting.
She bagged the top position on the list of AskMen, Top 99 Outstanding Women 2015.
The actress was ranked 26 on TIME 100 list of influential people around the world.
In 2016, Emma began a feminist Goodreads Book Club: Our Shared Shelf. The book club was started for sharing feminist ideas. The book My Life on the Road by Gloria Steinem was first selected.
Social Official Profiles:
Here are the links of Emma Watson social profiles:
Emma Watson fashion profile is much loved and talked about. The reason why is because she stayed true to herself. Hope you loved going through her looks as much as we did.
Write in to us in the comment section below.
Images Source: Official instagram profiles of the celebs/designers mentioned with in the article.