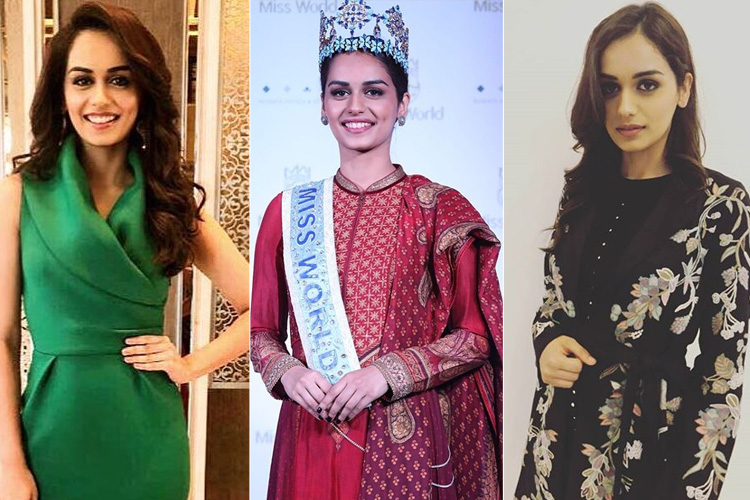 The recently crowned Miss World from India has been on the go ever since her coronation. Manushi Chillar brought back this fame to India after a long haul of 17 years and every new sighting of her's is proof that the woman deserves it every bit.
Graceful in her conduct, compassionate in her work and divaliscious with her dressup, this year's Indian origin Miss World is our very own Wonder Woman with a cute dimple.
While we are awed by her beauty and brain combination, it's her personal style that has garnered much spotlight on Manushi post-Miss World. The woman truly understands the stature of the honour bestowed upon her and hence is mindful of her appearance every time she steps out in public.
We have to admit, from being a commoner to a global icon in just one night, Manushi has learned the celebrity lessons almost instantly.
From gowns to ethnic to chic, Manushi looks breathtaking in every frame. With that face and figurine, we are almost certain of her switch to silver screen just like her predecessors Aishwarya and Priyanka.
With that being a little farfetched, we suggest for the time being we just oogle at the most recent post-Miss World lookbook of the girl who has made us so proud.
Top 10 Looks Of Miss World Manushi Chillar Post Her Win
Channeling utmost poise and grace was the Miss World from India at the awards night hosted by CNN News 18. Recognising her big win, the young girl was awarded the Indian Of The Year special achievement award. For her evening amidst the who's who of India, stylist Sheefa J Gilani had her muse wear a beautiful ball gown from Monisha Jaisingh. The rich and warm marsala gown beautified with intricate antique work on its bodice looked exceptional on Manushi. Her coveted crown, a pair of Amrapali earrings and her Miss World sash added all the sparkle to her evening look. Sandals from Jimmy Choo and a neat mid parted bun sealed her prettiness.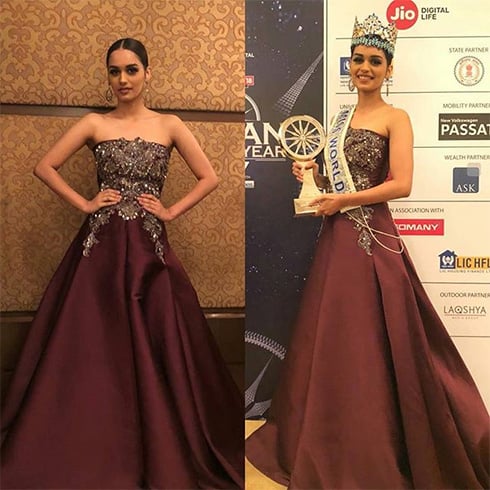 Pretty, Very Pretty, Prettiest was this Indian look Manushi wore for a press conference in the Capital city, Delhi. We thank the stylist from Style Stash, for picking up such a gorgeous piece for the Miss World 2017. While addressing media in her nation, Manushi exuded beauty in her ethnic appearance. The rust-red woven suit from India's ace designer Tarun Tahiliani added all the charm to her Indian face. With that Miss World crown sparkling on her head, Manushi looked nothing short of a majestic Indian queen.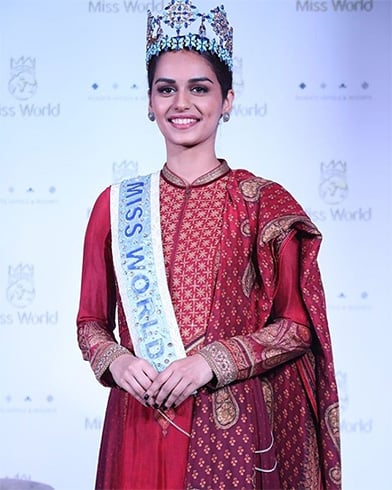 We have to admit this one made us sigh. Looking like an absolute epitome of chastity was the Indian Miss World, all ready to meet the Prime Minister of India, Shri Narendra Modi. We are all hearts for Manushi's desi avataar. The splendid white anarkali floor length from Kehia was a great pick by her stylist from Style Stash, Sheefa J Gilani. Additions like the pretty pair of earrings from Amrapali, heels from Intoto and a sling ivory clutch from Coach sealed Manushi's look to perfection.
Manushi Chillar donned a celebrity look for the red carpet of a success party hosted at St.Regis Mumbai. Manushi delighted the paparazzi wearing an intricately embroidered knee length dress from couturier Manish Malhotra. The black escapade covered in dark silver all over work was a yet another masterpiece from B-town's favorite designer. A pair of earrings from E-designs, a Michael Kors clutch and a pair of silver gladiators from Jimmy Choo summed up Manushi's red carpet appearance.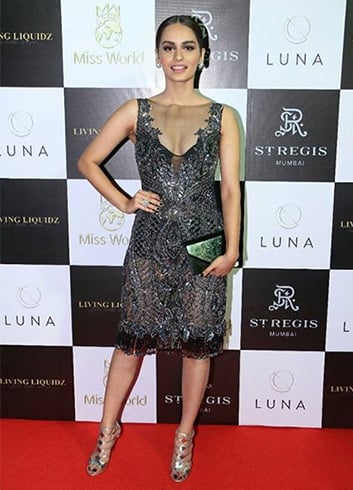 For one of her post-Miss World appearances, Manushi Chillar under the guidance of her stylist Sheefa adorned her toned figure in a Gauri and Nainika number. The designer duo known for creating splendid gowns, dressed up Miss World in rich jewel tones. The classic emerald gown boasted of a peplum corset bodice that extended into a mermaid fit gown. With the color playing the ultimate showstopper, Manushi sealed her look the minimalistic way. No accessories, no-makeup, only tresses let loose completed her appearance.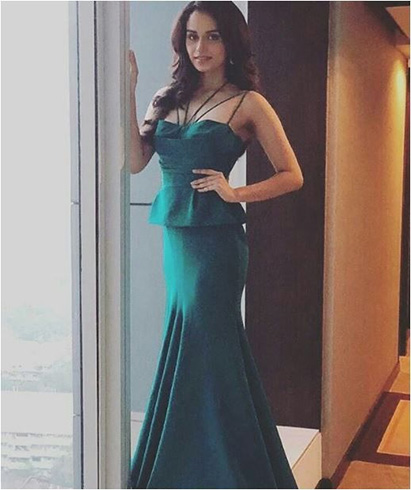 Manushi Chillar upped her casual wardrobe adding a piece from famed Indian designer, Anita Dongre. A black floral knee-length dress picked by stylist Sheefa, added more charms to this Miss World. A basic black dress insert worn with a black layering that boasted of floral embroidery in autumn hues made looked uptown and chic. Having her tresses fall naturally, Manushi completed her casual style files with a pair of black Intoto heels.
[sc:mediad]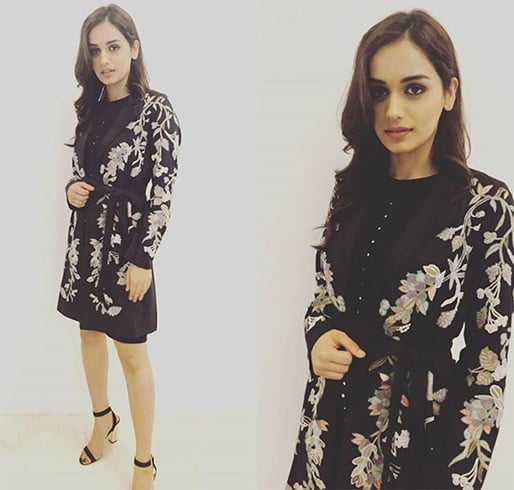 For her first media interaction post winning the title, stylist Sheefa, dressed up the Indian Miss World in a pretty green pencil dress from Gauri and Nainika. Looking young and vivacious the colour complemented Manushi to perfection.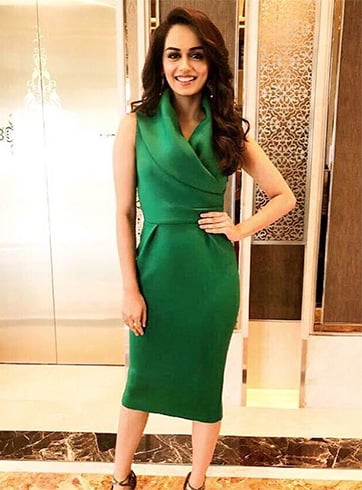 The woman decked up in all white for her first Cinderella moment post her title win. Dressed up in a red carpet ott white gown from Karleo Fashion, the Indian Miss World looked every bit angelic. Exuding queensley vibes amidst that feather overload, Manushi made for a gorgeous appearance. Stylist Sheefa J Gilani from Style Stash Official had Manushi's beautiful tresses let loose and amped up her shine with a pair of ear studs and a cuff.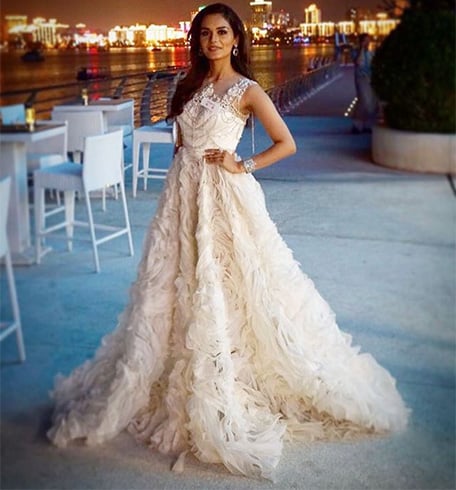 For her presentation at the Global Entrepreneurship Summit this year, Miss World Manushi Chillar decked up in a beautiful golden saree. Draped in six yards of gorgeousness from Tarun Tahiliani, Manushi channeled that unique modern Indian women oomph. Amrapali jewelry pieces accompanied her crown and sash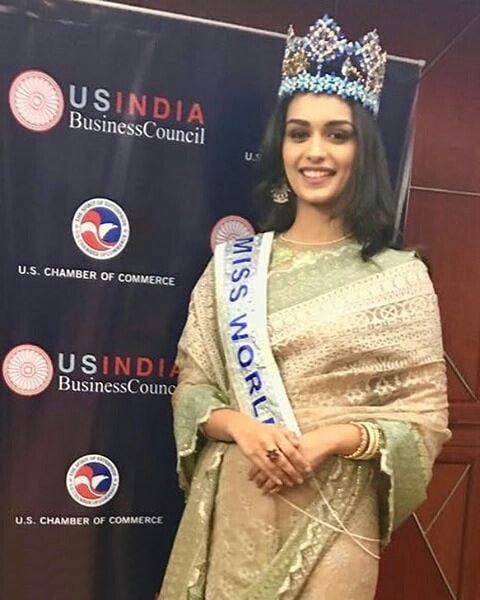 For her most awaited look, her first step back home, Manushi decked up simple and pretty. A certain homecoming glow that seems to have lit up Manushi's face as she made her way out at the Mumbai airport, just cannot be missed. Adding to her happiness radiance was that dazzling crown. To ensure all the spotlight on her hard-earned glitterati crown, Manushi opted for a more basic but well fitted neutral dress from luxe label Emporio Armani. Simple yet so pretty, this look will always be etched in Manushi's mind as a priceless memory.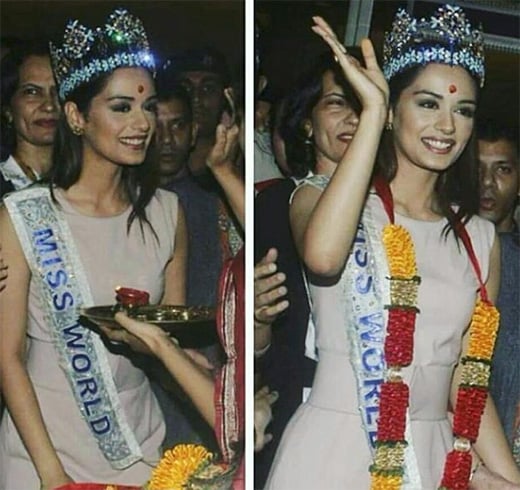 This is just the beginning of what we hope is a lasting and most importantly a fashionable journey of Miss World 2017, Manushi Chillar.
Images Source: instagram