Can you think of a woman who has positively influenced you? 8th March is the perfect time to say Thank You to her!
When was the last time you recognized the efforts of your wife? When did you say thank you to your mom for making your favorite cuisine? When was the last time you called your sister to show your affection?
Be it a sister, mother, wife, niece, friend, or boss; every woman is a source of inspiration. You are fortunate if affectionate women surround you. However, consider yourself unfortunate if you fail to acknowledge their efforts.
Now when International Women's Day #ChooseToChallenge #IWD2021 (8th March 2021) is around the corner, grab the opportunity to show your gratitude towards these inspiring women in your life. Say Thank You to them for their love and affection!
If you run out of words, choose any of the following gestures to 'voice' your feelings.
1. Give Her a Holiday
Women are known for their impeccable multitasking skills. However, multitasking skills can render them tired most of the time. This Women's Day, get her a well-deserved break from her tiring corporate and personal life. Let her gaze around, give commands and eventually do things that she usually doesn't do. Let her do what she wants to do on that day or even better— do nothing.
2. Plan an All Girl's Lunch Date or Trip On Her Behalf
Most of the time, women keep their wishes and aspirations on the back burner to accommodate family plans and fulfil other professional commitments. On this day, plan a small get-together for her and give her some time away from the routine house and office duties. All you require to do is get in touch with her friends and send them off for a few hours (or days, if it is a trip) to an absolute place.
3. Plan a 'Thank You' Date
When was the last time you appreciated her from the bottom of your heart for being the pillar of strength? When did you take time out to thank her for firmly holding onto the pieces of what you call 'life'? Well, there is no better day than International Women's Day to thank her for everything she has done for you. Take her out on a date and show your love towards her. Make sure to have this date at her favorite restaurant.
4. Surprise Her With a Gift
It might seem like an obvious choice, but you can't deny the fact that women love to get gifts. So, put your brain to work and find out that one thing your woman has wanted for a long. If you are unsure about the gift ideas, you can surprise her with a flower. Your simple but sweet gesture will surely bring a smile on her face.
5. Cook Her Favourite Meal
You don't need to be a great chef to impress the woman of your life. A simple meal cooked up with love is enough to melt her heart. Believe us, this trick never fails. Just google some simple recipes, wear a chef's hat and surprise her.
6. Buy a Health Insurance Plan For Her
She is the one who has been taking care of the health of all family members. Even if she falls ills, she avoids visiting doctors and cure herself with home remedies. After all, purchasing vegetables and clothes for the family is more important than buying medicines for her health.
This International Women's Day, gift her a health insurance plan so that she can avail the best medical treatment without fretting over hospital bills. Health insurance companies in India are offering various Mediclaim policies that come loaded with benefits like a free health check-up, cashless hospitalisation, pre-& post medical expense coverage and AYUSH (Ayurveda, Yoga, Unani, Siddha and Homeopathy) cover.
Further, in the past few years, cancer cases are increasing rising among women. Last year, India reported the third-highest number of cancer cases among women after China and the USA. Though, you wish a good and healthy life for her, buy a comprehensive health insurance plan to make sure the money doesn't come in the way of treatment.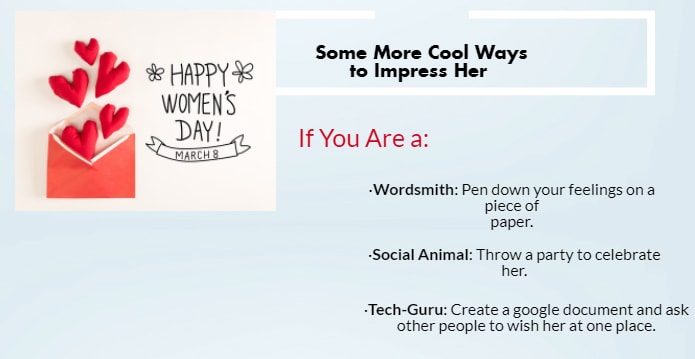 Take a Moment
So, this International Women's Day, find the time to thank the woman of your life who has shaped you in the best of who you are. After all, she deserves it!