Do you know any examples of women who have influenced you favourably? March 8 is the best day to recognise!
Independent women today are challenging long-held beliefs, customs, and cultural practises, shattering social conventions. They are speaking out courageously, chasing their dreams, and giving their all in whatever they do while standing tall and side by side with men. Let's use this chance to acknowledge a few of them.
1. Nirmala Sitharaman is an Indian politician who currently serves as the country's Minister of Finance and Corporate Affairs. For many years, she has been a strong voice in Indian politics, and her rise to the top has served as an inspiration to many women around the world.
One of the most inspiring aspects of Nirmala Sitharaman's story is her determination to succeed in the face of adversity. She comes from a low-income family and had to work hard to get where she is today. She began her career as a journalist, then worked as a banker before entering politics. Despite numerous obstacles, including gender bias and discrimination, she persisted in pursuing her dreams and never gave up.
Nirmala Sitharaman's commitment to empowering women in India is another inspiring aspect of her story. She has been an outspoken supporter of women's rights and has worked tirelessly to ensure that women have equal opportunities in all aspects of life. She has also launched several initiatives aimed at improving women's rights in India, such as the Beti Bachao Beti Padhao programme, which aims to improve the welfare of girls and women in the country.
Nirmala Sitharaman's rise to power demonstrates that anyone can achieve their goals with hard work, determination, and a strong sense of purpose. She has broken down barriers and shattered stereotypes, and she has become a global role model for women. Her story is an inspiration to all of us, and it serves as a reminder that anything is possible if we believe in ourselves and work hard to achieve our goals.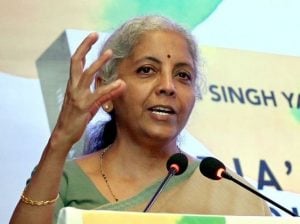 2. Indra Nooyi is a significant and inspirational figure in business, well-known for her innovative management at PepsiCo and her dedication to the advancement of women and people of colour. She has broken down barriers and shattered glass ceilings as one of the most successful female CEOs in history, opening the way for future generations of women to follow their aspirations.
Her dedication to sustainability and corporate social responsibility is one of Nooyi's most motivating career traits. Early on, she understood the value of corporate social responsibility and environmental care, and she relentlessly strove to introduce sustainable practises at PepsiCo. She oversaw the company's efforts to lessen its environmental impact, boost its reliance on renewable energy sources, and support a wide range of global welfare programmes. Nooyi's leadership style, which was defined by empathy, authenticity, and inclusivity, is yet another inspiring facet of her career. She advocated for diversity and inclusion and sought to foster an environment at work where workers of all backgrounds were welcomed and respected. She always worked to understand and solve the needs and problems of the individuals she managed, and her leadership style was grounded in a strong sense of empathy for them.
Nevertheless, Indra Nooyi's career serves as an example of the strength of determination, vision, and hard work. Through her fearless leadership, dedication to sustainability and social responsibility, and unshakable commitment to building a more fair and just world, she has inspired countless people all over the world.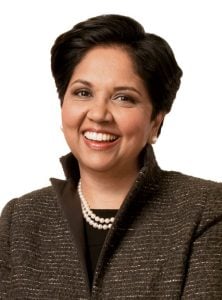 3. Kiran Mazumdar-Shaw: An Indian industrialist named Kiran Mazumdar-Shaw is the brains behind Bangalore-based Biocon Limited, a biopharmaceutical firm. She is widely considered as one of India's most successful female businesswomen and a trailblazer in the field of biotechnology, which is dominated by men. It was not an easy road to success for Kiran Mazumdar-Shaw. As a young woman seeking to establish herself in the professional world, she encountered several difficulties. Despite this, she persisted and started Biocon in 1978 with barely Rs. 10,000 (about $150) in starting money. The company now employs over 11,000 employees and has a market capitalization of over $6 billion.
Kiran Mazumdar-persistent Shaw's dedication to innovation and excellence is what genuinely inspires people. She has dedicated her career to creating innovative goods and solutions that tackle some of the most urgent healthcare issues facing the globe. With a particular emphasis on cancer, diabetes, and autoimmune illnesses, Biocon has advanced to become a global leader in the biopharmaceuticals industry under her direction. The commitment of Kiran Mazumdar-Shaw to having a good impact on society is arguably the most inspiring aspect of her life. She has a strong commitment to philanthropy and has utilised her success to fund a variety of social issues, such as environmental protection, healthcare, and education. She has persistently worked to promote women's empowerment in India and other countries as an outspoken proponent of gender equality.
In matter of fact, Kiran Mazumdar-Shaw is an absolute role model for female business owners globally. Her tale is a tribute to the strength of perseverance, invention, and hard work, and her dedication to having a positive influence on society is an inspiration to all of us.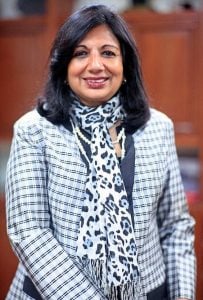 4. Mary Kom, an Indian Olympic boxer, has established a reputation for being one of the sport's toughest female competitors. She has won six titles and is the only female boxer to have medaled in all seven of the World Boxing Championships. In addition to receiving the Padma Bhushan, one of India's highest civilian distinctions, Mary Kom also won a bronze medal at the 2012 London Olympics. Mary Kom's progression to achievement is what makes her incredibly motivating. She is from a small hamlet in Manipur, India, and overcame many challenges to become a top-tier boxer. She encountered opposition from her family, who disapproved of her choice to make a career out of boxing. Yet she persevered, and with the support of her coach, she beat the odds and won the competition.
Mary Kom's tenacity and tenacity are what make her story the most inspirational. She never allowed her circumstances to define who she was; instead, she fueled her progress with them. Throughout her career, she has encountered many obstacles, such as financial troubles and injuries, but she has never given up on her goals. Her experience serves as a testament to the effectiveness of perseverance and hard effort.
Millions of people find motivation in Mary Kom's narrative, particularly young females who want to overcome cultural constraints and accomplish their objectives. She has emerged as a global role model for women, and future generations will be inspired by her legacy.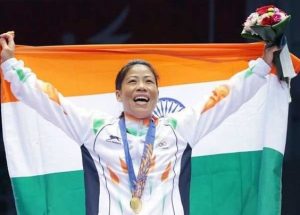 5. Arundhati Bhattacharya: Arundhati Bhattacharya is a dynamic lady and an excellent leader who has had a big impact in business. As the State Bank of India's (SBI) first female chairman, she oversaw the bank's transformation.
Arundhati Bhattacharya's leadership was exemplified by her capacity to make difficult choices and carry them out effectively. She presented creative solutions to the problems the banking industry was facing after realising their severity. SBI pioneered digital projects and enhanced customer service under her direction, which increased the bank's profitability.
She was also dedicated to social concerns, which is another noteworthy facet of her leadership. She started a number of projects to encourage financial inclusion and give disadvantaged groups in society more influence. Also, she was crucial in the execution of the Pradhan Mantri Jan Dhan Yojana, a national initiative for financial inclusion. In addition to her professional achievements, Arundhati Bhattacharya has served as a role model for many other women hoping to shatter the glass ceiling. She has disproven prejudices and shown that women can succeed just as well in positions of leadership that have historically been controlled by men.
Arundhati Bhattacharya is a brilliant leader who has significantly impacted the Indian banking industry, to sum up. She serves as an inspiration for many thanks to her leadership style and dedication to social causes. Her capacity to overcome difficult obstacles, spur change, shatter gender stereotypes, and pave the way for additional women leaders in India is the most inspiring aspect of her path.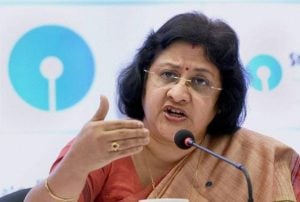 6. Sunita Williams: Sunita Williams is a successful astronaut, navy officer, and a powerful woman who has motivated many with her amazing accomplishments and fortitude. Williams was raised in Massachusetts after being born in 1965 in Euclid, Ohio. She received a degree from the Florida Institute of Technology in engineering management after leaving the United States Naval Academy in 1987. Williams started her training as an astronaut candidate in 1998 after being chosen by NASA. Since then, she has completed two space missions, staying in space for a total of 322 days, and performed a number of spacewalks, setting records for the longest spacewalk by a woman and the largest amount of time spent spacewalking by a woman.
Her unwavering resolve and resiliency in the face of difficulties are what make Sunita Williams an inspirational character. Williams' mother passed away in 2007 whilst she was travelling to the International Space Station. Williams carried out her job despite being millions of miles from home, and she even made a special tribute to her mother during her spacewalk. Williams' dedication to inspiring and assisting young girls interested in science and technology is yet another motivational component of her life. She has been active in a number of STEM initiatives and frequently speaks at events and in schools to encourage young ladies to follow their aspirations.
Ultimately, Sunita Williams is a great inspiration to many people, especially women, due to her remarkable accomplishments in a field that is predominately male and her resilience in the face of hardship. Her dedication to encouraging young women to pursue STEM fields is admirable and serves as an example for others.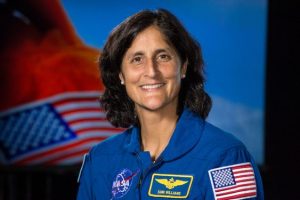 7. Chanda Kochhar: In the Indian business community, Chanda Kochhar is a well-known name. She has been a formidable force in the financial sector and an inspiration to women all across the world. She played a significant role in influencing the financial environment of India as the former CEO and Managing Director of ICICI Bank, one of the biggest private banks in the nation.
Kochhar is well-known for being a courageous and visionary leader who has made a huge impact on the banking sector. She began working with ICICI Bank in 1984 as a management trainee, and in 2009 she was promoted to CEO. She led ICICI Bank to become one of the nation's most prosperous and forward-thinking financial institutions.
Chanda Kochhar's persistent dedication to excellence and capacity to shatter the glass ceiling in a male-dominated field are what inspire people the most. She has paved the way for women in business by demonstrating that they can be successful leaders in industries that have historically been dominated by males. The importance Kochhar has placed on corporate social responsibility is another admirable part of her career. She has taken a lead role in numerous campaigns to advance sustainability, healthcare, and education. She has received various honours and recognition for her commitment to having a beneficial impact on society, including the Padma Bhushan, one of India's highest civilian honours.
Chanda Kochhar's journey is a testimonial to the strength of willpower and perseverance, to sum up. She is a genuine example for all women, and her legacy will continue to motivate upcoming cohorts of female leaders.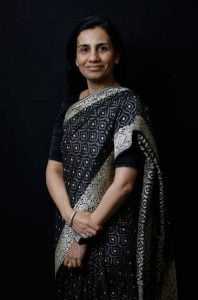 8. Hima Das: India's Hima Das is a talented young athlete who has been making waves in the track and field community. She's repeatedly shown that she's a powerful lady who will do whatever it takes to get what she wants.
Hima's poor upbringing is one of the most motivating aspects of her. Her family struggled to make ends meet; she is from a small village in the state of Assam. Hima was determined not to let her situation hold her back in spite of the lack of resources and chances. Instead, she achieved success by using her talent and perseverance.
Hima's unwavering resolve is another characteristic that sets her different. Injuries and difficult competition were just two of the difficulties she overcame in her career, but she never gave up. Several people all across the world have been motivated by her tenacity and fortitude. Hima's dedication to using her platform for good, though, may be what inspires people the most. Young girls in India and beyond look forward to her as a role model, inspiring them to follow their passions and break social norms. Also, she has spoken out in favour of causes like gender equality and mental health, using her platform to change the world.
Hima Das is a brilliant example of what a powerful woman may accomplish in general. People all across the world admire and respect her for her talent, perseverance, and dedication to making a difference.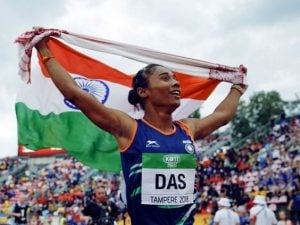 9. Anjali Bhagwat: Anjali Bhagwat is an exceptional shooter and a courageous lady who has brought honour to India with her achievements. Anjali, who was born in Maharashtra in 1969, developed a love of sports early on and started photographing at the age of 19. She persevered in the face of many difficulties and setbacks to become one of the world's top shooters. Throughout the course of her two-decade shooting career, Anjali received various honours, including gold medals at the Commonwealth Games, Asian Games, and World Cup. In 2000 and 2004, she competed for India at the Olympics, where she placed fifth and eighth, respectively. Anjali was the first female shooter from India to win the ISSF Champions Trophy in 2002, and in 2003 she achieved her highest ever world ranking of No. 2.
Anjali Bhagwat is most inspiring because of how committed and determined she is to her sport. She didn't come from a sporting background and didn't have access to the best resources or facilities. She fought hard to realise her dreams, refusing to let these obstacles keep her back. Anjali worked tirelessly to develop her abilities and boost her performance, frequently putting in more than 12 hours per day. While she experienced financial difficulties, she did not allow them interfere with her training or motivation.
Anjali's story illustrates that one can achieve their goals and go through any obstacles with effort, commitment, and tenacity. Her accomplishments in the sport of shooting serve as an inspiration for women all around the world as well as many young athletes in India. Anjali Bhagwat will continue to inspire future generations as a strong, tenacious, and successful sportswoman.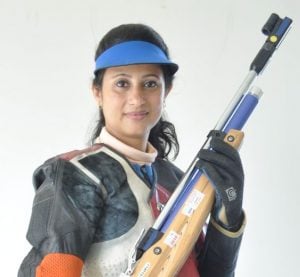 10. Smriti Irani: In Indian politics, Smriti Irani is a name that is instantly recognisable. Millions of women all around the nation look up to her as an inspiration. Smriti Irani started out as a model before transitioning into a career in television acting. Her entry into politics, however, in the early 2000s, marked a turning point in her life.
Irani joined the Bharatiya Janata Party in 2003, marking the beginning of her political career. In 2004, she ran in her first election from Delhi's Chandni Chowk constituency, however she was unsuccessful. She persisted in her efforts despite the setback, and in 2010 she was chosen to serve as the BJP's national spokeswoman. She ran against Rahul Gandhi, a member of the Nehru-Gandhi dynasty, in the 2014 Lok Sabha elections from Amethi and won. Smriti Irani's perseverance and tenacity are two of her most inspiring qualities. Throughout her career, she had numerous obstacles and setbacks, but she never gave up. She kept up her hard work, learning, and development. Her tenacity and perseverance allowed her to advance from being a television actress to being a cabinet minister and a member of parliament.
Smriti Irani's dedication to women's emancipation is yet another admirable quality of her life. She has worked relentlessly to empower women in India and has been a prominent supporter of women's rights. She has started a number of projects to better the lives of women, such as the Beti Bachao, Beti Padhao campaign to raise the status of females in India.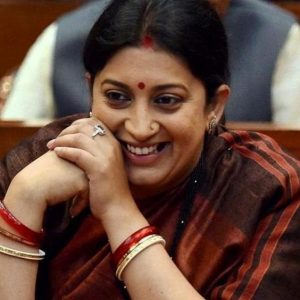 On International Women's Day, it is important to recognise the contributions of women in all fields. In a multitude of disciplines, including business, athletics, science, and technology, women have made significant contributions. There is still a long way to go in achieving gender equality and empowering women in all facets of life.
The theme for International Women's Day in 2023 is "Choose to Challenge," which encourages people to speak out against gender inequality and prejudice. It is a call to action, and everyone should work to make the world more inclusive and equal for women.
Let's honour the achievements made by the women who came before us on International Women's Day and continue to be motivated by the women who are changing the world today. Let's chose to combat gender prejudice and try to build a society where women may prosper and realise their full potential.