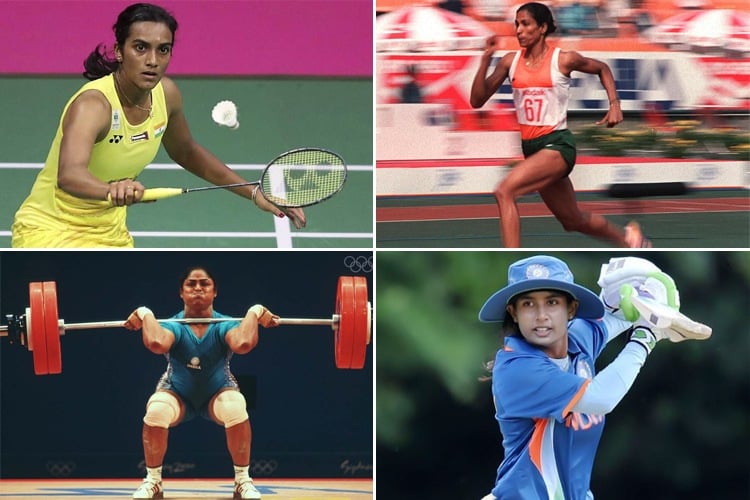 The Indian sports fraternity is colossal – from great shooters to fabulous cricketers – we have someone bringing laurels and making us proud all the time. In the category of Indian sportswomen, we have many amazing ladies who have brought back medals from around the world. These Indian women athletes have amazed us with their stories of sheer determination, perseverance, and strength. In this article, we will talk about some of the best Indian female sports personalities. Read on to know more.
Top 10 Indian Sportswomen:
Let's find out the who except the golden girls of badminton PV Sindhu and Saina Nehwal make it to this list of iconic Indian sportswomen. Go on and find out many names of international medalists who are now considered among the best in their sport.
1. PV Sindhu:
All of 22, PV Sindhu is right now number 3 in the world of badminton rankings. The tall, lanky and well-built shuttler has done India proud by becoming the first Indian woman to win an Olympic silver medal at the 2016 Olympic Games. She has also become the first Indian woman to win the Korean Open Superseries. She came into limelight when at the young age of 17 she became the first Indian woman to break into the top 20 badminton world ranking. Since then there was no looking back for the 5'8'' lanky shuttler.
Not only has she won India's highest sporting award – Rajiv Gandhi Khel Ratna award, she is also the recipient of India's fourth highest civilian award – Padma Shri. She has also received the Arjuna award.
Sindhu's love for the game was apparent when she started playing at the tender age of 8 and started winning championships since the age of 10. Even though both her parents were volleyball players, she developed a soft spot for badminton and trained under Gopichand. She traveled 56kms every day to her training camp– her sheer determination has brought her so many medals and accolades.
2. Saina Nehwal:
The 27-year old shuttler is India's first sportswoman to gain the number one spot in world badminton rankings. She is the second Indian to bag that position after the legendary badminton player Prakash Padukone. She has represented India three times in Olympics and has won a bronze medal for the country.
She is considered one of India's most famous sportswomen and is hugely responsible for bringing back the popularity of the game. She too has won many awards namely – Padma Bhushan (India's third highest civilian award), Rajiv Gandhi Khel Ratna Award and Arjuna Award.
Born in Hisar, Saina came to Hyderabad where she trained for the rest of her time. With years of training, it was in May 2006 when the 16-year-old Saina became the first Indian woman and the youngest player from Asia to win a 4-star tournament – the Philippines Open. Since then Saina has won many games in India and abroad and even achieved the number one ranking in the world. In 2016, Saina dealt with many injuries which resulted in her dropping several ranks but she came back stronger and better in 2017 and won many medals. She is one of the most prominent names in the field of sports today.
3. Sania Mirza:
From the time she started her career and retired in 2013, Sania Mirza – one of Indian tennis's most famous personalities managed to retain her number one title in India's doubles category. She is the highest ranked Indian player and has peaked at number 27 in world rankings. A wrist injury, however, caused her to retire from her singles career and move on to doubles where she became the number 1 player in the world.
A very good swimmer, Sania was raised in Hyderabad and started training under her father and eventually Roger Anderson at the tender age of six. She studied in Nasr school – a prestigious boarding school in Hyderabad and she credits a huge part of her success to her alma mater. She could attend various competitions and training because her school encouraged her to pursue her passion.
Sania has represented the country in Olympics three times and has been awarded Rajiv Gandhi Khel Ratna Award, Arjuna Award, Padma Shri, Padma Bhushan and WAT newcomer of the year award. In 2015, she was appointed as the brand ambassador of Telangana and has established a tennis academy in Hyderabad. She is married to Pakistani cricketer Shohaib Malik.
4. Mary Kom:
The Indian boxer who is also known as Magnificent Kom made history for not only single-handedly representing the country for boxing in the 2012 Olympics in the flyweight category but also bagging a bronze medal at the global sports event. She ranks number 4 in the world boxing ranking in the flyweight category.
Born in a farmer family, Kom has a very humble beginning and learned athletics and boxing when she was just a child. She took a keen interest in athletics and enjoyed javelin throw and 400 meters running. It was in 2000 when she realized that her calling was in boxing and started professional training for boxing. She had to keep it a secret from her family because her father thought that boxing would spoil her chances of marriage. It was only when he saw her photo for winning a boxing championship that he realized that Kom was actually talented and wholeheartedly supported her decision. Kom got married and took a brief break from her boxing career. She got back into boxing in 2008 and won many gold medals in her category. She got India a bronze medal at the 2012 Olympics. She could not qualify for the 2016 Rio Olympics but is currently training for the 2020 Tokyo Olympics.
Kom too has won the Rajiv Gandhi Khel Ratna Award, Arjuna Award, Padma Sri, Padma Bhushan among many others. She is a strong advocate of animal rights and is an active supporter of PETA India.
5. Karnam Malleswari:
Indian's 50-year jinx of not having an Olympic medal was broken by none other than weightlifter Karnam Malleswari who at the age of 25 won the bronze medal in the 69 kg category in the 2000 Sydney Olympics. Karnam was not interested in weightlifting from the very beginning but it was her elder sister who understood and saw her potential and asked her to get formal training.
Karnam was born in a small village in Andhra Pradesh and was one of the four sisters who was trained in weightlifting. Her training in weightlifting started at the tender age of 12 when she started getting coached under Neelamshetty Apanna. She retired from weightlifting in 2004, but she will forever be known as the woman who became the first Indian to win an Olympic medal. Karnam too has been awarded the Rajiv Gandhi Khel Ratna Award, Padma Sri and Arjuna Award by the Government of India.
[sc:mediad]
6. Sakshi Malik:
25-year old Sakshi Malik is an Indian female wrestler who won a bronze medal in Olympics at the 2016 Summer Olympics. She won the medal in the 58 kg category. She is also the fourth female Olympic medalist from the country.
Born in Haryana to a bus conductor, Sakshi demonstrated her love for wrestling when she saw her grandfather actively taking part in it. She began training under a coach when she was just 12 years old. Sakshi started winning laurels and medals when she joined the international wrestling arena in the year 2010. Sakshi's career in wrestling is still booming and she is still seen participating and winning many competitions. As India's premier female wrestler, Sakshi has won the Rajiv Gandhi Khel Ratna Award and also the Arjuna award.
7. PT Usha:
One of India's first female track athletes, PT Usha is a formidable name in the world of Indian sports. Now retired, PT Usha was nicknamed Golden Girl, Payolli Express and is also referred to as the queen of Indian track and field.
Usha was first noticed by her coach in the year 1976 when he thought that her walking style could make her an excellent sprinter. With the coach's guidance and training, Usha started winning medals after medals in all categories she participated in – National Games, State games, etc. Usha's most memorable moment was when she entered the Los Angeles Olympics. In the Commonwealth Games, she could manage to attain the fourth position. She lost the third place due to 1/100th of a second. Usha still believes that this was the biggest disappointment in her life.
Even though she is retired now, she has her own coaching school in Kerala. Usha has been conferred with the Arjuna Award, the Padma Sri and also the title of 'the greatest woman athlete' in 1985's Jakarta Asian Athlete meet.
8. Humpy Koneru:
Humpy's winning streak in chess started when she was just ten year's old and she won the gold at the World Chess Championship in 1997, 1998 and 1999 (Under 10, under 12, and under 14). In the year 2002, Koneru became the youngest woman ever to achieve the title of grandmaster (not just a Woman Grandmaster) at the age of 15 years, 1 month, 27 days, beating Judit Polgár's record by three months. Though this record was subsequently broken by Hou Yifan in the year 2008, she will always be India's first and youngest lady grandmaster. The Indian government has awarded Humpy with the Arjuna Award and Padma Sri for her stellar achievements.
9. Mithali Raj:
In a cricket-crazy nation like ours, Mithali is our absolute favorite. The female cricketer is the captain of the Indian cricket team in ODIs and test matches and is the highest run-scorer in women's international cricket. She is also the only female cricketer to have surpassed the 6,000 run mark in ODIs. Apart from this, she is also the first player to score 7 consecutive 50s in ODIs. In addition to all the runs she has scored, Raj has also become the first captain (men or women) to lead India to an ICC ODI World Cup final two times – once in 2005 and 2017.
Raj started playing at the tender age of 10 and soon her batting prowess helped her gain a place in the Indian cricket team. As a child, she often practiced in the nets with the boys. She has been nicknamed the 'Tendulkar of Indian Women's Cricket' and holds the record for playing the most number of consecutive ODls in women's cricket. She too has been conferred with the Arjuna Award and Padma Sri for her contribution in the field of women's cricket in India.
Due to her growing popularity and amiable nature, soon there will also be a movie which will feature Mithali and focus on her life and career.
10. Arunima Sinha:
An epitome of bravery and determination, Arunima Sinha is the first Indian amputee to climb the Mt. Everest. She is also the first female amputee to climb the Mt. Everest.
A former national-level volleyball and football player, Arunima lost her leg in a freak train accident. She trained under Bachendri Pal to climb the peak in 2012 and it was in 2013 that she finally achieved what she wanted after a grueling 17-hour climb. In 2015, the Indian government awarded her with Padma Shri for her utmost bravery and outstanding perseverance.
Indian sportswomen have given us many reasons to be proud of. Their winning streaks and formidable presence in the sporting arena have given hope to many aspiring Indian female athletes. It is always a proud moment to see these women giving us goals to be a better version of ourselves.
Do tell us in the comments section below which one is your favorite from the list and why you admire her.