Hello! I'm back with an exclusive post on Smita Sabharwal IAS officer. By now we've had the tradition of sharing stories about women, who have inspired the society, especially the female fraternity through their impervious achievements. The examples, which they've set before the youngsters not only ensure success through hard work and devotion, but also assures a good human being-in the making.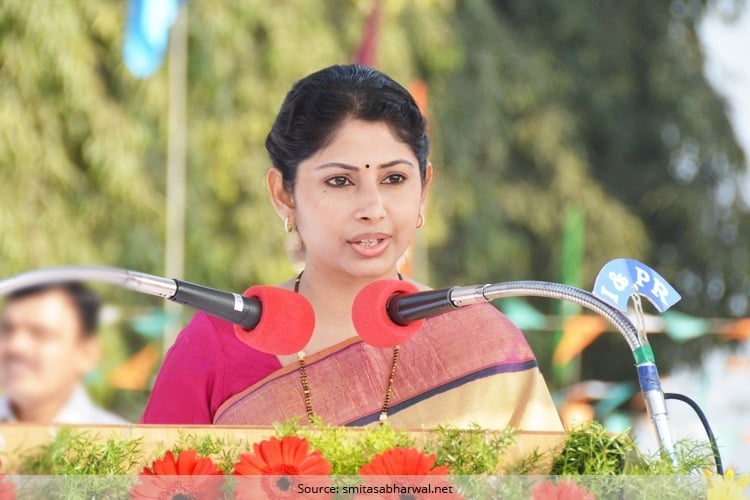 From Marrisa Mayer and Aimee Mullins to Nita Ambani and Smriti Irani, we have covered them all for their distinctive qualities and achievements that motivate the younger generation to achieve their dreams and be a better person in life.
Today I have once again come up with another inspirational story, not about any celebrity or popular figure but a Hyderabad based Bengali beauty Smita Sabharwal, age 37 who has become the country's first lady IAS officer to be appointed to Chief Minister's Office.
Who is Smita Sabharwal?
Smita Sabharwal currently holds the charge of Additional Secretary to Chief Minister of Telangana and is indeed an inspiration to all.
The New Indian Express describes her as young, suave, articulate and efficient.
A 2001 Cadre IAS officer, Smita not only cleared the UPSC exams at quite young age, but was among the toppers' list being ranked 4th in the country.
The Bengali beauty, who is basically from Darjeeling, has done most of her schooling in various parts of the country because of her Army background.
Her father Colonel P. K. Das, who served in the Indian Army settled in Hyderabad, so Smita completed her 12th from St. Ann's, Marredpally, Hyderabad and graduated in Commerce from St. Francis Degree College.
The dedicated student – Smita Sabharwal
On her study pattern, Smita Sabharwal IAS adds, "I used to study only for six hours a day and play for at least an hour. It is wrong to think that one can get through the civils only by studying very hard. In the final round, your interests and hobbies are also taken into account for selections."
Smita Sabharwal, who is one of the youngest to have cracked the Union Public Service Commission exam, confides that it was because of her father's initiation and encouragement that she is here.
As per the Additional Secretary, "I had done my BCom degree from St Francis College in Hyderabad. It was my father, who first put forward the idea that I should attempt the UPSC exam. Immediately after my graduation, I prepared for the exams for the next one year and cleared it."
Surprisingly, Smita Sabharwal didn't get the news of her result from her family or institution, but from All India Radio. This is what the ecstatic IAS officer had to say,
"On the result day, I was waiting for a call from my training institute to inform me of my result. It was not until 3pm that I got a call from the All India Radio office who congratulated me for securing 4th rank. I thought it was a crank call and did not pay much heed to it. But finally when the same was confirmed by my institute, it was just unbelievable as I felt I had performed badly in the last round."
The Commerce graduate had chosen anthropology and public administration as her optional subjects for the UPSC. Smita Sabharwal hugely credits her coaching centre, Brain-tree in Hyderabad for imparting good training in the subjects.
The UPSC results are not her only achievements in her academic years, but she had already made her family proud when Smita Sabharwal had topped the all India ICSE Class 12 exams.
[sc:mediad]
"I had taken the commerce stream with accounts and economics as subjects. I was actually angry with my parents for pushing me into this stream. But it was a surprise when I bagged the first rank in the all India ICSE Class 12 exams," adds the Joint Collector of Hyderabad.
Her services and postings – Smita Sabharwal
The Darjeeling girl, Smita Sabharwal was used to traveling wide from a very young age, thanks to her father, who is from the defense services. Having seen many cultures and places, it has made easier for her in accommodating and understanding people better wherever she has been appointed so far.
After completing the tough administrative training in Lal Bahadur Sastry, National Academy of Administration, Mussoorie, Smita Sabharwal was trained in Adilabad district in her probationary days. Initial posting was in Chitoor where she served as the Subcollector, Madanapalle and was groomed well, letting her grab hands-on experience. Thereafter she has worked in Rural Development sector as Project Director, DRDA, Kadapa and later on as Municipal Commissioner of Warangal.
Smita Sabharwal has then served as Deputy Commissioner, Commercial Taxes, Visakhapatnam, and also as Joint Collector of Kurnool and Joint collector of Hyderabad. However, she has significantly contributed to the society when she took charge as District Collector, Karimnagar district.
"Had I been assigned to some far off state other than the Andhra Pradesh, it would not have made much difference to me. Even after my two-years training in Mussoorie, I was sent for a friendly orientation to Adilabad district, which is one of the backward areas of Andhra Pradesh," she informs.
Smita Sabharwal's Achievements
Smita Sabharwal strongly believes everyone should do something for the society, especially today's youngsters who should give civils a shot as they can do a lot through this service. Nonetheless Smita has even justified her ideology as she has made some significant marks in her tenure so far.
"Fund Your City" – During her next stint as Municipal Commissioner, Warangal she introduced "Fund your City" scheme where a large number of public utilities such as Traffic Junctions, Foot-overbridges, Bus-stops, Parks were created with Public-Private partnership(PPP).
"Amma Lalana" and "Praja Vaani" – In 2011 when Smita Sabharwal took charge as District Collector of Karimnagar district, she made a significant contribution in the Health and Education sector. Also with the help of Public Representatives, Karimnagar Town underwent a facelift in the form of wider roads, scientifically planned traffic junctions, Bus-stops, Toilets and other public utilities. Karimnagar district was awarded the best district in PM's 20 Point Programme for 2012-2013.
Smita Sabharwal was Medak District Collector during the General Elections 2014 and successfully conducted free and fair polls.
Smita Sabharwal's Awards
Indian Express Devi Award – 2015 [For Innovation and Dynamism]
e-India (e-Health Category) Government Digital Initiative [2013]
Chief Minister's Award for best district in 21 Point Flagship Programme [2011-12]
Chief Minister's Award for best district in 20 Point Flagship Programme [2012-13]
Recipient of "Platinum Award" worth Rs.10.00 Lakhs under District Category for the best e-Governance initiatives taken up [2012-13]
Nominated for Prime Minister's award under individual category for excellence in public administration in best district initiative "Ammalalana" programme.
Smita Sabharwal: Personal Life
Her bond with the civil services does not end with her profession. Smita Sabharwal is married to an IPS officer, and her batchmate, Akun Sabharwal who is now the Deputy Commissioner of Police for Central Zone in Hyderabad. They are blessed with two children, Nanak and Bhuvis.
Smita Sabharwal Family Photos
Smitha Sabharwal is a true inspiration to many women and is a much-loved youth icon. She is the leading IAS officer of all times and has left all the others far behind. With 14 years of experience, she hates corruption, irresponsible staff and illegal activities.
Smitha has always given Public Health and basic Education high priority, not to forget her hard work in upgrading the Government Hospitals. She has also been monitoring the Government Doctors over Skype calls and this has changed the face of Pubic Health drastically.
Smitha Sabharwal and Technology
It is extremely surprising to know that this IAS officer does not own any personal accounts on the social channels but has a huge fan following her, especially the youth with 20 fan pages on her name and over 5 lakh followers on Facebook. She carries with her, a tablet and uses an Ipad to save her files and documents when on the run.
Stay tuned for more updates on Smitha Sabharwal and many such inspiring stories!!