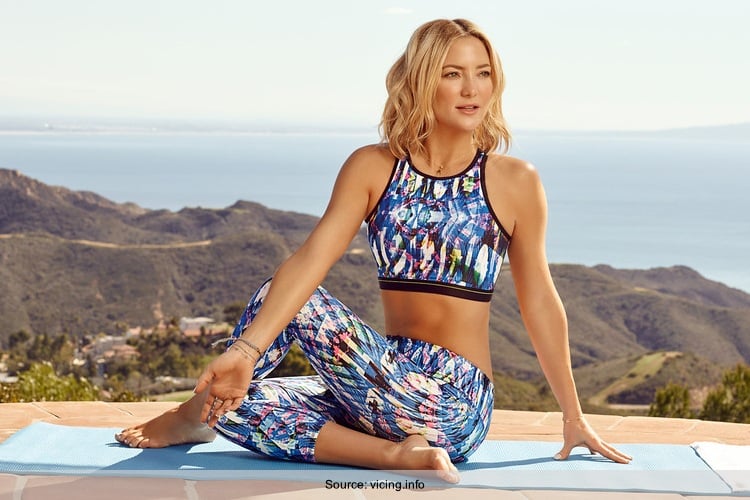 No one can help but fall under the magical spell of the bombshell blonde, Kate Hudson! Thought of as the goddess of beauty, her toned legs and incredible abs has been the center of attention for quite a while now. Even motherhood has not created any dent on her figure. Despite a hectic life of managing her acting career, motherhood as well as her clothes designing label, she manages to look smoking hot. Wouldn't we all love to know the secret of Kate Hudson workout and possibly go down the same road? For all you females who are on the same page, we present below a sneak preview of Kate Hudson workout plan and diet secrets.
Kate Hudson Diet Plan
Looking alluring always with the best of health has always been the top agenda with Kate Hudson. That is why even the naturally figure enlarging phenomenon of motherhood has failed to tarnish her sculpted hot bod. A diehard propagator of lean body, Kate is extremely particular about her diet. An absolute lover of food, Kate does not believe in depriving herself or going hungry. Instead she is all for eating healthy and strategizing her food like tucking in oodles of calories while keeping the carbohydrate and sugar content low. Believer of eating everything in moderation, she has got her balance bang on! Not only is Kate Hudson workout and diet proportionate but she gives it a further boost by going for plenty of food elimination cleanses as well as juice cleanses. Additionally, she eats very alkaline – avoiding meat, diary, gluten and sugar. Her diet includes plenty of lean proteins, healthy fats and fresh vegetables. She takes in carbohydrates only in the form of fruits and sweets but that is only after a workout session when she knows that her body would need it. Because of the low proportion of carbohydrate in her diet, it is often referred to as a "carbohydrate intelligence" diet. Occasionally, to satisfy her taste buds, she does not mind losing herself into some popcorns, milk duds and even pasta but ensures to make up for it afterwards! Is it any wonder that Kate Hudson workout and plan has been resilient enough to bestow her with a drop dead figure till date?
Kate Hudson Workout Routine
For Kate Hudson, workout is a way to connect to her inner self and she exhilarates in the intensity of it. While Kate is no stickler to any strict and fixed workout routine, she has fallen in love with Pilates when she was only nineteen. Now past 33, her fascination with Pilates continues and she still revels in it. She always hits the gyms three to five times a week. Apart from Pilates, she throws in different types of workout to create 'muscle confusion.' Both Kate and her trainer swear that it is a powerful beast for both motivation and post workout metabolism. According to them, the fresh regime added to the Kate Hudson workout plan raises the workout intensity and boosts metabolism, leading to a faster shedding of weight. This was the mantra she followed to lose her post pregnancy fat in record time. A typical cardio confusion program consists of a twenty minute of biking interval, twenty minutes each of row machine to be followed by stair master machine and finally ten minuted of abdominal circuit.
[sc:mediad]
Apart from Pilates, Kate is into TRX, yoga and even unleashes her aggressive built-up energy through a boxing session occasionally. However, she ensures a cardio workout like a run for a mile or two before the workout. A typical Kate Hudson Pilates workout consists of 100s, rollups, single leg pull and criss-cross. Each is done 10-20 times.
Apart from that Kate is up to experiment and try everything that brings her joy. Sometimes, she just gives herself some stretch with hot yoga. At other times, she loves sweating it all out with intense workouts like cardio, spinning and not to miss, the Brazilian Butt Lifts! A skipping rope is a staple in her bag which she uses just about anywhere and in locations where a gym is not accessible. When residing in hotels, she makes use of workout apps like the QE2, HOT5 and Sworkit. Apart from that she loves outdoors. Biking, riding or even a brisk walk gives her a high. When stressed to an extreme, she loves getting back her zing by dancing away.
Did you get inspired enough to imbibe a few of Kate Hudson fitness and diet mantra and make them a part of your life? Which one was your favorite and how did it work for you? Do share your experiences!