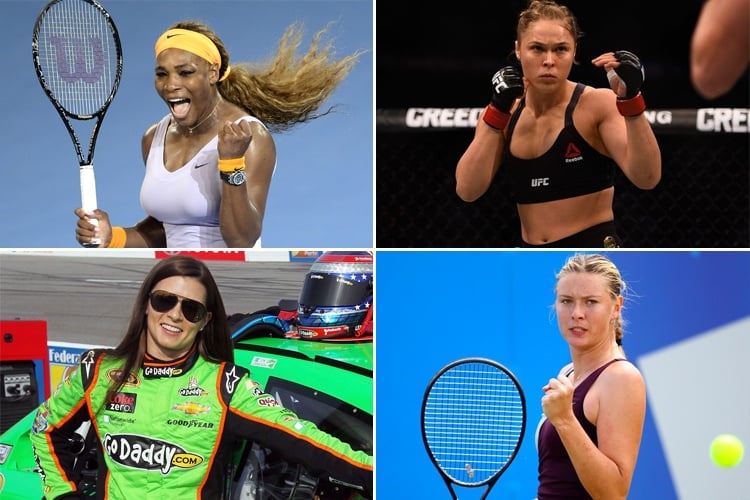 It is time for a check on performance rating, assessment, popularity. And no, I am not referring to the film awards but Highest paid athletes. In this blog, I will take you through the female faces who have been judged as the highest paid athlete, top paid athletes, most paid athlete, highest paid sport, highest paid sports player etc. etc.
Here are the world's Highest paid athletes.
The 10 top-paid female athletes had the privilege of earning $124 million from salary, prize money, endorsements, appearances and licensing between the period June 2015 to June 2016.
Goes to show the woman star power, yet again.
1. Serena Williams
Total Earnings: $ 28.9 million
Prize Money: $ 8.9 million
Endorsements: $ 20 million
Though the American tennis player Serena Williams was denied the chance to win her calendar Grand Slam at the U.S. Open, her bonuses from 2015 Grand Slam and one dozen corporate partners have made Serena the highest paid female athlete in the world since 2004. Such is SW's popularity scorecard that her career prize money of $ 77.6 million is more than twice as much as any other female athlete. This makes her not only the most paid athlete, but also the highest paid sports player.
2. Maria Sharapova
Total Earnings: $ 21.9 million
Prize Money: $ 1.9 million
Endorsements: $ 20 million
Five-time Grand Slam winner Maria Sharapova shocked the tennis world in March this year when she failed the narcotics test at the Australian Open in January 2017. This led Sharapova to pay a huge price – Nike and Porsche suspended their promotional activities. The breather – they did not terminate their contracts. Neither did Avon, Evian and Head. But Tag Heuer and American Express did not renew their endorsement deals with Sharapova.
The fact that she is five-time Grand Slam winner makes Maria Sharapova top paid athletes too.
3. Ronda Rousey
Total Earnings: $ 14 million
Purses/Bonuses: $ 10 million
Endorsements: $ 4 million
Who is Ronda Rousey?
The first American woman to get an Olympic medal (bronze) in 'judo' which she won at the 2008 Summer Olympics held in Beijing.
Ronda faced a major loss in November this year to Holly Holm. And what was that? Her first defeat after 12 wins in Mixed Martial Arts (MMA). Rousey is a mainstream celeb now with her roles in films, SI Swimsuit appearances, hosting of Saturday Night Live and plenty of endorsement deals with brands such as Reebok, Bud Light, Buffalo Jeans, Fanatics and MetroPCS.
4. Danica Patrick
Total Earnings: $ 13.9 million
Salary/Winning: $ 7.9 million
Endorsements: $ 6 million
Meet this American professional RACING driver, model, and advertising spokeswoman. She is also one of the highest paid sports player in the count of things.
You wouldn't believe it –
Danica Patrick's 73 per cent awareness level ranks 3rd among female athletes behind the William sisters. WHOA!
Talk of endorsements –
Even after 9 years together, GoDaddy didn't renew its "primary" sponsorship of Danica Patrick's car. Despite the fact that GoDaddy will continue to be a personal sponsor of Patrick along with 10 other brands – e.g. Chevrolet, Tissot, Coca-Cola and Nationwide. Nature's Bakery stepped into sponsor 28 races in 2016 with the lady Patrick signing a multi-year extension in August to drive for Stewart-Haas.
5. Agnieszka Radwanska
Total Earnings: $ 10.2 million
Prize Money: $ 5.2 million
Endorsements: $ 5 million
You have to remember this rising star from Poland. After all, Agnieszka is the world's No. 2 ranked player. She won 3 events last year including the WTA Final. Lucrative bonuses came her way as a result of her wins and ranking.
Take a guess – who are the endorsement partners of this Polish sports celebrity? It is Lotto, Lexus, Rado, Amica, Workday, Babolat (it is the case of famous star and famous brands).
In short, Agnieszka Radwanska's $ 23 million in career prize money ranks at an all-time sixth. Certainly entitles her name to be included in the list of highest paid female athlete.
[sc:mediad]
6. Caroline Wozniacki
Total Earnings: $ 8 million
Prize Money: $ 1 million
Endorsements: $ 7 million
Caroline is a former top-ranked tennis player in the world – having held former world No. 1 position on the WTA Tour for 67 weeeeeks! Certainly, a highest paid athlete in the coveted list.
Surprisingly, Caroline's ranking has plummeted over the past few months – 12 months to be precise to No. 34.
In 2016, Caroline won only 8 of her first 15 matches. Non-stoppable that she is, Caroline plans to play in the Rio Olympics and will carry the Danish flag in the opening ceremonies.
Adidas is the most lucrative endorsement partner of this Danish star.
7. Garbine Muguruza
Total Earnings: $ 7.6 million
Prize Money: $ 4.6 million
Endorsements: $ 3 million
This Spaniard tennis player born in Venezuela (South America) scored her first Grand Slam win at the French Open when she beat Venus Williams in straight sets.
Can you beat this?
This win of Garbine Muguruza was worth $ 2.3 million in prize money. Is that all? NO! Lucrative endorsements came her way from sponsors like Adidas. Muguruza stood at second at WTA prize money in 2015.
Guess what?
Muguruza was also a finalist at the Wimbledon where she lost to Williams.
8. Ana Ivanovic
Total Earnings: $ 7.4 million
Prize Money: $ 1.9 million
Endorsements: $ 5.5 million
This tennis player – one of the top paid athletes – is a Serbian. Her rank has fallen to No. 16. Reasons? She failed to get past the 3rd round of her last four Grand Slam events.
Last year, Ana Ivanovic renewed her deal with Dubai Duty Free. She has also got a new partner in Shiseido.
9. Victoria Azarenka
Total Earnings: $ 6.6 million
Prize Money: $ 3.6 million
Endorsements: $ 3 million
Last year, the ranking of this top paid athletes came down to No. 50 in the world after her 2014 season ended off early (after her injury). Luckily, Victoria Azrenka recovered to win three events this year –
her first titles since the year 2013.
Which are the brands Victoria endorses?
Nike, Citizen, Wilson and Esurance.
10. Eugenie Bouchard
Total Earnings: $ 6.2 million
Prize Money: $ 0.7 million
Endorsements: $ 5.5 million
After her run to the Wimbledon finals in 2014, Eugenie Bouchard is no small player in wins and recognitions. She has in fact appeared to be the new 'it' girl in the field of tennis.
Last year, Eugenie bagged handsome deals with Nike, Rolex and Usana.
Sadly enough, it is the injuries and uneven play that has affected the ranking of this Canadian sports star – bringing it down to No. 47.
If you scroll above, you will find that lawn tennis has come to be the highest paid sport, isn't it?
By now, you must have been amazed reading the monetary worth of these Highest paid athletes. I mean highest paid female athlete. Which of them is your favourite? Write down your replies in the comment box.