It's an art to capture a spectacular frame of the celebrity on the cover of a magazine which will be staring at you from all newsstands. Standing to wait the groceries checked in, we often gaze at the magazine covers on the stand, wondering what story is cooking inside of it and how much more gorgeous can the divas be looking inside the cover story, isn't that true?
We certainly know it is! So, here we are, following our ritual of bringing the latest magazine covers to your focus. Bite in and enjoy!
Nicole Kidman for Glamour UK
Among the many celebs who have graced different editions of Glamour, UK this season, we were totally smitten by the blonde and blue-eyed beauty, Nicole Kidman.
For the cover image, she picked an Alexander McQueen armor style bra and clipped it over a floral summer off-shoulder dress from the same label. That's an interesting style of layering! Going absolutely easy and breathable with her makeup, she stunned us with her intense gaze and magnetism.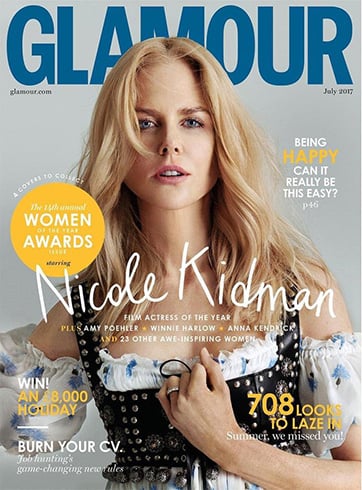 One other look from the cover story that we adored of the diva was in stars printed top and trousers from Balenciaga. The coral matte finish lips, the gentle blush, and windblown hair added a mesmerizing effect to the diva.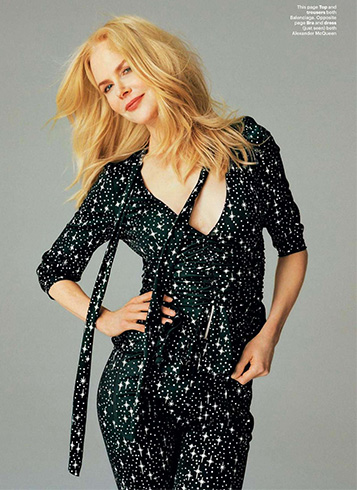 Here a few more pictures from her photoshoot-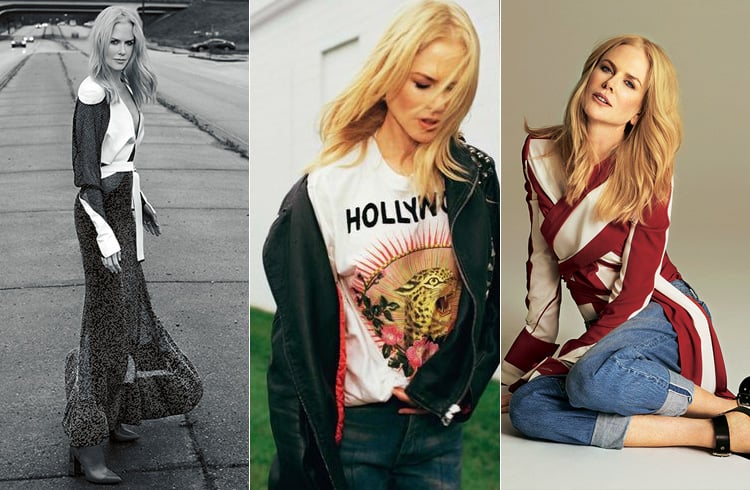 Photographed by Tiago Banderaa
Carolyn Murphy for Vogue UK
Vogue British chose the 90's supermodel Carolyn Murphy as the cover girl for their July 2017 edition and the diva spilled out her expertise and beauty royally on the cover. After 13 years, the diva decided to make a comeback onto the magazine covers and she was captured flawlessly on the lens by Inez van Lamsweerde and Vinoodh Matadin.
For the cover image, she sported a lace Giorgio Armani Prive. Going zero on accessories, she still managed to throw the upcoming models off the fashion grid. Her chiseled jaw line, the sensuous curves and toned body was breathtaking.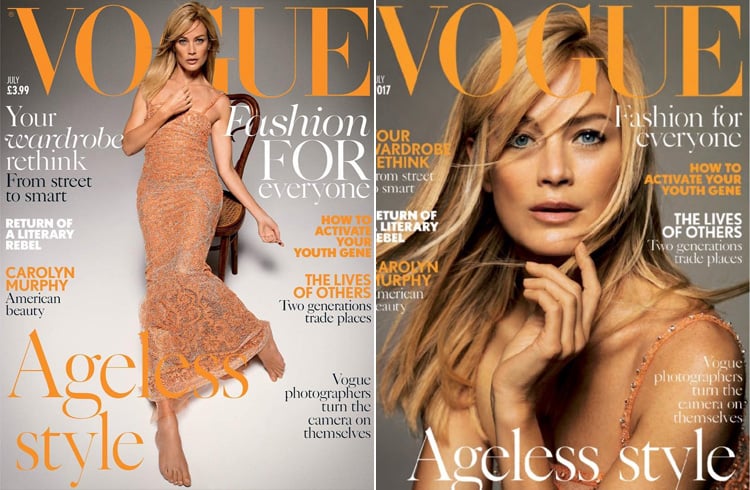 Lily Collins for Shape
Lily Collins is taking up great fashion space news with her splendid weight loss to play an anorexic character and it's no big surprise that Shape magazine decided to feature her as their cover girl this season, July 2017.
Flaunting her slenderness and sexuality in the background of a beach, she was mind blowing.Giving us major exercise goals was the diva on the cover of the magazine in a bikini style. Smokey eyes, beach hair and dark red lips rounded her look.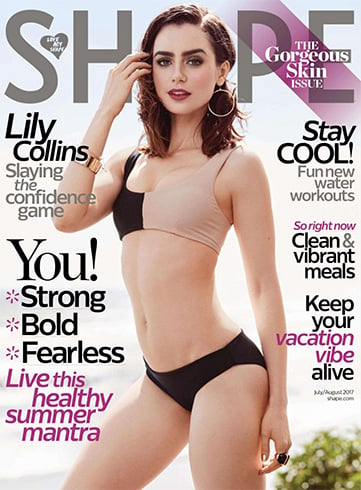 Here is her lustful photoshoot to glance through-
L – in a Dior bodysuit, Shay Celestial hoops, and Beladora Mimi bangles, she was damn good.
C – Hot and sexy was the diva in Lisa Marie Fernandez Farrah Army Bonded Maillot wetsuit and Tony Burch leopard string bikini top.
R – Summer embracing was Lily in a Missoni bikini top and bottom, Vince crop top, and a handful of accessories.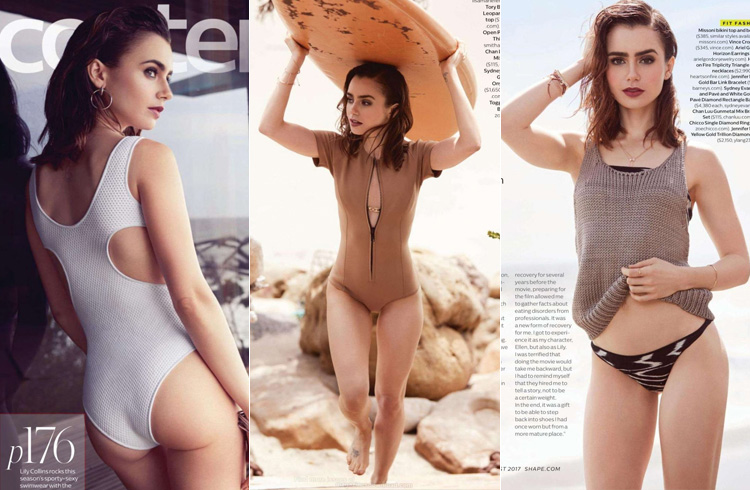 L-In a one-piece swimsuit from Zeus + Dione Patmos, she posed to flaunt her sassy legs
C – She looked breathtakingly beautiful in a Fleur du Mal mesh slip dress along with Missoni gold bikini top and bottom.
R – She looked sensational in a Tori Praver swimwear, Eloisa bikini top Cristina bottom. She added Jennifer Meyer earrings, Beladora gold bangle, Chan Luu bracelet and rounded her style.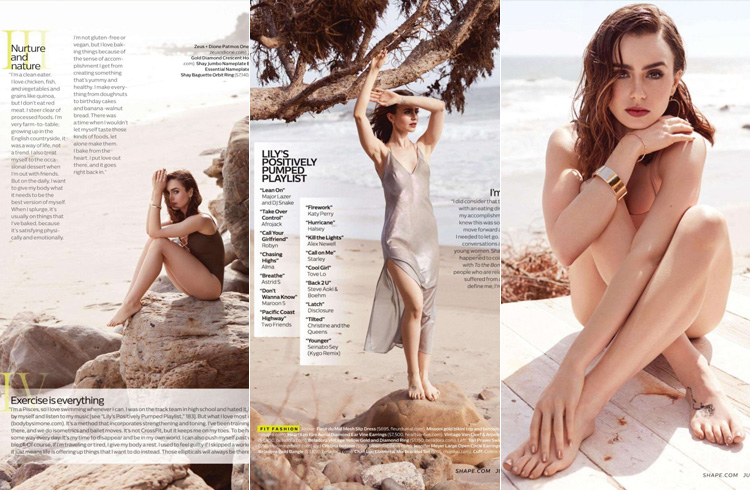 Shakira for Cosmopolitan Mexico
Shakira, the songstress featured the cover of Cosmopolitan, Mexico for July 2017. She nailed the cover with her drool-worthy styles and we are impressed by her fashion choices and strong, sensuous attitude.
For the cover image, she rolled out a sweet summer style. She showcased Dolce & Gabbana bra, Elisheva & Constance collar, Ana Locking short and Daniela Cassab yellow jacket on the cover look and we love the blend of hues.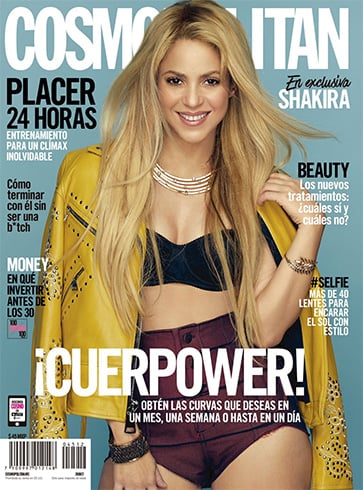 Skim through her glamorous photo shoot here-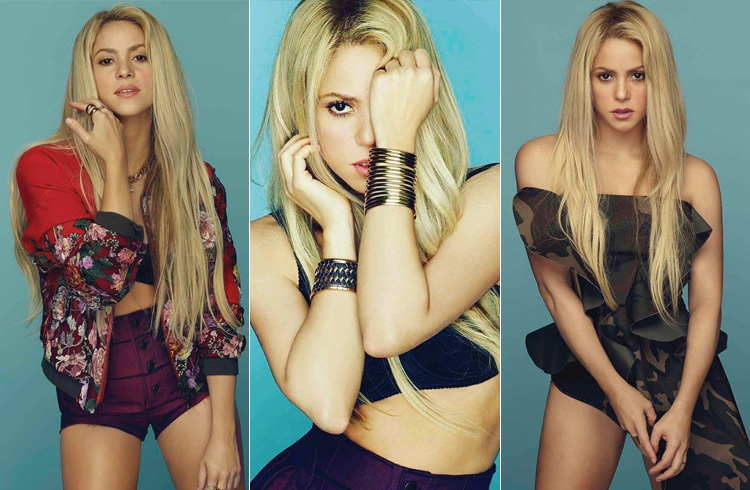 Kate McKinnon for Elle US
Kate McKinnon featured on the cover of Elle, US July 2017. Sophisticated and classy was the cover with the diva dressed in a Versace dress. She added slender earrings by Elsa Peretti and a ring by Emily P. Wheeler and rounded her cover image. Glossy lips, happy smile added beauty to her look.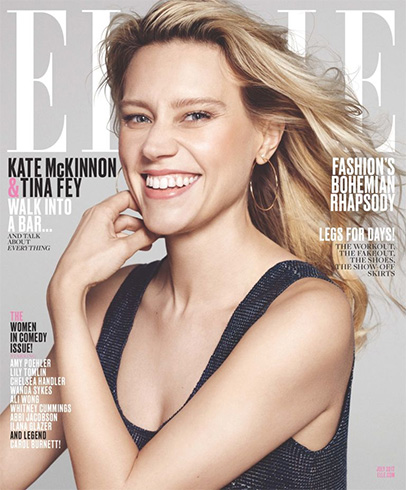 L- In Gap bodysuit, Giorgio Armani trousers, Bulgari earrings and Manolo Blahnik heels, she cast a beautiful posture. Rocking a 70's hairdo, she was eye-catchy.
R – She rocked a bossy look in Isabel Marant jacket and jeans, Gap t-shirt, Cartier watch and ring by Emily P.Wheeler.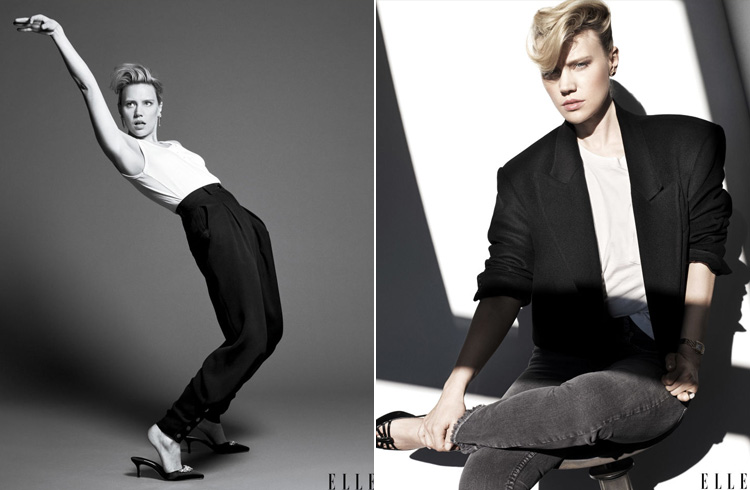 Chrissy Teigen for Marie Claire
Apart from enlightening us on upcoming fashion trends, the celebs who graced the covers of the magazine also share deep insights about life and their experience which often turn out informative and motivating. On the same line, Chrissy Teigen spoke her heart out while she featured on the cover of Marie Claire, July 2017 edition.
On the cover, she was captured by Michelangelo di Battista looking fashionable and elegant in a Gucci dress, lazing in the hay.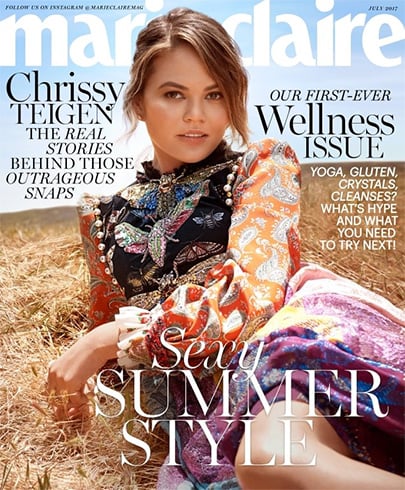 L -Looking like a western chic was the diva in a Valentino dress and Stetson hat
R -In Chloe coat and Tiffany & Co. Earrings, she looked attractive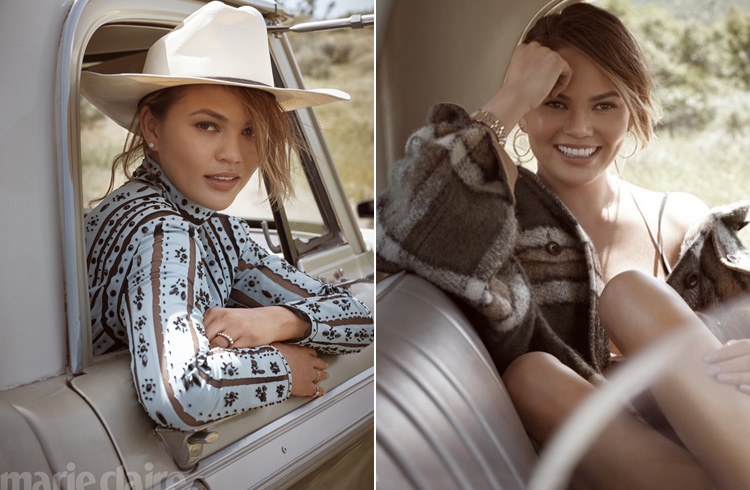 Here a couple more images from her photoshoot-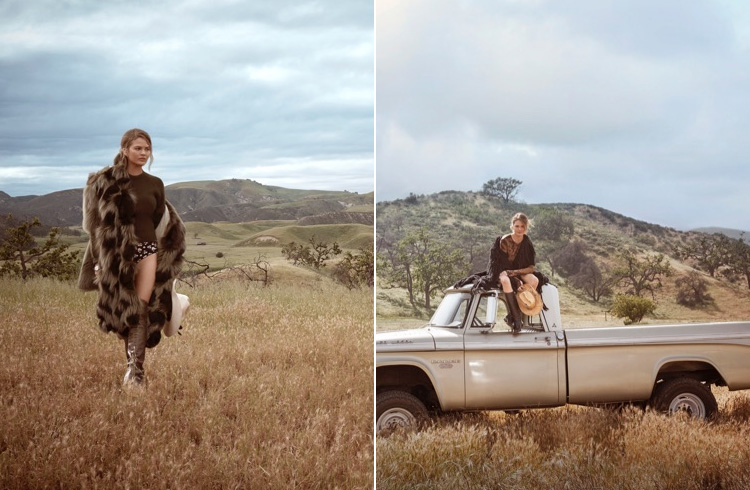 Jourdan Dunn for S Moda
The top model, Jourdan Dunn landed on the cover of S Moda, July 2017 and left us speechless. She featured on the cover in a printed bomber jacket and bikini set. In designs of Miu Miu, Dolce & Gabbana Hilfiger collection and many more, she looked smoking hot all through the shoot.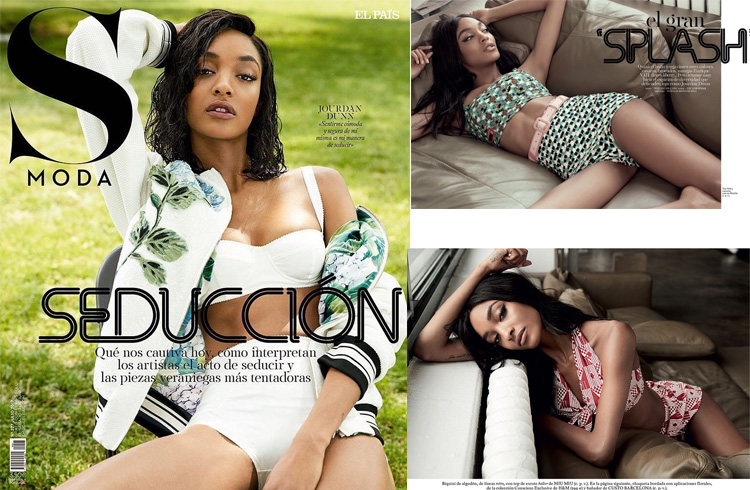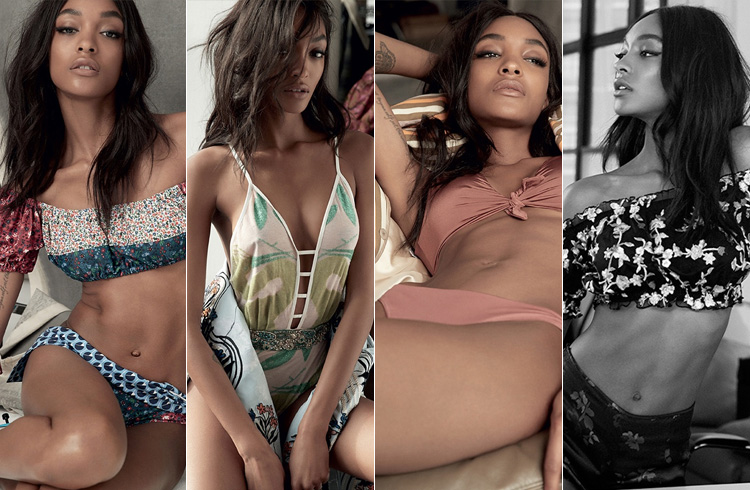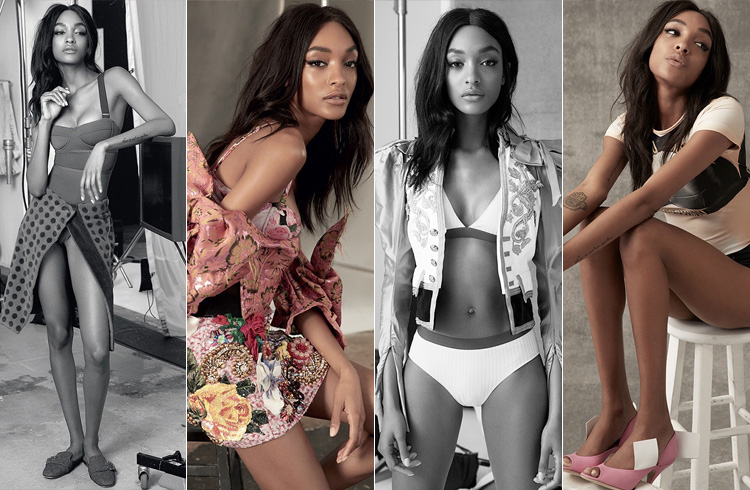 Halima Aden for US Allure
Muslim model, Halima Aden who is noted for her unusual dressing style and stunning beauty featured the cover of Allure, US July 2017. For the cover image, she dressed up stunning in Viscose nylon top by Hilfiger collection and in a Hijab by Nike.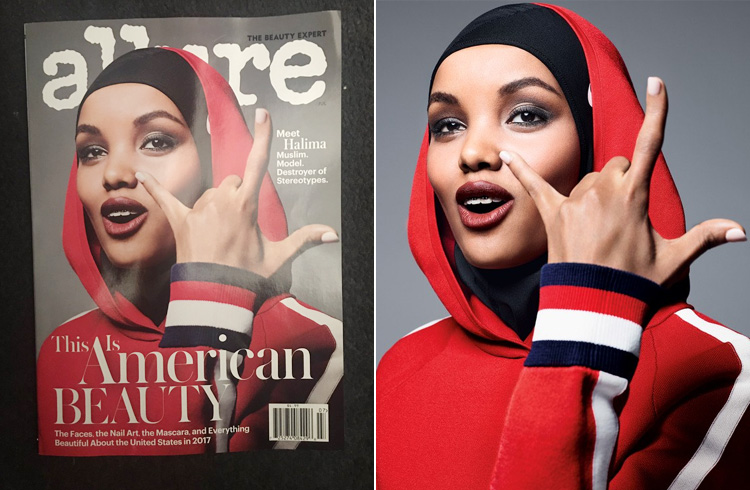 Unique and stunning was her photo shoot. Take a look here-
L – In Loewe cotton jacket, dress and skirt, she put out a strong fashion statement. While we were appalled by the outfit, she puzzled us even more with Sacai leather boots.
C – In a pink sweatshirt and green silk top from Gucci, she looked mesmerizing. Love the green eye highlights!
R – In a beige cotton trench coat by Celine and Nike hijab, she was magnetic. Love the luscious lip shade on her!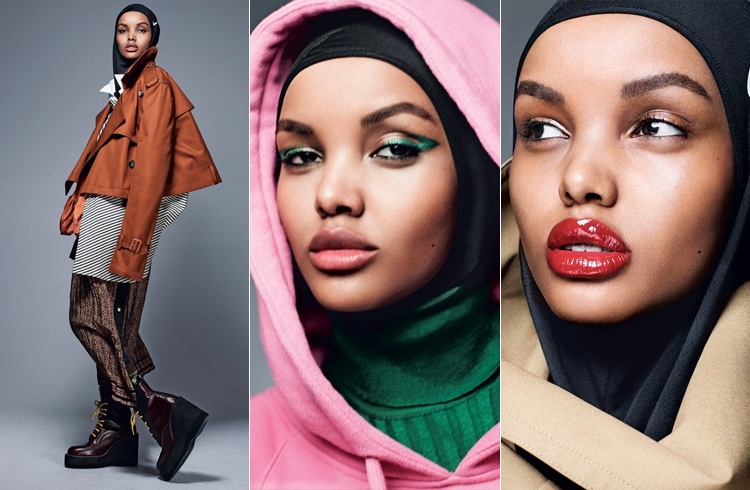 Hope you enjoyed the lavish styles of the celebrities!