The skin calming agents of aloe vera are well-known. This plant can relieve from inflammation, burns, and speed up healing. It is also soothing for dry, itchy skin. You may apply the fresh aloe vera gel onto your skin to attain smooth skin. Or even better make your own aloe vera soap for achieving superior results. Making the soap requires just a few ingredients from the kitchen. The results are well worth it. Below find all the answers on the makings of DIY Aloe Vera soap, its benefits, and five different varieties.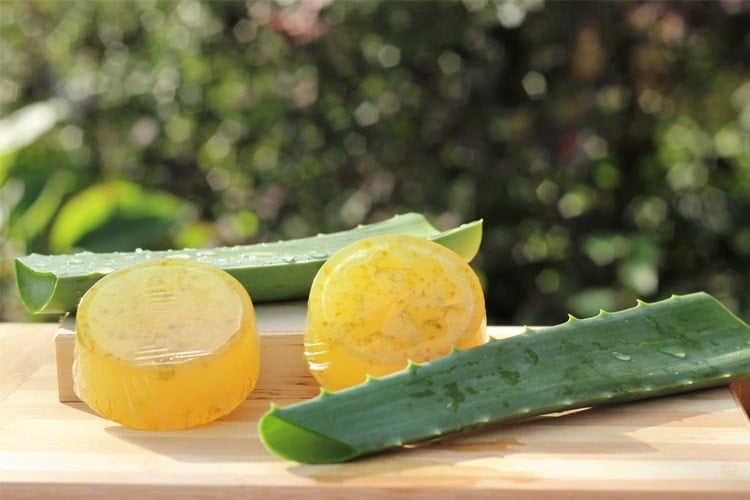 The Different Ways to Make Aloe Vera Soap:
There are several methods to prepare the aloe vera soap-cold process, hot process, and melt and pour method:
Cold Process Method:
Begin by pouring distilled water into a measuring cup. You will need about 12 ounces.
Add about 6 ounce of lye to the distilled water. Use rubber gloves and glasses as lye can cause chemical reactions. Stir gently.
Set the mixture aside to cool.
Start warming the essentials and add one cup of aloe vera gel into the saucepan. Slowly pour it and do not boil.
The temperature of both the ingredients should be 100 degrees. Add the lye mixture to the essential oils and mix well.
Transfer the mixture into the soap molds.
Allow it to cool for a day.
Remove the bars and cure for one month.
Here is a video tutorial on the making of aloe vera gel soap using the cold process method.
Hot Process Method:
Use the same safety measures as used in the cold process method before starting this process too.
Once you have your distilled water and lye ready, pour essential oil and one cup aloe vera immediately.
Simmer the pot but do not boil.
Keep stirring until the mixture remains even.
Turn off the heat when you notice the bubbles simmering down.
Allow the soap mixture to cool.
When all bubbles disappear, reheat the soap on low flame. Repeat these steps as required.
The soap is set to use after it forms an equal consistency throughout.
Pour it into the soap moulds.
Cure the soap for one month at room temperature.
Melt and Pour Method:
This is the simplest method of the soap making process. Plus you can use your own ingredients for this one.
Place soap in a microwave friendly bowl. Cover using a wax paper.
Heat the soap leaving a gap of 30 seconds making sure not to overcook it.
Add the fresh aloe vera gel to the mixture after it cools down. Mix thoroughly.
Add almond oil if desired. Adding this oil can prevent the soap from sticking.
Pour the soap into desired moulds.
Wait for the soap to solidify before removing them.
Benefits of Using Aloe Vera Soap:
There are several uses of aloe vera soap including:
Aloe vera soap has anti-bacterial agents to treat pores and improve acne breakouts.
This ingredient is gentle on the skin.
It contains collagen and elastin properties for attaining soft, supple skin.
Aloe vera also reduces the appearance of blemishes and sun spots.
Five Ways to Make Homemade Aloe Vera Soap:
Here are five different ways to make your own soap using aloe vera:
1. DIY Aloe Vera Soap with Mint:
Description:
This aloe vera soap has antiseptic properties along with the use of mint. It is ideal on oily, acne prone skin. Below, find out how the steps to create your own soap.
Ingredients:
Directions:
Scoop out the aloe vera gel and set aside
Heat the soap cubes in microwave for five minutes or until it melts.
Mix the ingredients and add one drop of peppermint essential oil. Then add the peppermint mixture to the extracted aloe vera gel.
Spread the mint leaves and gently stir. Or put the leaves on the mould and pour the soap mixture over it.
Spray rubbing alcohol to remove bubbles.
Set aside to cool off for an hour.
2. DIY Aloe Vera Soap with Olive Oil:
Description:
Aloe vera has natural properties and improves skin health. Adding olive oil to the soap mixture makes it extra nourishing. Making this homemade aloe vera soap is super simple. Learn the steps below.
Ingredients:
Directions:
Set the water aside to boil later in a vessel.
Add caustic soda to the water. Mix well. Set it aside for 50 minutes.
Scoop out the aloe vera gel and add bio virgin olive oil until it forms a smooth texture.
Mix water with soda, aloe vera, and olive oil. Mix it well so that the mixture is solid.
Add few drops of essential oil for fragrance.
3. DIY Aloe Vera Soap with Basil:
Description:
Creating this homemade aloe vera soap is simple. It can work wonderfully on your skin by treating acne blemishes and scars.
Ingredients:
Directions:
Scoop out two to three tsp of aloe vera gel in a bowl.
Add one Vitamin E capsule to it.
Mix both ingredients well.
Take the basil leaves and cut it in fine pieces.
Next cut the soap base bars into small cubes.
Transfer it to a pan and put in on medium heat until the cubes start melting. Or you can simply microwave the same.
Then add the aloe vera and Vitamin E mixture into the melted soap bar. Mix the basil leaves and stir gently.
Meantime, grease an empty container with almond oil preferably using a brush. Transfer the soap mixture into this container.
Leave it in the freezer for an hour.
Scoop out the soap mould out of the container and your soap is ready.
4. DIY Aloe Vera Soap with Cocoa Butter:
Description:
This aloe vera gel is super gentle on the skin. It can be used both as facial and body soap.
Ingredients:
Directions:
Pout water into a thick container. Add the lye into the water. Mix well. Set aside to cool for half an hour.
In a saucepan, melt the cocoa butter. Then add sweet almond oil and castor oil.
Blend the fresh aloe vera along with the heated oils.
Transfer the cooled lye solution into the blended aloe mixture.
Stir well or use a blender to get a smooth texture.
Pour the mixture into a soap mold.
Cover using a wax paper to insulate.
Set aside the soap into the mold for one or two days.
Cure the aloe vera soap in the open air for a month before using.
5. DIY Aloe Vera Soap with Neem Oil:
Description:
Aloe vera has anti-inflammatory agents to promote skin healing and soothe dry skin. Neem also has healing agents to address skin problems like acne, psoriasis, burns, and ulcers. It can also be used for treating several skin infections.
Ingredients:
Directions:
Add aloe vera gel and lye into the mixture. Stir until the lye dissolves and set aside to cool.
Weigh the soap-making oils and place the heat safe container aside.
Heat the stove top at medium heat until it melts.
Remove from heat and set to cool.
Pour the essential oils into the aloe-lye mixture.
Blend until you form a smooth paste.
Pour into soap molds and cover with a silicone mold.
Unmold after a day or two.
Cure the soap in a dry location for a minimum of four weeks.
We hope you enjoyed going through this segment of preparing your own aloe vera gel soap. You may even gift these soaps to your loved ones.