Every year, a lot of us spend a lot of cash on beauty products. It becomes a lot worse because these products are packed with synthetic ingredients like phthalates, parabens, and chemicals tested on animals, and several other additives that are largely harmful for our skin.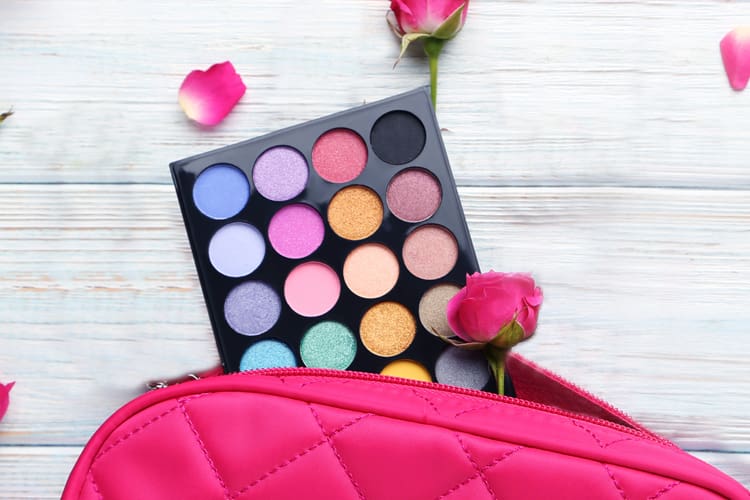 Thankfully, we can switch our preference to natural alternatives. For instance, an eye shadow made with natural ingredients is safer to use than the ones available at stores or online.
Below we have listed the side effects of using commercial eye shadow and easy DIY methods to make homemade eye shadow.
Side Effects of Commercial Eye Shadow:
There are plenty of reasons for not using commercial eye shadow:
1. Chemicals:
Do you realize there are plenty of chemicals present in an eye shadow palette? Time and again eye shadows contain phthalates, parabens, dyes, and harmful chemicals for achieving a powdery, vibrant finish. These chemicals are not natural and can cause rashes, irritation, and allergies.
2. Animal Testing:
Despite many companies stating that they do not test on animals, few follow this policy by FDA and other regulatory agents. Mostly, eye shadows are tested on cats, rabbits, and other small animals that experience side effects.
3. Cause Eye Problems:
This is not to say that eye shadow is avoidable as it may harm the eyes. No. We are only saying that most of the eye shadow available at stores contains toxic powders that are harmful for skin around eyes. These ingredients may get into your eyes and cause eye problems.
Easy DIY Eye Shadow To Try Out:
Using eye shadow is simple. And, learning to make your own eye shadow is even easier. But how do you create one at home? Do you need expensive ingredients? Can you choose between different palettes? We've crafted all the answers to show you exactly how to make eye shadow at home. Let's get started:
Method 1: Using Powder
You can create an eye shadow using a mineral makeup base, almond oil, and mica material. All the ingredients can be easily availed online or local stores. Almond oil is packed with Vitamin E, potassium, monounsaturated fatty acids, and proteins. It penetrates lightly into the skin for deep moisture. This eye shadow is made up of natural ingredients and therefore will not clog pores. The use of almond oil onto the eye shadow will blend well into the mixture and also keep the area around the eyes moisturized and protected.
Things you'll need:
1 tsp mineral makeup based
Directions:
Mix one tsp each of mineral makeup base, mica powder, and pigment onto a mixing bowl. You can get desired shade of pigments from the store or online.
Add 1 or 2 drops of almond to the mixture.
Mix all the ingredients together.
Add the entire mixture into an empty container. Press the mixture down using the back of a spoon.
Make use of an eye shadow brush for applying onto eyelids.
Enjoy using your new easy-to-make powder based eye shadow.
The eye shadow can be stored till six months.
Method 2: Using Cream
Do you know that a cream-based eye shadow is longer lasting than powder-based ones? Luckily, we have the recipe to make just that. Making use of a cream or lotion works as a great eye shadow base. It can also help in retaining moisture around eyes and prevent chapped makeup. Now let us see what things you will need to make this one.
Things you'll need:
Directions:
Add one tsp of a moisturizing cream of desired choice into a mixing bowl.
Mix one tsp of an old eye shadow.
Transfer the mixture into an empty container.
Try your new eye shadow using an eye brush.
Store it for a maximum of three to four months.
Method 3: Using Mica Powder
Mica powder is a fine mineral agent that can be availed online or at beauty stores. This powder can be found in various colors, sizes, and with or without shimmer. Remember to buy mica powder that is safe to use and solely for cosmetic use only.
Below is a DIY on how to three types of eye shadow-loose powder, cream-based and pressed-powder.
Things you'll need:
Empty eye shadow container
Eight white beeswax pastilles
120 drops vegetable glycerin
1 tsp refined shea butter
24 drops refined jojoba oil
Directions:
DIY Loose powder eye shadow using mica powder.
For creating a simple loose powder eye shadow, you need to mix the right selection of mica powders to get desired shade.
For instance, if you prefer a warm shade then you select hues like light or dark brown, gold, cream, and orange mica powders. If you prefer a shimmery color, then use green, blue, and silver mica powders.
For achieving a consistent color, add equal amounts of mica powder using a measuring spoon.
Store the powder in an empty container and mix well. You can also make use of a coffee or herb grinder to make this. Close the tightly in place once done.
[sc:mediad]
DIY Pressed Powder Using Mica Powder:
The steps for making a pressed powder eye shadow are similar to loose-powder eye shadow. Except that you need to complete few steps.
After mixing the mica powder to create desired shade, mix using a binder. This is available in liquid or spray form.
Add the powder form or mixture little by little.
Mix well to get a nice consistency.
Transfer the wet mixture into an empty container. Then place the paper towel directly on the eye shadow and use a coin on top of the container.
Press the coin to smoothen out the eye shadow mixture. Cover the shadow using a paper towel sheet until the powder gets fully set.
Allow it to dry off completely before using.
DIY Cream Based Eye Shadow Using Mica Powders
Making use of cream eye shadow using mica powders is slightly complication. You will need extra ingredients. But this is great if you wish to achieve an intense color.
For creating the cream eye shadow you will need eight white beeswax pastilles, 120 drops vegetable glycerin, 1 tsp refined shea butter, 12 drops Vitamin E, 24 drops refined jojoba oil, and two ¼ tsps of mica powder.
Transfer the beeswax and shea butter into a small bowl. Microwave for a minute until it melts.
Make use of a separate 3 ml plastic pipette for each ingredient. Add few drops of vegetable glycerin, jojoba oil, and Vitamin E to the container.
Transfer the mica powder onto the container. Mix well to achieve a smooth consistency. Add the creamy mixture into an empty container.
Wait 24 hours before using.
Method 4: Using Shea Butter
Shea butter has a good content of fatty acids and natural vitamins to add moisture onto skin. It can treat skin inflammation and has healing agents. Some of the ingredients used for making this eye shadow are rosehip, shea butter, and Vitamin E. Rosehip is packed with antioxidants, essential fatty acids, and vitamins that can heal dark spots and pigmentation, while Vitamin E contain anti-ageing properties.
Things you'll need:
½ tsp refined shea butter
1 tsp white cosmetic beeswax
1 tsp refined rosehip seed oil
Three drops Vitamin E oil
½ tsp eye shadow colorant
Directions:
Add ½ tsp of refined shea butter and one tsp of white cosmetic beeswax in a microwave bowl.
Microwave them until melting.
Mix one tsp refined rosehip seed oil and three drops vitamin E oil to the melted mixture.
Add ½ tsp hibiscus powder eye shadow colorant into the mixture.
Make use of an eye shadow colorant of desired choice.
Mix the colorant well into the mixture.
Transfer the mixture onto a container.
Allow the mixture to set and tightly close the lid.
Your homemade eye shadow is ready for use.
Store up to three to four months.
Method 5: Using Charcoal Capsules
Activated charcoal capsules can be easily availed from stores. They are mostly used for treating stomach problems. And also for making a black eye shadow that is chemical free and safe to use around eyes.
Things you'll need:
Activated charcoal capsules
Directions:
Break open the activated charcoal capsules and pour out the black powder into an empty container.
Tightly close the lid once done to avoid spilling.
Tips:
If you love bright metallic eye shadows, then mix shimmery mica powders with activated charcoal capsules to create a glitter based black shadow. You can also use powdered spirulina for achieving a green effect.
You can use activated charcoal powder by blending onto eyelid using a rounded applicator brush. Or use it as a black eye liner by mixing with water to make a paste.
Method 6: Using Arrowroot Powder
You can make a creamy based eye shadow using arrowroot powder. This method is safe to use with the use of natural colors and ingredients.
Things you'll need:
Directions:
Add ½-1/4 tsp of arrowroot powder into a small bowl.
Select your coloring agent and mix with arrowroot powder to achieve an even color.
Mix the shea butter into a bowl using the back of a spoon until you get a creamy texture.
Put the eye shadow into a container. Tightly close the lid. You can also experiment using various colors to form more intensity.
Mix dried beet powder and cocoa powder to create a pink eye shadow.
Mix cocoa powder, dried beet powder, and all spice powder for creating a mauve eye shadow.
Add turmeric and nutmeg to create a golden brown hue.
Tips:
Here are few tips that you may find useful:
For making an eye shadow using natural pigments and colorants, make use of rose flowers or powdery hibiscus.
Instead of using hibiscus, you can also replace it with beetroot for a deep color.
Make use of cocoa for achieving a dark brown colorant and for achieving a black shadow use activated charcoal.
Many tutorials use corn starch as their eye shadow base. These are chemical-free and natural alternatives that do less harm to skin. If the corn starch is too grainy, then make use of a blender.
Most natural eye shadow make use of dyes and artificial pigments to get a dark tinge. But do you know you can get the same rich effect using food powders or food? For example, using cocoa powder will give a chocolate brown color, beet juice powder will give a pink color, spirulina will give a green tint, and turmeric will give a golden tint.
Last but not the least, use the eye shadow on a clean face. This is essential especially if you are using a natural eye shadow product. Applying the product on a greasy eyelid may take off the shadow easily and lead to uneven color. So make sure to wash your face thoroughly before application and apply moisturizer soon after.
These are some of the ways you can make homemade eye shadow. Have you tried any of these methods or thinking of trying one? Leave us a feedback in the comment section below.