We are all well versed with the phrase, "you are what you eat". Well, while the old adage has never been more truer, we would like to take it a bit further by saying that "you are what you put on your face" as well. Today's world may be doused with various beauty products and clinical claims that assures flawless-looking skin, but honestly, nothing can beat the power of natural, homemade skincare ingredients. They are not only inexpensive and all-natural, but easily available too.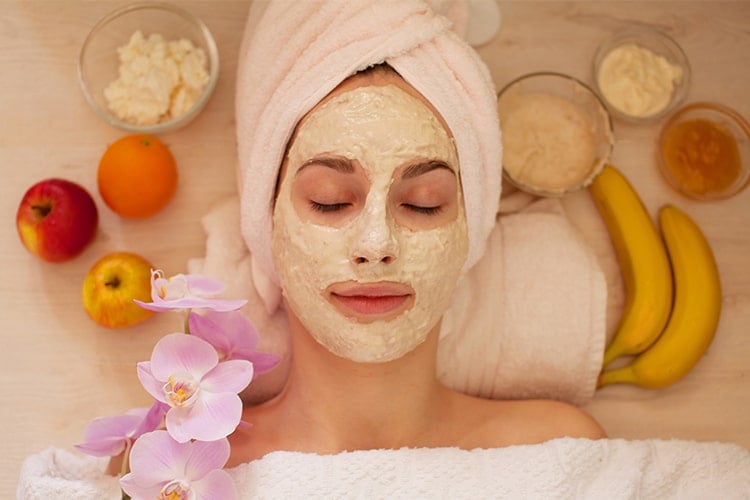 With pollution at its peak and weird climatic changes in recent times, our skin has become extremely sensitive, prone to dullness, loss of moisture and other skin issues. But the good news is that these skin problems can be treated with inexpensive DIY methods, one of them being the fruit-powered skincare, with banana ruling the fruit chart.
Is It Good To Put Banana On Your Face?
Banana is one humble fruit that's not only healthy when consumed but also when applied externally. Packed with essential nutrients and vital vitamins, banana for face make for an excellent face mask when mixed with other ingredients as well as when used on its own. It moisturizes the skin, protects it from free radicals, delays the skin's ageing process and leaves it super hydrated. The humble banana is also said to be a homemade replacement for botox. It's called the low-cost botox for the many reasons mentioned above.
Benefits Of Banana For Skin:
Like we mentioned earlier, banana is stacked with powerful nutrients including vitamin A, B-vitamins, vitamin C, vitamin E, potassium, zinc, lectin and amino acids. All these vitamins and minerals contribute to many benefits of banana for skin. Read on.
The amino acids present in banana helps nourish the skin, improves skin elasticity and strengthens the connective tissues.
Potassium in bananas provide hydration by moisturizing the skin.
Lectin and zinc destroy acne causing bacteria.
Vitamin A helps fade dark spots and scars, smoothens and heals dry and flaky skin.
B-vitamins ensures protection of skin from premature aging by getting rid of free radicals.
Vitamin C produces collagen, thus keeping the skin soft and supple.
Vitamin E slows down the aging process and also UV damage to the skin.
Now that we are aware of all the benefits of banana for skin, let's move on to how to make banana masks for face for a glowing skin.
How To Apply Banana On Face – Top 7 Banana Face Masks
Say goodbye to your local spa and follow these well curated recipes of banana face masks for a flawless complexion. These homemade masks are easy to prepare and will not cost you a bomb.
1. Banana And Sugar Face Mask For Glowing Skin:
The vitamin C present in banana leads to a glowing complexion.
To this, add 1 tbsp of fine sugar granules.
Add a few drops of any essential oil.
Whisk up the mixture of all the ingredients.
Use this concoction as a scrub, to gently remove all the dead skin.
Leave it on a 5 mins and then wash off with lukewarm water.
Sugar works as an excellent exfoliating agent while the essential oil hydrates the skin and soothes it too.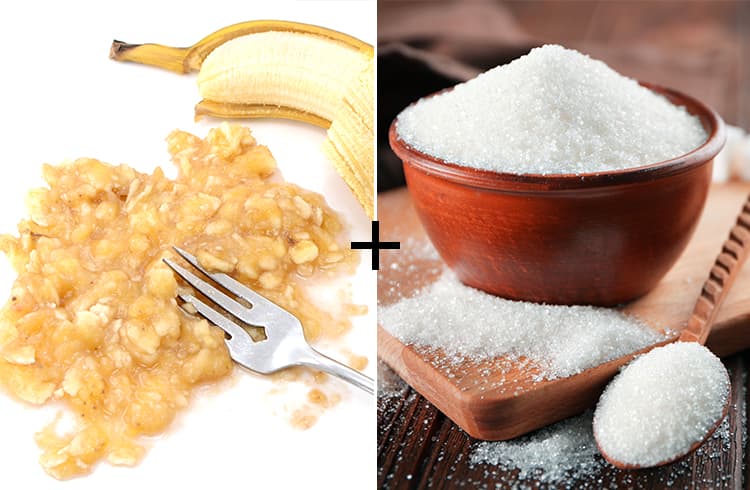 2. Banana Face Mask For Skin Hydration:
Rich in potassium, banana boosts the moisture in dry and flaky skin, making it soft and well hydrated.
Apply the mashed paste on the face directly
Wash off with lukewarm water.
Rub an ice cube for some extra hydration affect.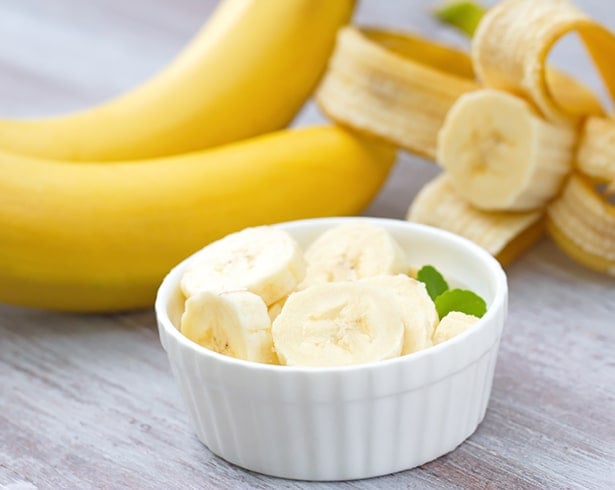 3. Banana And Honey Face Mask For Skin Lightening:
Whether it is acne spots or pigmentation issues, the vitamin A present in bananas along with ingredients like honey and lemon juice help lighten them, giving an overall bright complexion.
In a bowl, mash 1 ripe banana.
Add 1 tbsp of honey to it.
Add 1 tbsp of lemon juice.
Whip up the mixture and apply on clean, dry face.
Wait for 10-15 minutes till the mask feels tight.
Wash off with lukewarm water.
Do this at least twice a week for good results.
The honey works against acne while, lemon juice help fade dark spots and lightens the skin.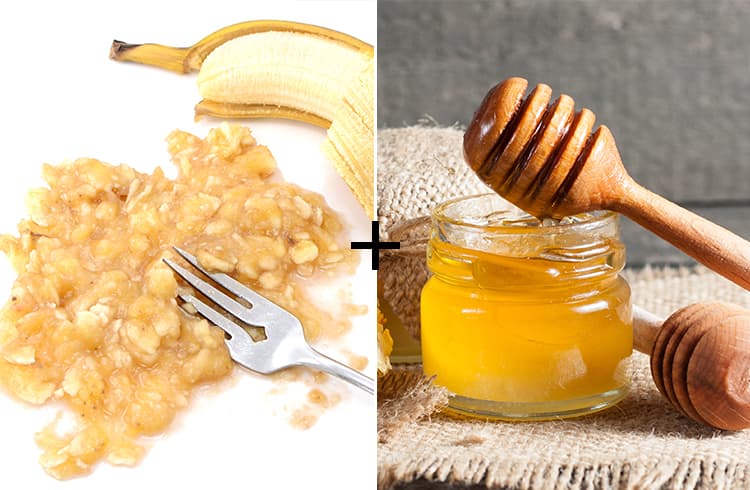 4. Banana And Baking Soda Face Mask For Acne And Pimples:
The all-natural ingredients present in this banana face mask will not only treat acne and pimples but also give you a brighter complexion by working as an exfoliator as well.
Mash 1 ripe banana to make a smooth pulp.
Add 1/2 tbsp of baking soda to it.
Add 1/2 tbsp of turmeric powder.
Mix thorough to make a fine paste. Add few drops of water if the paste is too thick.
Apply this mask on a clean, dry face and let it sit foe 10-15 mins.
Wash off with lukewarm water without using a soap.
Moisturize with a mild moisturizer.
Repeat this mask 2-3 times a week.
Baking soda works to unclog the pores and exfoliate dead skin, while turmeric contains anti bacterial properties that help fight acne causing bacteria.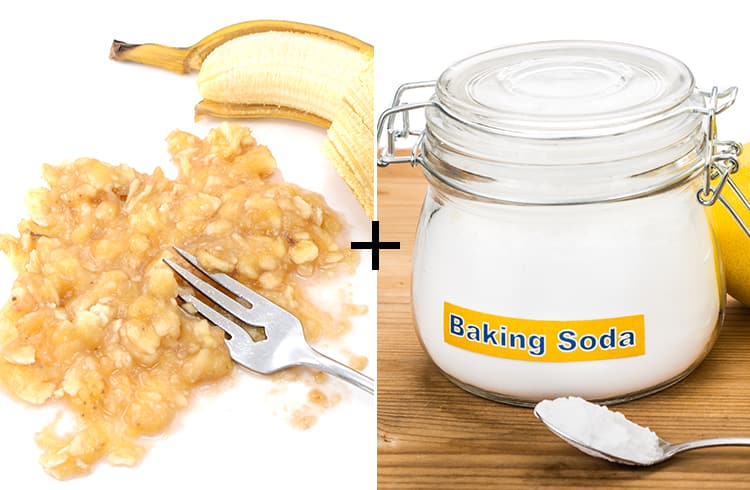 5. Banana And Yogurt Face Mask For Anti Aging:
We mentioned earlier how banana is often referred to as an inexpensive form of botox. The fruit when mixed with yogurt and orange juice makes for a perfect treatment against fine lines, wrinkles and various other skin aging issues.
[sc:mediad]
Mash 1 ripe banana to form a smooth pulp.
Add 1 tbsp  freshly squeezed orange juice.
Mix the ingredients well to form a fine paste.
Apply on clean, dry face and leave it on for 15 minutes.
Gently massage and then wash off with cold water.
Apply a moisturizer for hydration.
While yogurt tightens the pores orange juice is rich in vitamin C which helps revitalizes the skin and reduces wrinkles and fine lines.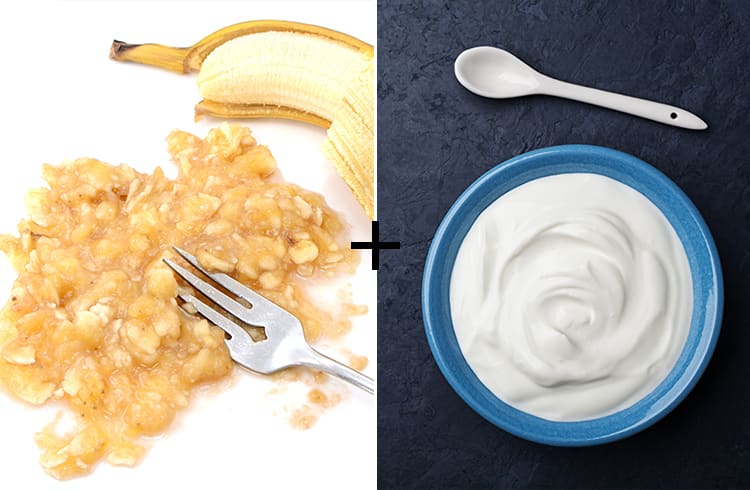 6. Banana, Strawberries & Papaya Face Pack For Oily Skin:
This face mask is ideal for those suffering with oily skin. It not only fights blemishes and pigmentation but also gives an instant glow.
Blend 1 ripe banana, 5-6 fresh strawberries and 1/4 slice of papaya to a smooth pulp.
Add 1 tbsp of honey to the mixture.
Mix thoroughly to make a fine paste.
Apply on clean and dry face and leave it on for 20 minutes till the face pack dries completely.
Rinse off with cold water.
While strawberries are rich in vitamin C and helps revitalize and brighten the skin, papaya flushes out toxins, and excess oil. Honey and olive oil possess antibacterial properties that fight against acne.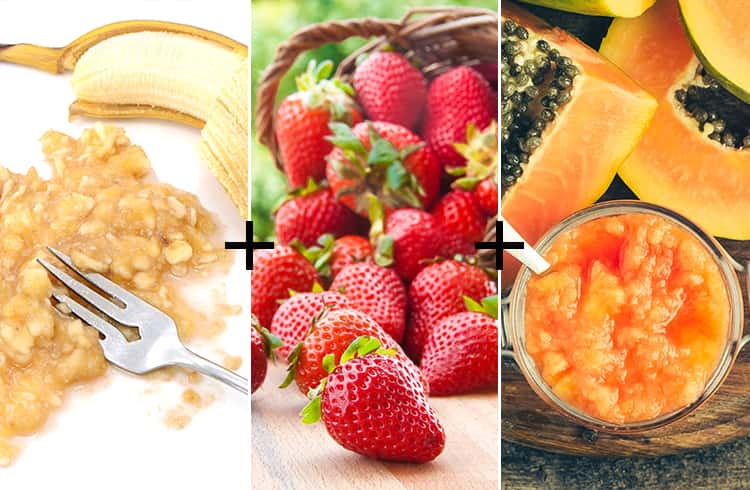 7. Banana And Oatmeal Face Pack For Dull Complexion:
This banana face mask when mixed with oatmeal is the perfect solution for dull complexion. It sloughs away dead skin, to bring out the radiance on the face.
Take 1/2 ripe banana and mash to make a smooth pulp.
Add 1/4th cup rolled oats.
Mix all the ingredients thoroughly.
Wash face clean and then apply steam to open up the pores.
Dry the face properly and apply the mask.
Leave it on till the face pack dries.
Massage the face gently in circular motions.
Wash off with cold water.
Oats are packed with anti-oxidant properties while lemon juice and honey work as skin brightening and lightening agents.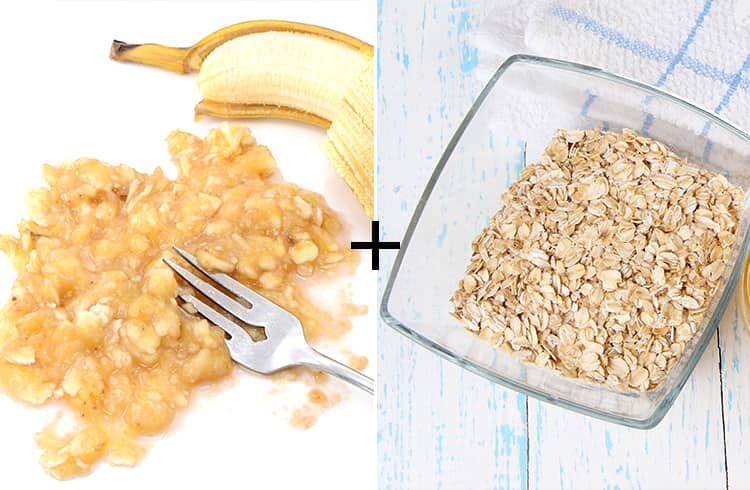 So these 7 banana face packs are your sure shot ways to get a healthy, glowing and wrinkle free skin.
Conclusion
Pamper yourself with these extremely nourishing DIY face masks and experience the beauty benefits of banana face pack. Say goodbye to dull and tired skin and get ready to feel young, fresh and rejuvenated all over again.