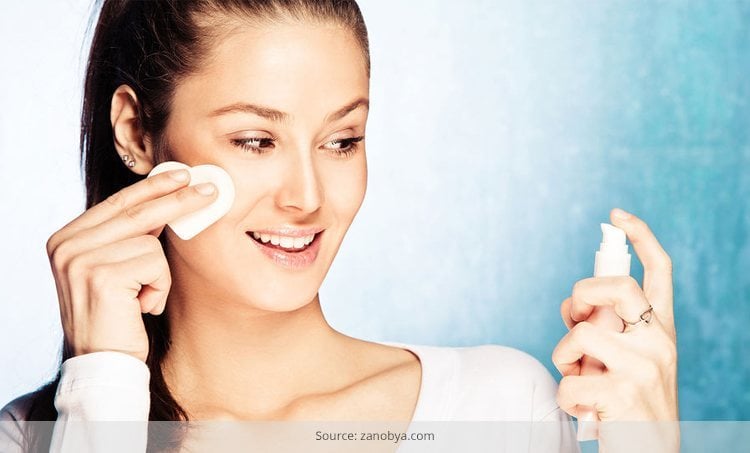 The simplest ways to a good layer of healthy skin consist of just three magic words: cleanse, tone and moisturize. And this goes for everyone irrespective of the skin type. Most people are under the impression that those with dry skin can conveniently skip on the toning part. Absolutely wrong. This theory, from wherever you got it, will destroy your skin like nothing ever did. But of course, you need to pick up toners made specifically for dry skin.
[Also Read: DIY Toners]
List of 10 Best Toners For Dry Skin in 2021
1. VLCC Skin Defense Rose Water Toner
VLCC has been one of the brands I can swear by. Just like it helped me lose some real undesired pounds off my body, it has brought some awesome skin products too. Talking about the VLCC Skin Defense Rose Water Toner, let me tell you, it is made up of 100% natural ingredients. The rose water used as the primary component of this toner helps your face muscles relax and calms the irritation if any due to the cleansing. There are a number of natural toners in the market, but I position VLCC Skin Defense Rose Water Toner in the first place. Another plus point of this product is its perfectly affordable price. The toner is beneficial for maintaining skin's pH balance, hydrating, and moisturizing skin.
2. Biotique Cucumber Water Toner:
Biotique has come up with a number of skin products lately. And after having used around half a dozen of their products, I could assure you that they all are very effective and skin-friendly. The products of Boutique are all made for specific skin types, and the Biotique Cucumber Water is a toner that they have come up with, especially for the dry skin type. The plus point of the product is that this alcohol-free product works great on large pores, without adding up to the dryness of the skin. The pore tightening toner has natural extracts like coriander, peppermint oil, cucumber, and berberry. It is created to enhance skin tone and perfect pH balance. Apply the toner onto cotton pads and wipe over cleansed skin twice daily.
3. Lotus Herbals Rosetone Rose Petals Facial Skin Toner:
This is again an Indian brand that has recently emerged as a leading cosmetic company. They have introduced some of the most natural products that would not fail to impress you. Lotus Herbals Rosetone Rose Petals Facial Skin Toner is again a herbal toner that not only tones up your skin but also moisturizes it. Moreover, it enhances the elasticity of your skin. If used for an extended period of time, the large skin pores will reduce to some extent and leave your face with a healthy glow. The Lotus Herbal toner has natural ingredients like aloe vera, tulsi leaves, rose, and vetiver. Aloe vera lightens skin, the rose has a high presence of Vitamin C and tightens pores, tulsi leaves have natural antiseptic properties, and vetiver has skin revitalizing agents.
4. Neutrogena Deep Clean Blackhead Eliminating Cooling Toner:
This toner is effective in cleansing your face thoroughly and shrinks the open pores. Neutrogena Deep Clean Blackhead Eliminating Cooling Toner also helps to cool off the burning sensation in acne-prone skin. One thing about this product is that it is not alcohol-free, but another thing about it is that it works like magic on blackheads. Though the toner has some chemical compounds, it is allergy tested and remains gentle on sensitive skin as well. The oil-free toner from Neutrogena is non-cosmedogenic. Apply the product after cleansing the skin. Dampen a cotton pad with toner and use over cleansed skin. For the best effect, use the toner with other blackhead treatment products.
[Also Read: Homemade Toners for Acne Skin]
5. The Body Shop Vitamin E Hydrating Toner:
This toner is an ideal one for those who are giving their first shot at using toners. It has a very light consistency, thus easily gets absorbed into the skin. It gives you a soothing cooling sensation and hydrates the skin in the process. This product from The Body Shop is an alcohol-free toner and has added advantage of vitamin E which is the ultimate food for dry skin. Dampen a cotton pad and smoothen over cleansed skin.
[sc:mediad]
6. Aroma Magic Aromatic Toner:
Aroma Magic brings a line of natural products starting from cleansers to moisturizers, toners being one among them. This toner will keep your dry skin moisturized for a longer period, you cannot afford to skip on the moisturizing part, though. Additionally, it also sweeps away any dirt if left after the cleaning regime. The beauty of Aroma Magic products is that they come at affordable prices and the quantity is pretty decent too. A bottle of Aroma Magic Aromatic Toner will last for two to three months easily, even if you use it twice. This is personally my best skin toner so far. The alcohol-free toner by Aroma Magic cleanses pores, softens aging signs, and provides a refreshed look.
[Also Read: Beauty products for non-make up lovers]
7. Jovees Rose Skin Toner:
This bottle of toner will be a favorite with people who are always on the go. It comes with a spray cap and you do not have to bother keeping a roll of cotton handy always to apply this toner. You can spray it on the clean skin and let it seep in. This toner is rich with compounds of moisturizing properties and would negate the stretchiness which is characteristic to the average dry skin. Jovees is known for its wide range of ground-breaking products that are formulated using organic ingredients. You may use the toner twice daily for best effect.
8. Clarins Extra Comforting Toning Lotion
Though it's a bit pricey, this toning lotion is one of the best toners for dry skin. Its non-drying feature will keep the skin moist, soft and clear all the time. The lotion contains Linden, Almond, Marshmallow, and Mango in sufficient amounts that transforms the dry skin into radiant, clear skin. Also present in the toning lotion is aloe vera and sunflower which have great moisturizing features. Use the toning lotion using hands in light motion to the forehead, and towards temples. Repeat on the rest of your face. Or you can dampen a cotton pad with the toner and dab over cleansed face and neck. Follow up with your daily moisturizer.
9. Forest Essentials Facial Tonic Mist Panchpushp
This is one of the most natural toners for dry skin. The fresh and fragrant flowers of Rose, Kewda, Marigold, Bela, and Saffron are steam distilled for extracting their essential oils and the floral water residue is collected into this tonic mist Panchpushp. Rose as we all know focus on hydration, while Bela helps in holding the moisture. Likewise Marigold helps in toning, Kewda moisturizes and lastly Saffron adds the glow. All these key features of the flowers in their purest form soothe the dry skin and is a trustworthy toner for skincare. The facial tonic mist replenishes the skin's moisture levels. Use often as required throughout the daily as a toner for a refreshed feeling.
10. L'Oreal Paris White Perfect Whitening and Moisturizing Toner
L'Oreal Paris, widely recognized as one of the best makeup products providers, is also great with skincare. The whitening and moisturizing toner help reduce the pore size, minimizing the dirt accumulation and rendering the skin clean. As the name itself says, it aids in whitening and glowing skin with the help of Vitamin C and Melanin-Block contents. Its pro-exfoliating feature provides an advanced peeling agent which smooths the skin. It is undoubtedly one of the recommendable skin toners for dry skin. The L'Oreal toner smoothens the skin's texture and regulates melanin production.
When it comes to the C-T-M regime, a lot of us dodge off the toning part. I did that for a long time, just because I was being lazy. It was only after I was talked into using it by my bestie, did I realize how much difference it made to my otherwise dull skin. However, please don't forget to moisturize your face generously after toning. All these toners above are readily available at any store nearby. Most of them (if not all) are tagged at an affordable price and even college students can buy them from their saved pocket money.
Hope this article on the best toners for dry skin is helpful to you.