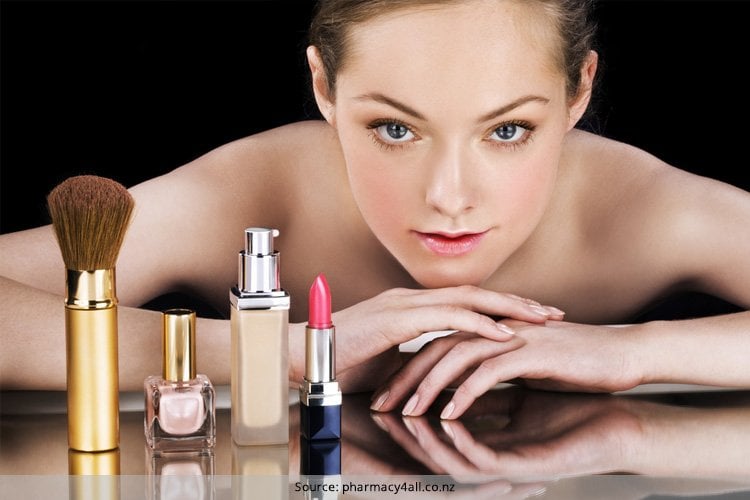 Not every girl loves pink and not every girl can tell the difference between a coral and a peach lipstick. It's perfectly alright to be averse to the idea of make-up. Though I myself live by tons of blushes and a myriad of eyeshadows, I appreciate the fact that not everyone needs to share my views. Though you do not cherish to paint your face in all colors in the rainbow, there are a few beauty products that you, being a non-make up lover can use.
[Also Read: Beauty Essentials to Keep at Your Desk]
1. Moisturizer
A good moisturizer has never harmed anyone, albeit it goes a long way in keeping you miles away from the signs of aging. The environment we live in robs our skin from its essential oils. If you lather it with a good moisturizer at least once every day after bath, your skin will thank you.
2. Foundation
Get yourself a foundation, the one that is closer to your skin tone. Don't burden your complexion with a foundation 2 shades lighter than it. Those with warmer skin tone often make this mistake. Those days are gone when you had to fake a lighter skin tone. Dark is beautiful and the world is coming to terms with it. If you are a beginner, pick a lighter foundation versus one with a fuller coverage. That will help you escape cakiness.
3. Compact
Foundation and compact powder go hand in hand. You can't really use the one without the other. The trick for picking the right compact is just about the same as is for the foundation. Get the one that really blends with your complexion. It is always best to leave these decisions on the attendant at the counter.
4. Nude Lipstick
You can never go wrong with a nude lipstick. Be it a sucker of make up or someone who has no patience for all those heavy palettes, a nude lipstick is a must have in every girl's vanity. You don't have to deliberate over its suitability with your clothes, they go well, with every outfit – traditional or western – as they have a tint of their own as such.
5. Pink Lipstick
The second lip essential is a lipstick in any shade of pink you prefer – I'd say, go with a lighter shade. The idea here is, you may not need to think twice before applying the nude lipstick, but once in a while you may crave some color. A neutral shade of pink is as good as a nude lipstick; just that it also gives you a hint of color.
6. Chapstick
The last of the basic beauty essentials for your lip kit is a good clapstick. These days you get these chapsticks that come with a hue. Using these chapsticks have multiple benefits. It moisturizes your lips and imbues them with a shiny flush of color. On a day of work or a casual hangout with friend, when you want to opt for a no makeup look, you may just roll a chapstick on your mouth and your lips are ready.
[sc:mediad]
7. Kohl Pencil
Just like the three essentials for lips, we got three essentials for the eyes. Its okay to hate make up, but I won't really call rimming your eyes with a trace of kohl 'Make up' per say. Be it thin or thick, a line of kohl can bring drastic change to your entire look. Even on a most tiring day, it can uplift your spirit.
8. Mascara
Another basic beauty essential to own is good mascara. For days when you want to give a break to the kohl, apply a generous coat of mascara and they will help your eyes pop up. If you pick a transparent mascara, that would be even better. Your lashes will look longer and brighter and only you would know what the trick is.
9. Eyebrow Pencil
To complete the trio, include an eyebrow pencil in your make up bag. Avoid getting yourself a black eyebrow pencil, go for shades of brown, to make up for a natural look.
10. Cleanser
We started with a moisturizer, and we round it up with that one thing you need to own, whether or not you love make up. That is, a good cleanser. A good cleanser is beyond a beauty product. It helps keeping your skin healthy, free from germs and does away with the residue of pollution and other makeup products
[Also Read: Ever Wondered What Beauty Products Fashionlady Editor Uses?]
For girls who opt for minimal makeup, I hope the list above helps. And believe me as it comes from a makeup lover, nothing makes you as gorgeous as a confident smile on your face.