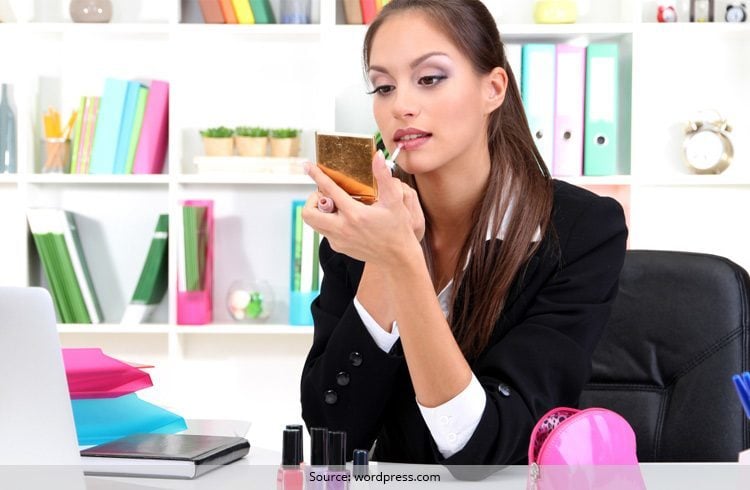 Be it a junior executive or a businesswoman, productivity is the top most agenda at work. While sitting in your workstation, the need of looking good at the same time cannot be overlooked. There are a few items that need to be stocked in your beauty arsenal at your desk to look fresh and best.
Here are few essential beauty products that'll keep you looking and feeling lovely all day long (and this excludes a mirror and a brush). So waste no time and get started with collecting beauty products to make you look attractive and presentable in office culture.
Perfume
Hot and humid days can be smelly too. Spritz on a perfume to look fresh as daisy. Carry Victoria Secret or any travel perfect perfume with you, to keep smelling nice throughout the day. There are high-end brands too such as Ralph Lauren, Burberry or Clinique for you to carry in your travel bag. In fact, better sense would say you carry two range of perfumes, one for your desk and the other if you want to suddenly leave for a high-powered meeting. You can go for perfume sprays too.
[Also Read: Perfume Hacks: 8 Ways to Get the Most Out of Your Pricey Perfumes]
Lotion
How would you feel if the dress you are wearing reveals your dry arms? Ouch! That's not a good sight to watch. Take a scented lotion along and apply it when you reach your office in the morning or leave for the day. But make sure that the brand you put on your arms is moisture-rich without being greasy. And yes, if you want a blemish-free hydrating effect to last you the whole day, take along a BB, CC or the new EE cream of Estee Lauder. They are good to go since they fill you with day lasting confidence.
[Also Read: Beauty Benefits of EE Creams]
Lip Gloss
Cracked and flaky lips can be a big turn-off when all you need to do is look confident at your workplace. A lip gloss is a must but make sure the one you pick is not greasy on your lips. There are several lip flavours available too on and off the shelf such as fruit, chocolate, flowers, or peppermint to give your lips that element of spice. So go ahead for juicy and moisturising lip gloss brands.
[sc:mediad]
Hair Oil
Yes, we know the very idea of applying hair oil might not have many takers. But if you are complaining of dry mane and frizzy hair, then a good quality hair oil might come to rescue. Carry a small PET bottle of liquid hair oil in your handbag. You needn't use it a lot and make your hair greasy, just a few drops would be sufficient to make your hair manageable and hold them in place.
[Also Read: 5 Hair Oils for Long and Silky Hair]
Manicure Kit
A working girl's hands have to look beautiful and oh-so-feminine, irrespective of the fact whether she is single or married. While working, your nail cuticle could hang or chances are that your nail could break off. The need of the hour is to keep your fingers neat, attractive and businesslike. A small manicure kit will help salvage the situation.
Bobby Pins
It's a big disappointment with hair going all over the place. Put them in order by doing over with the hair elastic bands and instead pinning your hair for a secured look. The bobby pins come in various colours and shapes to make you re-arrange your hair the way they should be. This way, you won't have to keep pulling your hair when you need to tie them up.
Now get ready to stash these beauty must-haves in your office desk drawer. After all, this is where the statement 'beauty with substance' comes into effect.