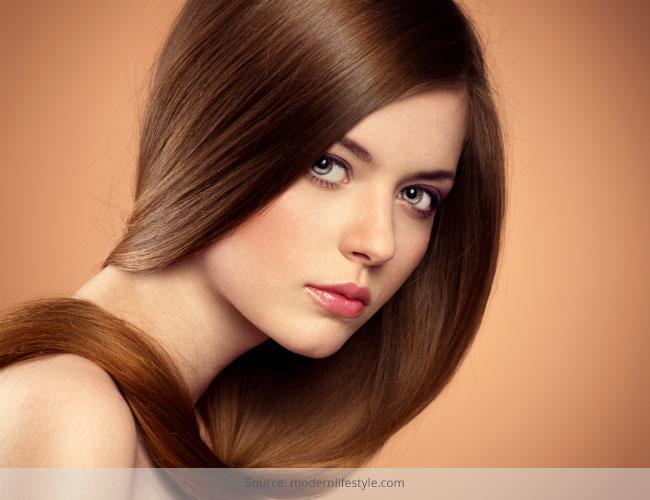 The other day we had mentioned how hair plays a crucial role in determining your overall appearance. Unlike short hair, it's backbreaking to manage long hair. In this post, we offer you top 5 natural hair oils to know how to get silky hair that assure essential nutrition to your locks. Also it is very important to know how to take care of long hair.
Before you go through these oils, let me tell you these tried and tested methods are time taking methods and you need to have patience to get the best results.
Here are top 5 natural hair oils to know how to get silky hair. Have a look!
1. Argan oil
This oil is often referred as Miracle Oil or Liquid Gold, as it is one of the best natural sources for healthy and shiny hair. This oil also acts as a fabulous sunscreen and an in-depth repair treatment. This multi-faceted natural oil is a must try, especially for those with long beautiful locks. This miracle oil works on dry and brittle hair, whilst replacing the fizziness with softer and damage-free traces. Go for it and get convinced.
2. Coconut Oil
Well this is one of the most popular grandmother tips and is India's one of the best kept secrets as far as hair care is concerned. Indian women swear by this oil and why not? After all, coconut oil works wonders on both oily as well as dry scalp, thereby making it a common household item in almost every Indian house. So make use of this commonplace home remedy to how to get silky hair.
[Also Read: Coconut Oil benefits]
3. Grapeseed oil
Next is the grape seed oil in my list of top 5 natural hair oils to know how to get silky hair. It is one of the most natural sources of moisturizer and conditioner and the answer to how to get silky hair. It also helps greatly in reducing hair loss, a common hair ailment and also fights against dandruff. Regular use of this oil can give you stronger and attractive hair.
[sc:mediad]
4. Pomegranate oil
There is an array of benefits associated with this oil. So, here is quick sneak pick into the benefits of pomegranate oil for long hair –
It revitalizes frizzy hair and protects it from pollution
It boosts blood circulation in scalp
It clears dandruff and flaky skin that are clogged in the hair follicles
Its anti-pruritic property helps in treating scalp ailments like psoriasis and scalp eczema
It reduces redness, itchiness and inflammation
It gives nourishment to hair
Being enriched with vitamin C, it is a great source for hair growth as it strengthens the connective tissue present in the hair follicles.
Homemade hair oils also do wonders as they add moisture, shine and bounce to the hair.
5. Tea tree oil
If you have an itchy scalp then this oil is best suggested for you. Itchiness leads to dandruff and eventually hair loss. So prevention is better than cure. This oil is equipped with anti fungal and anti bacterial properties and hence acts as a fabulous cleansing agent for hair and scalp.
[Also Read: Habits that are damaging your hair]
So those were the top 5 natural hair oils to know how to get silky hair. You can go for anyone of these that best fits your requirements.
Try Hairstyles for Long Hair once you have the desired length. Do not forget to take great care and avoid going out in the sun without your scarf.