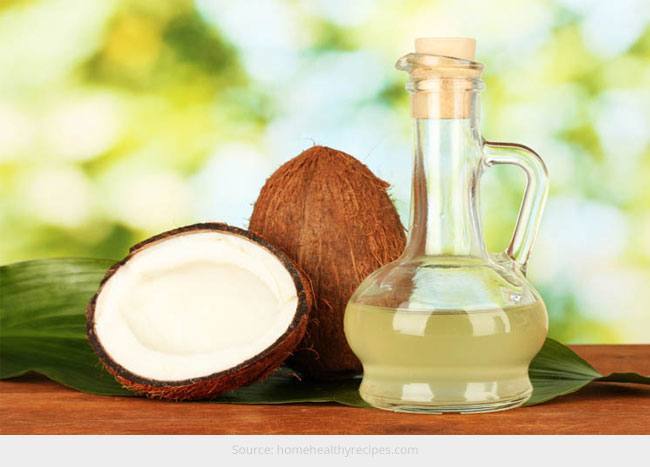 Coconut oil is rich in carbohydrates, vitamins and other vital nutrients. It has been used as a cooking oil for ages by people living in the coastal areas, as it is available in abundance there. However, its benefits do not limit to cooking itself but it also works wonder for your hair, skin and body health. So read on some of the brilliant coconut oil uses and get benefited by this miraculous oil. Trust us, there a numerous coconut oil benefits, we bet you never knew.
1. Care for Happy and Bouncy Hair
Coconut oil is very useful for hair growth. Applying a mixture of this oil along with lime water helps prevent hair loss. The coconut oil binds the protein of the hair strands, whether damaged or undamaged. It helps them to grow in a healthy way.
We recommend add a few fenugreek (methi) seeds to the oil and just warm it under the flame for a few minutes. Then let it cool till room temperature. Applying this oil helps even better to bind the damaged hair. Fenugreek will boost the colour of your hair as the oil will extract the hot nature of the seed. For faster hair growth, use coconut and castor oil hair mask. While castor oils help in fast hair growth as well as boosts blood circulation, coconut oil is great for conditioning the hair.
[Also Read: Moringa for Chapped Lips ]
2. For Beautiful Lips
Coconut oil is said to protect your lips from the harmful UV rays of the sun. Also, if you have an issue of lip dryness, apply a little bit of the coconut oil to your lips before going out in the sun. It makes your lips soft and even heals them from any sort of damage from the UV rays of the sun or any other pollutants.
3. Glowing Skin
We all are aware of the beauty benefits of coconut water for skin, but did you know coconut oil too is loaded with several skin healing properties? Yes, coconut oil acts as a great moisturizer. The most important thing is that it is natural and when applied to the skin, it gets soaked up by the skin nicely and helps the skin to get healed and rejuvenate itself. Applying coconut oil benefits your skin by giving it a natural glow.
Even doctors recommend applying the coconut oil as a body lotion if you have a dry skin, it will help your skin heal faster.
You can make your own eye cream with coconut oil as well.
4. Hair Conditioning
After taking about coconut oil benefits for skin let's look at how it helps the hair.
No artificial conditioner can prove to give better results for your hair as coconut oil does. Mix some amount of Henna in the coconut oil and make a paste. Apply it on your hair and then rinse it after 20 minutes. Your hair will have great smoothness and shine.
[sc:mediad]
5. Get Fit
In 2009, researchers have found out that women who consume coconut oil, have reduced abdominal obesity. The health benefits of coconut oil include that of it being easy to digest. The coconut oil weight loss technique is good, however, you must not take large amount of coconut oil in your diet, as it has a lot of unsaturated fats which may lead to cardio risks, but you can start with a single spoon daily in your diet.
6. Coconut Oil Benefits to Increase Immunity
The coconut oil consists lauric acid, caprylic acid, and capric acid in it, which have the capacity of being antifungal, antibacterial, as well as anti viral properties to boost the immune system for fighting with diseases. Now you the that the health benefits of coconut oil are really wonderful.
7. Encourage Good Digestion
The fatty acids present in coconut oil has been found to contain anti-microbial properties, which fights against bacteria and other germs. Adding a small amount of coconut oil helps in the process of digestion and also eases out irritable bowel syndrome as well as other microbial germs related infections.
So these were the coconut oil benefits. Now you have all the reasons to make this miraculous oil an essential part of your kitchen shelf as well as beauty closet.