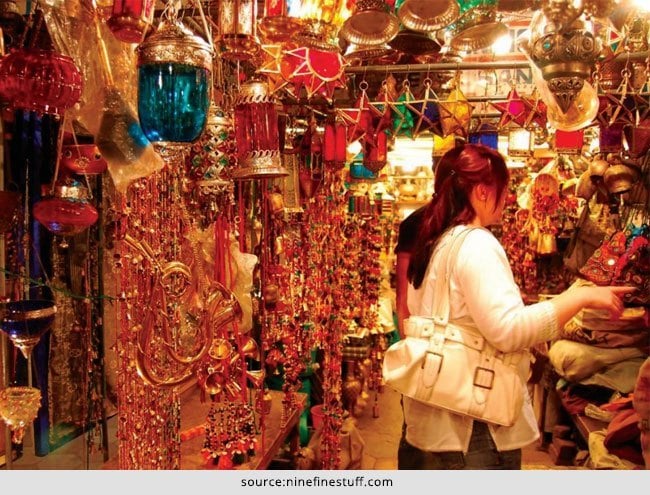 If you thought Delhi was all about bling and designer shops, you got it all wrong. Let's do away with the stereotyping of cities, especially the nations' capital, because we have five unique women's clothes shops in Delhi, where you can shop till you drop. The range of flea markets across the city and its fringes, with all its glory and colourful tones would leave you spellbound. Call them a treasure trove or a haunt for fashion lovers; you sure would have a healthy dose of latest chic trends doing the rounds here. So what is it that you want? Floral palazzos or the churis and kangans?
Below are the best Delhi markets for shopping. We assure you a hearty soulful shopping experience!
[Also Read: Best Shopping Destinations In The World]
Sarojini Nagar
From the fashion weeks to the streets, Sarojini Nagar is an epitome for everything fashionable. With reasonably priced 'designer' replicas and 'haute-couture' ensembles, you would be spoilt and pampered for choice. A walk down the dusty and crowded bazaar of Sarojini Nagar would leave you wishing the day had more than 24 hours! Open six days a week (except Mondays), you'd find a range of fashion accessories, indo-western wear, designer ethnic clothes and pretty shoes here. From sexy body chain jewellery to ditto replicas of some of the most expensive handbags in the world, you name it, you'll find it.
Janpath
Lively and very famous amongst shopaholics, Janpath, with its recent makeover attracts shoppers from all across the city and its suburbs; international tourists too. From Tibet to everything INDIAN, Janpath has it all. Brush up on your skills, bargaining for what you want is the way to shop here. Open on all days, Janpath offers you quirky handicrafts, hipster clothing, cool shoes and chunky accessories.
[Also Read: Mumbai Street Shopping: Shopaholics' Ultimate Shopping Destination]
Chandni Chowk
For over a century and more, the narrow winding lanes of Chandni Chowk, Delhi have been a favourite for shopaholics and fashionistas alike. Call it an 'adventure' to shop here, the lanes and by lanes of the region has an assortment of 'specialised bazaars' catering to every need. From fabrics to silver home accents and jewellery, Chandni Chowk has it all. Brace yourself for the lovely food too. Located at Old Delhi, Chandni Chowk remains closed on Sundays.
Khan Market
A U-shaped and a very well-known market for Delhites, Khan Market is the ultimate destination for those who wouldn't want to go back home empty handed. It definitely is one of the best shopping places in Delhi. You could be on a tight purse string or flamboyantly ready to splurge, there is always something for you to pick up at the Khan Market. Bespoke and customised Indian designer wear can be stitched here in a week's time. Located very close to the famous India Gate, and closed on Sundays, Khan Market is the place to buy music, books, tailored and branded clothing, cosmetics and a wide range of accessories too.
[Also Read: Top 10 Must Visit Shopping Places in Bangalore – Shopper's Paradise]
Paharganj main bazaar
Ain't no mountain high enough for the shopaholic to climb, and Paharganj in Delhi says it all. The chaotic and crumbling ambience around be dammed, fashionistas on the hunt for all things trendy, hip and cool hover around this market like souls searching for nirvana; quite a shopping ghetto this place is. From wholesale clothing to international brand replicas and more, Paharganj takes you on a unique and very affordable shopping journey. Located very close to the NDLS railway station, the market is open everyday till 9pm. From shoes to clothes, accessories to textiles, handicrafts and more, you get them all here.
Do you know any other shopping places in Delhi worthy of a mentioning? Do write in and let us know, of course Dilli Haat would be one of them, but let us know of affordable yet unheard of places too!