When it comes to shopping, Bangalore or Bengaluru as it is also called these days, has something for everyone. Right from exclusive boutiques and international brands to street side sellers, Bangalore is a shopper's paradise. Let's take a look at the top ten shopping places in Bangalore that you must check out.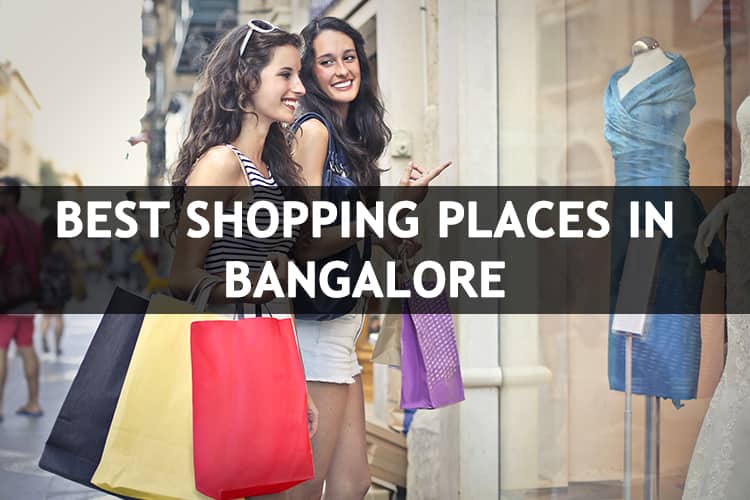 Shopping Malls In Bangalore
1. The Forum Mall
Situated in Koramangala on Hosur road, The Forum mall is quite popular with Bangalore's young crowd and with tourists. It has retail outlets, 12 cinema halls, and a food court. There are many popular brands to choose from, and the fact that they're all under one roof makes it a popular shopping mall in Bangalore.
2. Orion Mall
An upscale shopping mall that houses over 100 brands on four levels, Orion mall attracts a lot of shoppers. It has a very vibrant atmosphere with regular entertainments and events happening in its premises. From showcasing newly launched automobiles and hosting fashion shows to being a venue for movie promotions, the Orion mall thrums with energy and excitement. With such regular promotional events, the Orion mall is always in the spotlight. It recently made news when Bollywood actors Varun Dhawan and Alia Bhatt came there to promote their movie 'Humpty Sharma Ki Dulhania'.
3. The Collection – UB City
If you can afford to splurge and are looking for a high-end luxury shopping mall, then The Collection – UB City is the one for you. It houses brands like Louis Vuitton, Burberry, and Jimmy Choo. Located in Vittal Mallya Road, The Collection is opulent and will astound you with its grandeur.  Go there for some window shopping just to soak up the ambience and the sheer elegance of the place.
4. The Forum Value Mall
Situated in Whitefield, the Forum Value Mall is extremely popular with the section of people who are price conscious and yet want to buy branded products. The retail outlets span a wide range of products and include both lower-priced brands and higher-end brands. The Forum Value Mall as the name suggests, represents value-for-money shopping.
5. Garuda Mall
Garuda Mall is a family-friendly mall with a multiplex, food court, and a Scary House that act as entertainments to kids. Since it is located near Brigade road, it is quite easily accessible. It also has many fine-dining restaurants to choose from, thus making it a perfect weekend shopping spot. You can walk-in in the morning, do some shopping, watch a movie, and then end your day with some good food.
6. Inorbit Mall
Inorbit Mall aims to meet all your needs. It frequently hosts many Bollywood music release functions and other such promotional events. It initiated a "Mall Walk" concept, by which people were allowed to use the mall's premises for their morning walks. Inorbit mall has many good restaurants and a huge food court as well.
7. Chickpet
Chickpet is a local street market where you can find sarees and lehengas at bargain prices. If you're planning to visit this shopping area, it would be a good idea to go by foot as the streets are extremely narrow and almost impossible to navigate in cars. Visit Chickpet if you're feeling adventurous and in the mood haggle with the shopkeepers in order to get the best prices.
8. Commercial Street
Get ready to bargain! The Commercial Street in Bangalore is a shopping hub as well as a tourist attraction. No trip to Bangalore is complete without a stop at Commercial Street. Whatever you're looking for, be it clothing, accessories, or even household articles, you can find them here. Just be prepared to do a lot of walking.
[sc:mediad]
9. M G Road
M G Road is populated with many saree shops and is quite popular with people doing their wedding shopping. It also has the Cauvery Handicraft Emporium, which is a landmark by itself and is patronised by foreigners looking to buy souvenirs to take back home.
10. Brigade Road
Head to Brigade Road for a fulfilling shopping experience; it exemplifies the phrase "shop till you drop". There are so many shops on either side of the road that you can spend endless hours checking out each shop and all that it has to offer. Brigade Road is a unique mix of branded outlets and street stalls. Apart from clothing, you will also find numerous shops selling fancy jewellery, shoes, bags and other accessories. There are a few food outlets where you can stop, take a break, eat and re-energize yourself and then continue on with your shopping spree.
The varied shopping experiences that Bangalore has to offer are truly mind boggling. If you enjoy shopping, then Bangalore with its overcrowded local markets and jazzy malls will greatly appeal to you. This is in no way a comprehensive list. But it is a good start for you to explore the real Bangalore and what makes it tick. A city's culture is not only evident in its historical landmarks, but also in its colourful shopping hubs.