Republic Day always calls for a nation-wide celebration. It deserves special and respectful attention. So if you are looking out for ideas to celebrate Republic day and teach young minds about this mega event of national importance go ahead and check out our post!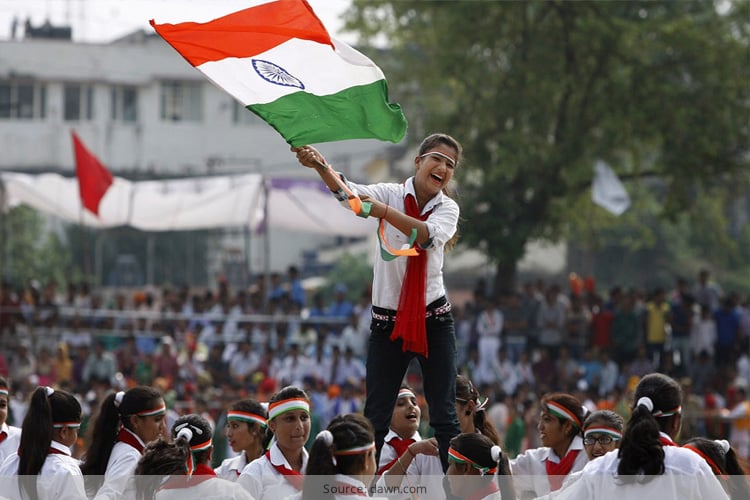 Ideas For Celebrating Republic Day:
1. Organize Cultural Programs:
Traditions are important, and there is no better way to pay homage to our country's rich cultural heritage than by organizing special programs celebrating it. Hosting cultural events on Republic Day is a lovely way to remember our country's varied and vibrant ethos. Both young and old can participate in these events to build a positive morale. These programs can range from food drives, lunch celebrations, costume parades, special performances, patriotic songs, and speeches. Honoring these traditions every passing year can allow people to understand the spirit of community living and being united as citizens of a country we all love.
2. Flag Hoisting Ceremony:
Flag hoisting ceremony is central to Republic Day celebrations every year. As the National Flag is a symbol of our national pride, it is important to learn the rules of hoisting it right. It should be hoisted at a height and at a distinct place. The flag should also be hoisted for a short time and lowered slowly with full honor. If a chief guest or speaker is invited for a special Republic Day function, then the National flag should be displayed behind and to the right of the speaker. Also, the saffron band of the flag should be uppermost when the flag is displayed horizontally.
3. Sports Meet For Kids:
Another good highlight for Republic Day can be conducting sports meet for kids. No other activity can allow children to develop positive traits as much as sports do. The moral principles and character of a child can be developed through fair play. Children who are actively involved in sports can make great role models for their peers, neighbors, and inspire them to play sports as well. Playing sports can encourage everyone to strike a friendship that often lasts a lifetime. It can also bring people together from all walks of life, regardless of their caste, religion, color, and culture. All these friendly exchanges greatly exemplify the spirit of Republic day.
4. Donation Drive:
Fundraising events are an effective way of serving our community, engaging with donors, and showing support for a cause. Organizing nonprofit fundraising events on Republic Day can not only help in raising money but also inspire people to make a difference to our society and country at large. For a successful campaign, you can organize auctions and raffles to raise money and reflect your community's unique interests. Also, setting up donation stations can allow supporters to make this process easier. All willing participants can donate something that would make a special gift for someone-money, clothing items, kitchenware, medicines etc. It would be great if you could contribute the funds or donations to families of warriors and martyrs.
5. Cleaning Campaigns:
Our country has one of the most diverse landscapes in the world. From our flourishing forests to the sea life, we have the most distinctive flora and fauna. But the waste especially plastics that are disposed of thoughtlessly are polluting our streets, parks, beaches, and waterways. We are all to be blamed for causing this menace but we can also be part of campaigns to clear the filth. So organizing cleaning drives on Republic Day can be a good start. This can provide a good opportunity for keeping our environment clean and also educate the community about going green.
[sc:mediad]
6. Patriotic Speeches:
Patriotic speeches by well-known leaders are one of the main highlights of commemorating our great leaders on Republic Day. An empowering speech can inspire the younger generation to appreciate and respect our motherland better. They can learn to stay united irrespective of caste, race, and religion.
7. Fancy Dress Competitions:
Every child is enthusiastic about fancy dress competitions because it gives them a chance to role-play for a day! They are also a great idea to brighten any occasion including Republic Day. Different children dressing up as different characters from our history can increase their knowledge about our rich past. It can also unleash their creativity to figure out the most original costume and push them out of their comfort zones. And lastly, this is one of the best Indian Republic Day Celebration ideas in school to keep both young and old entertained.
8. Dramas:
There is a saying that goes-'Tell me and I will forget. Show me and I will remember. Involve me and I will understand.' When children at school or at public functions are given the opportunity to perform an act on- India's freedom struggle it will instill a patriotic spirit in them. Role-playing gives them an insight into the sacrifices made by our great martyrs for saving the honor of our motherland. The different characters and roles allow students to relate better to history and other facts.
9. Art Workshops:
Holding art workshops during Republic Day can also allow active participation for people. Across all age groups. Various creative exchanges can be held to break the ice between people. Few ideas are music competitions, essay writing or poetry, and painting workshops based on the Republic Day.
10. Special Food Recipes:
An elaborate spread of special dishes on Republic Day is most appropriate because it brings people together. And no celebration in India is complete without special delicacies. From amazing starters to desserts, no Indian celebration is complete without its set of delicious and varied cuisines. And there is no better way to celebrate this day than with some tri-color recipes- saffron biryani, tri-color burfi, tri-color pulao, green and orange rice recipe, tiranga halwa, tri-color salad, tri-color sundae, etc. It is a wonderful way of celebrating our diverse culture.
11. Republic Day Decorations:
Decorating is another way of enlivening your environment-home or office. And it makes for great Republic Day celebration ideas in office and home alike. Brightening the space with beautiful abstract painting, art decals, wall stickers, and graffiti can be a good idea. Simple paper decorations or folded paper fans in the tricolor can also give a creative touch. Another popular celebration in apartment is rangoli-floor design. You can experiment using glitter paper and flowers apart from rangoli powders. You can also pick up tri-color cushion, planters, coasters, chimes, LED lights, and frames to blend into the theme.
12. Dress Up:
On this special day, you can wear the tri-color hued attires. You can opt for a traditional tri-color kurta or a smart tri-color tee to suit the occasion. Or you can also try tri-color accessories for a more subtle touch. Accessories can come in the form of handbags, earrings, neckpieces, bangles, and headbands.
13. Honor Senior Citizens:
Honoring senior citizens should be an absolute must during Republic Day in an apartment. Honoring and felicitating them for their achievements and contribution towards society over the years is a way of showing appreciation and respect.
14. Honor People For Social Service:
There are brave servicemen whose actions have defined courage and selfless service. These people deserve the Medal of Honor for social service. Therefore, during Republic Day, our soldiers and Bravehearts are honored with medals for their selfless service towards our country.
15. Sing National Anthem:
Last but not the least, singing our National Anthem is a must. Singing the revered song on this day has been a part and parcel of our patriotic fervour. The National Anthem resonates sentiments of national pride and belonging.
These are a few ideas on how you how you can celebrate Republic day with your friends, neighbors, family, and society at large in a fun and thought-provoking way. Hope you enjoyed going through them!