Are you looking for truly inspiring fitness quotes from your favorite celebs? Look no further as you have reached the right page. Check out our compilation of the fitness secrets straight from the world of glamour.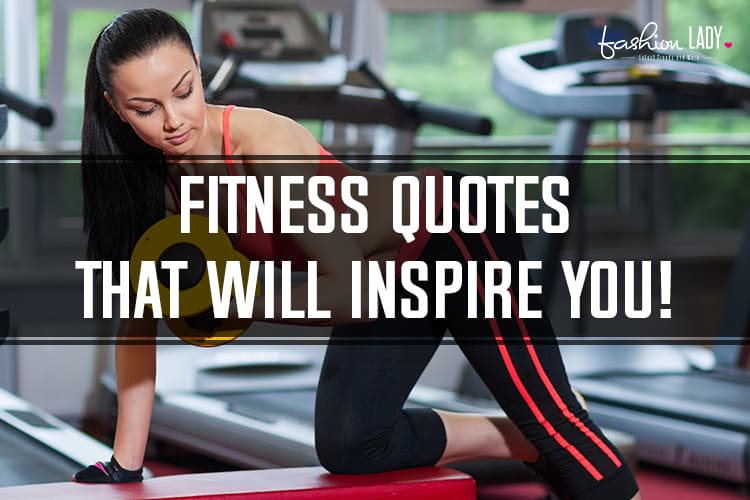 Hope this post on fitness motivation helps you kick-start your fitness journey soon!
List of Top 15 Motivational Fitness Quotes By Celebrities
Check out quotes about fitness by celebs as they share their wellness mantra.
1. Beyonce:
The singer, actress, songwriter, and mother of three, is an inspiration for women all over the world. Her fitness mantra is all about balancing her nutrition and exercise. Here is what she has to say on having fun even while working out:
"I love my butter pecan ice cream, but I also love to work out. We all have our issues. Mine is arms and legs, keeping them tight and toned. It takes work, believe me."
She feels staying healthy is worth the extra effort! Inspiring, isn't it?
2. Jessica Biel:
Actress Jessica Biel reveals how exercise is a big part of her life.
"I'm working or when I'm preparing to work I'm pretty dedicated and I'll keep a pretty healthy diet."
Another one from her:
"I like to do a couple of yoga classes during the week, mixed in with weight training sessions for strength . . . yoga for me is more of an elongating thing. I hike and walk my dogs a lot. It keeps me very clear-headed."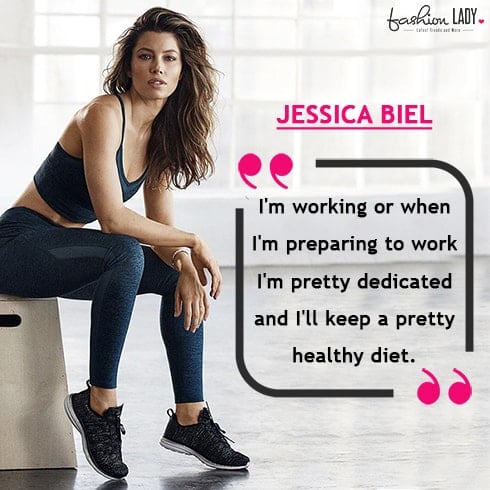 3. Kim Kardashian:
Never the one to shy away from flaunting her curves, Kim Kardashian has changed people's perspective on body issues.
"I am an advocate for curves because I have them and that will never change and I will embrace them. But, I am also an advocate for being in shape. Right now I feel like I am in the best shape of my life, and I feel like my curves have never looked better. I spend one to one and a half hours in the gym daily. I really watch what I eat. I love curves, and I am really proud that I can help other girls be proud of their curvy bodies, but I am not into being lazy and not being in shape."
4. Demi Lovato:
Singer, songwriter, and actress Demi Lovato has always been open about her struggles with her own body image. And she has been constantly hoping to inspire others. She attributes her recovery both mentally and physically to exercising.
"On show days I count my concert as a workout, but on my off day, I try to work out once in the morning and again at night. It can be a lot between performing and traveling, so I'm careful not to push myself too hard."
Here is a quirky fitness quote from her:
"Don't train to be skinny. Train to be a #badass."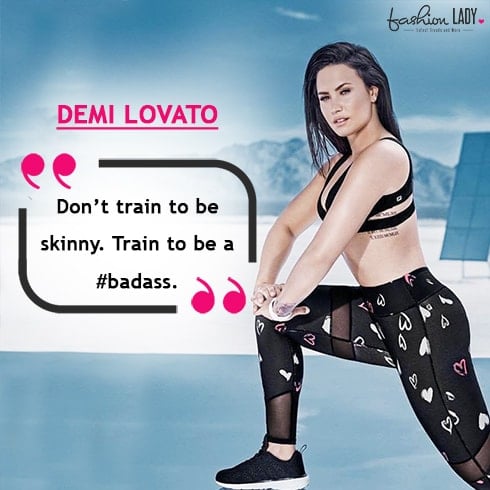 5. Cher:
The singer has often shown her passion for staying fit. Cher also published a book in 1991 called Forever Fit: The Lifetime Plan for Health, Fitness, and Beauty.
The singer spoke about how staying fit is tougher now that she's older. But she is still passionate about experimenting with new fitness activities.
"You have to work twice as hard. You have to be in the gym all the time. But I like it. When I was young I was a tomboy. I played sports…and I'm learning to surf right now. I like that kind of stuff, thank God."
Here is another of her candid quote on fitness:
"If it came in a bottle, everybody would have a great body."
6. Michelle Obama:
Do you know the former FLOTUS is a fitness enthusiast? She has shared tips on keeping fit with her 14.6 million Instagram followers and explains how she used to host boot camp weekends for her closest girlfriends at the White House. She highlights the importance of staying fit and healthy.
"For me, exercise is more than just physical—it's therapeutic."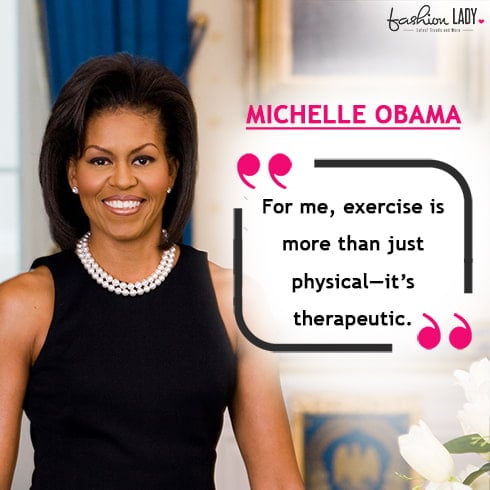 7. Ellen DeGeneres:
The talk show host does not believe in following a crazy workout regimen. She simply enjoys her life in healthy ways and keeps herself entertained.
Whether she's performing yoga or removing sugar from her diet, DeGeneres continues to maintain a healthy lifestyle.
"I really don't think I need buns of steel. I'd be happy with buns of cinnamon."
8. Jennifer Lopez:
The diva may be incredibly busy with her music releases and appearances on TV shows but she never skips the gym even if her calendar is booked with schedules.
"I love the way working out makes me feel, so I try to keep my body hydrated and well rested after every workout. That way, I'm ready to hit it hard again the next day. I make sure I drink plenty of water, I fuel my body with healthy foods and I make it a priority to get eight hours sleep a night. Sleep is my weapon. I try to get eight hours a night. I think what works best is sleep, water, and a good cleanser."
[sc:mediad]
9. Meryl Streep:
We all are in awe of Meryl Streep's timeless beauty. Besides following her normal workout routine, Streep spends her time enjoying nature while walking around her house which is near a lake or boating. She has this to say:
"Don't waste so much time thinking about how much you weigh. There is no more mind-numbing, boring, idiotic, self-destructive diversion from the fun of living."
10. Gigi Hadid:
The international model is undeniably blessed genetically, but she also works hard to maintain her enviable figure. Staying active despite such a high-pressure routine keeps her body fit both mentally and physically.
"For me, I celebrate strength, not only the physical but mental and social. You have to nourish all parts of yourself," Hadid said at a Reebok event.
But her mantra is to stay sane is quite unusual.
"Eat clean to stay fit, have a burger to stay sane."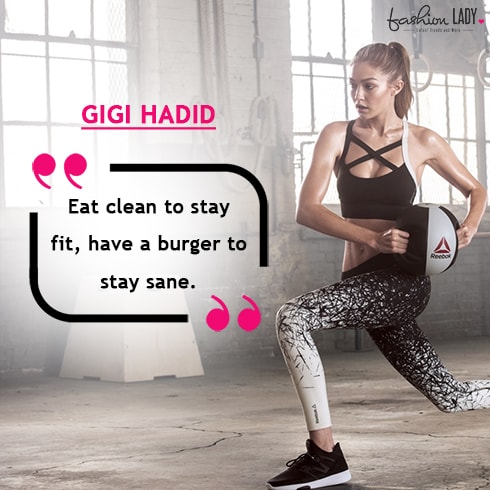 11. Shilpa Shetty:
Shilpa Shetty is well-known for her perfect body and is quite a pro at yoga, weight training, and skipping. And she is no stranger to other fitness forms.
"Yoga did not just help me with my body, I became fitter from within. It helped me to focus better. In the movies, we may look very glamorous and fit, but believe me, not many of us are actually fit from within. Yoga has helped me achieve that."
12. Jacqueline Fernandez:
Everyone is well-aware of pictures showing Jacqueline Fernandez performing some sensational pole-exercises. Apart from maintaining a fixed workout routine, the actress loves indulging herself.
"Generally, I'm not too strict with my diet. If I want to eat a chocolate or a pizza, I do. Even when I cheat, I keep it healthy. Like if I want to have pizza, I'll go to a good restaurant where you can ask for your choice of vegetables with a thin wheat crust. At times, I enjoy a bit of cake or some dessert. It's not like it will kill you. Also, when I'm traveling, I make it a point to walk. I don't get into a car or cab easily. So there are smart ways to stay fit."
13. Malaika Arora:
Fitness has always topped Malaika's must-do list. She believes in devoting some time daily to her fitness regimen no matter how busy her schedule gets and advises everyone to follow the same.
Her advice to her son is priceless- "if you're fit today, you will thank me 20 years from now. That's the most important skill I can give you."
Here is her tip for staying healthy and happy.
"I have a simple mantra: eat right and work out; you'll never have a weight issue. I never starve or binge."
[sc:mediad]
14. Kareena Kapoor Khan:
Superstar Kareena Kapoor Khan is making headlines with her fitness journey post delivery. She believes in paying attention to what she's eating. She makes sure she eats in right proportions. Here she reveals one of her favorite fitness mantras.
"Walking is the best exercise in the world. Post pregnancy, when even getting on a treadmill can be tough, 20-30 minutes of walking can really help."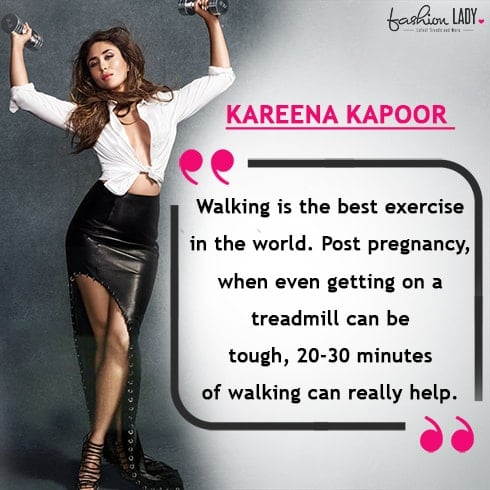 15. Katrina Kaif:
Katrina Kaif is very strict about her fitness regime. But at the same time, she loves to keep it fun and interesting. If not, the actress quips, the temptation to just not go to the gym can be huge. On finding the right fitness groove for oneself-here is what Katrina has to say.
"Understand what your fitness level is and how your body responds to it."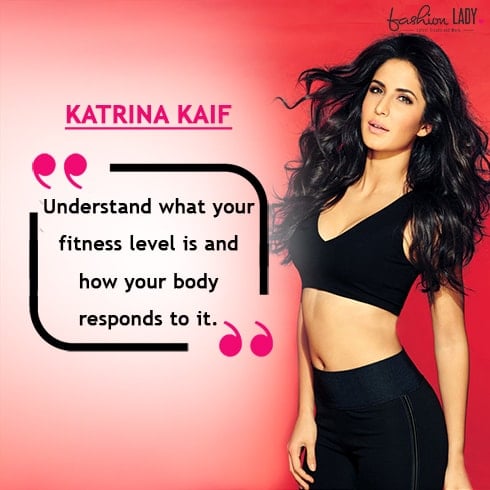 16. Kriti Sanon:
Kriti Sanon's mantra is to stay both healthy and happy. She feels it's all correlated. She is well-aware about her weaknesses and works hard at improving them.
"I don't remember the last time I did cardio because that doesn't work for me. Also, because I'm tall, I tend to look thinner than I actually am. I have to focus on my legs and make sure I'm doing my leg workouts religiously. I lose muscle very fast if I don't."
Hope you enjoyed reading our collection of celeb fitness quotes and found them inspiring enough to hit the gym soon.
Share your favorite fitness quotes with other health watchers in the comments box below.