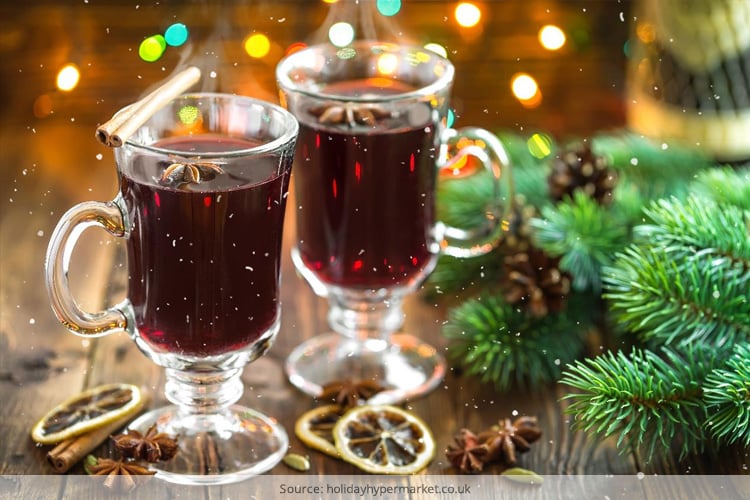 Making homemade gifts on the eve of Christmas brings a unique sense of joy. There is something special about making X-mas presents and goodies using simple material or ingredients. The satisfaction gives one is vast and incomparable – because you are making homemade things, not artificial or over-the-counter ones. This means such gift products are natural, safe, and pleasing to the body, mind, and soul.
The same thing applies to essential oils. Why you, whoever receives it will immediately be able to sense and feel the purity and goodness of essential oils – as if it was made for them, a few hours before Christmas.
What a wonderful feeling!
It's now time to learn how to make five types of Christmas gifts using five hand-picked essential oils.
Ready?
Christmas Spirit Essential Oil
It's a beautiful essential oil that immediately connects you to the festive spirit of 25th December – Christmas day.
So what is Christmas Spirit Essential Oil all about? It is a sweet-n-spicy blend of cinnamon, orange, and spruce essential oils. All these oils contribute to the joy, happiness, and security associated with the holiday season.
Recipe For Christmas Spirit Room Spray
Ingredients:
2 oz. Amber glass spray bottle
Christmas Spirit Essential Oil blend
2 oz. Distilled or Purified water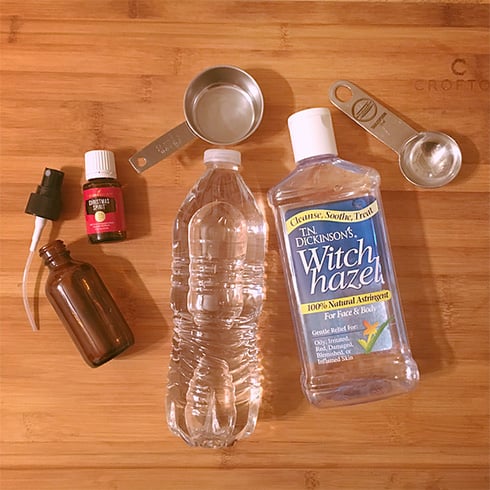 Preparation:
To the glass bottle, add 1 TB of Witch Hazel.
The purpose of doing this is to help the essential oils spread throughout the water so that they don't float on top.
Now put 15 drops of Christmas Spirit essential oil into this bottle containing the Witch Hazel.
Add distilled or purified water to the glass bottle
Shake the bottle so as to mix the ingredients
Now take a print out of a label or sticker to tell the recipient what they are getting.
Give your room a test of this room spray
Your X-mas gift is ready to go
Usage tips
For aromatic use, diffuse or sprinkle Christmas Spirit Room Spray on logs in the fireplace. You can also spray it on Christmas trees, on potpourri, or cedar chips for dresser drawers. And yes, by all means, use this spray all year round.
Frankincense Essential Oil
Frankincense has a long history with Christmas. It was gifted by the three wise men to baby Jesus and then burnt as incense in houses of worship and for various religious ceremonies.
Frankincense essential oil is excellent for boosting immune system health and relieving anxiety.
Do you know? In 1922 when King Tut's tomb was opened, they could still smell the fragrance of Frankincense in it!
[sc:mediad]
Pinboard owner's name: Tracy Maurer
Recipe For Frankincense Body Scrub
Ingredients:
1/4 Granulated White Sugar
5 drops of Frankincense Essential Oil
Up to 1/4 Olive oil or Coconut oil
Preparation:
Mix the two sugars (the white granulated and the raw sugar) in a bowl.
Now mix the olive oil and Frankincense Essential Oil in a cup.
Add this oil mixture to the sugar one.
Add enough oil so that you get a good consistency (without making it too oily).
The Frankincense Body Scrub will last up to 3 months (when stored in an air tight container).
You can now happily package this homemade scrub!
Usage tips
This homemade scrub using Frankincense essential oil can be used to exfoliate and get smooth and soft skin. After you apply the scrub, rinse it with water.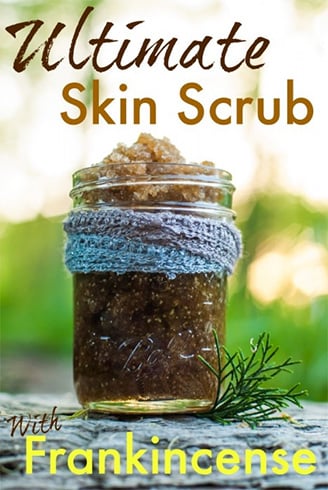 Clove Essential Oil
Meet this classic holiday spice which is added to mulled wine and dotted along the holiday ham. Clove essential oil not only adds depth to the smells of your holiday home, it also brings relief from respiratory and sinus issues (due to the seasonal cold or flu).
< healthy>Recipe For Cinnamon, Orange And Clove Soap
Ingredients:
Rectangle Silicone Soap Mould
3/4 pack of Stephenson's Melt And Pour Soap Base Clear
20 drops Clove Bud Essential Oil
50 drops Cinnamon Leaf Essential Oil
100 drops Orange Essential Oil 9ml
Preparation:
Cut the soap base into small cubes so that they can fit into the soap moulds
Do approximate calculation of the soap volume you will need (based upon filling your moulds)
Put all the cubes into a pyrex and cover with cling film
Set the microwave on high for about 2-3 minutes
Keep stirring every 30 seconds until all soap gets fully dissolved (never let it boil as you will end up getting plenty of bubbles!)
Add the 3 essential oils and ground cinnamon
Set your mould on a baking tray
Now pour in your soap to fill your moulds
Lightly spray surgical spirit (aka rubbing alcohol) on the top of your melted soap (to remove any small bubbles that may form on the top)
Keep it in fridge for 1-2 hours until soap gets fully hardened.
Gently pop out of your moulds.
Anise Essential Oil
This is yet another traditional spice used for centuries in European holiday baked goods. It is also a powerful relaxant which slows down nervous responses to stress. Plus it is an expectorant which brings relief from chest congestion from a seasonal cold or flu.
Recipe For Christmas Quickie
Ingredients:
15 drops of essential oil of star anise
6 drops lemon essential oil
6 drops frankincense essential oil
Preparation:
Dab some drops of this blend on the cloth
Clean the furniture surfaces of your room with this blend
You will get an immediate burst of PERFUME IN A PARTY.
Usage Tips
Optionally, you can also enjoy a 'relaxing bath' with a mix of these essential oils.
Sweet Orange Essential Oil
As you know, Christmas happens during the citrus (orange) season. It is said and believed that people gifted this delicious tropical fruit as a Christmas gift.
The rich scent of clove or cinnamon makes sweet orange a wonderful scent for holiday homes.
Sweet orange is known for its detoxification properties in the body. It also helps reduce the pain as a result of inflammation or swelling.
Recipe For Mulled Wine
Ingredients:
4 drops orange essential oil
4 drops mandarin essential oil
2 drops clove essential oil
2 drops cinnamon essential oil
Preparation:
Mix all the ingredients in honey
Add honey to it and mix it well
When the wine starts to boil, remove it from the flame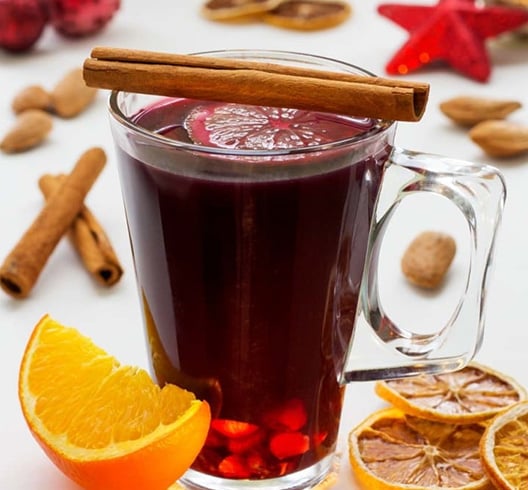 I hope you are reasonably charged and kicked by how you can use these essential oils to make homemade gifts this Christmas.
Did you LIKE or LOVE them?
Type your replies in the comments below.