Is it just six yards of cloth or yards of dreams that go into the making of a saree? Many adjectives are given to a saree. Yet how many of us know about the famous saree quotes given by the fashion fraternity and celebrities.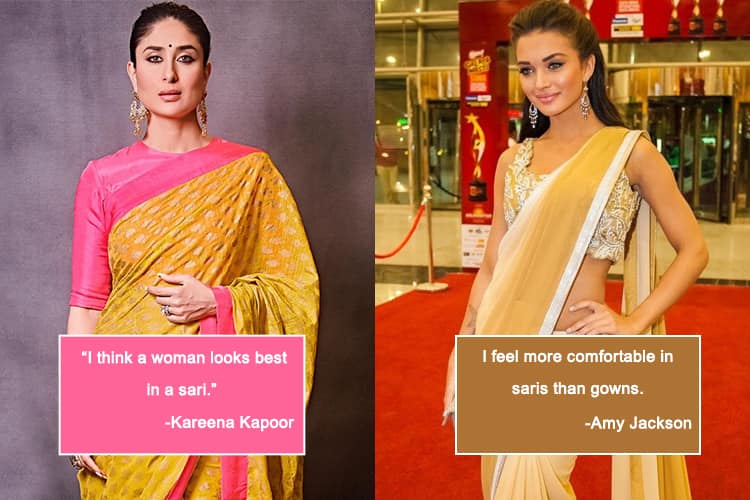 Well, get a cup of coffee as I take you through some lovely quotes on saris that will make us love and treasure the Indian attire all the more.
Want to sharpen your knowledge about the saree?
You will be surprised to know that the supermodel, actor, runner and a national-level swimmer Milind Soman has been in talks with a designer (Delhi-based) to come up with a 'running sari'. The concept behind it is that women who are interested in running but are not comfortable wearing shorts can have the option of donning a sari especially designed for the marathons.
What Saree love, I tell you?
Back to the quotes that express undying love for Saree!
List of Top 13 Saree Quotes By Celebs:
Check out our celebs announcing their love for the saree with full gusto:
1. Vidya Balan:
The powerful actress doesn't shy away from flaunting her curves in a sari. "I enjoy the sari. I think it's the sexiest garment ever. It shows you the right amount, it covers the right amount, it's extremely versatile, it suits every body type, it suits every face."
Another one from her:
"It's a most natural way for me. I can tell people I can run in a saree and I can do five sequences in a saree. I can romance in a saree and I can do everything in a saree. For me, it's a most versatile garment…it's extremely sensuous and at the same time it is strong, there is an elegance and at the same time, it teases your imagination…It's very powerful."
One thing is true – that not only is Vidya Balan a sincere and whole-hearted sari lover, she makes no bones about her passion and commitment to this Indian garment.
2. Bipasha Basu:
The actress is a true Bong at heart and for her sari love is first love. "If a girl wears a shirt and a skirt, does she become more sensuous? I think a girl in a sari is more sensuous than a girl in a skirt. In my opinion, a wet sari is the most sensuous."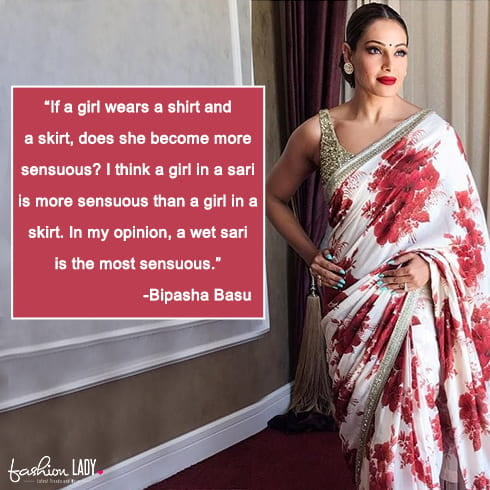 3. Gaurang Shah:
The designer feels that our celebrities have given the Indian handloom a fresh lease of life by choosing it as their go-to outfit for grand occasions. "Celebrity endorsement was absolutely what pushed the traditional handloom. In a country where we idolize celebrities, it was the best way to reach to the masses. But I have had celebrities who have come to me for the joy of wearing a saree. Kirron Kher started wearing my sarees when I wasn't even a 'designer' and she came back to me for the happiness she felt in my sarees." 
Do you know Gaurang's passion to promote traditional handlooms has driven him to collaborate with more than 700 weavers from all over the country? Guess his A-list clientele? It includes Vidya Balan, Sonam Kapoor, Shruti Hassan, Chitrangadha Singh, and Malaika Arora.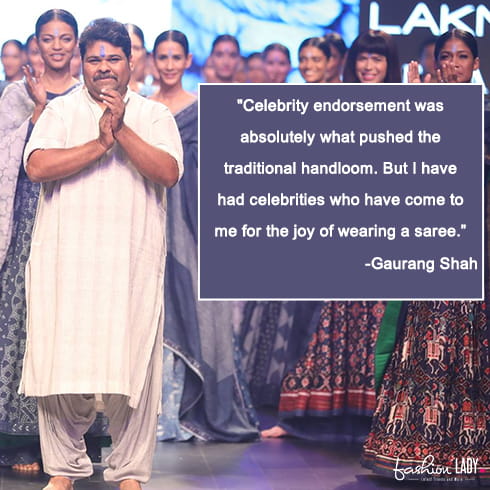 4. Amy Jackson:
The British actress is a desi diva at heart as she confesses, "I feel more comfortable in saris than gowns."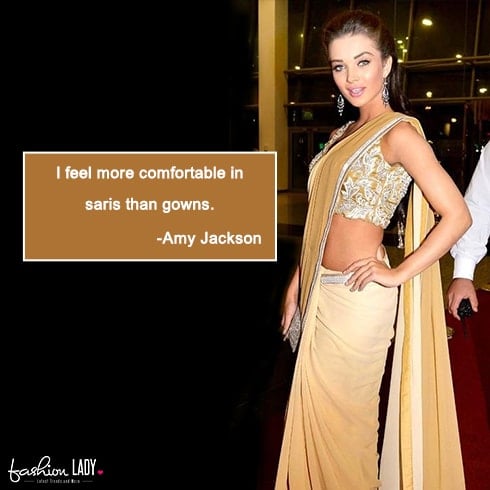 5. Sabyasachi Mukherjee:
The ace designer found himself in the eye of a storm when he took his sari love to the next level. The renowned couturier said in his speech at Harvard University's India Conference 2018 that "I think, if you tell me that you do not know how to wear a sari, I would say shame on you. It's a part of your culture, (you) need to stand up for it."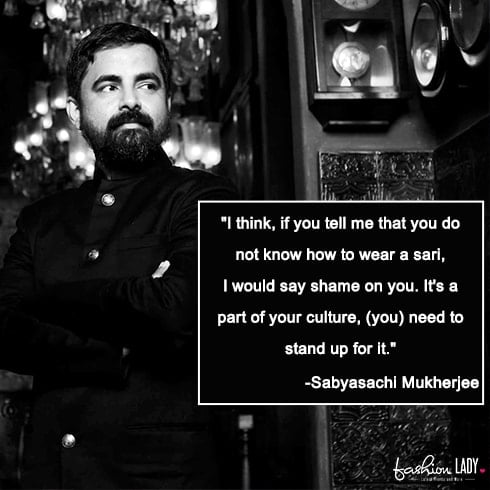 6. Rajesh Pratap Singh:
The award-winning veteran designer is truly patriotic as he says "For me, saree is the perfect Indian garment. I decided that if I have to design Indian clothes, it will start and end with sarees and here I am with this collection."
He feels that different types and forms of the sari celebrate the cultural diversity of our country. "I want every woman to have at least one saree in their wardrobe. In India, this beautiful garment has a special place. Like dialects, it changes from state to state and I wanted to bring four different techniques under one roof."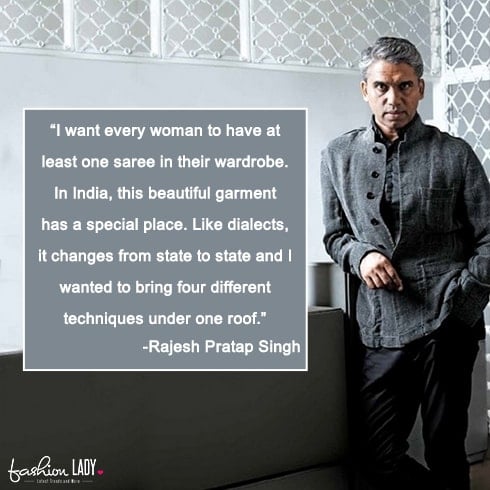 7. Rimzim Dadu:
Sari is not just a garment but a metaphor for the multi-tasking and multi-talented women of today. The designer says, "I feel women are strong and I feel the metal sarees, the steel wire sarees, are a good metaphor for strong yet sensitive."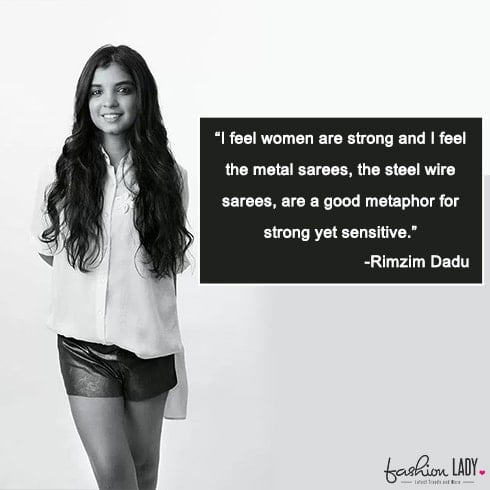 8. Kajol:
Sari is the hottest garment all Indian women swear by to up their sensual appeal. Ask the actor and she says, "That's what the sari is about. Everything is covered, yet a peep of an ankle can be a turn on for men."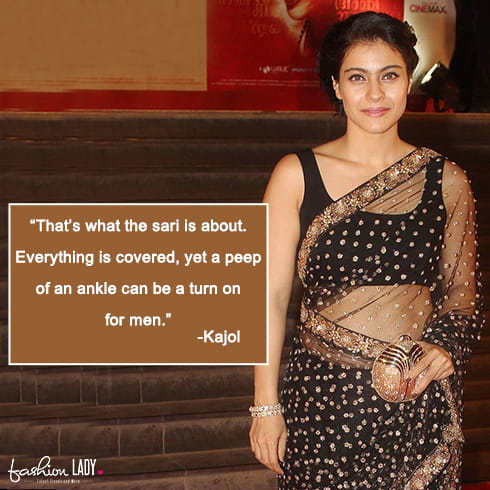 9. Shreya Ghoshal:
The songstress prefers to don the traditional attire while performing on stage. "I appreciate art in any form. So it applies to clothes as well. On stage, I think people prefer me in Indian outfits…in fact, it goes with the kind of songs I sing as well. Indianness in the form of a sari, or a chaniya choli or jeans with something interesting, matches my style of singing."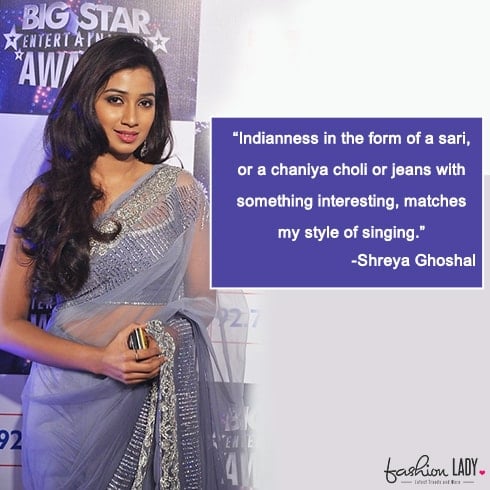 10. Kareena Kapoor:
The Begum of Pataudi is one of the most influential style icons in the country. She has the star appeal to add oodles of glam to any outfit she wears but she strongly opines "I think a woman looks best in a sari."
11. Sonakshi Sinha:
The Sinha girl like many young girls from her generation loves to sport the saree but confesses that she needs help in draping it gracefully. "To be very honest, I cannot drape a saree myself. I have never draped one on my own, ever. But it has been done on me so many times, that now I have memorized all the steps, and if someone challenges me, I will surely be able to do it."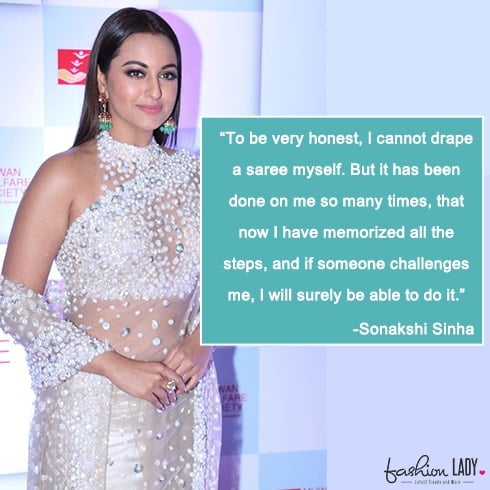 Perhaps she can take inspiration from her mom Poonam Sinha who always manages to look the epitome of elegance in a saree.
12. Lakshmi Rebecca:
The filmmaker finds the sari empowering, "[Saree] is a power suit. You walk into a room wearing a saree and you know what the men are talking about – it's a 'socio-psyche' thing."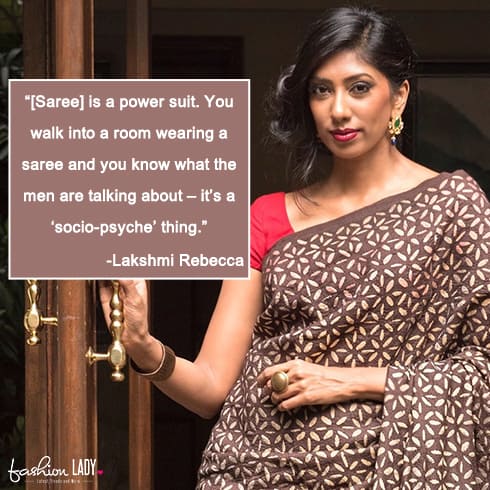 13. Shelina Zahra Janmohamed:
The British writer finds the traditional Indian outfit straight out of a fairy tale. "I longed even more to wear a sari which the women wore so elegantly and which flattered their curves."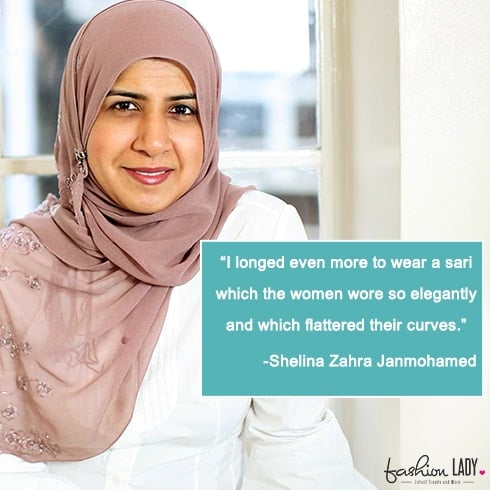 Hope you enjoyed reading our collection of saree quotes. Tell us how you found it and share your views on wearing the saree in the comments box below.