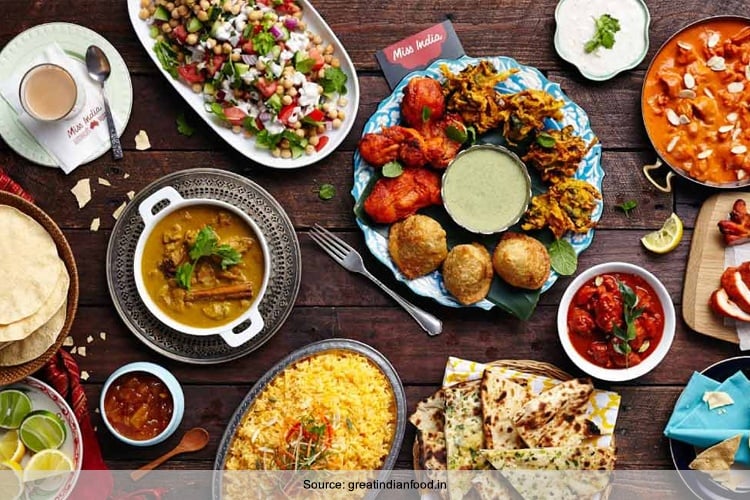 "There is no love sincerer than the love of food," George Bernard Shaw said. And we couldn't agree more, given the number of amazing cuisines out there.
Every region in India has its signature iconic cuisine, a meal that is best tasted in the land of its origin. Before escaping into your next food adventure trip, make sure you are ready with the list of what you would like to taste.
Top 30 regional food dishes in India for 2021
You can check out our list of top 30 regional food dishes below. Who knows, the cuisine itself may inspire your next vacation plan!
1. Kothimbir Vadi, Maharashtra
Kothimbir Vadi is originated from Maharashtra. It is prepared with a mixture of gram flour, coriander leaves, and sesame seeds. These fritters are usually taken as an evening snack with a cup of steaming tea or coffee. Kothimbir vadi is prepared in several ways but the popular method remains steaming. After cooking in steam, it is then sliced and fried. Do give it a try if you are in Maharashtra.
2. Undhiyu, Gujarat
Undhiyu is one of the nutritious traditional dishes of Gujarat and is prepared using an assorted selection of vegetables like eggplant, potatoes, green beans, peas, purple yam, and other seasonal veggies. These mixed veggies are then cooked in earthen pots upside-down. The veggies are heated from above to add a smoky flavor.
3. Royyala Vepudu, Andhra Pradesh
Royyala Vepudu (prawn fry) originates from Andhra Pradesh, a region associated with delicious shrimps. This dish is simple to prepare. The prawns are peeled and cooked at a low flame in turmeric powder, green chili powder, and ginger garlic paste. It is then sautéd in oil with green chillies, and ginger-garlic in a pan. The prawns are then added, followed by few spices. Next time you visit Andhra, make sure to taste this delectable prawn dish. Experience fried prawns like you have never tasted before.
4. Malpua, Madhya Pradesh
Malpua is India's version of pancakes. It is a popular dessert dish served in most Northern Indian states. It is prepared with flour; pan fried in ghee, and dipped in sugar syrup. This sweet dish is a version of pancake or bread and is mostly served during festive occasions. Malpua is also served in Orissa and Maharashtra. Another version of Malpua is the non-vegetarian treat made with mutton. This is famously served during festive month of Ramadan.
5. Muji Gaad, Jammu and Kashmir
Kashmiri Gaad is a fish dish prepared with radish or nadur. This dish is a combination of vegetarian and non-vegetarian food items with a blend of lotus stem and fish together. Alongside, the rich flavoring of herbs and spice will only add to its flavor. This dish is mostly served during Gaada Bata Festival in the month of December.
6. Fish Recheado, Goa
Goa is the ideal destination for people to chill. The place is also known for its exotic cuisines apart from the beaches. Talking of food, Recheado means 'stuffed' in Portuguese. It is a pomfret prepared with a recheado paste and is deep fried with onions. Try this next time you visit Goa.
7. Chicken Kabiraji, West Bengal
Chicken cutlets are a favorite for most of us. And so trying this Bengali made Kabiraji cutlet is a must. Savor this fried chicken cutlet mixed with minced chicken, eggs, ginger-garlic, and breadcrumbs.
8. Rasia, Bihar
The special type of kheer is exclusive to the grand and traditional Chhath Puja, and is an opulent affair of the food of Bihar. Rasia is famous for its festive touch and is equally delicious in taste. Another variant is made from popped fox nuts or makhana which is called makhane ki kheer and is only slightly sweet but quite rich.
9. Thekua, Jharkhand
Thekua must be on your list when you visit Jharkhand and Bihar. These sweet snacks are prepared during Chhath Puja as an offering to Sun God. These crunchy and crusty sweet snacks are worth every bite.
10. Kuzhi Paniyaram, Tamil Nadu
There is more for food connoisseurs to explore in Tamil Nadu apart from idlis and dosas. Another snack delight is Paniyaram which is a crispy bite prepared using leftover batter of idli or dosa. It is served with local chutneys and tea.
11. Panjiri, Punjab
Panjiri is a Punjabi specialty and is mostly served during winters to protect against cold. It has high nutritional values and is composed of whole-wheat flour, ghee, sugar, and dried fruit. It is best served with a glass of warm milk.
12. Tunde ke Kabab, Lucknow
Tunde ke Kabab is famous for its appetizing flavor consisting of over 150 different spices. The kebabs are prepared from buffalo meat or chicken or mutton variations. The kebabs at the popular shop by Haji Murad Ali follow a closely guarded secret family recipe. So to say, the women in the family prepare a special masala for the kebabs using over 160 different spices. It is prepared in 20-30 batches in ghee. It is also a popular stop for celebrities including Shah Rukh Khan. So the next time you pay a visit to Lucknow, make sure you do not miss out these!
13. Beef Roast and Parotta, Kerala
Beef is a specialty amongst the Malayalee people in Kerala. Cooked in freshly grounded spices, these beef pieces give out a rich aromatic flavor. The Kerala Parotta is layered bread prepared from plain flour, oil, and eggs. Relishing the beef roast with the Kerala parotta is very easily a delight for all.
14. Rogan Rosh, Kashmir
With roots in Persian cuisine, this rich succulent lamb curry is relished by all. The curry is comprised of multiple spices, ginger and garlic, and tomatoes. You might have other food delectable's on your list while in Kashmir, but you should not miss out the Kashmiri rendition of Rogan Rosh.
15. Haanh Aaru Maha, Assam
The food in Assam is distinct for its use of mustard oil paste, paanch phoran, potatoes, tomatoes, and spinach. A traditional Assamese meal starts with a khar, which is a pulpy vegetable curry made with ash filtrates and burnt dried fiber of banana peels added to tenga (sour) curry prepared with dal or fish. One particular dish that you should try out in Assam is haanh aaru maha. This is a mouth-watering duck dish cooked with lentils which can leave a lasting impression on your taste buds.
16. Sha Balep, Sikkim
Many relate momos and thupka to Sikkim cuisine, which is not wrong. But there is more to their food culture. The main staple in Sikkim is the soya bean used it all forms: roasted, fried, fermented, and toasted. Other popular ingredients include chhurpi (fermented cow milk cheese), chillies, gehu (yak ghee), and dri butter. One of their distinctive dishes is sha balep, a stuffed pie which is similar to samosa and momo. This is a great breakfast treat best served with dal or spicy stew.
17. Ironba, Manipur
Manipuri cuisine offers maximum variety of dishes in the Northeast. And Ironba is one of their many items of food. It is a healthy dish comprised of mashed potatoes, peas, chilly, and fermented fish. This nutritious dish is perfect with both rice and Manipuri millet bread.
18. Bamboo shoot with Pork, Nagaland
One thing you shouldn't miss out in Nagaland is pork with bamboo shoots. This simple dish is known for its three distinctive flavors-ghost chillies, chili paste, and fresh ginger garlic paste. Just these three ingredients make up this particular Naga food repertoire. There are few tweaks in the kind of ingredients used by different tribes. For instance, pork curry is also made with fermented akhuni (soy bean) and anishi (dried yam leaves), apart from bamboo shoot.
19. Sanpiau, Mizoram
Mizo cuisine is mostly comprised of local herbs and spices like pepper, cinnamon, and cardamom. Most of their cooking items are oil free and normally consist of sa-um (fermented pork fat) used as a flavorant. Sanpiau is another item that comes as a rich porridge combined with fresh coriander paste, spring onions, powdered black pepper, powdered rice, and fish sauce.
20. Jadoh, Meghalaya
Meghalaya-home to the Khasi, Jaintia, and Garo tribes carries distinctive food homage of their own. They mostly make use of simple ingredients like sesame seeds, rice beer, dried fish, and smoked meat for preparing their meals. One popular Khasi dish includes jadoh which is a rice based dish. It is prepared with pale red colored low gluten rice found in Meghalaya. Jadoh is almost oil-free and cooked with ginger garlic paste, turmeric, and black pepper. It is then served with pork. There is also a vegetarian version of jadoh comprised of potatoes, tomatoes, and other veggies.
21. Misa Mach Poora, Arunachal Pradesh
The cuisine is Arunachal Pradesh is varied and is strongly dominated by Monpa cuisine. Other distinctive ingredients popularly used are maize, yak cheese, and yak meat. Besides that Misa Mach Poora is another of their famous dish combined with thinly cut veggies and prawns. Do try this dish on your next visit to Arunachal Pradesh.
22. Bhangui, Tripura
The cuisine in Tripura is organic and fresh with rich flavoring of herbs and spices. Much the rest of their neighboring regions, fish, meat, and rice are the main delicacies here. Mosdeng serma, kosai bwtwi, and chauk are few of their signature dishes. When you visit Tripura next, be sure to taste all these delicacies including Bhangui which is a sticky rice preparation. The rice used in bhangui is sundried and prepared with ginger, garlic, and onion. It is then wrapped and served in banana leaves. Bhangui is popularly served with fish and meat dish.
23. Vada Pav, Maharashtra
Vada Pav is the ideal street snack food that is up for grabs in Maharashtra. It features a pav stuffed with spiced fried vada (potato) served with coriander chutney and garlicky masala. It is the instant go-to food and remains a favorite amongst the regional dishes of India.
24. Bisi bele bath, Karnataka
Bisi bele bhath is a sour and tangy dish famously served in Karnataka. It is prepared from rice, veggies, curry leaves, and tamarind pulp. This nutritious packed meal is served with curd and papad.
25. Hyderabadi Biryani, Andhra Pradesh
A must-try dish in Andhra Pradesh remains the Hyderabadi Biryani. It has its own unique mode of preparation and special ingredients. There is a significant amount of meat (beef or chicken), onions, yogurt, and spices mixed with the rice.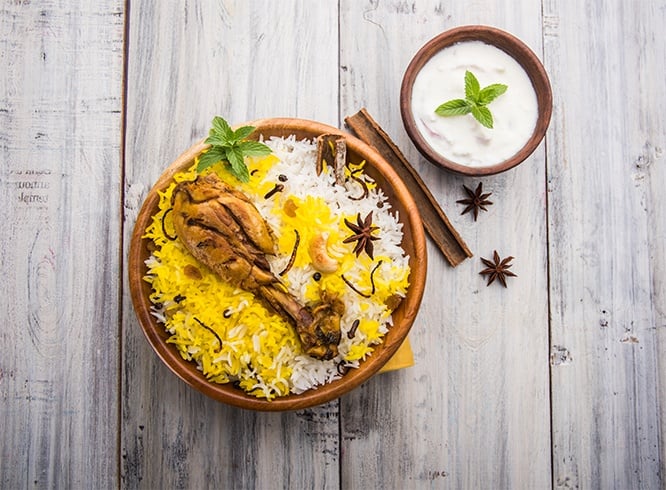 26. Bidiya, Chattisgarh
Bidiya is special rice and wheat based dish served in Chattisgarh. It comes in a small rectangle shape and is deep fried. It is then coated with sugar syrup for a distinctive taste.
27. Bajre Ki Khichdi, Haryana
This is a clever version of khichi served in Haryana. The mixture of bajra instead of rice and other pulses gives out a rich burst of flavors. It also makes for a nutritious meal. Do give this a try when on a visit to Haryana.
28. Patande, Himachal Pradesh
Patande is an Indian style pancake prepared from whole wheat flour and sprinkled with chilli flakes. This regional food specialties is a must try when you visit Himachal.
29. Murg Saagwala, Odisha
Murg Saagwala cuisine is not to be missed out on when on a trip to Orissa. This chicken curry is combined with a huge flavoring of spinach. The combination of chicken and spinach will take you on a soulful culinary journey.
30. Golichina Mamsam, Telangana
Golichina Mamsam is a mutton cuisine prepared with local spices. It is a spicy meal best served with rice, paratha, and dosas. If you crave for fiery meals, then this can satisfy your taste buds.
So you see every region is a gourmet destination for all food lovers. Amidst this sea of options, do you have a favorite? Do write in to us and share your food journey.