How do you fuel and power your diva-like day? Just with a glass of milk, few meals, some fruits, and fast food snack items. Don't you think you need the right amount of protein powder to aid your weight loss, muscle gain, and improve your athletic performance? With the 7 best protein powder for women listed below, your wishes will now be granted.
First, I will clarify the air on protein powder for women. Those of you who think that protein powders are associated with sportsmen are right. However, they are fast becoming popular among health-conscious women too. You will be surprised to learn that protein powders are now being marketed specifically to and for women.
So, cheers to protein powders for women's health!
Benefits Of Consuming Protein Powder
Oh, there are many!
Whey Protein is the best and the most popular protein powder in the world.
The protein powder benefits can ideally be summed up as the following:
Promotes muscle growth
Lowers cholesterol levels
Helps control blood pressure
Regulates blood sugar levels
Controls hunger pangs
Aids in reducing inflammation
Helps manage inflammatory bowel disease
Strengthens the body's antioxidant defense
Helps you lose weight
Amazed, right?
The next section helps us identify the best protein powders for women.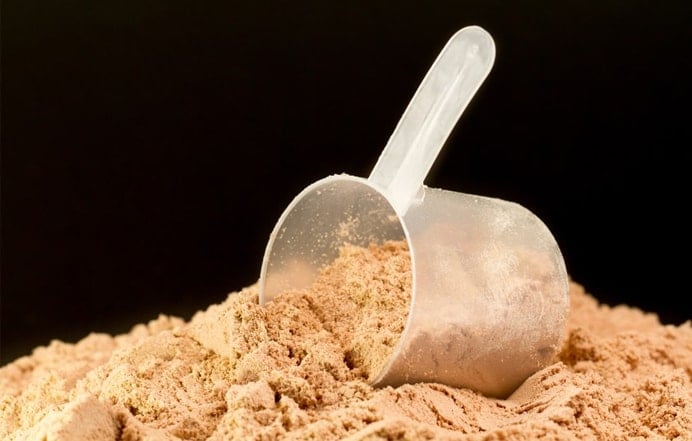 Top 7 Protein Powders For Women in 2021
As mentioned above, the most common protein powder is 'Whey Protein'. But since it has a dairy- origin it may not be the best option for those who follow a vegan or dairy-free diet. Worry not. They can go for formulas that use vegetables (peas, greens, and more) to increase their protein intake. Apart from whey protein and vegan items, there are some protein powder options in between.
While choosing protein powders for women, you have to decide between the taste and your dietary preference. Here are the best protein powders for women to buy – ranging from muscle building protein powders to super green meal replacements.
1. Bodylogix Natural Grass-Fed Whey Protein Powder:
Voted: 'Best Overall'
Product Features:
Sourced from grass-fed cows
It contains 100% whey protein
Provides 24g of protein per serving
Has no artificial colors, flavors or sweeteners
Gluten-free and non-GMO
Produced in a peanut-free facility
Available in multiple sizes including 1.6lb, 1.85lb, and 4lb.
Flavors offered: Caramel Chocolate, Decadent Chocolate, Unflavored, Vanilla Bean, and Snickerdoodle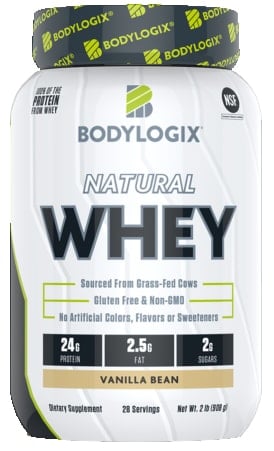 2. FitMiss Delight Protein Powder:
Voted: 'Best for Weight Loss'
Product Features:
Boosts your weight loss needs
Is a vegetable-based protein supplement its ingredients include flaxseed, broccoli, spinach, etc.
This is one of the best protein powders for women has Solathin®, a vegetable-based protein clinically proven for controlling appetite
A unique blend of fruits and vegetables which help you feel full faster
Provides 16g of protein per 1 scoop
Gluten-free and low carb
Contains Milk and Soy
Available in flavors like Cappuccino, Chocolate Delight, Vanilla Chai, Blue Raspberry, Strawberry Margarita, and Fruit Punch
3. Klean Athlete Klean Isolate:
Voted: 'Best for Athletes'
Product Features:
Best protein powder for women athletes
The whey protein in it provides the much-needed amino acids for muscle building
Can be digested easily
Replenishes you with electrolytes (i.e. sodium and potassium) after a major sweat session
Can be mixed with sports drinks, juices, smoothies or food.
Contains NO artificial sweeteners
Provides 20g of protein per 1 scoop
Contains NO yeast, wheat, gluten, soy, corn, starch, artificial coloring, artificial preservatives, artificial flavoring
Flavor options include: Chocolate, Vanilla, Original
4. Garden Of Life Raw Organic Fit High Protein For Weight Loss:
Voted: 'Best Vegan' protein powder option
Product Features:
Best bet for a vegan lifestyle
Sources of protein include peas, seeds, legumes, and sprouted organic greens.
Great for pre- or-post-workout
 Has organic Ashwagandha to control cortisol levels (which add to belly fat) and curb stress-related eating disorders.
Also, has Svetol Green Coffee Bean Extract that helps burn body fat
Certified USDA Organic, Non-GMO Project Verified, Certified Vegan, Kosher Certified, Dairy-free, Soy-free
Provides 28g of protein per 1 scoop
Flavor options include: Chocolate, Vanilla, Coffee, Original
5. Julian Bakery Paleo Egg White Protein Powder:
Voted: 'Best Egg-Based' protein powder
Product Features:
It is a Soy-free Egg White Protein
It has two ingredients: Egg White Powder and Sunflower Lecithin
Makes superb shakes!
Provides 25g of protein per 1 scoop. Egg whites added in it are of the highest grade
Flavors available are: Chocolate, Double Chocolate, Espresso, Vanilla, Vanilla Nut, Blueberry Tart, Cinn Roll, Coconut Cream, Glazed Donut, Plain, Unflavored Egg White
To enjoy one of the top protein powders in the best way, mix it with coconut milk or almond milk. You can also add it to your muffin and cookie mix to up your protein intake in a delicious way.
6. NAKED RICE – Organic Brown Rice Protein Powder:
Voted: 'Best Brown Rice Protein'
Product Features:
100% Organic Sprouted Brown Rice Protein
Perfect for vegan girls
Contains no artificial sweeteners, flavors, or colors
GMO-free, Soy-free, and Gluten-free.
Provides 25g of protein per 2 scoops
7. Optimum Nutrition Gold Standard 100% Casein Protein Powder:
Voted: 'Best Casein'
Product Features:
The casein in this protein powder for women boosts muscle rebuilding and aids weight management by keeping you fuller for longer
Provides women 60 percent of their daily amount of calcium
Flavors available include: Natural French Vanilla, Creamy Vanilla, Chocolate Peanut Butter, Chocolate Supreme, Natural Chocolate Creme, Cookies and Cream
Drink it before bed or between meals
Provides 24g of protein per 1 scoop.
How To Consume Protein Powders?
Either mix it with water or milk or add it to smoothies and yogurts.
The recommended dosage is 25-50 grams per day (meaning 1-2 scoops). Ask your doctor or nutritionist before adding protein powders to your health regimen. They are the best people to give you dosage instructions.
So which of these best protein powder for women do you want to try and why? Have you tried any protein powder before? Feel free to share your feedback and opinion with us.