Have you heard that beauty is skin deep? You will be surprised to know that the best-known names from the world of glamour do not believe so! Curious? Read our post to know about the top 25 beauty quotes of all times that redefine beauty and are truly inspiring!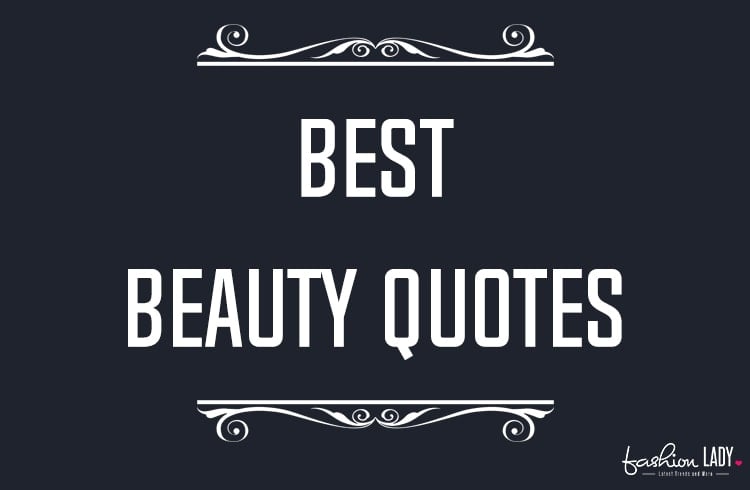 List Of Top 25 Beauty Quotes Of All Times
Here's our collection of the most memorable beauty quotes. Enjoy!
1. Marilyn Monroe:
She is an American actress, model, and singer who is to this day remembered for the 'blonde bombshell' characters she played. Marilyn is one of the most popular sex symbols of the 1950 whose only rivals in terms of popularity were Mickey Mouse and Elvis Presley.
MM feels…
"Imperfection is Beauty, madness is genius and it's better to be absolutely ridiculous than absolutely boring."
Just goes to show how bold and beautiful Marilyn Monroe was in real life too!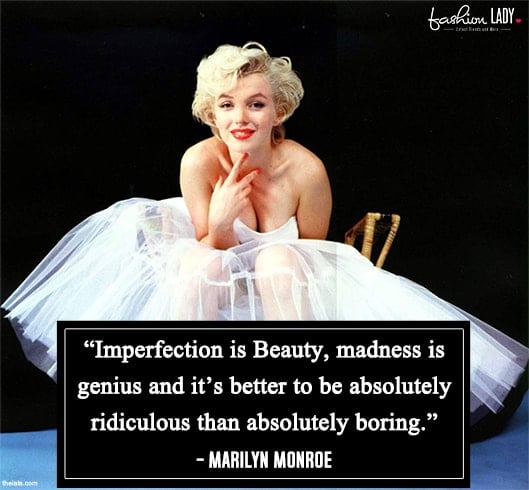 2. Sophia Loren:
Italian film actress and singer Sophia Loren enrolled in acting lessons after entering a beauty pageant. She started her film career at the age of 15. She created history as the first actress to win an Oscar for a performance in a foreign-language film. She is also a talented piano player.
Loren's words are one of the most inspiring quotes about beauty:
"Beauty is how you feel inside, and it reflects in your eyes. It is not something physical."
Hats off to you Ms. Loren for having voiced this million-dollar thought!
3. Coco Chanel:
The French fashion designer and a businesswoman, Coco Chanel is the only fashion designer to make it to TIME magazine's list of the 100 most influential people of the 20th century. Her couture clothing to fragrance, jewelry, and handbags are nothing less than assets for an average Jane to an A-lister.
This is one of the top beauty quotes from her and it is truly award-winning:
"Nature gives you the face you have at twenty; it is up to you to merit the face you have at fifty."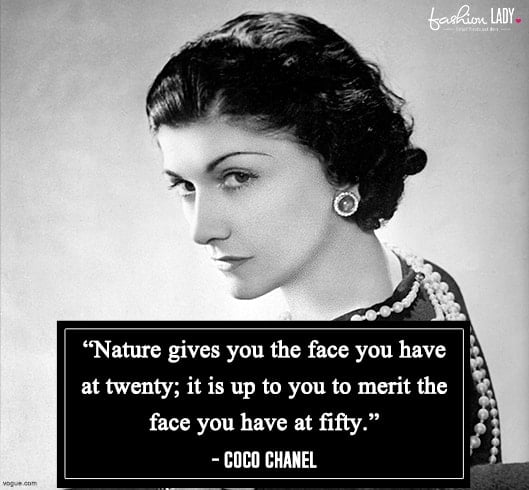 4. Gwyneth Paltrow:
Slurp slurp! Because here comes an American actor and singer who is a food writer of two cookbooks. Gwyneth has been the face of Estee Lauder's 'Pleasures' Perfume since 2005.
Gwyneth's beauty related quotes have a touch of adventure. Read the one below:
"Beauty, to me, is about being comfortable in your own skin. That, or a kick-ass lipstick."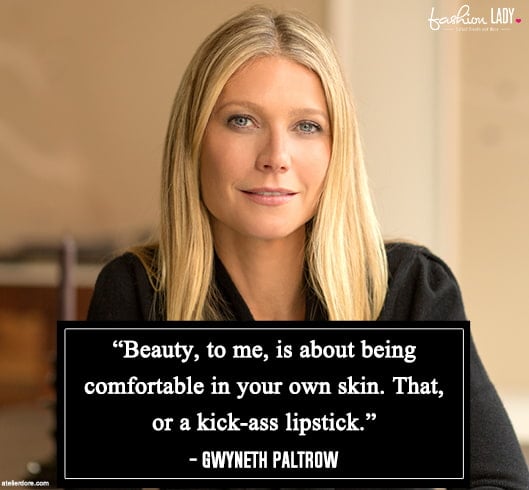 5. Karl Lagerfeld:
Born in Germany, and based in Paris, Karl Otto Lagerfeld wears many hats. He is an artist-cum-creative director of the fashion house Chanel and the Italian brand Fendi. White hair, black sunglasses, and highly starched collars are his fashion-must haves.
There is some method in the madness according to Karl's beauty related quote.
"I don't like standard beauty. There is no beauty without strangeness."
6. Salma Hayek:
Whoever is not a fan of Mexican and American film actress Salma Hayek seriously has not seen beauty in its full form. It seems God worked overtime in sketching out Salma's chiseled looks and sculpted body.
SH's take is one of the most self-loving quotes about beauty:
"People often say that beauty is in the eye of the beholder, and I say that the most liberating thing about beauty is realizing you are the beholder."
7. Rashida Jones:
This American actor cum singer has starred in the NBC comedy series Parks and Recreation for which she won critical acclaim. And her beauty related quotes?
"Smiling is definitely one of the best beauty remedies. If you have a good sense of humor and a good approach to life, that's beautiful."
[Also Read: Best Fashion Quotes]
8. Laetitia Casta:
She is the GUESS? Girl – who became Victoria's Secret Angel from 1998 to 2000.
She offers one of the top beauty quotes of all times:
"Real beauty is to be true to oneself. That's what makes me feel good."
9. Christy Turlington:
When you know, she represents Maybelline, you will love her all the more. Christy is an American model who also did Calvin Klein's Eternity campaign in 1989 and 2014.
Christy offers us one of the simplest beauty related quotes:
"I sincerely feel that beauty largely comes from within."
10. Zoe Kravitz:
American actress, singer, and model Zoe Kravitz is the daughter of musician Lenny Kravitz and actress Lisa Bonet. What does she feel about beauty?
"Beauty is when you can appreciate yourself. When you love yourself, that's when you're most beautiful."
11. Miranda Kerr:
The first Australian to become a Victoria's Secret Angel is gushing with pride on having delivered a baby on the 9th of May, this year. This beauty gives us one of the loveliest beauty related quotes:
"A rose can never be a sunflower, and a sunflower can never be a rose. All flowers are beautiful in their own way, and that's like women too. I want to encourage women to embrace their own uniqueness."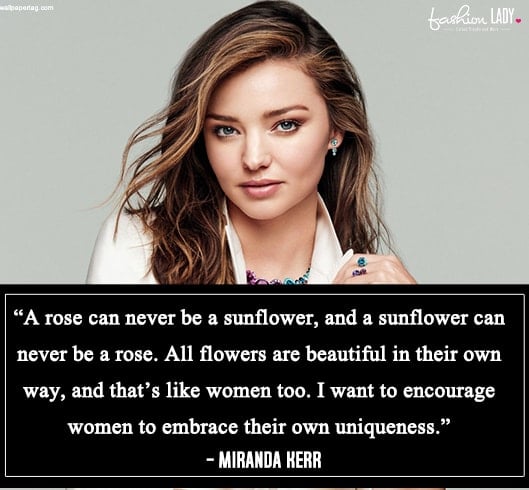 12. Confucius:
Being China's most famous teacher and philosopher did not stop Confucius from saying something very valid on the concept of beauty:
"Everything has beauty, but not everyone sees it."
Kudos to him for giving us yet another pearl of wisdom.
13. Henry Rollins:
This American musician, actor, writer, TV and radio host has added a different dimension to the definition of beauty:
"Loneliness adds beauty to life. It puts a special burn on sunsets and makes night air smell better."
14. Eleanor Roosevelt:
Former First Lady of the United States saw beauty on a philosophical level.
"The future belongs to those who believe in the beauty of their dreams."
Certainly makes as one of the top beauty quotes.
[sc:mediad]
15. Menachem Begin:
What does an Israeli politician, founder of Likud and the sixth Prime Minister of Israel Menachem Begin feel about beauty?
"Peace is the beauty of life. It is sunshine. It is the smile of a child, the love of a mother, the joy of a father, the togetherness of a family. It is the advancement of man, the victory of a just cause, the triumph of truth."
Best beauty quotes, this is in letter and spirit.
16. John Ray:
An English naturalist who has written important works on zoology, botany and natural theology takes beauty to a new level (with not a whiff of science in it).
"Beauty is power; a smile is its sword."
17. Audrey Hepburn:
Movie buffs can never have enough of the successful actress-and-fashion icon Audrey Hepburn who was inducted into the International Best Dressed List Hall of Fame.
Audrey gave the best beauty quotes ever:
"For beautiful eyes, look for the good in others; for beautiful lips, speak only words of kindness; and for poise, walk with the knowledge that you are never alone."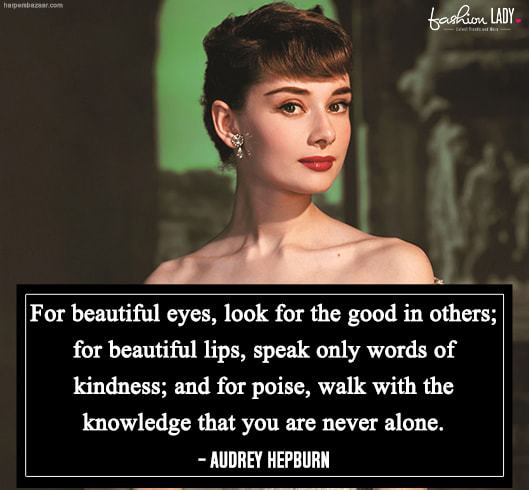 18. Joan Rivers:
When the American stand-up comedian says this, you need to bow down:
"The ideal beauty is a fugitive which is never found."
One of the most profound quotes about beauty!
19. Ellen DeGeneres:
The American comedian sums up beauty nicely:
"Beauty is about being comfortable in your own skin. It's about knowing and accepting who you are."
I wish all of us would follow one of the wisest beauty related quotes.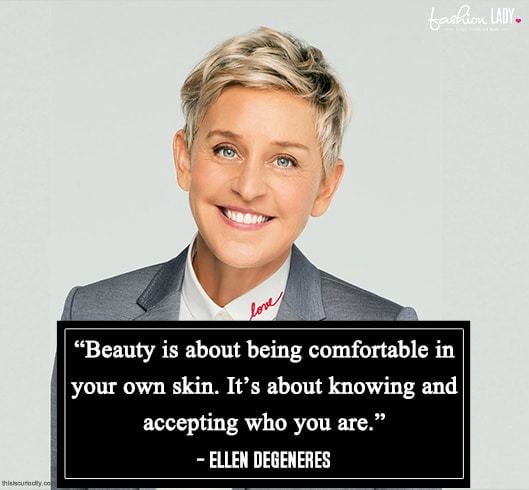 20. Kate Winslet:
The super gorgeous Kate Winslet has won Grammy, Emmy, and Academy awards for her stellar performance in the epic film Titanic. Her quote about beauty links it directly with confidence:
"I'm baffled that anyone might not think women get more beautiful as they get older. Confidence comes with age, and looking beautiful comes from the confidence someone has in themselves."
21. Geena Rocero:
Filipino American supermodel, TED speaker, and transgender advocate, Geena Rocero's quotes about beauty are truly authentic in depth and expression. Here is one of her best:
"When a person has gone through the journey of finding and pursuing their most authentic self and shares that gift, for me, that's beautiful."
22. Denise Bidot:
A plus-size fashion model who has walked the runway for New York Fashion Week defines beauty in a unique way:
"Beauty is being happy in your own skin. I think for so long, women have been programmed to believe beauty is only being skinny, but these days, beauty has so many faces, and I love it. It's so refreshing to have diversity in the pages of fashion magazines and all over the entertainment industry."
23. Philomena Kwao:
This British-Ghanian model is plus-size and black. She is proud of her Ghanian heritage as she loves to wear her natural hair and flaunt her ebony skin tone.
"I believe I'm beautiful because I'm me. I also believe that if you can find beauty in everything, you can allow that to change your mindset, and doing so makes you a happier person."
24. Ralph Waldo Emerson:
An American essayist, lecturer, philosopher, and poet Ralph Emerson's quotes about beauty are an artistic take on it. Here is one of them:
"Love of beauty is taste. The creation of beauty is art."
25. Scarlett Johansson:
American actress and singer Scarlett Johansson who has made several appearances in the list of Forbes Celebrity 100 does not believe in plastic surgery. Her take on beauty is out-of-the-ordinary.
"I find beauty in unusual things, like hanging your head out the window or sitting on a fire escape."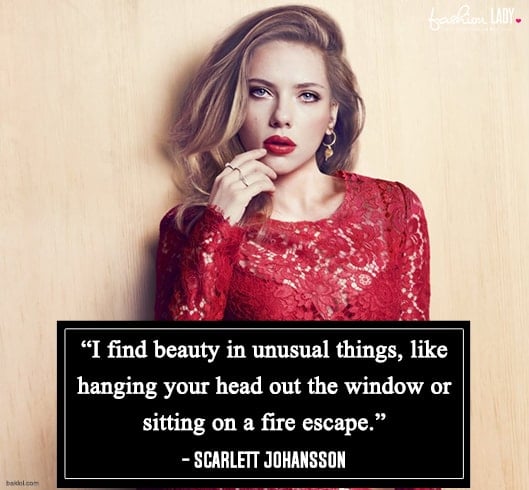 So which of the above beauty quotes (and how many) do you love and agree with? Share your comments with us and share this post on your social network as well.