Mother's day is one day of the year when you feel closest to your mom. You see her as your best friend and confidante, someone you have always turned to for love, advice, and care.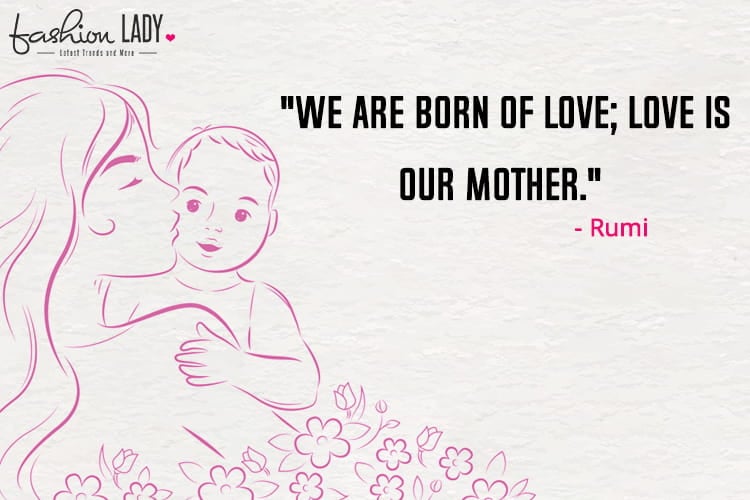 How will you show your Mumma how much you care about her? Roses, cards, and gifts are the most obvious choices for Mother's Day. You should surely pursue them. But it is time to think, how you can make her feel MOST special? Try sending her a hand-written note with your favorite Mother's Day quotes.
Don't panic. We will help you pick a memorable quote for your mom. One thing is for sure- your mom deserves all the kind and heartfelt words on Mother's Day.
List of Best 40 Best Mother's Day Quotes:
So here are some of the best Mother's Day quotes – some caring, some sweet, and lots more that are perfect for the lady who brought you into this world. Enjoy reading and share!
1. George Eliot:
The British writer celebrates a mother and child's eternal bond as she says
"Life began with waking up and loving my mother's face."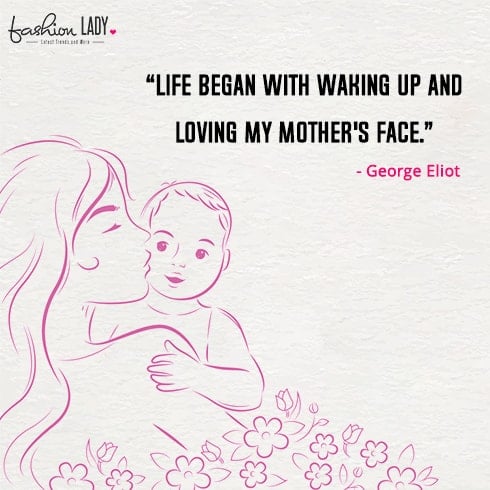 2. Abraham Lincoln:
The American statesman was a mamma's boy at heart. As he acknowledged,
"All that I am, or ever hope to be, I owe to my angel mother."
3. Agatha Christie:
The mystery queen also fell short of words to describe maternal love as she said,
"A mother's love for her child is like nothing else in the world."
4. Lady Gaga:
The avant-garde pop icon toed the conventional line while acknowledging her mom's contribution as she said,
"Acceptance, tolerance, bravery, compassion. These are the things my mom taught me."
5. Leonardo DiCaprio:
The Hollywood heartthrob worships his mom as he says,
"My mother is a walking miracle."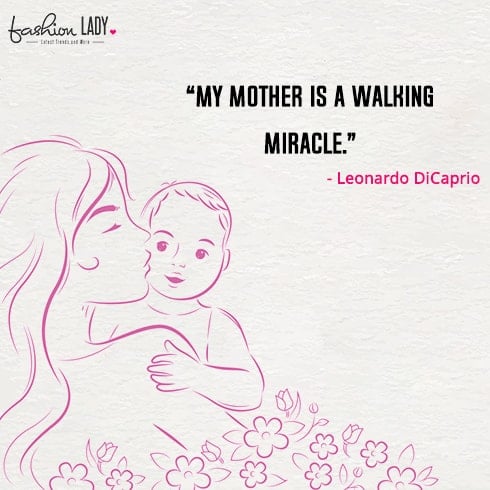 Hey, that one was one of the few short Mother's Day quotes for you.
6. Spanish Proverb:
A mother's unconditional love has been celebrated universally since time immemorial. Don't' believe us, read this proverb straight from Spain,
"An ounce of mother is worth a ton of priest."
7. Sophia Loren:
The multi-talented diva truly voiced her maternal emotions when she confessed,
"When you are a mother, you are never really alone in your thoughts. A mother always has to think twice, once for herself and once for her child."
8. Oprah Winfrey:
The media giant nailed it when she said,
"Biology is the least of what makes someone a mother."
9. Jodi Picoult:
The American author believes that a mother's unconditional love and care can miraculously heal heartache and that is why she feels,
"The best place to cry is on a mother's arms."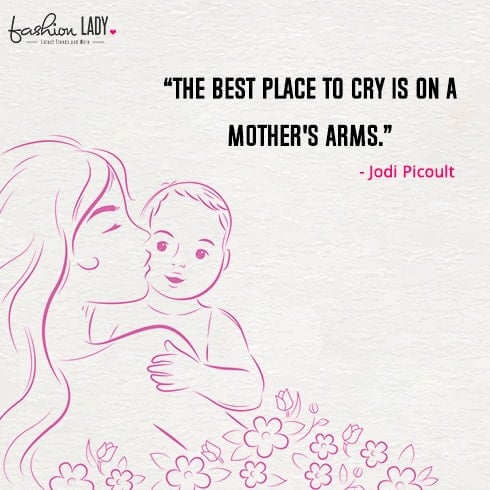 Awww…this is so senti and touching. Did it happen to you (and how many times)? Tell us.
10. Stephen King:
The author of science-fiction novels, recalls,
"My mother was a reader, and she read to us. She read us, Dr. Jekyll and Mr. Hyde when I was six and my brother was eight; I never forgot it."
11. Dorothy, The Golden Girls:
The toughest job in the world is that of being a mom. The popular sitcom character states,
"It's not easy being a mother. If it were easy, fathers would do it."
Very true, this is!
12. Cindy Crawford:
A mom's smile is always infectious and it can definitely cheer up her kids. The supermodel gives due credit to her mom for upping her happiness quotient as she was the one who advised her, 'You'd rather have smile lines than frown lines.'
Point taken, Cindy…
13. Kate Hudson:
The American actress can't stop gushing over her mother's limitless love as she states,
"[What's beautiful about my mother is] her compassion, how much she gives, whether it be to her kids and grandkids or out in the world. She's got a sparkle."
14. Emma Stone:
The Hollywood star confesses that her mom has always been her pillar of support. She says,
"My mother has always been my emotional barometer and my guidance. I was lucky enough to get to have one woman who truly helped me through everything."
This Mother's Day quotes from daughter is so similar to ours, don't you think?
15. Gwyneth Paltrow:
A mother can relive her innocence, fun, and childhood bliss with her children. The actress gives us a glimpse of her mischievous side as she states,
"[When] you're dying laughing because your three-year-old made a fart joke, it doesn't matter what else is going on. That's real happiness."
I will call this as one of the top funny Mother's Day quotes.
16. Maxim Gorky:
The Russian writer painted a utopian image of mothers as he said,
"Only mothers can think of the future – because they give birth to it in their children."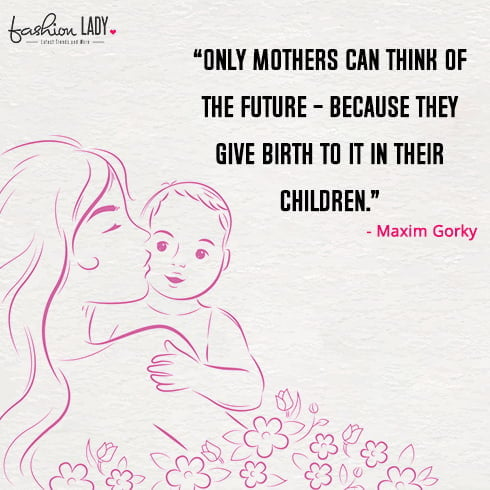 17. Charlotte Gray:
The famous literary character paid homage to a mother's empathetic nature as she said,
"Becoming a mother makes you the mother of all children. From now on each wounded, abandoned, frightened child is yours. You live in the suffering mothers of every race and creed and weep with them. You long to comfort all who are desolate."
18. Rumi:
His poetic take on motherhood is sheer magic as he says,
"We are born of love; Love is our mother."
19. William Makepeace Thackeray:
The British novelist idolized mothers all over the world as he said,
"Mother is the name for God in the lips and hearts of little children."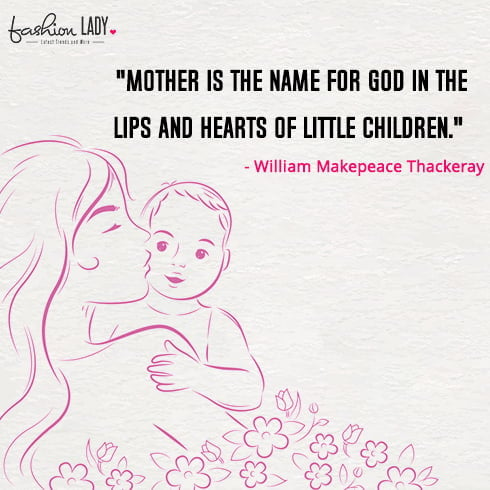 20. Mitch Albom:
In a touching tribute to a mother's love, the journalist said,
"When you look into your mother's eyes, you know that is the purest love you can find on this earth."
21.Cardinal Mermillod:
The spiritual head also acknowledged the indispensable role of a mother as he said,
"A mother is she who can take the place of all others but whose place no one else can take."
22. JK Rowling:
As an ode to the intensity of mother's love, the British writer penned,
"He didn't realize that love as powerful as your mother's for you leaves its own mark."
23. Unknown:
A mother is our friend, philosopher, and guide always and this anonymous quote just celebrates her as it states,
"If at first, you don't succeed, try doing it the way mom told you to in the beginning."
24. Sophie Kinsella:
The writer acknowledges the solace a mother's love can give when she says,
"There's nothing like your mother's sympathetic voice to make you want to burst into tears."
25. Honore de Balzac:
The French litterateur celebrated a mother's timeless love when he wrote,
"A mother's happiness is like a beacon, lighting up the future but reflected also on the past in the guise of fond memories."
26. Dorothy Canfield Fisher:
The author feels a mother can inspire her children to scale great heights as she says,
"A mother is not a person to lean on, but a person to make leaning unnecessary."
27. Oliver Wendell Holmes:
A mother's love is everlasting as he says,
"Youth fades; love droops; the leaves of friendship fall; A mother's secret hope outlives them all."
28. Rudyard Kipling:
The writer talks about the omnipresent nature of mothers as he says,
"God could not be everywhere, and therefore he made mothers."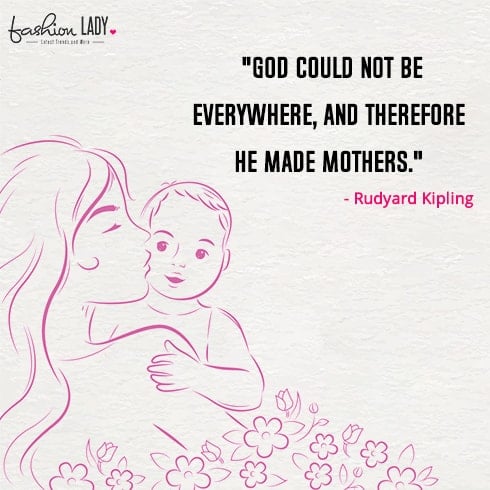 29. Barbara Kingsolver:
A mother's love is all-powerful as the poet writes,
"Sometimes the strength of motherhood is greater than natural laws."
30. Harriet Beecher Stowe:
This one is one of the sweet and short Mother's Day quotes:
It's a philosophical take on mother's love as it states,
"Most mothers are instinctive philosophers."
31. Leroy Brownlow:
His take on maternal love is rather overwhelming as he states,
"Mother is the heartbeat in the home; and without her, there seems to be no heartthrob."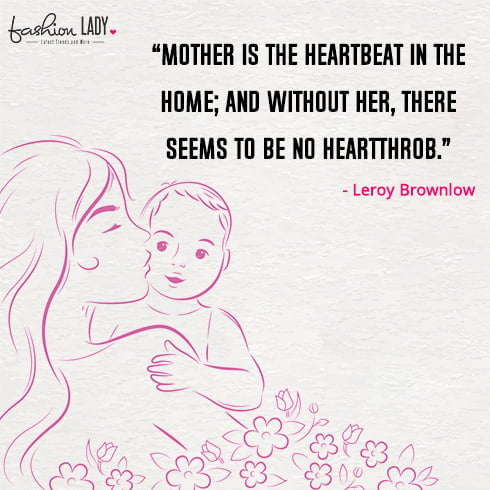 Aw…how poetic!
32. Mahatma Gandhi:
One of the greatest Indians ever said,
"It may be possible to gild pure gold, but who can make his mother more beautiful?"
33. Susan Gale:
The author feels,
"Mothers are like glue. Even when you can't see them, they're still holding the family together."
34. Mildred B. Vermont:
The entrepreneur is clearly a doting mom as she concedes,
"Being a full-time mother is one of the highest salaried jobs since the payment is pure love."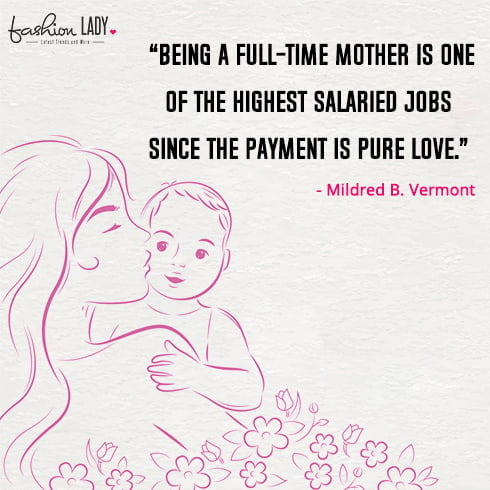 35. Victor Hugo:
The French poet celebrates the love and care of mothers as he says,
"A mother's arms are made of tenderness and children sleep soundly in them."
36. Jamie McGuire:
The author talks about the omnipotent force that maternal love is,
"A mother's love is everything. It is what brings a child into this world. It is what molds their entire being. When a mother sees her child in danger, she is literally capable of anything. Mothers have lifted cars off of their children and destroyed entire dynasties. A mother's love is the strongest energy known to man."
37. Kristin Hannah:
The author pays a touching tribute to her mother as she says,
"As mothers and daughters, we are connected with one another. My mother is the bones of my spine, keeping me straight and true. She is my blood, making sure it runs rich and strong. She is the beating of my heart. I cannot now imagine a life without her."
38. Arlene Benedict:
A mother's soothing presence can calm a crying child. She says correctly,
"To a child's ear, a mother is a magic in any language."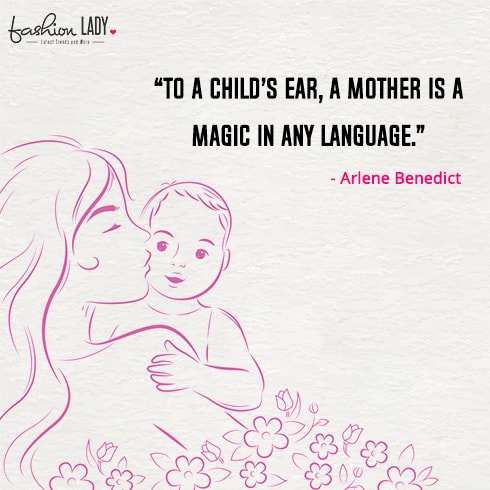 39. Lisa Leslie:
The sports star confesses her mother is her biggest inspiration when she says,
"My mother was my role model before I even knew what that word was."
40. Princess Diana:
The iconic British Royal was ruled by her heart and yet again she proves it when she says,
"A mother's arms are more comforting than anyone else's."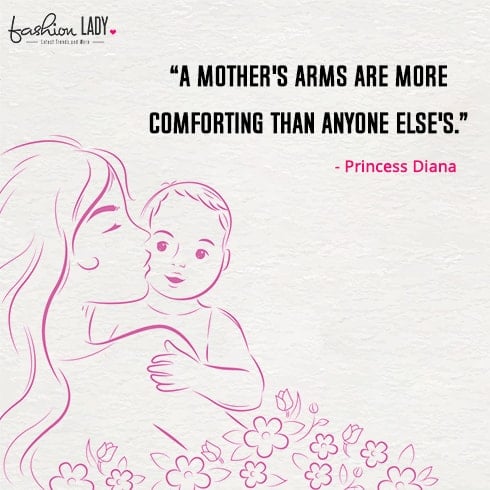 So, how did you find these hand-picked Mother's Day quotes? Do write and tell us in the comments box which one of them you plan to share with your mommy dearest this Mother's Day.