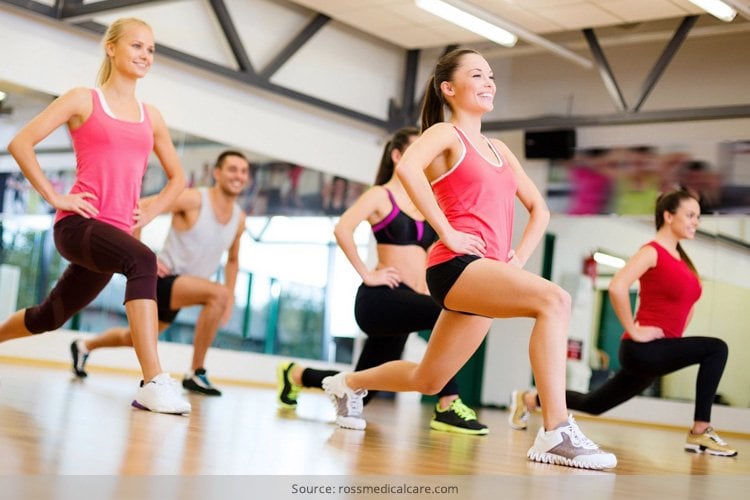 You could say it has a lot to do with the awareness on social media, or with the number of fitness trainers on the rise, new gyms maybe or everyone wanting to grasp the newest fitness ideas and concepts. We are not complaining, whatever be the reasons. It is good to know that there are more and more people wanting to know what the best fitness trend for 2018 is. This means, more people would work out and use one or two or maybe more ideas from the best 10 fitness trend for 2018 and keep their bodies in shape, and far away from chronic diseases. The hashtag #fitlife doing the rounds on social media these days is not a fad anymore; it is a revolution of sorts, and this is why we are going to talk about the best 10 fitness trend for 2018 and more. Take a look and get inspired.
HIIT or High-intensity interval training
HIIT one of the topmost newest exercise trends for very good reasons. It is basically a routine of short amounts of high-intensity workouts with short recovery periods. This is not a new concept as such but is becoming a hit with many around. According to experts from the esteemed American College of Sports Medicine, HIIT has been rated as one of the top fitness trends for 2018. The workouts are done mostly in thirty minutes, which makes you feel like you've conquered something mammoth like. You then have the afterburn post the half an hour workout, where your metabolism spikes up. The next thirty-six hours you still are burning calories and that too by doing nothing at all. For those of you who would be thinking of joining HIIT, you must talk to your trainer and let them know about your fitness background. Also, let them know about any pre-existing medical health conditions or injuries that have happened recently. There is a lot of running and jumping in HIIT, which would weigh on your joints.
Group exercise classes
Group training or group classes are a hit as well, and latest fitness trends. This would be a class of more than four to five students, all working out together. While working out in a group is fun for sure, everyone gets to motivate one another- something like how boot camps and CrossFit exercises are popular as. The training is group based and very functional which emphasizes on motivation and innovation, and results of course. All of this is done in forty-five minutes flat.
Fitness smartwatches
The Apple Watch Series 3, The Samsung Gear Sport Smartwatch and the Fitbit Ionic smartwatch are fitness smartwatches that are well equipped with functions that help you track everything you wanted to know about your workout regime. They also help you check the duration of your workout, your heart rate and the number of calories burned as well, and the speed and distance too. These are fitness smartwatches that have features such as sleep tracking, auto activity detection, music and notifications on your smartphone too, along with digital payment services as well.
Bodyweight training
If you are doing an exercise which involved using your body weight, it is thus called bodyweight training. Such an exercise regime would include the likes of mountain climbing, burpees, lunges, and squats. In bodyweight training, there is no equipment as such, and they are in high demand because they can be done just about anywhere. They do not need too much of space, and the movement is just basic. This is what makes bodyweight training very easy to follow, and the results yielded are great as well. The target with bodyweight training is the big muscles. Always remember, it is the muscles that help you burn the calories when you work them out. When you work the major muscles in the body, such as the quads and the cores, the glutes etc, you make the overall calories burn more. Such training is incorporated with HITT and calisthenics, yoga and CrossFit too.
Heart rate monitoring
Thanks to the advancement of wearable technology, anyone now can get a heart rate monitoring device. Heart rate monitoring should be cared about, and here's why. It would be a very effective way to determine your heart health and gauge it too, and your aerobic fitness as well, which in turn would tell you how best are you at exercising. You can always check the heart rate monitor to ascertain if you can go ahead and do more, or you are at breaking point when you are working out. You can also use the monitor to check if your workout and cardio fitness is improving a lot or not. Also, check to see how long it takes for your heart to recover from the workout you have done. If it is quicker, it means your heart is stronger. Gyms these days are offering you classes that help you track your heart rate while you workout. The idea here is not to let you cross over from anything moderate to high intensity. This helps you build strength and speed, and to help with post-workout oxygen consumption as well, which helps raise the bar on calorie burn for up to thirty-six hours post a session.
Yoga
Breathing exercises coupled with meditation are most important concepts in yoga. It helps slow down the heart rate and promotes gratitude and mindfulness for sure. The age old ancient practice of yoga is evolving year after year. Some of the ones we have now are-
Yogalates, which is a combo of yoga and pilates
Yogasthenics, which is a combo of yoga and calisthenics and more……
There are many more different versions of yoga, apart from the ones mentioned above and they all cater to various needs. Yoga thus is not the new workout trends, but an ancient one which is here to stay in 2018. People from all over the world are embracing it, and with newer concepts being added to yoga, such as HIIT and yoga, it is becoming the most sought after exercise concepts.
Stretching
Stretching used to be an after thought, but in recent times is getting more devotees and is gaining traction too. Stretching is no longer seen as an appendage to your workouts, but a necessary part of every workout. If you do your stretching regularly, it helps improve the alignment of the body and the posture too. Stretching also increases the range of motion, which helps one perform better in the world of sports as well. It is an investment as such for future fitness pursuits. There are many gyms across the world that have taken the act of stretching to various degrees, and there are stretch specific classes as well which help focus on lengthening tight muscles and deep tissue stretching too.
Community workout
There are various sports brands that are organising fitness events to spruce up their image, gain more potential customers and gain exposure too. And most of them come up with incentives- complimentary gear and plenty of discount vouchers as well. You do not have to commit to the workout routines though, but the routines are excellent ways to try out new forms of workouts and exercises. This is also a great opportunity for you to rope in new buddies and spend a nice action-packed time together when you all work out.
Core training
While we work out, there are a number of muscles that are activated. The most activated muscles are the core- the muscles that are located around the pelvis and the trunk. This includes the likes of the chest, the abs, the back and all the muscles down the pelvis. Stability is affected if there isn't enough of strength in those areas. This is why at the gym, the trainer would always ask you to engage in core training when exercising. In doing core training, one also gets to protect the lower back and also gets to have good posture as well. And core training is helpful especially when one has to jump or lift weights. Strength training is better when the core is activated, say experts. And this is why core training is now one of the biggest trends in fitness for 2018.
Activewear
Over the past few years, activewear has boomed and this is all thanks to the number of fitness fanatics on the rise. From yoga pants to spinning capris, we have them all. We even have high support bras, tank tops and more being sold as activewear. The trend is not about to end anytime soon, keeping in mind the number of sales that are soaring. Brands are working the midnight oil to update their fits and the form and the fabrics used as well, which means, sleeker products on the anvil for sporty and fitness consumers. Nike, for example, has launched a range of workout pants or activewear, which are different for each workout.
So here were the ten fitness trends of 2018, do let us know what you think about the fitness industry trends we just spoke about. We are eager to hear you out!