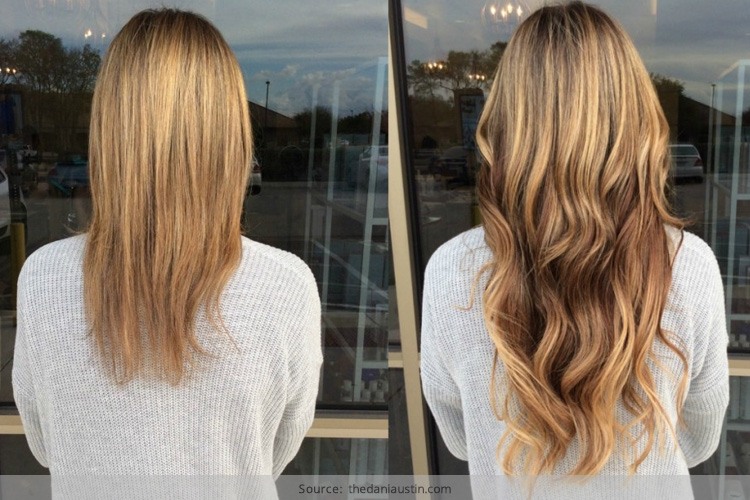 Don't we all wish to wake up gorgeous and with long flowing hair, like we see in the movies? It sure is a dream for any woman to have long lovely lustrous hair, and she will do anything to gain that. However, there are some of us who don't or cannot grow our hair long for various reasons. This is why we have hair extensions to the rescue. Before we tell you more about lilac hair extensions, let's take a look at what hair extensions are and the types of hair extensions you get in the market. Basis that, you can try to use lilac hair extensions. Please read on and be well-informed.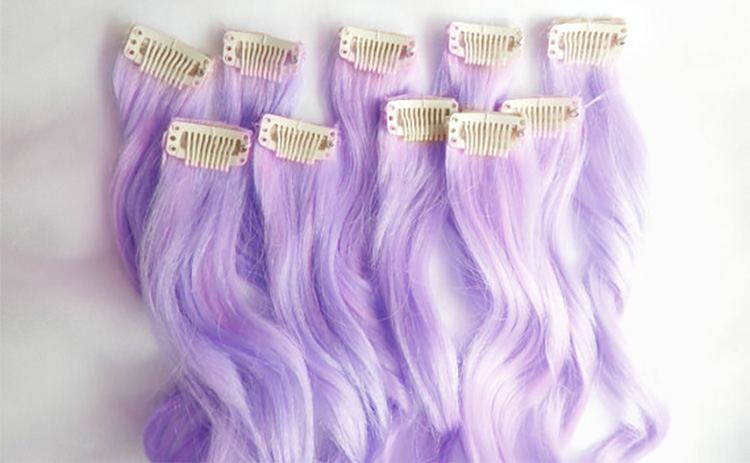 What Are Hair Extensions?
Also known as hair integrations, hair extensions are used to bring more length and volume to the natural hair you have.
These are extensions that can be made from synthetic or natural hair.
The best quality though is extensions made from virgin natural hair. This is because the cuticle of the hair is preserved and the hair runs in the same direction, which gives the whole hair a very natural look and texture. But it can be very expensive.
However, if you are on a tight budget, you can opt for hair extensions that are synthetic. They are cheaper. But they cannot be used for styling with heat, and they can tangle pretty fast and easy too.
Synthetic hair is good for a temporary change and not a permanent one. And they do not need as much maintenance as natural hair extensions would need.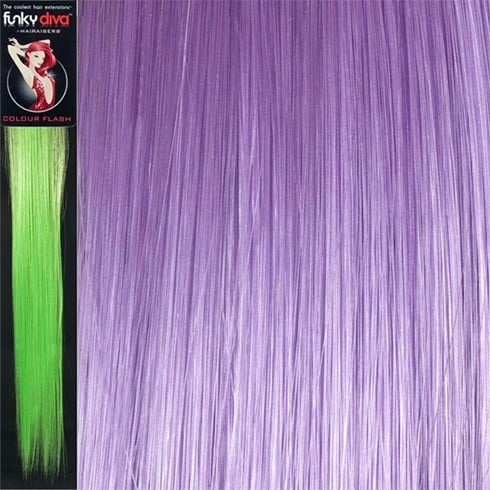 Why should you think of hair extensions?
There are many reasons as to why someone would want to go in for hair extensions. For example(s)-
Maybe the individual does not have very good hair growth and would want to have extensions to add more length to her hair
Hair extensions are used to get a new look and a new style
They can add more zing and bounce to your regular hair
Without coloring your hair, you could have new hair which is colored too and flaunt it as well.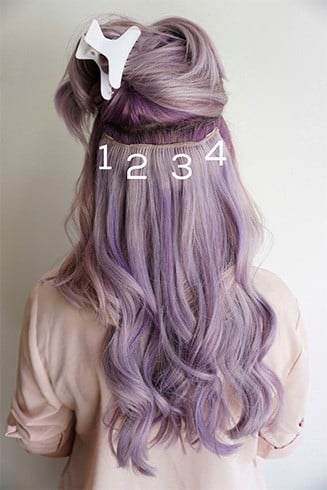 Points to remember before getting hair extensions done
While you have made it clear that you are interested in getting a few more strands of hair to your natural hair, here are a few things to bear in mind before getting them done.
Always seek the help of a professional stylist to get the hair extensions fixed on your hair. Extensions might look very easy to do at home on your own, but it is a tough task for some to do it themselves. And if you do it on your own, you could end up harming your own hair.
Ensure that the extensions that you place are not placed in too tight. If there is a sort of discomfort or pain that you experience, you should get it rectified at once. Tell your hairstylist about it on the spot.
Extensions of very good quality only should be chosen, even though the price for the same could be a little steeper than the usual ones. They won't cause any damages to your hair later on.
Your natural hair should be taken care off pretty well. If your hair is too damaged, it would not be able to bear the styling at all; even extensions. Your hair should be oiled regularly and proper treatments should be given to the hair and the scalp to keep both strong.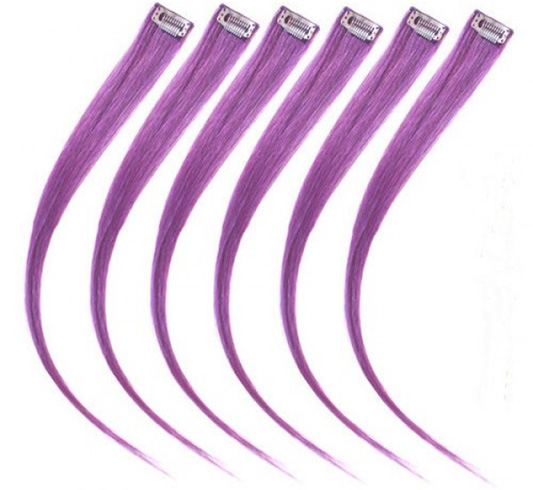 Types of hair extensions available in the market
There is a range of hair extension types available in the market, and we are going to introduce you to them one at a time. Please read on!
Tape-In
They come in wefts and can be from one and a half inch to eight inches long.
They have also double or single-sided polyurethane tape tabs, which cuts to fit the size.
Tape-in hair extensions, the application time is less and the method is fast.
The application is easy and you do not need heat or other tools as such for the application. Since there is no heat used, the thought of damage is minimal to the hair.
Moreover, the areas of the head to be covered would be large for the extensions to sit on, and that is why the strain on your head is reduced.
Tape in extensions also brings in a very natural look for you, since they lay flat on the head.
These are extensions that can be reused after six to eight weeks too.
[sc:mediad]
Disadvantages
The adhesive takes almost two days for it to cure. This means you cannot get a shampoo shower done or cannot do anything strenuous which will cause you to sweat.
With tape in extensions used, you cannot apply any oil or silicone based product to your hair, since it may cause the extensions to slip off.
If you are a swimmer, these are not the best extensions to use.
When you have these extensions, you cannot tie up your hair comfortably as well.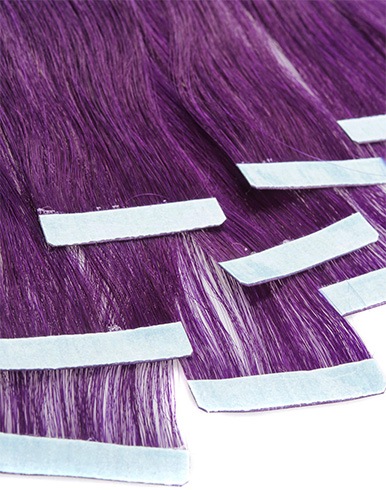 Hot Fusion Hair Extensions
The process begins with a keratin U tip bond which is mixed with silicone and then attached to the extension.
Then the extension is taken and bonded to the hair root and it is done with a hair heating tool.
The use of the silicone lining is done so as to protect the natural hair from any heat damage. It takes around six to eight hours to complete the whole process.
The lasting time for such an extension is four to six months.
The positive side of using this extension is the durability it gives. And with the right maintenance, the extensions would stay for around half a year.
There would be no visible signs of the attachment since the keratin dries up and makes it invisible.
These extensions blend in well with your hair naturally.
Disadvantages
The downside to these extensions is that the time taken is too long.
The heat used can be damaging to your hair as well.
You could even experience headaches and discomfort for a few days after the extensions are put.
Do not do fix these hair extensions on your own.
You need to have a very highly trained professional to do it for you, or else you could risk damaging your hair.
Cold Fusion Hair Extension
Very similar to what hot fusion extension is, cold fusion is almost the same. The difference here is that it is cold and it comes with a pre-tipped keratin-based polymer, which needs to be placed at the root of the hair; it is attached here.
Special tools are needed to do so, and you do not need any heat to apply the extensions.
It takes around four to six hours for the whole process to complete, and can last for around two to three months.
Since there is no heat used in the application and fixing of the extensions, the chances of hair damage are to the minimal.
The extensions can be placed as close to the hair roots as you like, and it blends very well with the natural hair.
This is perfect for those who have very thin or fine hair to use.
Disadvantages
It does take a long time to place the extensions.
The clamping tool can be reason enough for the hair to break.
The extensions are to be used just once and not reusable as such.
Micro Ring
When talking about micro ring hair extensions, we are referring to small bundles of hair which are looped through and into the smaller sections of your natural hair.
Once this is done, a metal bead would be clamped around the section using a pair of pliers. The whole process takes around four to five hours, and the hair extensions stay for around two to three months.
The advantage of having these extensions would be that you do not need to have heat or glue for attachment.
This means the damage to the hair would thus be less or very minimal.
The extensions can be reused and you can slide them as you want and use them just the way you would like to.
The micro ring extensions for hair blend in with the natural hair seamlessly and can be washed easily as well.
Disadvantages
With regard to the downside of this hair extension type, it would be that for people with fine hair or short hair, should not use them.
These extensions can cause strain on the scalp and discomfort too.
The clamping down of the metal beads with the pliers can make the natural hair weak and cause it to break as well.
And only a professional should be summoned to remove the metal clamps.
With such hair extensions, it is not possible for tie your ponytail high.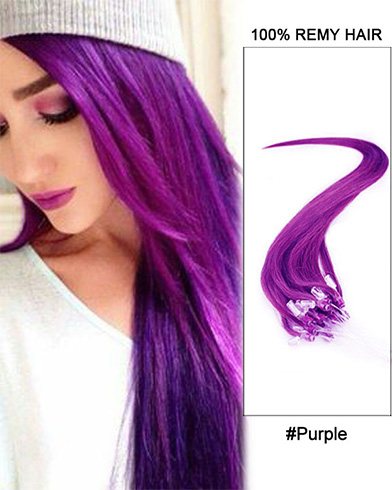 Weaving
In the weaving hair extension technique, a horizontal cornrow is made in the hair first.
After that with the help of cotton threads and a needle, the hair extension is woven into the cornrow.
In most cases, weaves are worn by women of African descent since their hair type is very thick and the extensions need to be concealed from the eyes.
It takes around two to four hours to weave the extensions in.
And the extensions stay put for around two to three months.
The advantage of using these extensions is that there is no glue application or heat used, which means there is hardly any damage to your hair.
You can oil your hair and apply silicone based products to it, even if you have thick hair.
The visible gaps are nil which makes the hair look very natural, and it is best done on women with short hair because it brings more length and a lot of volume to the hair.
Disadvantages
The downside of the weaving would be that if you have fine hair you should not use it.
Traction alopecia can happen if the braids are too tight and if they cause pain.
Sometimes if the extensions are too heavy they can weigh the hair down and cause migraines.
You have to take proper care of the extensions, wash them regularly or else bacterial infection could set in.
Removal should be done only by a professional.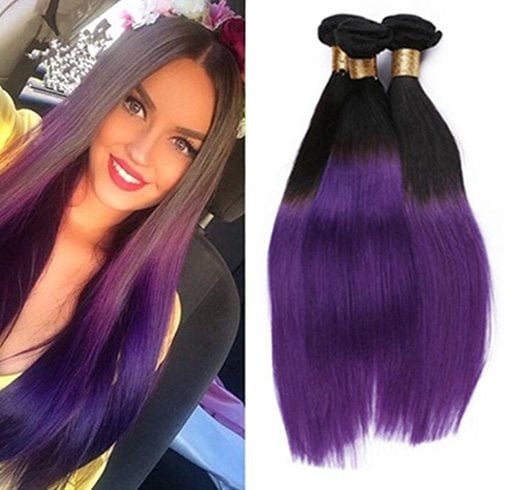 Clip-In Hair
Clip-in hair extensions are best to use if you want to have long hair within minutes.
Clip-ins are wefts of hair that have clips attached to them on top.
One has to just clip the extensions to the roots of the hair, and they can range from two inches to eight inches size wise.
As mentioned, clip in extensions does not take much time- five to ten minutes max.
You can wear them and remove them as and when you want.
They are very easy to apply and you get them in various styles, shades, and colors too.
Disadvantages
The downside to these types of extensions would be that the hair extension cannot be left for prolonged periods.
The clips used can break your hair, and you need to remove the extensions before you go to sleep at night.
So here were the many ways to get your hair extensions done. Now we shall proceed on how to wear the lilac extensions. Please continue reading on.
How to wear lilac hair extensions
The base created for the hair extensions need to be good. The hair would need to have a solid grip on the combs for the extensions to hold onto something and not fall out. It would be best to use some medium strength hairspray and to use a comb to tease the hair so that the clip on lilac hair extensions can sit in place.
The most important thing is to blend the natural hair that you have with the clip on lilac hair extensions so that it looks natural. You can wrap both your hair and the extension around the flat iron, to ensure that the flow stays natural and into one another. This would ensure that the layers stay loose and wavy to one another; a natural look thus comes by. If you want larger curls, you should use a large barrel curl iron for the same. And if you would like the hair to be super straight, a flat iron then would be the best to use.
When done, with the help of your fingers shake the lilac hair extensions and allow the strands to fall naturally in place.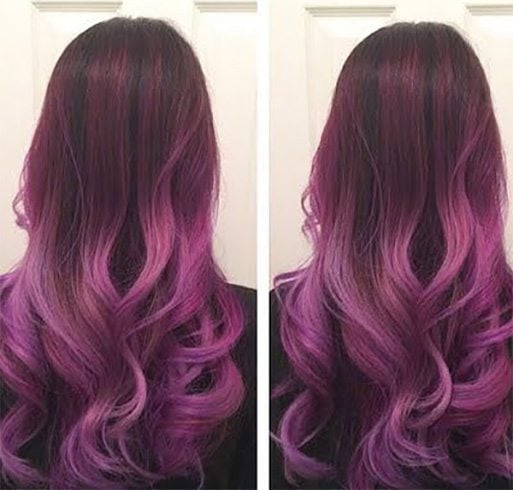 We hope this article on how to wear your lilac extensions comes in handy. And we also hope that you gained enough of knowledge on the types of hair extensions that are available around. Do write in and let us know if you have any questions.