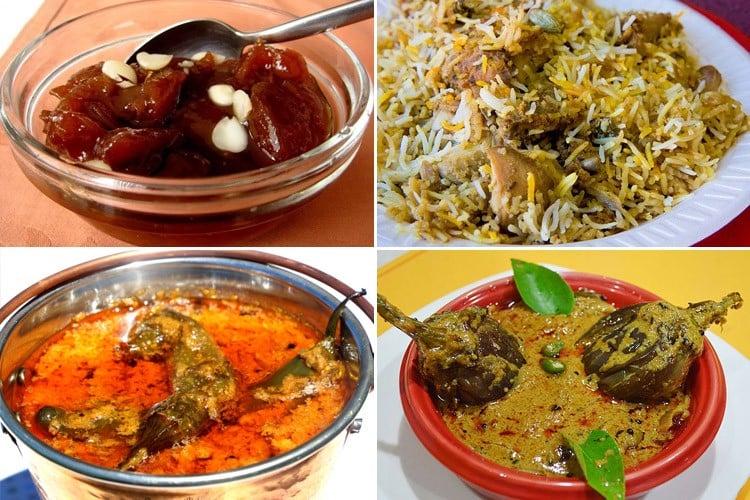 Hyderabad is a place where people are spoilt for choice. Other than wonderful tourist sites, delicious recipes await you here. Dishes are suffused with seasonal ingredients, with a rich burst of flavor, nutrition, and unique taste. We've listed the city's best cafes and restaurants for your next visit to Hyderabad. Think of it as a gift to yourself for indulging in rich and sinful food!
Here are 10 mouth-watering Hyderabadi food items you can't live without:
1. Osmania Biscuits and Irani Chai
If you are a tea lover, you have to try out the Irani Chai in Hyderabad. This is a tea that is brewed with several spices to give a rich taste. The recipe is said to have been brought by Persian settlers. This tea is commonly served with Osmania biscuits. These hyderabadi snack has its own unique taste and makes it the ideal afternoon snack. The biscuits taste perfect when dipped into the Irani chai. You can find these biscuits at Bahar Café, Sarvi Café, Blue Sea, Alpha Hotel at Secunderabad, and other local tea joints. Bahar Café is one of popular places serving the best Irani Chai in the city. They are made of several spices to enhance the taste.
2. Kachhi Gosht ki Biryani
Kachhi Gosht ki Biryani is nothing but red meat (mutton) marinated in traditional Indian spices and cooked with basmati rice. It is then steamed over a dough-sealed handi over coal. If you are in Hyderabad, then you should not miss out this must-try.
3. Patthar ka Gosht
Patthar ka Gosht is one of the most-relished Hyderabadi delicacies. This dish is marinated overnight and the mutton is cooked over hot stone. Pathar means stone and gosht means meat. This tastes best when served with parathas or kulchas. The best places to try this dish are Hotel Golkonda at Masab Tank and Sarvi Bakers and Restaurant at Mehdipatnam.
4. Qubani (or Khubani) ka Meetha
Khubani ka meetha or qubani ka meetha is a traditional Hyderabadi dessert made out of dried apricots. This is a simple recipe, which allows you to end your meal on a sweet note. The khubani (apricots) used in the recipe are soaked overnight in water. Traditionally, khubani ka meetha is served using sweet cream or thick custard. You can have this sweet dish either plain or topped with crunchy almonds. You won't mind digging for a second helping too! The recipe is quite healthy, with little use of sugar, and no ghee. This balances the natural sweetness of apricots.
5. Haleem
Haleem is one of Hyderabad famous foods, especially during the month of Ramadan. This nutritious dish is comprised of meat, wheat, lentils, and is cooked with spices for almost a few hours. The dish is then gernished with coriander leaves, mint leaves, fried onions, and lemon juice. During this festival, a number of street food stalls are set up for selling haleem. This dish is not meant for any particular religion. In fact, everyone loves gorging on haleem in Hyderabad, irrespective of their religion. A popular haleem destination for Hyderabad is the Pista House.
6. Mirchi ka Salan
Mirchi ka Salan is a curry served with either roti or rice. This Hyderabadi dish is commonly used during weddings and other grand occasions. It is made with stuffed long green chillies, blended with curd, tamarind juice, coconut, and assortment of spices. After preparation, peanuts and cashews are used as toppings. The result is a delicious gravy with the richness of tamarind and chilis.
[sc:mediad]
7. Baghare Baingan
One of the best things to eat in Hyderabad is Baghare Baingan. This is a specialty of Hyderabadi cuisine. Baghare means tadka or tempering, and baigan is referred to eggplants. The eggplants are cooked in cashew, coconut gravy, and tangy spices. The other ingredients used in this dish are peanuts, poppy seeds, and kalonji to form a thick gravy base. All the warm flavors of spices complement the dish really well. The use of coconut is for a rich and creamy texture. It was originally introduced by the Mughals and later adopted by the Nawabs of Hyderabad. This dish is now a common staple in every Hyderabad gathering. It is mainly served with rotis and dal tadka.
8. Falooda
Falooda is a popular Indian dessert, comprised of vermicelli in rose syrup and milk. It is topped with gelatin pieces, psyllium, tapioca pearls, and sweet basil seeds. Every scoop of this rich dessert makes for a yummy treat. It is available at various stalls in several markets of Hyderabad. Faloodas are best enjoyed at Bilal ice cream parlor or Paradise Bakery. You will never be disappointed with Falooda. This popular dessert is eaten in several households during summer in Hyderabad.
9. Lukhmis
Hyderabadi treat is incomplete without Lukhmis. Its small size is the inspiration for its name, Lukhmi, which means morsel in Urdu. These tiny maida squares are filled with minced meat, which is enough to treat your taste buds. It is then deep-fried. Dip these delicious tiny bits in hot chutney and savor its delectable taste. They are the Hyderabadi version of samosa. Unlike samosas, they are square-shaped and bite-sized. Other vegetable versions of this dish are also available.
10. Shahi Tukda
The rich, creamy Hyderabadi sweet, Shahi Tukda is comprised of bread and cream. This is the most delectable dessert you will ever taste. This iconic dessert of Hyderabad is layered with whipped cream and bread. This is a harmony of flavors that will trigger ecstasy in your mouth.
These are 10 mouth watering Hyderabadi food items we can't live without. Hope these great delicacies make your vacation in Hyderabad worthwhile!