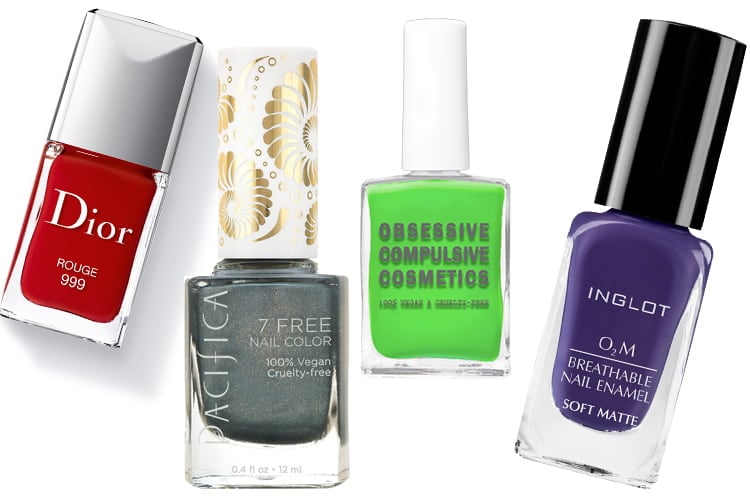 Adopting a clean beauty makeover is always a good option. The same is extended towards the nail polish industry, with several brands yet to re-examine old procedures that utilize dangerous chemicals. The list of the ingredients found in an average nail paint bottle includes the toxic trio of formaldehyde, toluene, camphor, and triphenyl phosphate (TPHP), which most of us are unfamiliar with. We usually pick our favorite nail paint, without being completely aware of the consequences.

Side Effects of Toxic Nail Polish:
Studies have revealed that the chemical present in nail paints get easily absorbed by our body, in just 14 hours.
Touleune- This chemical is added to nail polish as it leaves behind a smooth finish. It comes with a strong odor, commonly related with paint thinner. Inhaling the nail paint can cause headaches and dizziness, apart from affecting the central nervous system and cognitive function of the body. Pregnant women should be refrained from using nail paints containing toluene, since inhaling it can lead to birth defects.
Formaldehyde- This is a common human carcinogen and is present in several consumer products, including nail paint. This strong smelling gas is used as a nail hardener, which gets absorbed into the skin. Repeated exposure to formaldehyde has been connected with leukemia development. Other studies proved that this chemical may lead to the growth of tumors.
Dibutyl phthalate- This man-made chemical is used as a plasticizer for preventing nail polish from getting brittle. This chemical can irritate eyes and lungs. Animal studies have proven that DBP can lead to reproduction related problems and cause hormonal imbalance. It can also react with other substances in the body and lead to genetic mutations.
Triphenyl phosphate (THP) – This fire-retardant and plasticizer is present in most nail paints for making it more durable. Although more studies are needed on the physiological effecs of TPhP, it is a suspected endocrine disruptor. The effect of THP on animals can interfere with reproductive and developmental processes.
Are There Safe Options?
There are many nail polish brands that claim to be natural and safe. But there are some brands that work out well, and some others, which still have chemicals in them. It is also essential to remember that nail salons do not commonly contain non-toxic chemicals, but the air in salons is highly contaminated with chemicals. So, it is best to avoid visiting a nail salon regularly. If you do need to go, ask them about the non toxic nail polish brands they use and select safer options.
It is also important to note that not all nail polishes have chemicals present in them. Hence, it is best to use them sparingly. There are several nail polish brands that are helpful in removing nail debris, which does not include formaldehyde resin, toluene, dibutyl phthalate (DBP) or camphor. There are also other nail polish brands which have banned xylene, ethyl tosylamide, and triphenyl phosphate from their formulas.
These safe nail polish brands are not only toxin-free but also provide awesome shades and high-quality finish.
Non Toxic Nail Polish Options:
Here are our favorite nail polish brands that we've researched and tried. You may be thinking non-toxic nail paint is boring, but there is something exciting and natural about it. To prove it, we've rounded up 20 best nail polish brands that are toxin-free to provide you the safest manicure. Check them out below:
1. Acquarella
Acquarella brand has launched a unique, water-based nail polish which contains nothing unwanted. It may strengthen and moisturize your nails without the strong toxic chemical smell. The nail polish also contains non-toxic polish remover and nail strengthening conditioner. If you require a nail polish which provides nourishment, dries faster, is long-lasting, and has great pigmentation, this nail paint is for you.
Pros:
9-free, water-based, free from toluene, phthalates, formaldehyde, camphor, gluten, and other parabens.
Good option for a chemically-sensitive person
Safe option for pregnant women
Cons:
Good Shades:
Bikini
2. Butter London
This London brand is mindful of which formula goes into its nail paint. At present, all the shades are proudly non-toxic, while continuing to maintain the standard of beauty lovers. They are non-toxic and 3-free, and are formulated with parabens, formaldehyde, toluene, and DPB. The brand also has a whole range of unique and pigment-rich colors. Recently, it has also launched its Patent Shine 10X lacquer collection that features an 8-free formula with high gloss and bold shades. If you want something good for your nails, then these formulas that contain hydrolyzed silk, horsetail extract, and Vitamin B, C, and E.
Pros:
Available in 3-free and 7-free
Promotes strong and healthy nails
Cons:
Only its 10X nail lacquer line is vegan
Good Shades:
Try minted to brighten your outfit for work or holiday in one single stroke. The finish is shiny, long-lasting, and modern.
3. LVX
The brand is well-known for manufacturing vegan, non-toxic nail paints that are chip-resistant, long-wearing, and have richer consistency. They have a wide range of nail care products, like non-toxic remover pads and nail conditioners. You can select one of its three nail paint formulas- one coat crème, semi-opaque, and metallic. LVX releases a new nail paint color shades every season.
Pros:
Cons:
The price is fairly expensive
Good shades:
Blush
4. Honeybee Gardens
This is another of our favorite brands. It is also water-based, free from the three toxic chemicals, and has a low rating of EWG database. The nail paint collection is also available in 25 colors. One good thing about Honeybee Gardens is that it can be removed using vodka or rubbing alcohol. If you prefer an odor-free, chemical-free product which is beneficial for environment and your health, then this is for you!
Pros:
Cons:
Good Shades:
Fairy Dust
5. Inglot
This Polish brand is making huge developments allowing nails to breathe under polish lashings. The newly designed brush is firm and flat, which allows a clean application and the eight stylish matte shades look absolutely great when paired with a similar matte lip color. Inglot is known for its non-toxic credentials. This way, you won't be inhaling any strong fumes while painting your nails with these polishes.
Pros:
Cons:
Good shades:
Deep rose of 531 or midnight blue of 533
6. Smith & Cult Nail Polish
Since its inception in 2014, Smith & Cult rose to favorite status topping all beauty lists. Not only are the high-end lacquers absolutely gorgeous, but Smith & Cult is one of the few brands that have an 8-free formulation. Their polishes deliver flawless, smooth coverage, and absolute shine. They come in a variety of rich shades and textures.
Pros:
Cons:
Good Shades:
Kundalini Hustle (powerhouse red), Stockholm syndrome (neutral gray)
7. Côte
The nail polishes under L.A based brand Côte are super gorgeous. It comes in chic, modern packaging, colors, and finishes. This is a 10-free vegan formula, and offers over 100 different shades with high-quality ingredients. This nail polish brand will make a great addition to your collection.
Pros:
Cons:
Price is fairly expensive.
Good shades:
No.4
8. Orly Breathable Treatment+ Color
You can add nourishment to your nails, while adding color. According to Orly, 99% of women experienced healthier nails after trying their nail paints. It is a 13-free formula, and is formulated without the use of 13 unfavorable ingredients like toluene, formaldehyde, DBP, parabens, animal derived ingredients, gluten, and more. These formaldehyde free nail polish also uses safe formula that prevents chipping and peeling. It is infused with pro vitamin B5+Vitamin C, and argan oil.
Pros:
Highly suitable for sensitive nails
Cons:
The price is a little steep.
Good shades:
Nail Superfood
9. Dior Vernis
Adding Dior to your collection will be worthy as its one of the most trusted brands. Though the price may be a little steep, the nail paint is totally worth every penny. This high-shine lacquer is a 5-free formula. The nail polish features a flat, rounded brush, and is available in several shades. They also dry faster and don't wear off easily.
Pros:
Free from formaldehyde, resin, camphor, DBP, and toluene.
Cons:
The price is fairly expensive
Good shades:
Rouge
10. RMS
The brand is free from petrochemicals, DPB, TPHP, parabens, toluene, camphor, xylene, formaldehyde, resin, and animal products. This natural nail polish brands formulation is a 6-free formula. They are available in various cool shades. The entire nail colors are cruelty-free and vegan.
Pros:
Cons:
Good shades:
Curious
11. Context
Context is a great brand for it is 100% vegan and cruelty-free. It is a 5-free formula that is free from formaldehyde, toluene, camphor, and DBP. The packaging and shade range of this nail polish brand makes it totally worth the buy.
Pros:
[sc:mediad]
Cons:
The price is a little steep.
Good shades:
Runaway
12. Tenoverten
Tenoverten brand strives to develop nail paints which ensures a safe manicure. Its formula is 8-free, so all the ingredients are completely safe to use and free from all toxins. The nail polish is also cruelty-free, gluten-free, and vegan.
Pros:
Cons:
The price is fairly expensive
Good shades:
Hollywood Red
13. Priti NYC
These eco-friendly nail brands by Priti NYC are toxin-free. It is one of the most popular non-toxic, vegan, and cruelty-free nail brands. This nail brand is commonly used by models while walking for Tommy Hilfiger and Stella McCartney's catwalk shows. This is a 5-free formula that contains an UV inhibitor giving you a glossy finish. These are available in over 100 different shades.
Pros:
Cons:
This is not chip-resistant, so you need to wear a top coat
Good shades:
A Time's Rose
14. Piggy Paint
Piggy Paint comes with a cute packaging. These water-based nail polishes are formulated with natural ingredients, come in vibrant colors, with a hard and durable finish. These can make a great choice for your little daughter as well. They are free from formaldehyde, phthalates, toluenes, bisphenol A, ethyl acetate, and acetone. The brand also offers all-natural nail polish removers that contain aloe vera and Vitamin E.
Pros:
Cons:
Good shades:
Wild Child
15. Scotch Naturals
Scotch Naturals is a water-based polish free from harsh chemicals and fumes. This eco friendly nail polish is an odor-free and chemical-free product. The colors are great and are free from any strong smells. This brand works very much like conventional nail polish when used with their recommended base coat and top coat.
Pros:
Cons:
Good shades:
Kiltlifter (cherry red) and Flying Scotsman (deep royal blue)
16. Suncoat
Suncoat offers a natural and non-toxic option for a safe manicure. These water-based nail formulations offer bold and exciting colors.
Pros:
Cons:
Good shades:
Eye Candy
17. Zoya
Zoya is one of the most popular nail brands that produce 5-free polishes. It has often been awarded as the longest wearing natural nail polish by an independent panel in Women's Health Magazine. This organic nail polish brand has over 300 gorgeous colors to choose from.
Pros:
Cons:
Good shades:
Sailor
18. Obsessive Compulsive Cosmetic Nail Polish
Obsessive Compulsive Cosmetic Nail Polish is the makeup maven that pays attention to pretty nail using healthy formulas. The brand was launched by makeup artist David Klasfeld in 2004 releasing products like lip balms, loose powder, vegan-friendly, cruelty-free, and PETA-approved nail polishes. The professional quality nail lacquer is formulated with dense pigmentation and without toluene, formaldehyde, formaldehyde resin, camphor, and DBP. The result is intense color.
Pros:
Cons:
Need to apply two coats of the nail lacquer
Good shades:
Deven Green and Pool Boy
19. Pacifica 7 Free Nail Color
Pacifica's 7 Free Nail Color Collection features an assortment of bright colors that are designed for smooth and long lasting nails. Each of these colors is formulated without parabens, phthalates, toluene, xylene, camphor, formaldehyde, or resin. It comes at an affordable price and is a worthy addition to your nail polish collection.
Pros:
Cons:
Price is fairly expensive
Good shades:
Star Dust Memories and Dream Catcher
20. Deborah Lippmann
Deborah Lippmann has designed a gel formula that is pretty and eco friendly. It is available in a range of classic crèmes to shimmery glosses. The collection allows you to enjoy the benefits of a gel manicure with none of the toxic formulas.
Pros:
Cons:
Good shades:
Misty morning and Sea of Love
Hope we answered all your questions about selecting non-toxic nail polish brands. These 20 best nail polish brands that are toxin-free are completely safe to use. In addition, these nail brands feel great for your health and eco-system. Which ones are your favorite non-toxic nail polish brands? Do share with us in the comments box below.