Just like last year, we are once again back with 9 special editions, to celebrate Durga Puja 2020 and Navratri 2020 in a grand yet fashionable manner. Every day till the 9th day of this holy festival, we will give your outfit ideas that perfectly sync with the festival and make you look gorgeous. Have a look at all the outfits and stay tuned for more.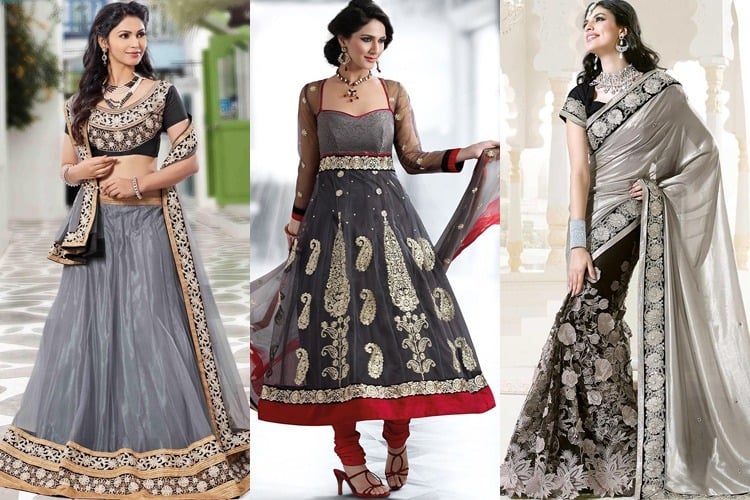 Navaratri has started! Get ready for 9 days of joy, celebrations, dandiya and garba raas. Marked by traditions, ethnic wear, dances and celebrations, the Navratri festival is a colorful celebration. Navratri Colors hold an important significance during the festival.
Each color signifies an important legend and deity. Grey is the color of Pratipada, the first day in marking the festive Navaratri. It represents Maha Kali or Bhairavi.
Apart from the religious significance, if you thought grey is some kind of boring shade for any festive season then you are very wrong. Grey is a color that can be matched with any other shade in the palette and also brings about a sense of grace that is well noticed. If you go through Sabyasachi Mukherjee's collections, you will find an array of his fabulous designs in shades of grey with velvet black. Kajol's ramp walk at Lakme Fashion Week in Manish Malhotra's black and neon green became a huge hit this year, especially her net full-sleeve blouse. This color purely stands for sophistication and elegance. Well, that's enough to prove why so much grey is involved in these designers' collections.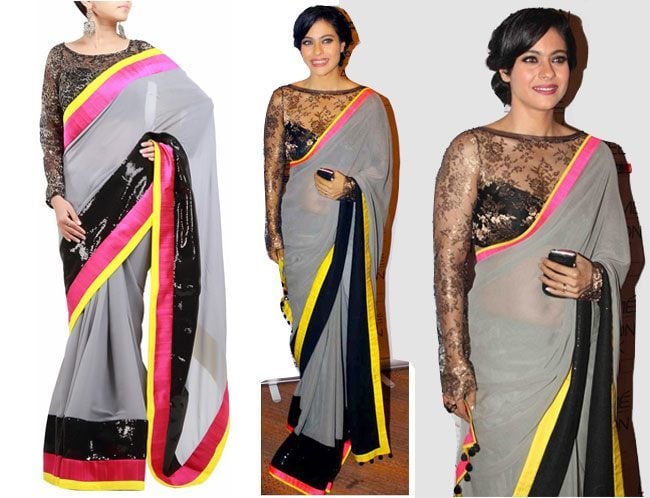 While you can save your wardrobe's playful colors for your Garba Raas in the evening, you can dress up in striking grey sarees and celebrate the first day of Navratri. We bring to you gorgeous collections of beautiful grey sarees to mark this auspicious start of this festive.
Take a look at this lovely grey saree with silver borders and embroidery on the pallu. Match it with a black net blouse. Wear tasteful metallic or silver jewellery to complete the festive look.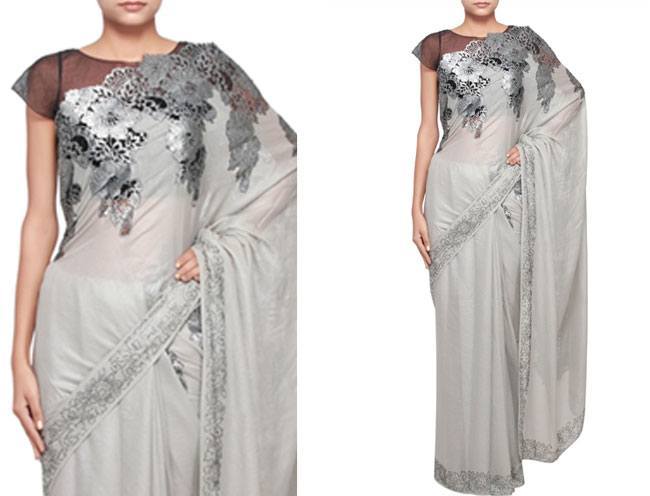 When it comes to net sarees, color takes a back seat. This is because net sarees are always fancy are very much in fashion. Well, we have not confined our offers, but give you a feast for your eyes. Choose one and look glamorous in any of these net grey saree with black borders, silver patchwork and Paisleys and Resham embroidery. Either wear them with a sleeveless bejewelled grey blouse to flaunt your toned arms or keep your sleeves full in length to maintain your modesty. And if you have plans to go out then put on high heeled stilettos or sandals to complete the glamorous look.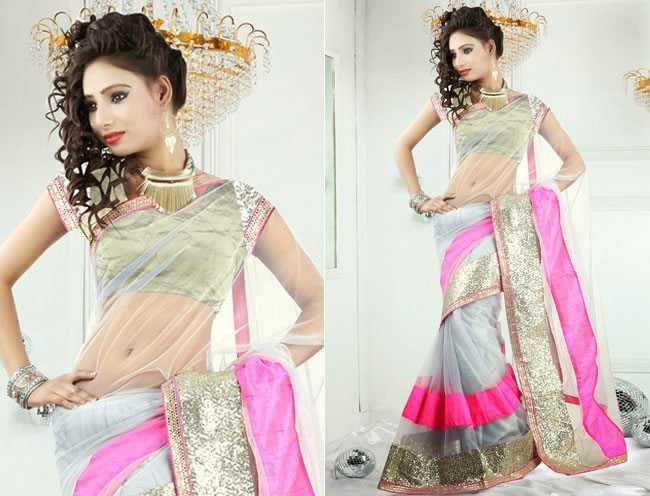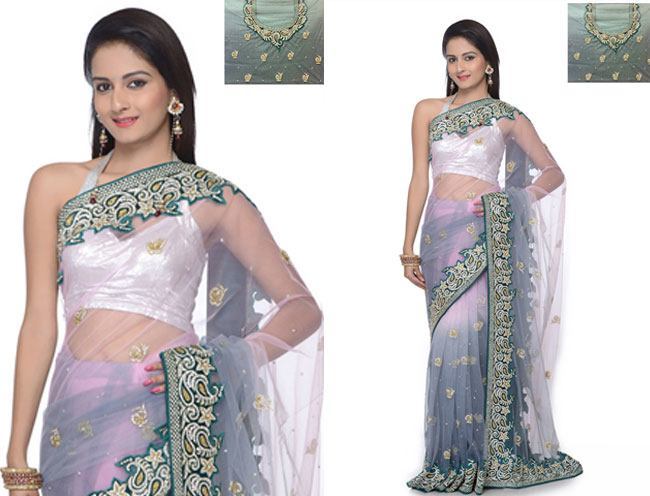 Everyone will admire you when you wear this grey net and viscose lehenga saree with stone, zari and Resham embroidery.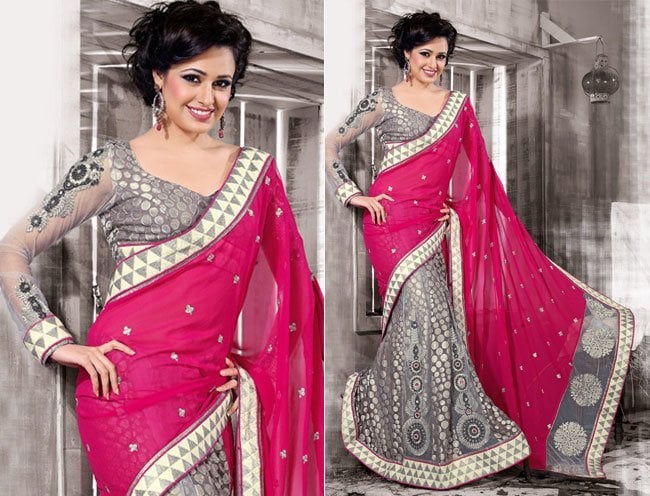 This ash grey chiffon saree is perfect for newlyweds and even unmarried girls. It will even look more gorgeous if you wear this in Gujarati style. The brocade blouse is the major highlight of this saree.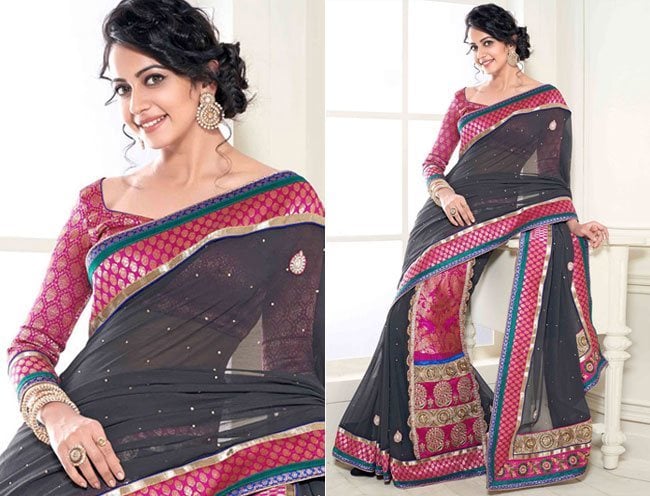 Let's look at some more sarees for the festivals such as Diwali, Navratri, Dusshera, and so on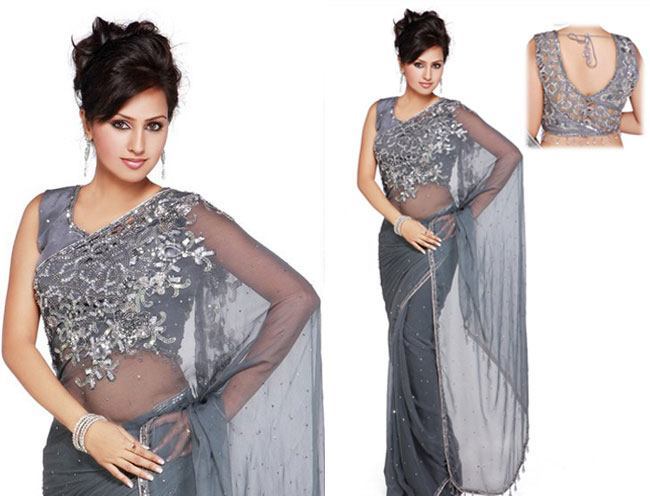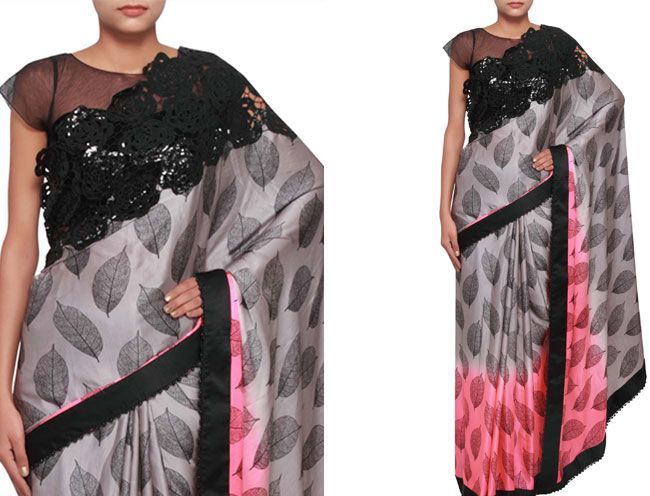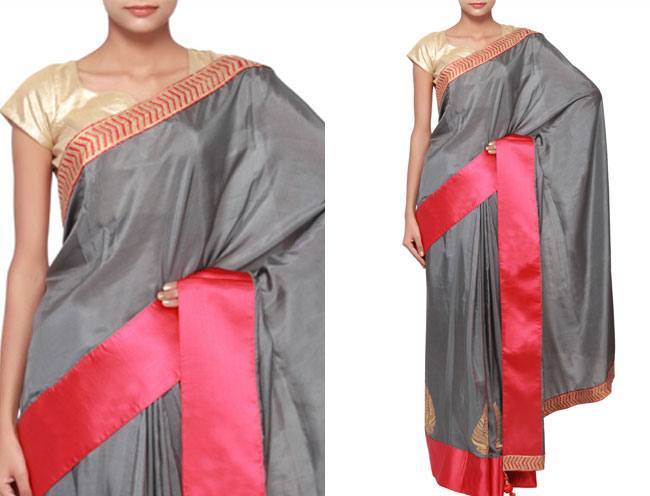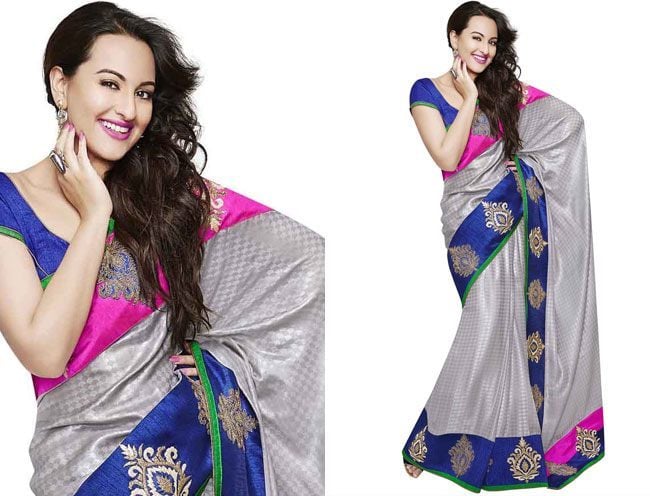 Apart from the fabulous collection of sarees, I now offer you top 5 grey anarkali suits that in floor length that perfectly suit the first day of auspicious Navratri colours. Do have a look at our top 5 picks.
The first piece is a fabulous number that reflects nothing but grace and elegance. This sleeveless grey floor-length anarkali comes with contrast white embroidery flanked by black and silver shining borders. The yoke is in velvet grey that is accentuated with a thick waist band full of elaborate embroidery work in white thread. The hemline of anarkali is also flanked by matching embroidery with silver and black zari brocade. The net fabric of the suit is complemented by net dupatta in matching shade with dual zari border in black and white and not to mention the latkans at the 4 edges.
You can wear this graceful anarkali with minimal jewelry, except for a statement-making ring or huge jhumkas, while keeping the neck bare.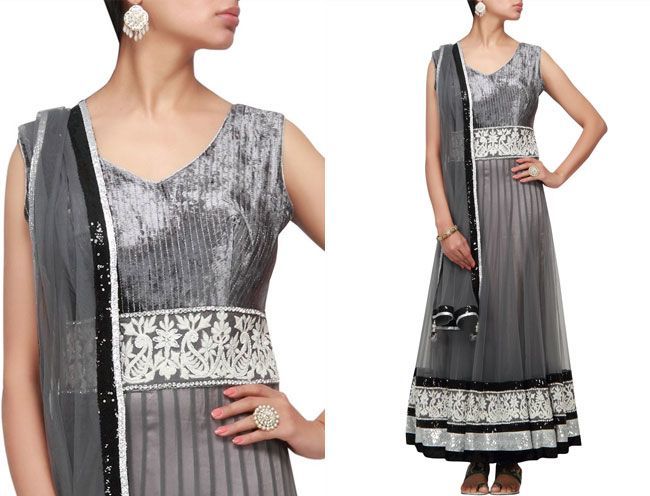 This grey chiffon and faux georgette anarkali salwar kameez is another great option to start the Navratri with élan. Now get smoking hot look yet with grace and elegance with this fabulous number. For those who are looking for full sleeved anarkali in grey, this can be their ultimate choice. While upper half of the bodice is accentuated with beautiful embroidery work in butta and jaal work, the brocade comes with zari border in tri colors. To make the dress look more attractive, the butta work is flanked with stones and huge motifs on shoulders studded with more stones.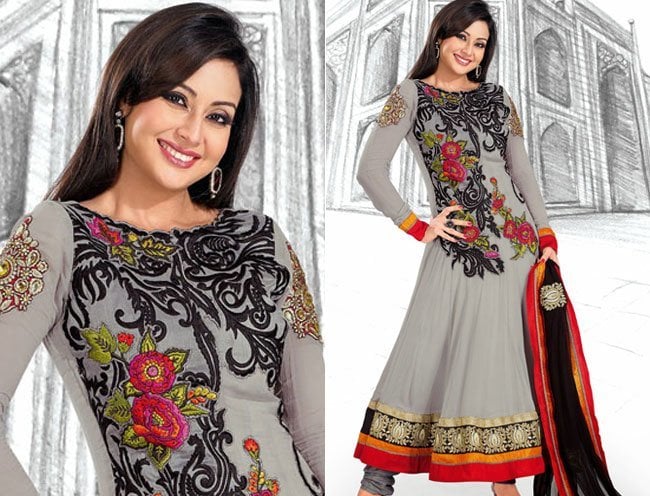 Here is another great number to grace the occasion. This off white and grey zari work anarkali suit can add instant glamor to your personality. This designer-inspired free flowing anarkali comes in two shades with heavily embroidered sleeves and yolk. The rich gota work adds elegance to this super flared suit. Besides, the brocade is also accentuated with matching embroidery to give some scoring points to the outfit.
With fully embroidered sleeves, you can discount bangles; instead can go for statement making earrings to complete your look.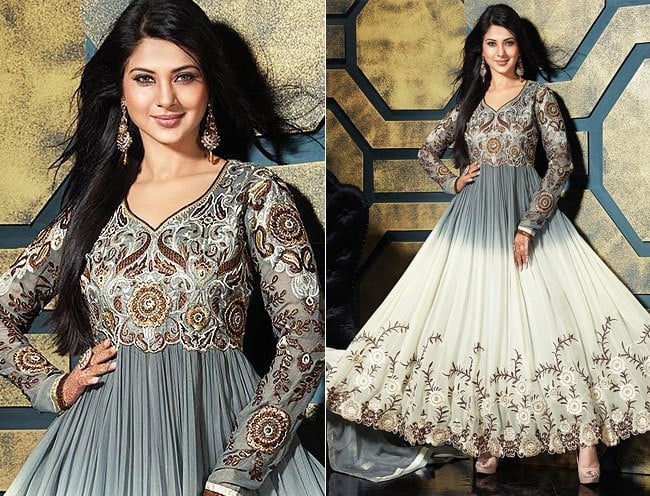 If you're looking for designer-inspired salwar kameez for the first day of Navratri then this fantastic grey and black anarkali suit can be your instant choice. This fabulous embroidery-rich suit can make heads turn for the unique yolk design that looks a jacket and not to mention the dupatta in complementary black that is flanked by random motifs in white.
The pink brocade on the sleeves and dupatta and on the hem gives an edge to the outfit.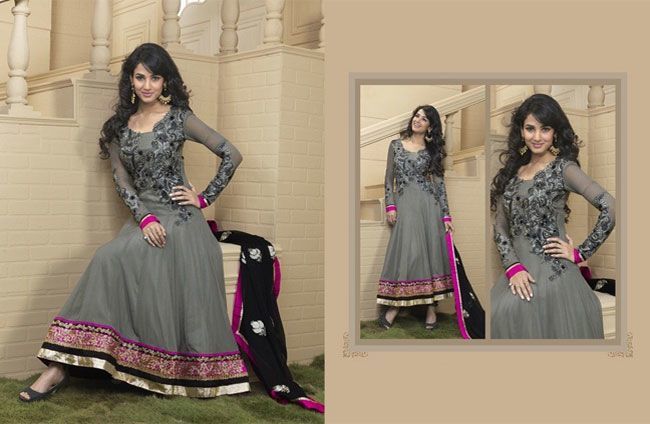 I still couldn't find out why the manufacturer has named this gorgeous anarkali suit as Nargis Fakhri Grey Patch Border Work Anarkali Suit. Whatsoever, this is last but not the least gorgeous number from our collection. This fabulous floor length anarkali suits women of all ages. The heavily embroidered yolk comes with an embellished neckline in the form of a royal necklace.
The floral motifs in vibrant pink and purple on the yolk are matched with similar design on the sleeves. While the golden thread graces the border of the sleeves and the hem. This full-length grey suit comes with a matching dupatta flanked by golden brocade.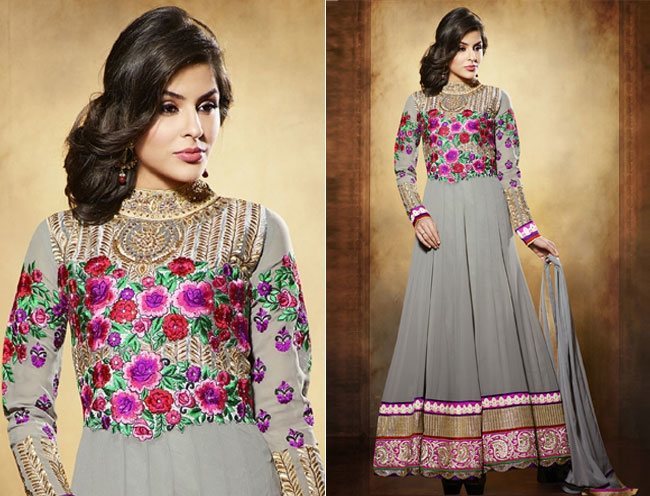 Let's look at some Bollywood celebrities spotted in grey ensembles.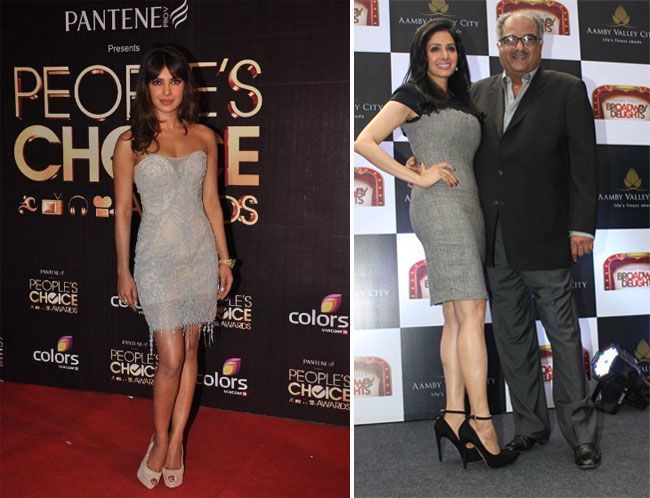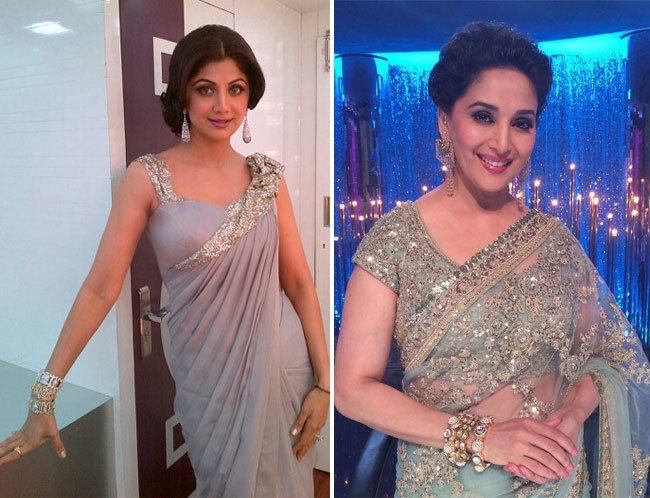 Hope this post was useful! Stay tuned for similar posts!
Note: All products are subject to availability.
Jai Mata Di!!
Images Source: Pinterest