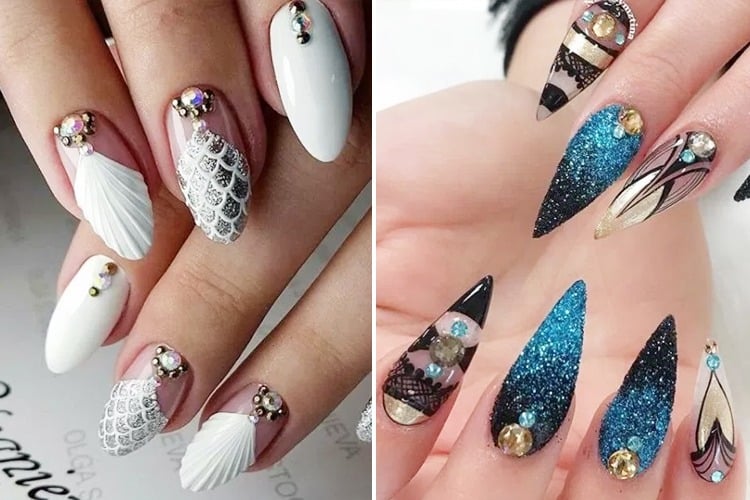 My my, if there is one date in the year (apart from the Valentine's Day) which makes everybody go crazy, it is the New Year's Eve. GLAMOR – whether wearing it or showing it rules this day. Not just the face, makeup or attire, the new thing which is scaling the popularity charts is NAIL ART.
With just a few days left before we step into the New Year, Nail designs 2021 is what you need to check out and fast.
Take your nail art to the next level by rocking some of the glittering colors and ideas. Here are some awesome fingernail designs in the form of long nail designs, nail decorations, top nail designs for your love of DIY moments. Have a ball with new nail designs. In fact, the latest nail designs which double up as designs for cute nails 2021!
List of Top 17 Stunning And Futuristic Nail Designs in 2021
1. Artistic Brush
When you take silver gray as a classic nail color, it is so boring. All you need to do is add a splash of blue and black strokes on the silver grey (they complement the base color beautifully). Then put a holographic topcoat. There you are – ready with the pizzazz look. Call it one of the simple nail designs 2021 and a creative one too.
2. Gold Chain
Yeah, it actually looks like one. That is the beauty and simplicity of nail decorations in nail designs. Don't they look as if they are made for the red carpet walk? Honestly, so.
3. Holographic Mountain
When you see this, you will agree. This is one of the most simple nail designs, yet it is so elegantly calm, it will be perfect for ladies who don't wanna shout over the rooftop about the arrival of the new year. This is one of the most beautiful fingernail designs and its appeal is enhanced by the holographic accent painted on the center of the nail. And it has been done in a funky-looking geometric shape. Dedicated to the girls who like quirky nail art.
4. The Honeycomb
You can be Queen Bee of fashion by trying this one! This is one of the most innovative latest nail designs. The pattern has honeycomb lines done up on the nails. This is one of the hottest new nail designs although it is simple and understated, don't you think?
5. Pink Glitter
It is oh-so-cool. It is like sporting "business" on one hand and "casual" look on the other. OK, to make it simpler, it is French manicure redefined by adding in pink glitter accent. Now you know making an impression doesn't need you to go overboard.
6. Illusion Is The Name
And you are gonna love this as it is one of the most stunning nail designs. It's like made-for-the-new-year. Casting an illusionary impact on your pretty nails, this is one of the funkiest among the latest nail designs as it delivers a full 'illusion' effect. To get this hi-volume impact, just mix glitter and chrome. Now you are ready with a full illusion impression on your nails.
7. Leopard Outline
Don't be scared. We are not on a jungle trip. Just going 'feline' on the nails (without the biting, of course). Coming back to the point – how lovely and sensational it will be adding a leopard outline to a classic pink manicure. It will certainly take your fashion score a few notches higher in the upcoming New Year. Sounds exciting, right? Go ahead and try it.
8. Moony Love
Hey! The latest nail designs which will have everyone fall over them are big and bold colors. Yes. So that's yet another option for you to choose from the array of top nail designs. Be'cos it is hard to skip the pretty-n-chic pink and purple moons. They make a perfect color combination when it comes to cute nails 2018. Wish one could replicate these moony colors on lips. Fantasy, I tell you!
9. Starry Night
Yes, yes, the stars of midnight are going to be superb and flashy. Carry forward this look in 2018 with loads of incredible nail art. The one that will have you swooning over it. The shimmery and sparkly design you see in the image below serves a perfect example of latest nail designs and nail decorations.
10. Glitter Fade
Yes, glitter can never fade or vanish when you go for new nail designs. The glam look that you see in the pic is a staple diet for the New Year celebrations. And the fading effect goes well with the changing calendar.
11. Darker Hues
I bet we all agree that darker colors are made for winters and the frosty look. Cobalt blue, even burgundy happen to be the coolest color code for the chilly months. And they are, by all means, sophisticated enough to go with all nail shapes as well as lengths.
12. Minimalism
Less is more is the new definition (don't take it otherwise you know). To be fashion forward in fingernail designs, try out simple embellishments, some nail tape, even negative space. It is subtle art which makes for latest nail designs.
13. Glamor And Glitz
New Year celebrations do not mean going out with disco ball nails, you know. The better alternative is going for a sparkly shimmer either in gold or classic silver. This way, your nails will stand out and look party-ready at the same time. Got it?
14. Welcome, The Neutrals
Some things never fade away. Nude is one such color which has an evergreen appeal. Go in for delicate shades of pink and beige. They are feminine and classic both when it comes to simple nail designs 2021.
15. Stone Cold
Stones will be a big rage in 2021. This is the prediction of manicurist Naomi Yasuda. Says she "We've been seeing them more and more on the face and in hair pieces, the next step is on your nails". WOW! Way to go for Nail designs 2018.
16. Metallic And Chrome
For trying one of the chicest new nail designs strategies, you need to mix your nail polish with classic colors and metallic accents. Explains celeb manicurist Kim Troung who has worked with the three Kardashian sisters – Kim, Khloe, and Kylie "We'll continue to see the biggest nail trend of 2017 continue into 2018."
17. Abstract Fun
Fun and funky nail arts make an uber cool fashion statement. And this applies to new nail designs too. Go ahead and try geometric shapes – whether it is circles, triangles or lines.
Kicked with these fun ideas for cute nails? Which of them will you wear for the midnight celebrations? Tell us in the comments section below. Do share this piece too on your social network and be a trendsetter in the new year.