From fragrant, delicately scented ones to dandruff fighting ones, we are in the constant quest to find that one perfect, miraculous shampoo! We all hope to find that fabulous shampoo that can stop hair fall, push away the dandruff issues, and give you gorgeous, silky tresses. If those pricey shampoos and international brands are burning a hole in your wallet, it is time to switch over to Indian shampoos for your hair. And Indian hair needs Indian products. Especially if you are finding solutions on how to stop hair fall.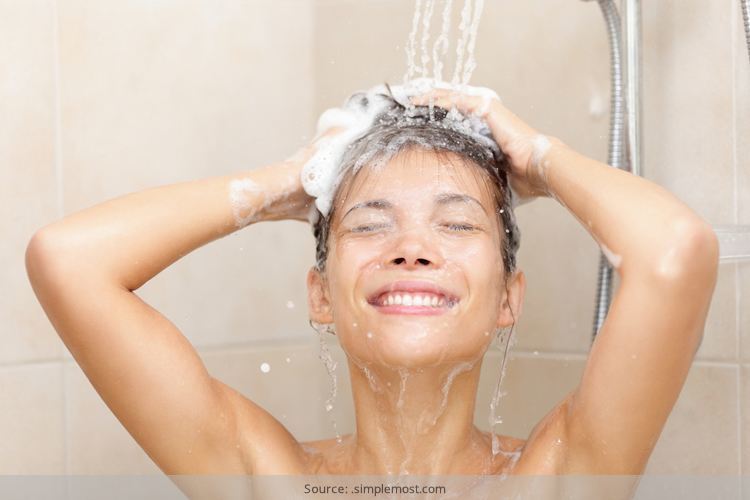 Top 12 Best Shampoo For Hair In India
Here Is the Best Shampoo for Hair In India At Reasonable Prices for 2021:
1. Satthwa Argan Oil Restorative Shampoo
Satthwa's Argan Oil Shampoo made is infused with pure Moroccan argan oil, Jojoba oil, Avocado oil, Botanical Keratin, and other such awesome ingredients. It is a restorative shampoo that can be used daily, it nourishes your scalp and hair and makes them healthy. This shampoo is both sulfate and paraben-free.
Price: 200ml for Rs.499

2. New Pantene with PRO-V and goodness of oils
Price: Rs 110 for 180 ml
Type: For all hair types.
Pantene Pro-V scientists understand that for hair to be truly beautiful it needs to be healthy from the inside out. Pantene's New and Improved formula deeply strengthens your hair from root to tip, transforming it to stronger, thicker hair- from the root to the tip in just 14 days.
The brand's biggest breakthrough in 30 years: Pantene's new formula with PRO-V and goodness of oils makes hair thicker, stronger in just 14 days.
Pantene Hair Fall Control Shampoo:
Pantene shampoo helps control hair fall efficiently:
Helps prevent dandruff and reduces damage.
Dandruff and damage can happen at the same time, but you don't have to give up solving one for the other.
The Pro-V formula and goodness of oils in the new Pantene works from the very core of the hair fiber, therefore, strengthening the hair from root to tip. Many people enjoy Pantene Shampoo for its moisturizing effects and affordable price.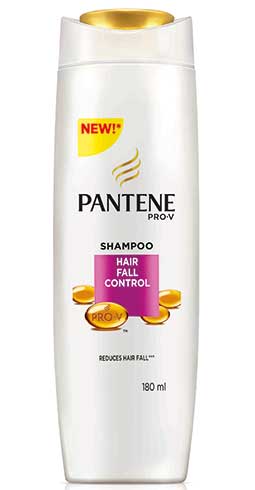 3. Biotique Bio Walnut Bark Fresh Lift Body Building Shampoo
Price: Rs 99 for 120 ml
Type: For Oily Hair
How about treating your hair to the natural goodness of herbs and organic ingredients? This shampoo is easy on the pocket with its reasonable pricing and has earned a faithful following in the Indian beauty scenario. It adds volume to the hair and does not cause any damages. It is extremely helpful in keeping the scalp clean and turning the hair smooth.
It is a lovely blend of pure walnut bark, musk root, amla, soap nut, and black Malva flowers. Its PH balanced formula shuns the hair loss and keeps the mane lustrous and healthy. With its best ayurvedic hair shampoo, this product has therapeutic properties which is good for your hair making it a best shampoo in India.
Perfect for reviving oily hair and scalp, this shampoo works miracles and balances out the oily content.
Many users have praised the product saying it lathers well into the hair and cleanses the scalp without drying off the hair. Another user calls it great explaining that after using the shampoo, her hair feels smooth and smells amazing.
4. Herbal Essences Hello Hydration Shampoo
Price: Rs 148 for 300 ml
Type: For dry hair
This is bestowed with the heavenly and fruity smell of fresh orchids and gentle coconut milk. It comes in a curvy transparent blue bottle that is travel-friendly. With its exotic fragrance and colorful packaging, this gives a cool, breezy feel to your shower. If you love the floral smells, then this is the best shampoo for hair.
[Also Read: Best Ayurvedic Shampoo in India]
Perfect for dry, frizzy, and unmanageable hair, it does tame down the unruly lock and turns them into silky tresses. It moisturizes and hydrates your hair fabulously. If you are looking for a shampoo that would tame your unruly hair and quench the dryness of your scalp, then this is the one for you! It is not purely made of herbal components and contains lauryl sulfates.
Fans named this shampoo a savior because of how it makes their dry hair feel like silk. This is a great treatment for stressed-out hair. Many users have also remarked that a little amount of shampoo goes a long way to keep the hair moisturized.
5. Garnier Fructis Sleek and Shine Fortifying Shampoo
Price: Rs 117 for 200 ml

Type: For Dry Hair
This contains active fruit concentrate and has a lovely sweet & fruity fragrance. The shampoo has a thick and creamy consistency and is white in color. It is mild in effect and deals with rough, frizzy and dry hair. If you are looking for a healthy shine and softness, this hair product does the trick for your hair!
This gives a rich lather and wipes out the dirt and oiliness from the scalp. After using this shampoo, your hair would feel soft, shiny and completely manageable. If you suffer from dry and unruly hair, then this fortifying shampoo will nourish and moisturize your hair beautifully.
The shampoo smells great and is gentle throughout cleansing. Many users love the product because of its smoothening and hydrating effects.
6. Tresemme Smooth and Shine Shampoo
Price: Rs 128 for 225 ml.

Type: For any kind of hair
This latest shampoo has become quite popular and promises to offer salon-style hair treatment. With a glamorous black packaging, this is easy to open and travel-friendly. It gives you salon-style hair that is lustrous, glossy and thick in texture.
[Also Read: pH Balanced Shampoo List]
Being white in color and featuring a quality consistency, it has a lovely scent and will remind you of pricey hair treatments in salons. The shampoo gives a rich lather and is easy to rinse off. It brings down hair fall and breakage issues as it contains Vitamin H and silk protein. You don't have to worry about greasy residue being left behind and need to use a little for every wash. This is the best shampoo in India for hair if you want a salon-like look.
The shampoo deep cleanses roots, removes build-up, and is totally worth the money. Another fan notes that the product is effective for maintaining shiny and clean hair.
7. L'Oreal Professional Serie Expert Volume Expand Shampoo
Price: Rs 500 for 250 ml

Type: For any kind of Hair
This professional shampoo comes in a great formula for getting bouncy volume, adding shine and vitality to the hair. Formulated with mineral calcium, the shampoo gives body and enhanced volume to the hair. It has a thick consistency and needs to be mixed with water to dilute it for usage.
It works up a rich lather and requires two washes if you have oiled the hair. The shampoo does add lots of volume, bounce, and fullness to your hair. There is no threat of hair fall and it does a great job of creating volume and offers a puffed look to your hair.
Use it with a quality hair conditioner to protect your hair from dryness. The L'Oreal Professional hair care shampoo according to users is the best shampoo for people with lifeless, limp, thin hair. The thickening product adds volume and provides lots of body.
8. Fiama Di Wills Anti Hair Fall Shampoo
Price: Rs 140 for 200 ml
Type: For any kind of hair
Who doesn't want their hair to be stronger? A common problem that everyone wishes to get rid off is the hair fall problem. This is perfect for people who have a hair fall problem. This is made by combining Exotic Brazil Nut Oil and Advanced Restore Technology which helps in reducing hair fall and also makes your hair 6 times stronger.
This economical shampoo is packaged in a white plastic opaque bottle with a flip open cap and is quite sturdy and convenient to use. It has a nice smell that remains even after your wash. You need to work up a good lather and then apply it on your wet hair. Follow up the shampoo with a conditioner to have smoother hair. It is specifically formulated for weak hair to protect them from falling.
Try this product for two weeks, and your hair fall problems will become a thing of the past. The formula will leave your mane healthy and invigorated. Users appreciate that the affordably-priced shampoo provides gratification.
9. Dove Nutritive Therapy Nourishing Oil Care Shampoo
Price: Rs 64 for 90 ml
Type: For dry frizzy hair
One shampoo which has been getting rave reviews is Dove's Nutritive Therapy Nourishing Oil Care Shampoo. This has a unique blend of non-greasy natural almond and mineral oils. They are perfect for your beautiful smooth and shiny hair because the oils are absorbed rapidly to deeply nourish and replenish essential nutrients.
[Also Read: How to Use Clarifying Shampoo ]
The general consensus regarding this product is that it is really helpful for people with dry frizzy hair. This shampoo has a light creamy texture with a subtle smell and it also leaves a slight residue of oil after washing so that your hair doesn't go dry instantly. People have noticed a distinct change in the texture of their hair after using this shampoo. This is perfect for those who want an extra shine for their hair!
If you want smooth, silky hair, we suggest you try the product. It cleanses well without drying off the hair. One fan says she used to have dry, frizzy hair, but this shampoo keeps her hair moisturized all day long.
10. Matrix Biolage Ultra Hydrating Shampoo
Price: Rs 190 for 100 ml
Type: For dry hair
Dry hair needs extra moisture and conditioning to avoid breakage of hair and frizz. The Matrix Biolage Ultra Hydrating Shampoo takes its inspiration from the aloe vera plant that never dries. This is very useful in optimizing moisture balance for healthy-looking hair.
Formulated with aloe, cupuacu butter, and apricot kernel oil, this shampoo helps in controlling the hair volume and its paraben-free formula makes it suitable for colored hair. Apply this to your wet hair and leave it for 1-2 minutes. Rinse thoroughly and get soft, shiny and silky hair. You can follow this up with the Biolage Ultra Hydrating Conditioner as well to get better results.
Those with dry hair remark this as the best shampoo for dry hair. Users have reported that it controls hair volume and prevent shedding. Another reviewer said her hair feels smooth and smells fresh.
11. L'Oreal Paris Total Repair 5 Repairing Shampoo
Price: Rs 69 for 90 ml
Type: For any kind of hair
For some people, the fragrance of their shampoo is of utmost importance. If you are one among them then you should try the L'Oreal Paris Total Repair 5 Shampoo. This aims at rectifying the 5 most common hair problems which are breakage, dryness, dullness, roughness and split ends.
Try this hair product to repair the hair fibers, re-enforce the hair structure, strengthen the hair and transform the hair structure from dry to smooth. It also does a good job of removing oil from the hair in the first wash itself. This is a good shampoo to try out as it leaves your scalp and hair clean and fresh. A great product with great results! Reviewers claim that the strengthening nature of the shampoo is great as it does not strip off moisture.
12. Sunsilk Co-Creations Stunning Black Shine Shampoo
Price: Rs. 184 for 400 ml
Type: For any kind of hair
This is not only one of the best shampoo for hair in India but also one of the top shampoo brands in India. Sunsilk as a brand has always managed to impress people with their products and this shampoo is no different. With a lovely smell and texture, this shampoo ensures that your hair does not dry out after use.
It lathers up well and is great for people who have long hair as it doesn't tangle the hair at all. People with naturally straight hair will also love this shampoo. Another positive aspect of using this shampoo is that it can smoothen your hair and also does not require any follow up with a conditioner. The black shine shampoo is the best as it comes in a super-low budget-the silky, smooth results are an added bonus.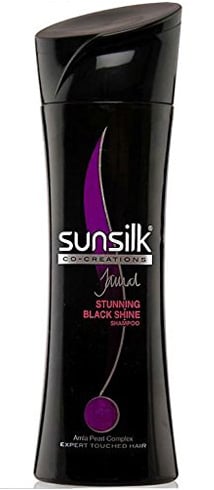 Which of these shampoos is your personal pick? Do share with us in comments.