Still, there are quite several things you need to weigh in before diving into the sea of hair dye. One solid advice we can give you is looks can deceive. Your dream hue may seem to be staring back at you, but we bet you to turn over the dye package around and see what ingredients will go into your hair. Let's face it not all hair colourant formulas are free from harsh chemicals. Because we care, we advise trying out herbal hair colors instead.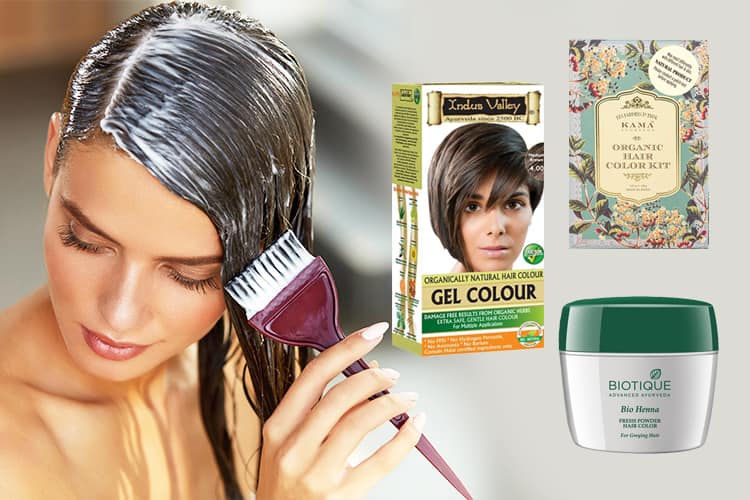 These natural hair colors not only ensure a beautiful pigment but provide lesser damage. So with that thought, please take a look below at our round-up of the best herbal hair color brands available in India.
List of Top 5 Herbal Hair Color Brands In India
Here's our category of the top five herbal hair color brands which are available at drugstores and online:
1. KAMA Ayurveda Organic Hair Color Kit
The organic hair color kit from KAMA Ayurveda ticks all the right boxes. We love the product as the color suits both cooler and warmer tones. It is a super-rich hair treatment leaving hair with a natural, deep pigment while strengthening. This kit also features an organic henna powder and organic indigo powder. So there's something for all.
2. Khadi Natural Hair Color
We love this range from Khadi Natural. This is especially great for anyone who is trying out at-home dye option for the first time. The hair color comes in a wide range of hair colors which restores while deeply nourishing hair. Enriched with natural herbs, the hair color treats dull, damaged tresses. The zero use of chemicals ensures your hair is treated naturally without damage. Plus, you don't need to stress about using a developer alongside.
3. Shahnaz Hussain Colorveda Natural Hair Color
The Shahnaz Hussain hair colorant formula is a great choice as they are friendly to Mother Nature. They come in sustainable packs and uses 95% of natural ingredients like indigo, henna, amla, catechu, shikakai, brahmi, and bhringaraj which deeply replenish hair. The natural hair color also conceals grey hair, conditions hair, boost hair growth, and adds natural shine. This means you can switch up your hair color without worrying about damage whatsoever.
4. Indus Valley Organically Natural Hair Color
The natural hair color from Indus Valley comes in a number of shades. Made up of eight natural herbs, this hair formula greatly repairs dull tresses while deeply hydrating it. It also has a PHAB free technology which provides deep nourishment, prevent hair fall, contains zero chemicals, and softens hair. The end result is a richer hue compared to other herbal options on the market. The hair color also promises to last up to eight weeks making you look like you prepped up at the salon.
5. Biotique Bio Henna Fresh Powder Hair Color
The hair color from Biotique is created using fresh ground powder and mango kernel which are both nourishing for hair. To apply, mix the hair color with water to form a smooth paste. Apply onto clean hair to get natural sheen and color. This organic hair colorant can greatly improve hair texture, add-on color, condition hair, and is 100% pure. We suggested this hair color as it is simple to use and leaves behind a semi-permanent shade to cover grays.
These are some of the best herbal hair color brands available in the Indian market. Try one of these kits yourself and be prepared to be surprised with the results.